A few months ago I had the honor of attending the finals of the Second Annual Foster Farms Fresh Chicken Cooking Contest. It was a beautiful fall day at the Culinary Institute of America at Greystone in the Napa Valley, bright and sunny with excitement in the air. Everyone was nervous with anticipation to taste the finalists' dishes, judge them for ourselves, and then compare our results with those of the official judges. What fun!
One of my friends joined me for this new adventure. Neither of us had ever been to anything similar and didn't know what to expect. I brought my digital camera and was able to go into the cooking area for some up close and personal shots thanks to the wonderful people of Fineman PR. It was incredible to be able to chat with the contestants, learn about their backgrounds and how they decided which recipes to submit for the contest.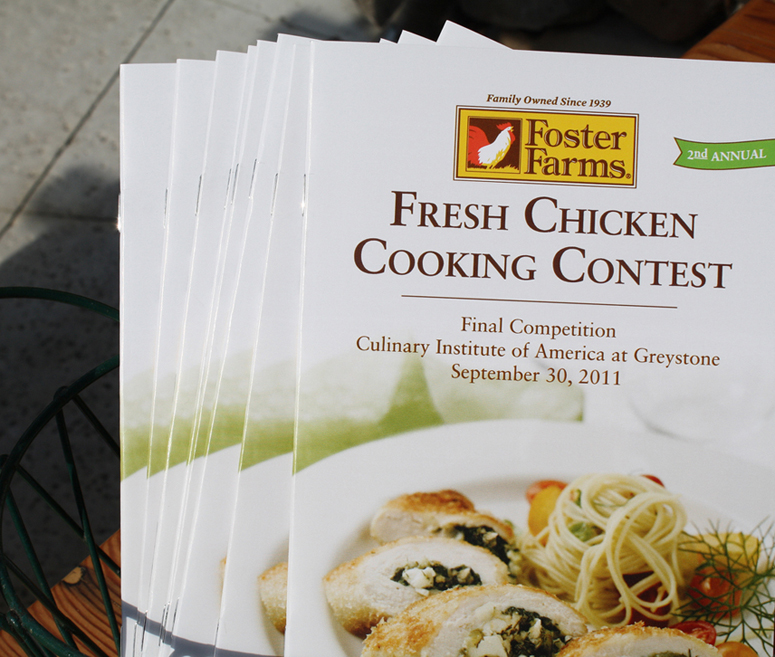 I have to tell you, we were all very impressed with the organization of the event, the location, and the quality of the cooking. Of course you can't go wrong with anything held at the CIA at Greystone, one of the most beautiful buildings in California. Built in the 1880s, this 117,000 square foot stone building is listed on the National Register of Historical Places and has a remarkable story. Originally used as a co-operative winery it was taken over by the Christian Brothers who started producing brandy to earn money to fund their schools. They continued using the site until 1989 when they sold it.
The CIA opened its West Coast school here and they offer programs in the culinary arts, wine and beverage, as well as baking and pastry arts. Their teaching kitchens, as you can imagine, are what dreams are made of. We were given a tour of the facilities while the contestants were cooking and it was fabulous.
One area that was new to me was the Rudd Center for Professional Wine Studies. The classroom is in the Still house building, next to The Wine Spectator Greystone Restaurant. It is equipped with built-in light boxes so you can see the true color of the wines and expectoration stations for delicate spitting, LOL. And of course it has an exceptional wine cave that holds 4000 bottles. Can you say heaven?
They held the cook-off in what used to be the Gate House, a completely renovated small outbuilding that has a cooking center on one side with a glass paneled door and a comfortable room on the other perfect for dinners, presentations or wine tastings. It is equipped with video cameras and televisions so you can watch what is happening in the kitchen area without having the noise interrupt a presentation. I kept thinking how wonderful would that be in my own home! Can you imagine being able to make dinner and lock your kids, the dogs, or guests on the other side of a glass door so they can't actually get into the kitchen? ROFL!
The contestants were all amazingly composed and calm, even with cameras in their faces and following their every move. Each had made this particular dish dozens if not hundreds of times in practice so they knew exactly how long each step would take. The students of the CIA were also there to do some of the ingredient prep for them to help expedite the process.
This year's theme for the competition was a focus on fresh, local ingredients, which was a wonderful choice, especially here on the West Coast where we have some of the best in the country readily available all year long. There were nearly 2000 recipes submitted which were whittled down in regional competitions held in Oregon, Washington, and California to the final six.
"Foster Farms is committed to delivering locally grown fresh chicken to the store in 48 hours or less, and that is why we put extra emphasis on using fresh, local ingredients in the judging criteria for this year's contest," said Ira Brill, director of marketing for Foster Farms.  "All of our contestants' recipes highlighted the agricultural bounty of California, Oregon and Washington while at the same time making Foster Farms local chicken the star of the dish." Foster Farms is committed to providing fresh chicken that is fresh, locally grown, always natural and delivered to stores in 48 hours or less. Recipes submitted mirrored this commitment by using Foster Farms fresh chicken and other local ingredients.
The winner, Rebecca Spence of Vancouver, Washington won with her delightful Crispy Orange Chicken with Fennel, Avocado and Orange Salad. It was beautiful with the crisply fried chicken breasts, the green avocado and bright oranges. The citrus added the perfect amount of acidity to the dish while the avocado provided a lovely creamy counterpoint to the panko-crusted chicken. I know you will enjoy it as much as we did.
As samples of each dish came out we were able to pretend to be judges and discussed the pros and cons of each with what seemed like very intelligent and professional detachment. We had all watched entirely too many episodes of Top Chef and Chopped! We loved Jennifer Daskevich's Chicken and Quinoa with Figs, Spinach and Mint recipe which won the "People's Choice Award."
I was extremely impressed by all the entrant's dishes and would have had a difficult time choosing a winner. The judges were all locally acclaimed food experts and took their jobs very seriously. The judges were Liam Mayclem, host and producer of CBS 5 TV's Eye on The Bay; Carolyn Jung, Food Gal blogger and former San Jose Mercury News food editor; Natalie Haughton, "Slow & Easy" cookbook author and food journalist; and Narsai David, food and wine editor at San Francisco's KCBS Radio. The dishes were judged on taste, the used of fresh, local ingredients, appearance/appeal, simplicity/ease of making and originality.
The other final dishes will also be terrific additions to your cooking repertoires. I have included all six recipes so you can make them and judge for yourself. I would love to hear what your opinions are and which one you think should have won!
Rebecca won a check for $10,000 and a year's supply of Foster Farms chicken for finishing first. If you are interested in entering this year's competition, details will be posted here shortly. Home, amateur and professional chefs from California, Oregon and Washington are eligible to submit their original recipes featuring Foster Farms fresh chicken for a chance to win. They will narrow those entries down to the top 15, of which six will make it to the finals, two from each state. By the way, all the finalists win $1000 so it is definitely worth giving it a try!
I have to say that by the end of our day at the contest, watching everyone cooking and having fun, and seeing the joy on Rebecca's face when she won has me definitely considering entering myself. Will I see you there too? I sure hope so!
Happy Festive Friday everyone!!
Crispy Orange Chicken with Fennel, Avocado and Orange Salad
Winner, $10,000 Grand Prize for 2011
Rebecca Spence – Vancouver, WA
Yield: 4 servings
INGREDIENTS
1 to 1-1/2 lb Foster Farms thin-sliced chicken breast fillets
1 tbsp orange juice
1 tbsp champagne vinegar (may substitute white wine vinegar)
2 tsp sugar
Zest from 2 large navel oranges (reserve one orange)
2 tsp salt, divided
3/4 tsp freshly ground black pepper, divided
2 tbsp extra-virgin olive oil
1 large fennel bulb, trimmed
1 large avocado
1 serrano chile
1/2 cup flour
2 eggs
2 cups panko breadcrumbs
1/3 cup peanut oil
METHOD
In large bowl, whisk together orange juice, champagne vinegar, sugar, one tsp orange zest, 1/2 tsp salt and 1/4 tsp black pepper. Slowly whisk in olive oil. Set aside.
Cut white pith away from reserved zested orange; cut orange into small cubes. Chop fennel bulb into small cubes. Peel avocado, remove pit and chop into small cubes. Cut chile in half lengthwise, remove and discard seeds and finely mince. Place orange pieces, fennel, avocado and chile in bowl containing dressing; toss gently and refrigerate while preparing chicken.
Preheat oven to 200°F. Place flour in shallow bowl; combine with remaining salt and pepper. In second shallow bowl, beat eggs well with fork. Place panko breadcrumbs in third shallow bowl; stir in zest from one orange.
In large skillet over medium high heat, warm peanut oil. Dredge each chicken fillet in flour mixture, then dip in eggs and coat with panko-orange mixture. Place coated chicken in hot oil and sauté, turning, about 5 minutes on each side, or until golden brown and cooked throughout. Remove chicken with tongs and place on bakers rack over a cookie sheet in oven to keep warm.
To serve, place salad on plates. Top each salad with one or two chicken fillets.
Chicken and Quinoa with Figs, Spinach and Mint
Winner of the People's Choice Award!
Jennifer Daskevich – Los Angeles, CA
Yield: 4 servings
INGREDIENTS
6 Foster Farms chicken thighs, boneless and skinless, cut into bite-sized chunks
6 sprigs fresh thyme, divided
7 tbsp extra-virgin olive oil, divided
1 large lemon, zested and juiced
6 cloves California garlic, divided
1/4 cup fresh mint leaves, chopped and divided
1/2 tsp freshly ground black pepper
3 tsp salt, divided
1 cup quinoa
2 large shallots, minced
1/2 cup dried California mission figs, halved
2 cups filtered water, divided
3 cups California spinach, chopped
METHOD
In large plastic bag with zipper lock top, place chicken. Remove leaves from three sprigs of thyme and mince. In small bowl, whisk together 5 tbsp olive oil, juice and zest from lemon, 2 minced garlic cloves, thyme, 1 tbsp chopped mint, black pepper and 1 tsp salt. Pour mixture over chicken, turning to coat well. Set aside and marinate for 30 minutes or up to 1 hour.
Rinse quinoa well and drain thoroughly. In medium saucepan over medium heat, toast quinoa for two minutes. Add one tsp salt and one and three quarters cup water to quinoa; bring to a boil. Reduce heat to medium-low, cover and simmer until all liquid is absorbed, about 12 – 15 minutes. Remove quinoa from heat and set aside to cool for 5 minutes.
While quinoa is cooking, warm remaining two tbsp olive oil over medium high heat in large skillet. Add shallot and remaining salt; saute until softened, about 5 minutes. Add remaining garlic and stir for additional minute. Add figs, remaining one-fourth cup of water and remaining three stems of thyme. Cook until liquid is absorbed, about 3 minutes. Remove chicken from marinade and add to fig mixture. Continue to cook over medium heat until chicken is cooked through, about 7 minutes. Remove sprigs of thyme.
Fluff quinoa with fork and transfer to skillet. Stir well to combine. Add spinach and remaining mint, stirring gently to incorporate all ingredients.
Pan-fried Chicken with Blueberry-Pinot Noir Sauce and Goat Cheese Polenta
Timmy Baker – Eugene, OR
Yield: 4 servings
INGREDIENTS
1 lb Foster Farms chicken tenders
4 cups low-sodium chicken broth, divided
1 cup polenta corn meal
1/2 tsp salt, divided
1/4 tsp freshly ground black pepper, divided
1/2 cup goat cheese
3/4 cup Oregon filberts, chopped finely
4 tbsp olive oil
1 medium shallot, diced
1 cup Oregon Pinot Noir wine
1 cup fresh Oregon blueberries, divided
1 tbsp butter
4 leaves fresh basil, thinly sliced
METHOD
In medium saucepan, warm three cups chicken broth over medium-high heat. Slowly bring to a boil. Add polenta, one-fourth tsp salt and 1/8 tsp black pepper. Reduce heat to medium low and cook polenta, stirring frequently, until thickened, about 5 – 7 minutes. When polenta is almost cooked, stir in goat cheese until melted. If polenta mixture is too thick, gradually stir in remaining cup of chicken broth, as needed. Remove polenta from heat; set aside.
In shallow dish, combine filberts with remaining salt and pepper. Warm olive oil in large skillet over medium-high heat. Dredge chicken in filbert mixture and place in pan. Cook chicken until well-browned, about 3 minutes on each side. Remove chicken from pan and set aside, tenting with foil to keep warm. Reduce heat to medium and add shallot to pan. Sauté 3 minutes.
Add wine to pan and stir, scraping bottom to deglaze. Bring to a boil over medium-high heat and cook wine sauce until reduced by one-third, about 5 minutes. Add one-half cup blueberries; mash and stir lightly for about 2 minutes. Add butter and remaining blueberries to pan. Remove sauce from heat.
To serve, place dollop of polenta on plate. Top with one or two chicken tenders and generous serving of blueberry-wine sauce. Top with basil before serving.
Crispy Basil Skinned Chicken Breast with Peach Pink Peppercorn Compote
Russell Kool – Hillsboro, OR
Yield: 4 servings
INGREDIENTS
4 Foster Farms chicken breast halves, bone-in and skin on
12 basil leaves
2 tsp ground coriander
2 tsp ground cumin
1 tsp ground cloves
1 tsp freshly ground black pepper
2-1/4 tsp salt, divided
5 tbsp olive oil, divided
2 tbsp unsalted butter
1 red onion, halved and thinly sliced
2 ripe Oregon peaches, peeled, cored and cut into 1/4" wedges
1 tsp pink peppercorns, pulsed in spice grinder
1 tbsp sugar
1/4 cup rice wine vinegar
1/4 cup orange juice
1 tsp cornstarch
1/4 cup water
METHOD
Preheat oven to 400°F.
Under the skin of each chicken breast, place 3 whole basil leaves. Combine coriander, cumin, clove, pepper and two tsp salt in small bowl. Rub spice mixture thoroughly on both sides of chicken breasts and set aside.
Prepare peach compote by warming two tbsp of olive oil in a medium pot over medium-high heat. Add butter and red onions cook, stirring, for 5 minutes over medium heat. Add peaches and pink peppercorns; sauté for 2 minutes. Add sugar and rice wine vinegar; cook over medium heat for about 5 minutes, or until peaches are soft.
In small bowl, combine orange juice and cornstarch. Add to peach mixture and continue cooking over low heat for about 10 minutes, until peach sauce begins to thicken. Remove from heat, stir in remaining salt and set aside.
In a non-stick frying pan over medium-high heat, warm remaining olive oil. Place chicken in pan, skin side down, and cook until light golden brown, approximately 5 minutes. Turn chicken, add water to the pan and place in hot oven. Cook approximately 40 minutes, or until chicken is done throughout. Remove chicken from pan and let rest 2 minutes. Serve with peach peppercorn compote on the side.
Asian Braised Chicken Thighs with Soybean Salad
Roxanne Chan – Albany, CA
Yield: 4 servings
INGREDIENTS
6 Foster Farms chicken thighs, boneless and skinless
1/4 cup low-sodium chicken broth
1/3 cup bottled green salsa
1 lime, zested and juiced
1 green onion, minced
1 tbsp cilantro, chopped
1 clove garlic, minced
1 tsp green curry paste
1 tsp lite soy sauce
1 tsp ginger root, minced
1 cup shelled edamame (soy beans), cooked
2 cups watercress, chopped
1/4 cup grated carrot
1/4 cup sliced red radishes
1/2 cup baby corn, chopped
1 tbsp sesame oil
1 tbsp seasoned rice vinegar
METHOD
In a blender, combine chicken broth, salsa, lime juice, green onion, cilantro, garlic, curry paste, soy sauce and ginger. Blend until smooth. Place mixture in medium size skillet; add chicken. Bring chicken to a low simmer over medium heat, cover and cook 35 – 40 minutes, turning occasionally, until chicken is tender and cooked throughout.
While chicken is cooking, prepare salad by combining in large bowl edamame, watercress, carrots, radishes, baby corn, sesame oil and vinegar. Stir to combine.
Place cooked chicken on serving platter; cover with pan sauce. Garnish with lime zest. Surround chicken with watercress and soy bean salad.
Chicken with Cherry Tapenade over Creamy Pancetta Polenta
Tina Hoban – Bellingham, WA
Yield: 4 servings
INGREDIENTS
4 Foster Farms chicken breast halves, boneless and skinless
1 clove garlic
1/2 cup plus 3 tbsp dried sweet Washington Cherries
1/2 cup pitted Kalamata olives
1 tsp capers, drained
1 tsp balsamic vinegar
2 tbsp olive oil, divided
2 tsp salt, divided
1/2 tsp freshly ground black pepper
8 slices pancetta, cut into 1/2 inch pieces
1/2 cup dry white wine
1 cup instant polenta
3.5 oz chevre (soft goat cheese)
2 tbsp fresh rosemary, minced
METHOD
Prepare tapenade by placing in the bowl of a food processor the garlic, 1/2 cup cherries, olives, capers, balsamic vinegar and 1 tbsp olive oil. Pulse until finely chopped. Set aside.
Slice the chicken breast lengthwise along the longest side, being careful not to cut all of the way through. Spread 1/4 of the tapenade inside each breast and fold closed. Sprinkle chicken with one tsp salt and the pepper; set aside.
In a large skillet over medium-high heat, cook pancetta pieces until crisp. Remove from pan and drain on paper towels. Add remaining tbsp of olive oil to the pan. Place chicken breasts in pan and cook, turning, about 7 minutes per side, or until cooked throughout. During the last two minutes of cooking, add the three tbsp of dried cherries and wine to the pan.
While the chicken is cooking, bring 4 cups of water and remaining salt to a boil in a large saucepan. Reduce the heat to low; slowly whisk in polenta. Cook, stirring constantly, until the polenta is thick and starts to pull away from the sides of the pan, about 10 minutes. Add goat cheese, rosemary and reserved pancetta; stir until creamy.
Spoon polenta onto plate and top with chicken breast half. Drizzle with pan juice sauce and cherries.
Unauthorized use, distribution, and/or duplication of proprietary material without prior approval is prohibited. If you have any questions or would like permission, I can be contacted via email at: heritagecook (at) comcast (dot) net. Feel free to quote me, just give credit where credit is due, link to the recipe, and please send people to my website, www.theheritagecook.com.
Thank You!