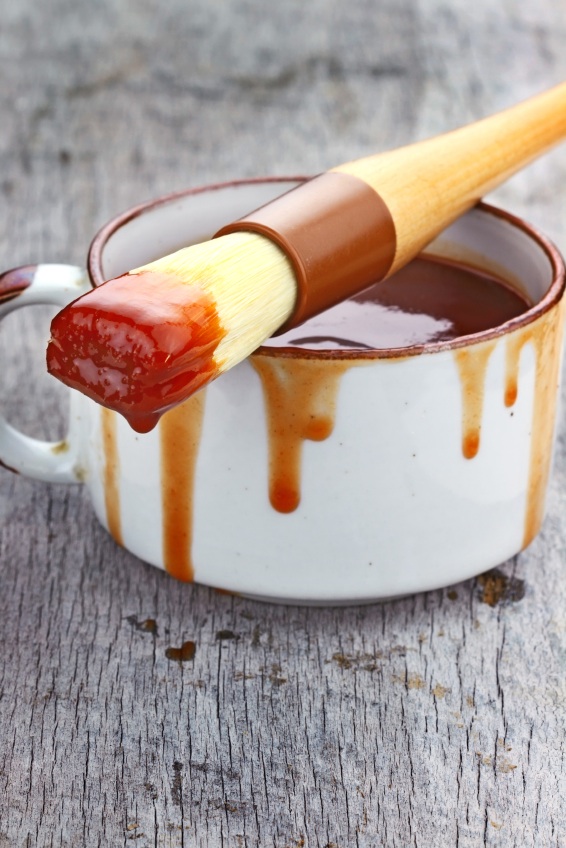 Updated with Gluten-Free information:
I am one of those crazy people who loves grilling so much that I do it all year long. Yes, even when it is raining. Umbrella in hand, I'm out there checking to see if the food is done, LOL. I am always on the lookout for good BBQ sauce recipes because my husband is allergic to artifical smoke flavoring. This flavoring and high fructose corn syrup (HFCS – something I try to avoid) are found in nearly all bottled BBQ sauces. (Stubb's brand of BBQ sauces are all gluten-free.)
I love the savory/sour/sweet combo of tomato-based sauces with fruit juices and sugar. Using sodas in sauces is an old tradition in the American South and the root beer in this recipe adds a wonderful flavor. It will have people scratching their heads trying to figure out what is in the sauce.
I found the original recipe on Epicurious.com. Have you found them yet? They feature the recipes from Bon Appetit and Gourmet magazines. With Gourmet no longer being printed, this is the only way to get their recipes. Epicurious has videos on a huge variety of topics that can be invaluable to young cooks. Articles range from spa and graduation menus to restaurant and equipment guides. It is a wonderful place to get inspiration.
Yesterday's recipe for Spicy Pulled Pork most likely yielded leftover meat which can be used in a lot of different ways. You can toss it with some of today's sauce, put it on a hoagie roll (or gluten-free roll), and have a BBQ pork sandwich!
I would love to hear about your favorite BBQ sauce recipes. What style do you like? What are some unusual ingredients that you use? Happy Grilling!
Jane's Tip:
Liquid smoke seasoning and smoked paprika are great ways to get the smoky flavor of the barbecue without lighting any charcoal. Chipotle powder (made from smoked, dried jalapeño peppers) adds spicy heat as well as smokiness.
To know when a liquid has reduced to a specific amount, before starting the recipe, measure the amount of water called for in your recipe (1-1/2 cups for this recipe) and pour into saucepan you will be using. Stick the handle of a wooden spoon in the water and mark the level with a pencil. Pour out the water and cook your sauce until its level is at or below the pencil line on the spoon handle.
Gluten-Free Notes:
I am updating this older post with points about where to watch out for gluten ingredients. Make sure you check all the labels and if in doubt, contact the manufacturer. Wright's brand of liquid smoke is gluten-free. Penzy's and McCormick brands of seasonings are gluten-free.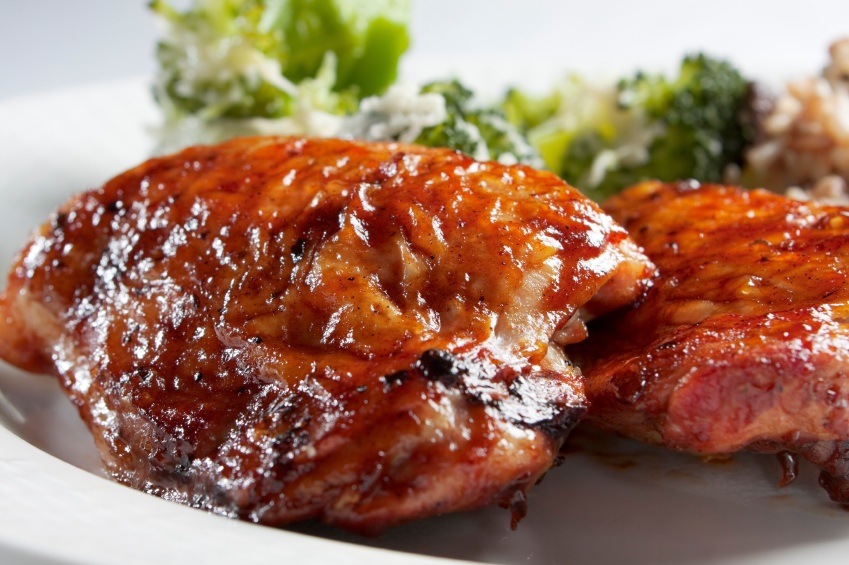 Root Beer Barbecue Sauce
© 2010, Jane Evans Bonacci, The Heritage Cook; Adapted from an Epicurious.com recipe
Yield: about 1-1/2 cups
INGREDIENTS
1 cup root beer (gluten-free if needed; caramel coloring can cause reactions in some people)
1 cup organic ketchup (to avoid HFCS – gluten-free if needed)
1/4 cup fresh lemon juice
1/4 cup pineapple juice
2 tbsp bourbon, optional (caramel coloring can cause reactions; leave out for gluten-free)
3 tbsp soy sauce (gluten-free brand)
1-1/2 tbsp firmly packed dark brown sugar
1 tbsp mild-flavored/light molasses, not blackstrap (Grandma's brand is gluten-free)
1 tsp liquid smoke seasoning, smoked paprika, or chipotle powder (Wright's liquid smoke is gluten-free)
1/2 tsp freshly grated lemon peel
1 tsp dry mustard
1/2 tsp ground ginger
1/4 tsp ground cloves
1/4 tsp ground nutmeg
1 clove garlic, minced
1/2 med onion, minced
METHOD
Combine all ingredients in a medium heavy-bottomed saucepan. Bring to boil over medium heat, stirring occasionally. Reduce heat to low and simmer until reduced to about 1-1/2 cup (see note above), about 20 minutes. Season sauce to taste with salt and pepper. Cool slightly.
Pour into a blender or food processor (or use an immersion blender), put the cover on with one corner up to release steam. If you don't do this, it will explode all over your kitchen! Cover the lid with a kitchen towel, and hold with your hand (just in case …), blend until smooth. Taste and adjust seasonings.
Transfer to a container. Cover and refrigerate. (Can be made 2 weeks ahead; keep refrigerated.)