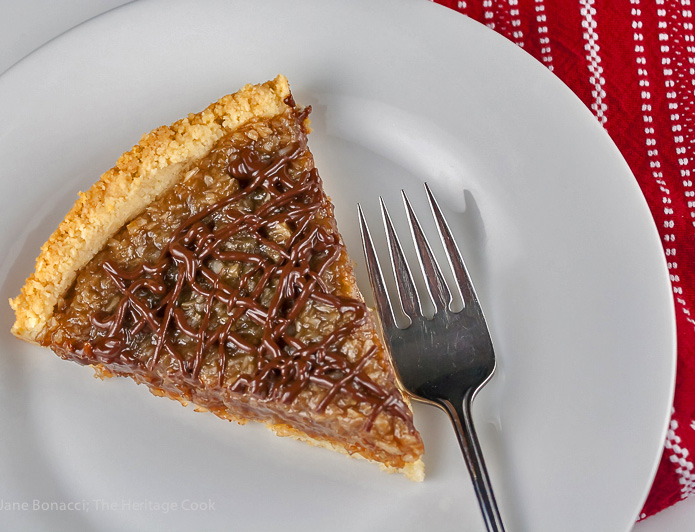 When I was a little girl, I was a Brownie and Girl Scout. I was proud to wear my uniform each week, worked hard to earn my badges, and enjoyed attending the meetings with my friends. I learned to sing the national anthem for our scout meetings. When my family moved to Portland, Oregon, being in the Girl Scouts helped me make friends and feel more at home.
As any Girl Scout knows, the biggest fund-raiser of the year is cookie sales and there is a lot of pressure to sell the most boxes. I was incredibly shy as a child and this was the hardest requirement for me. Unlike most of my friend's parents, my dad refused to take orders at the office. He believed that it was my responsibility to make all the sales myself. Needless to say, I was never the high-seller in my troop.
I had two favorites, the shortbreads (Trefoils) and the coconut cookies called Samoas or Caramel deLites. Today's Chocolate Monday treat is a spin on the Samoa … the cookie has become a tart! That's right folks, you get the all the flavors of the cookies in a classy, creamy, coconut caramel tart that is the cat's meow for coconut lovers!
I found today's recipe on the Love and Flour blog written by the delightful LeAndra. Full of a wide variety of recipes that will make your mouth water, you will spend many happy hours perusing her site. While many of her recipes were tempting, the Samoa Tart is the one that deeply resonated with me. I hadn't thought of my years in the scouts in a long time and when I saw this recipe, the memories came flooding back. Some painful, some thought provoking, but most brought big smiles to my face. Eating this tart was like taking a walk down memory lane.
In order to make this gluten-free, I substituted my favorite nut crust that I use with cheesecakes. It worked perfectly and the almonds complemented the flavor of the coconut without making the tart too sweet. If you don't have to avoid gluten, give LeAndra's crust a try – it looks like a real winner!
While I was making the filling, my house smelled like a candy factory and I was in heaven! The caramel is made with coconut milk, giving it a subtle coconut flavor that is delicious. My mind is swirling with ideas of how to utilize this caramel in other desserts for the holidays. But what I love most is that if you are cooking for people who cannot eat dairy, this is a dairy-free caramel! If you want to make this a wholly dairy-free dessert, swap out the butter in the crust and chocolate drizzle with alternatives such as Earth Balance Spread and Enjoy Life Foods brands.
If you are a coconut lover, this is the dessert for you. If you want even more chocolate, you could spread the entire surface with a layer of ganache and create a dessert that would be close to the flavors of a Mounds bar. Hmmm, that might just be in my future, LOL!
Happy Chocolate Monday everyone!
Jane's Tips and Hints:
For the easiest way to drizzle your baked goods with chocolate and other glazes, pour the slightly cooled chocolate into a heavy-duty resealable plastic bag. Press it into one corner and twist the top to close the bag. Use scissors to trim the point of the corner off. Start with a tiny hole and then cut more off if you want a thicker stream.
Gluten-Free Tips:
By using the almond crust, these cookie bars are gluten-free!
Coconut Caramel Tart (Gluten-Free & Dairy-Free)
2015-10-12 00:41:19
Ingredients
Crust Layer
1-1/2 cups almond flour/meal
1/4 cup granulated sugar
4 tbsp (1/2 stick) butter, melted (or Earth Balance for dairy-free)
Dulce de Coco Filling
1 (13.66 oz / 403 ml) can unsweetened coconut milk, well shaken
1 cup firmly packed brown sugar
1/4 tsp salt
1/2 tsp pure vanilla extract
1-3/4 cups unsweetened shredded coconut
1 tbsp milk or coconut milk
Ganache
1/3 cup semisweet chocolate chips (or Enjoy Life for dairy-free)
1 tsp organic vegetable oil, coconut oil, or butter
Instructions
Preheat the oven to 350°F. Lightly butter a 10-inch springform pan; set aside.
Make the Crust: In a medium bowl, combine the almond flour/meal with the sugar. Add the butter and stir with a fork until the mixture resembles moist sand. Press the crumbs into the bottom of the prepared springform pan and part way up the sides. Bake in the preheated oven for about 12 minutes, or until browned around the edges. Remove from the oven and set aside.
Prepare the Dulce de Coco and Filling: In a 3 to 4-quart saucepan, combine the coconut milk, brown sugar and salt, whisking until smooth. Bring to a boil over medium-high heat, stirring often, and then reduce the heat to medium-low. Cover with a lid and simmer for 20 minutes, stirring occasionally.
After 20 minutes remove the lid and reduce the heat to low. Continue cooking at a low simmer for an additional 35 to 40 minutes, stirring occasionally until thick and syrupy.
Remove from the heat and stir in the vanilla. Set aside to cool. When just warm to the touch, stir in the coconut and milk, whisking until smooth. Taste and if it is too sweet for you, whisk in another pinch of salt.
Pour the filling into the cooled crust, smoothing the top with an off-set spatula. Set aside while you make the ganache.
Make the Ganache: In a small saucepan, melt the chocolate chips with the oil over low heat, stirring constantly. Remove from the heat when most of the chips have melted and continue stirring off the heat until smooth and completely melted.
Decorate Bars: Drizzle ganache over the top of the bars. Let the chocolate set up and cool before cutting tart into wedges and serving.
Notes
Yield: 10 to 12 servings
You can make the Dulce de Coca filling in advance. Store, covered, in the refrigerator and reheat in the microwave about 15 seconds to soften slightly before continuing with the recipe.
Adapted from LeAndra of Love and Flour
The Heritage Cook ® https://theheritagecook.com/
Create a New Tradition Today!
Let's connect! If you ever need any entertaining or cooking advice, need to alter a recipe for gluten-free, or want recipe suggestions, don't hesitate to email me. I can also be found at the social media site links on this page. This post may contain Amazon affiliate links. If you purchase a product via my link, it doesn't cost you anything and I earn a tiny commission, which helps defray the costs of producing The Heritage Cook blog. Thank you for supporting me.
Welcome to The Heritage Cook Family!
Unauthorized use, distribution, and/or duplication of proprietary material from The Heritage Cook without prior approval is prohibited. This includes copying and reprinting content and photographs. If you have any questions or would like permission, I can be contacted here. Feel free to quote me, just give credit where credit is due, link to the recipe, and send people to my website. The suggestions here are not intended as dietary advice or as a substitute for consulting a dietician, physician, or other medical professional. It is the reader's sole responsibility to determine which foods are appropriate and safe for their family to consume. The author makes no claims regarding the presence of food allergens and disclaims all liability in connection with the use of this site. Please see the Disclaimers page for additional details.
Thank You!