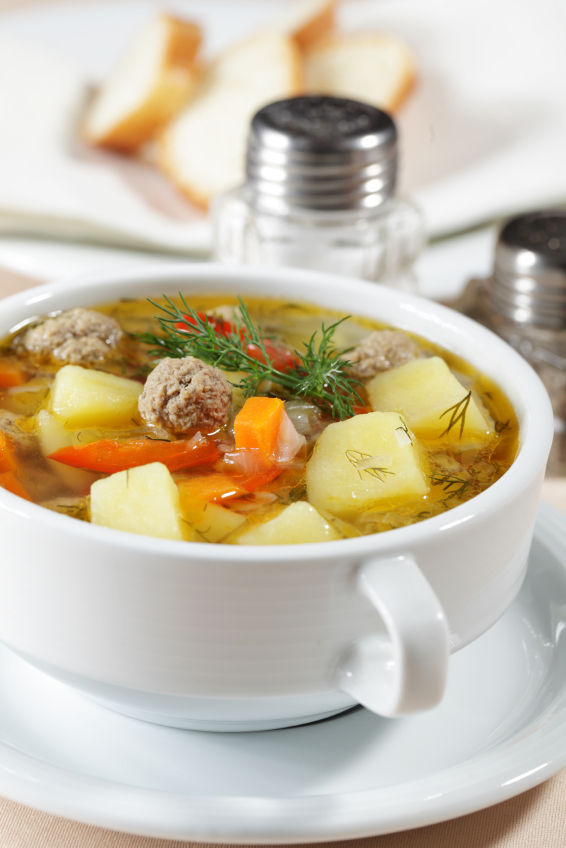 Winter has returned with a vengeance to the San Francisco Bay Area and I want a warming, soothing meal for dinner. Meatballs have always been one of my favorites, but not something I make very often. For some reason they seem difficult to make and time consuming. I don't know how I got that thought in my mind because in actuality, they are easy and quick to make. I think that you read so many warnings about not overworking the meat mixture that it scares people. Well, I am here to tell you that anyone can make really good meatballs, especially in this delicious soup!
Albondigas (all-bone-dee-goss) are meatballs, often used in soups. Widely considered Mexican, it turns out that they started back in the 6th century in Southwestern Europe. In the 13th century Spain conquered lands that had been occupied by the Muslims. Meatball recipes go back to ancient Baghdad and ancient Rome had a version of their own. Chances are that their version was influenced by Middle Eastern cuisines. Just as the architecture shows the many cultures that ruled those areas, so do the native cuisines.
Depending on where you are in the world, the ingredients change to reflect the local availabilities. In Spain a combination of beef, ham and chicken are used to make the meatballs. In Mexico, turkey, beef, and chorizo are common. And in the Mediterranean region, lamb, rice, and mint are predominant. Each combination is delicious in its own right and worth trying to see which you prefer.
Do you own a KitchenAid standing mixer? Did you know you can buy an attachment to grind your own meats? It attaches to the front and allows you to control the quality of the meats and the percentage of fats that make up your ground meats. You will be amazed at how much better it tastes that typical grocery store hamburger, and it only takes a couple of minutes to make. When you are done grinding the meat, run one or two pieces of bread through the grinder to help clean it, just as our grandmother's did in their day.
Because meatballs are made with ground meats, it probably is a good idea to talk about the best way to handle them. Ground meats are the most susceptible to bacterial growth and must be carefully stored. Buy the best quality you can afford from a reputable butcher and refrigerate is as soon as possible. Don't do your shopping and then stop for a leisurely lunch. If possible, use the meat the day you buy it or the next. Store it wrapped in a plastic bag on the bottom shelf of your refrigerator so if it leaks, it won't contaminate other foods. I always set it in a bowl for extra protection. If you freeze it, discard the butcher's wrapping and rewrap very tightly in plastic wrap, pressing out as much air as possible. Don't buy too lean a mixture or you will wind up with tasteless dry meat. Simple seasonings of salt and pepper and a little onion or garlic powder are all you need for a tasty burger or meatball.
Today's recipe uses turkey meat to make the meatballs. For the best flavor and moisture, use ground dark turkey. It has a higher fat content so it won't dry out as quickly. Because you cook them gently in the broth, they stay moister than fried versions. If you want additional flavor and fat content, you can add some ground pork to your mixture.
Today's recipe for Albondigas is made with a rich chicken stock and makes a very light soup. Somewhat similar to Tortilla Soup, anyone who likes those flavors will like this version. Full of vegetables and poblano chiles for a little heat and a boost of flavor, this will become one of your new favorites. If the meatballs seem too labor intensive for you, you can use any type of meat you like. Poached and shredded chicken, turkey, beef, pork, or veal would all be delicious in this soup.
When the wind is howling outside and the rain and snow are coming down, nothing warms you like a bowl of steaming soup. I hope you and your family enjoy this wonderful broth with tender meatballs as much as my family and I do. Happy Festive Friday – have a wonderful weekend!!
Jane's Tips and Hints:
To get equally sized meatballs, pat meat mixture into a rectangle on a piece of waxed paper. Using a long bladed knife, cut meat lengthwise and then crosswise into small squares of equal size. Take each one and roll it into a ball using your dampened hands.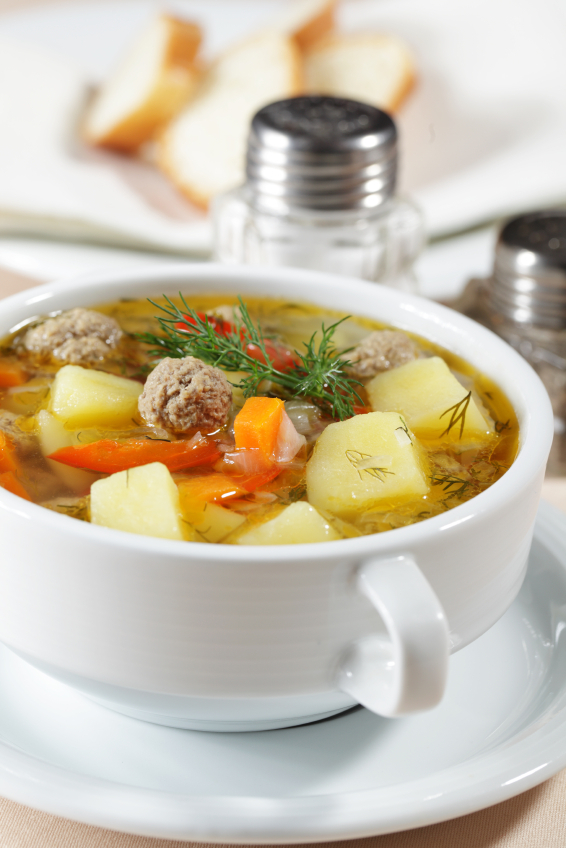 Turkey Albondigas Soup
2015-07-20 18:19:45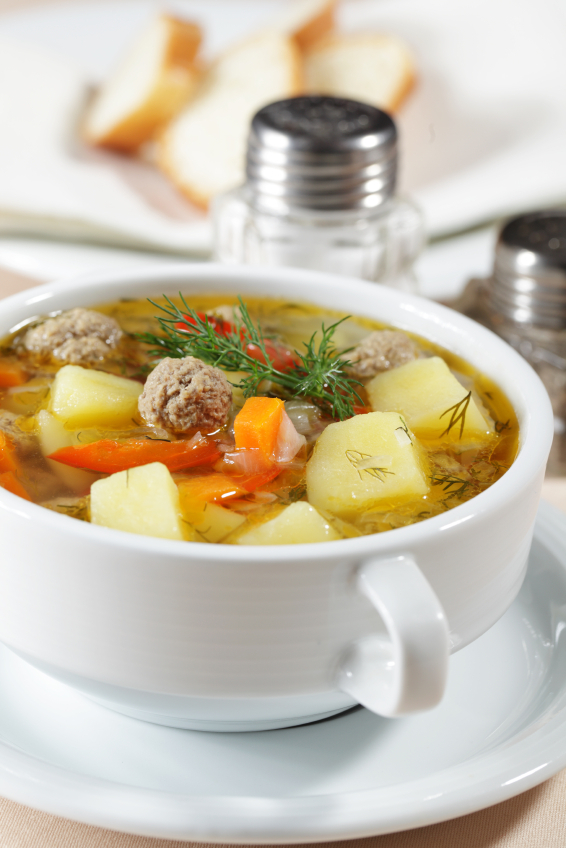 Ingredients
Meatballs

1 lb ground dark turkey meat
1 cup fresh whole-wheat breadcrumbs (see Tip)
1 large egg
2 tsp ground cumin, divided
2 tsp dried oregano, divided
3/4 tsp freshly ground pepper, divided
1/2 tsp salt, divided

Soup

1 tbsp canola oil
1 large white onion, diced
2 carrots, peeled and diced
2 potatoes, peeled and diced
3 poblano peppers, diced (see Tip)
3 plum tomatoes, diced
6 cups reduced-sodium chicken broth
1/2 cup instant brown rice or 1/2 cup cooked brown rice
2 tbsp lime juice
1 jalapeno, minced
2 tbsp minced fresh cilantro
Instructions
Line a large baking sheet with waxed paper.
Make Meatballs: Place turkey, breadcrumbs, egg, 1-1/2 tsp cumin, 1-1/2 tsp oregano, 1/2 tsp pepper and 1/4 tsp salt in a medium bowl. Mix gently until combined. Shape the mixture into 1-1/2 inch balls and transfer to the baking sheet. (You should have about 20 meatballs.) Place in the refrigerator and chill for at least 20 minutes or until ready to use.
Make Soup: Heat oil in a Dutch oven over medium-high heat. Add onions, carrots, and potatoes, and cook, stirring often, until beginning to soften, about 4 minutes. Add peppers, tomatoes, the remaining 1/2 tsp cumin, 1/2 tsp oregano, 1/4 tsp pepper and 1/4 tsp salt; cook, stirring, until fragrant, about 1 minute. Add broth, increase heat to high and bring to a boil; reduce heat and simmer for 5 minutes.
Carefully submerge the meatballs in the simmering liquid; return to a simmer and cook for 8 minutes. Add rice and cook, stirring occasionally, until tender, about 5 minutes. Remove from the heat and stir in lime juice. Garnish with jalapeno and cilantro.
Notes
Yield: Makes 6 servings, about 1-2/3 cups each.
Tips
Cover and refrigerate the soup and meatballs separately for up to 1 day. To serve, reheat soup in a Dutch oven and proceed as directed above.
To make fresh breadcrumbs, trim crusts from firm sandwich bread. Tear bread into pieces and pulse in a food processor until coarse crumbs form. One slice of bread makes about 1/3 cup of crumbs.
Poblano peppers can be fiery or relatively milk; there is no way to tell until you taste them. They are sold in the produce section of most grocery stores. If you want a milder flavor, you can substitute 2 bell peppers plus one minced jalapeno pepper, or more to taste. Remember that the seeds and ribs hold the most heat, so remove them if you want. Also, the closer to the stem you get, the hotter the pepper. So you can also discard the upper portion to control the heat as well.
The Heritage Cook ® https://theheritagecook.com/
Unauthorized use, distribution, and/or duplication of proprietary material without prior approval is prohibited. I can be contacted via email at: heritagecook (at) comcast (dot) net. Feel free to quote me, just give credit where credit is due, link to the recipe, and please send people to my website,
www.theheritagecook.com.
Thank You!