Just 5 ingredients make one of the best cookies in the world. These White Chocolate Glazed Shortbread Cookies will literally melt in your mouth and they should be on everyone's holiday cookie platters!
Thanks to the cornstarch in the dough, these cookies are incredibly delicate. They tend to crumble a little when you take a bite, so be sure to eat them over a plate! If you can't have corn, you can use tapioca starch or arrowroot instead.
There is something so satisfying about a simple cookie. Nothing too elaborate, each ingredient coming together in perfect harmony. This is the time to splurge a little on ingredients because each one has so much impact on the final product.
If you want to be extra nice to Santa, leave a plate of these cookies for him. I guarantee there won't be any coal in your stocking, LOL.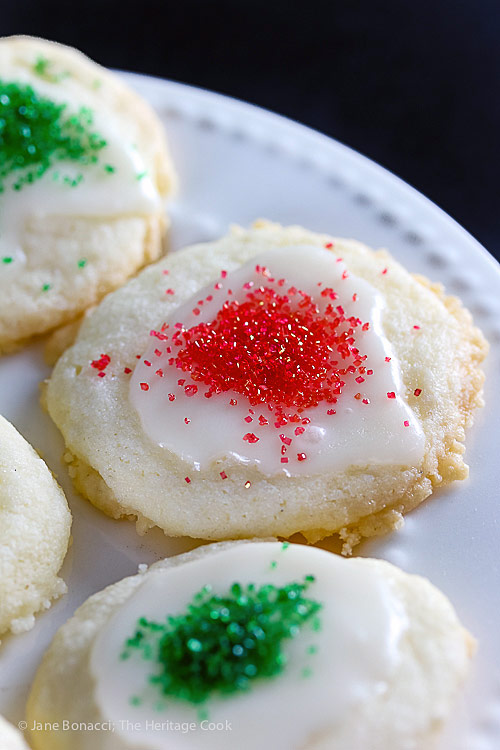 European-style butter will make these cookies even more luxurious than American butters. Definitely an indulgence! I used sparkling sugars to make my cookies shine, but you can leave them plain or use other decorations if you want. Gold or silver would be beautiful for New Year's Eve!
I make the glaze when the first cookies are baking and when done, transfer them to wire racks for cooling. I scoop the next batch and get them in the oven and while they are baking, glaze the first batch. Once you get going, you get into a rhythm and the cookies will be done before you know it!
If the glaze starts to get too thick, just put the bowl back over the hot water and re-melt the chocolate to thin it out. I put a dollop right in the center and use the back of the spoon to help cover most of the top. If the cookies are cool, the glaze will tend to stay in center and not spread as much. Either way is fine so don't stress over getting the glaze on immediately.
I hope you love these cookies as much as The Artist and I do – he could barely wait until they cooled off before diving into a big plate of them!!
Happy Chocolate Monday!
Gluten-Free Tips:
This is the perfect recipe to use Authentic Foods Superfine rice flours. There is absolutely no grittiness so common in gluten-free baked goods. If you can't find them in your local gourmet grocery store, mail order them direct from the company or from Amazon.
White Chocolate Glazed Shortbread Cookies (Gluten-Free)
2017-12-18 08:10:51
Ingredients
Cookie Dough
1-1/2 cups (192g) cornstarch
2 cups (240g) all-purpose flour or gluten-free flour blend
1 tsp kosher or fine sea salt (omit if using salted butter)
2 cups (4 sticks/452g) unsalted butter, at room temperature
1/2 cup + 3 tbsp (78g) confectioners' sugar
White Chocolate Glaze
12 oz (340g) white chocolate chips or chopped white chocolate
2 tsp unsalted butter or vegetable shortening
1/2 tsp pure vanilla extract or vanilla paste
Instructions
Make the Cookie Dough: Line two baking sheets with parchment paper and set them next to the stove. Preheat the oven to 350°F.
In a large bowl, combine the cornstarch, flour, and salt (if using). Whisk until thoroughly blended. Set aside.
In the bowl of your stand mixer fitted with the paddle attachment, beat the butter until smooth and creamy, about 2 minutes. Add the sugar and mix again until smooth. Add half the flour mixture and mix slowly, pulsing the mixer so the flour doesn't fly out of the bowl. Mix until completely incorporated and smooth. Repeat with remaining flour blend.
Refrigerate the dough about 15 minutes to firm up slightly.
Use a spring-loaded ice cream scoop to shape the dough into walnut-sized balls and place about 1-inch apart on the prepared baking sheets. Use the bottom of a dampened and sugared glass to flatten each ball.
Bake about 8 minutes, until the edges are lightly browned. Do not overbake the cookies. Transfer to wire racks set over sheets of parchment paper or waxed paper (to catch drips). While the cookies are still warm, drizzle with the white chocolate glaze.
Prepare the White Chocolate Glaze: Set up a heatproof bowl set into a saucepan with simmering water in the bottom. Place the white chocolate and butter in the bowl and heat, stirring often, until the chocolate is mostly melted. Stir in the vanilla. Remove from the heat and whisk until the chocolate is fully melted and the mixture smooth and glossy.
Use a spoon to pour some of the glaze over the top of each cookie, letting the excess fall onto the parchment paper beneath the wire racks. If needed, you can scrape up the excess from the parchment and reheat it to continue glazing the cookies.
If desired, sprinkle the tops of the cookies with sparkling sugar, sprinkles or other decorations. Allow the glaze to fully dry before moving the cookies to a platter. These are best eaten on the day they are baked but will hold up to a week, covered, at room temperature.
Notes
Yield: about 4 dozen cookies
The Heritage Cook ® https://theheritagecook.com/
Create a New Tradition Today!
Welcome! If you ever need any entertaining or cooking advice, need to alter a recipe for gluten-free, or want recipe suggestions, don't hesitate to ask. Unauthorized use, distribution, and/or duplication of proprietary material from The Heritage Cook without prior approval is prohibited. If you have any questions or would like permission, please contact me. The suggestions here are not intended as dietary advice or as a substitute for consulting a dietician, physician, or other medical professional. Please see the Disclaimers page for additional details. Thanks for visiting The Heritage Cook!