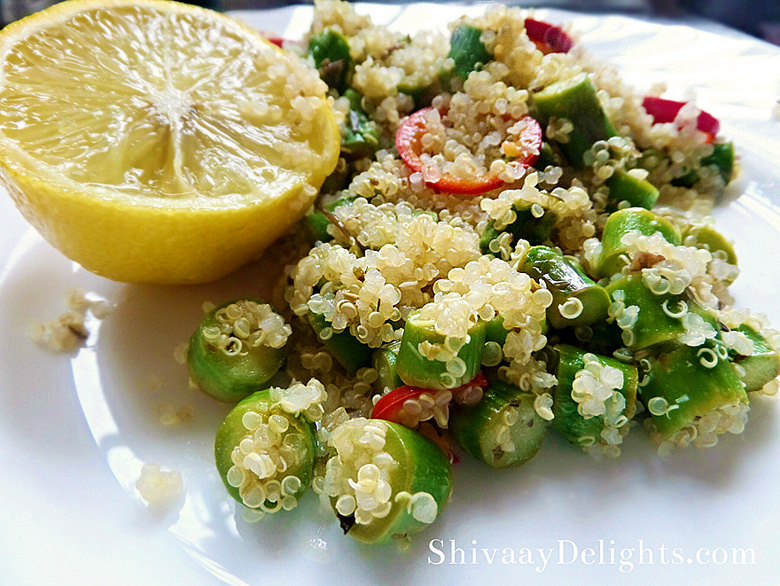 While I am traveling on business for the next couple of weeks, some of my friends have graciously sent me articles and photographs to share with all of you. I can't wait for you to meet each one and discover new blogs to follow and meet some of the best talent in the industry!
Today the lovely Dimple Makani from Shivaay Delights has made a beautiful vegetarian quinoa salad filled with the flavors of spring! I love quinoa (keen-wah); it is a protein-packed gluten-free grain with a slightly nutty flavor and pleasant chewy texture. When cooked in vegetable or chicken stock, you get even more flavor and protein! It is quickly gaining popularity here in the U.S. and is one of Dimple's favorites. This recipe is also dairy-free for those with lactose sensitivities.
Thank you Dimple for sharing this lovely recipe!
* * * * * * * * * * * * * *
I am thrilled to be writing a guest post for Jane here at The Heritage Cook. I thought I would share my latest love of Quinoa with you all. A versatile healthy grain full of protein that you can pretty much make anything with. From baking to cooking to roasting! It's brilliant!
I really love it in a warmed through salad. I have only started making it but have seen it everywhere up until now. It's strange how I really like quinoa but am not a fan of couscous. The quinoa really absorbs flavour. With this salad you will get heat from the chile, tanginess from the lemon, and Mediterranean notes from the oregano and olive oil dressing!
I hope my love of quinoa and this recipe gets you experimenting with this wonderful ingredient. Thanks again to Jane for giving me this opportunity to share with you all. Hope to see you all soon, come visit me at www.Shivaaydelights.com
Asparagus, Chile and Lemon Quinoa Salad
2015-06-20 14:33:01
Ingredients
1 tbsp olive oil
1/3 tsp dried oregano
 (slightly less than 1/2 tsp or two large pinches)
1 red chile, sliced (such as red jalapeno, red Fresnos, etc.)
8 to 10 asparagus spears, trimmed and chopped into 1 cm pieces
 (about 1/3-inch)
Salt, to taste
1/2 tsp garlic granules
 (or powder)
Fresh lemon juice, to taste
2 cups pre-cooked quinoa
 (follow directions on package)
Dried chile seeds or flakes, optional
Instructions
Heat the oil in a nonstick saucepan with the dried oregano on a low heat.
Add the chile and mix well. Cook for a few minutes so that the oil takes on the heat from the chile.
Throw in the asparagus and sauté until al denté (tender to the bite). Season with the salt and mix in the garlic granules.
Squeeze in a little lemon juice and stir in the pre-cooked quinoa.
Warm through and serve, you may wish to add some more lemon juice and sprinkle with dried chile seeds or flakes.
Adapted from Shivaay Delights
The Heritage Cook ® https://theheritagecook.com/
To learn more about Dimple Makani, follow her food adventures and discover her delicious recipes, make sure you visit Shivaay Delights. And to follow her on social media, click on these links:
Facebook: https://www.facebook.com/shivaaydelights
Twitter: https://twitter.com/ShivaayDelights
Pinterest: http://www.pinterest.com/ShivaayDelights/shivaay-delights-recipes/
Google+: https://plus.google.com/106413078467468086100/posts
Create a New Tradition Today!
Unauthorized use, distribution, and/or duplication of proprietary material from The Heritage Cook without prior approval is prohibited. This includes copying and reprinting content and photographs. If you have any questions or would like permission, I can be contacted via email at theheritagecook (at) comcast (dot) net. Feel free to quote me, just give credit where credit is due, link to the recipe, and please send people to my website, www.theheritagecook.com. Please see the Disclaimers page for additional details.
This site is not intended to provide medical advice. The suggestions here are not intended as dietary advice or as a substitute for consulting a dietician, physician, or other medical professional. It is the reader's sole responsibility to determine which foods are appropriate and safe for their family to consume. Always consult your doctor. The author makes no claims regarding the presence of food allergens and disclaims all liability in connection with the use of this site.
Thank You!