Happy almost Valentine's Day my friends! While not a traditional Valentine's dessert, today's Dark German Chocolate Cake is perfect for any special occasion, holiday, or just because it is Chocolate Monday!
This cake has rich, deep chocolate flavor in every bite, balanced perfectly by the luscious coconut-macadamia nut filling/frosting. This is the cake you've always dreamed of!
One of The Artist's and my childhood favorites, German chocolate cake traditionally was a cloyingly sweet concoction of pale chocolate cake, sugar, nuts, and coconut. As we grew older we craved something that wasn't so sweet but with the same flavor profile.
Executive Pastry Chef Gale Gand, one of my culinary heroes, developed a version that has a much deeper chocolate flavor that helps balance the sweet topping. Even if you think you don't like German chocolate cake, try this recipe – you may become a convert!
When Chef Gand set about to create a more intense, nuttier, and less sweet version of the classic cake, she left the Baker's chocolate on the shelf and switched to unsweetened cocoa powder for the deep chocolate flavor it provides to baked goods. Toasting the unsweetened coconut and using macadamias bumps up the flavor and raises the luxury quotient.
Many people shy away from any recipe that contains more than five ingredients or is longer than three paragraphs. In fact, long, detailed recipes are exactly the kind of recipes you should be looking for. That means that the author has taken great pains to give you all the details you need to successfully recreate the dish. Remember, it is easy to brush over excessive commentary, but impossible to create detail where none exists! I am always grateful for the extra time and effort the developer puts into long recipes.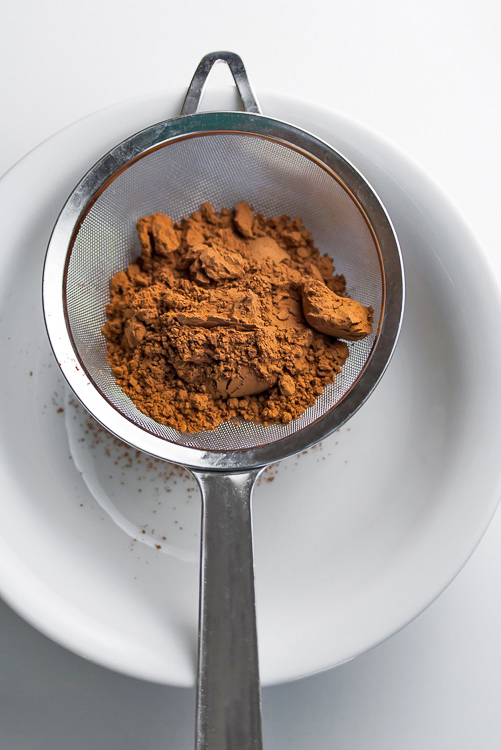 There is no doubt that this Dark German Chocolate Cake is full of intense chocolate character. Usually the frosting easily beats the cake in dominance, but with this darker rendition, in my opinion, it is a fairly equal battle. I'm not sure which I like better – and that is the best way for this kind of competition to end!
Happy Chocolate Monday and enjoy your Valentine's Day celebrations this week!
Jane's Tips and Hints:
You can buy both sweetened and unsweetened flaked coconut. I find that using unsweetened adds all the coconut flavor I am looking for without winding up with an ultra sugary dessert.
Gluten-Free Tips:
Using xanthan gum or psyllium husk powder with your gluten-free flour blend helps keep your cake from being crumbly and falling apart. If using psyllium husk powder, use twice the amount of xanthan gum called for in the recipe. Use either xanthan or psyllium but never the two together.
Yield: 8 to 10 servings
Gluten Free Dark German Chocolate Cake
Additional Time
15 minutes
Total Time
1 hour
15 minutes
Ingredients
Chocolate Cake
3 cups (600 g) granulated sugar
If your GF flour blend doesn't have xanthan, whisk 1/2 tsp into the dry ingredients or you can use 1 tsp psyllium husk powder instead
2-1/4 tsp baking powder (gluten-free if needed)
2-1/4 tsp baking soda
1-1/2 tsp kosher or fine sea salt
3 large eggs
1-1/2 cups (355 ml) milk
3/4 cup (177 ml) vegetable oil
1 tbsp pure vanilla extract
1-1/2 cups (355 ml) very hot water
Coconut Macadamia Filling and Topping
1-1/4 cups (250 g) granulated sugar
1/3 cup (78 ml) water
2/3 cup (156 ml) heavy cream
1/2 cup macadamia nuts, toasted and roughly chopped
Instructions
Make the Cake: Preheat the oven to 350°F. Butter 2 (8- or 9-inch) round cake pans. Set aside.
Sift together the 3 cups sugar, flour, cocoa, baking powder, baking soda, and salt. Transfer to the bowl of your stand mixer fitted with a whisk attachment (or use a hand mixer) and blend briefly.
Whisk together the eggs, milk, oil, and vanilla extract in a medium bowl. Add to the dry ingredients and mix at low speed for 5 minutes. Gradually add the hot water, mixing at low speed just until combined. The batter will be quite thin.
Divide the batter equally between the two pans. Bake until a toothpick inserted in the center comes out clean or with a few crumbs and the center feels firm to the touch, 25 to 35 minutes. Transfer to a wire rack to cool.
Let the layers cool in the pans. Cake layers can be made up to 1 day ahead. Once cool, cover tightly with plastic wrap and refrigerate.
Meanwhile, make the Caramel: Pour the 1-1/4 cups sugar into the center of a deep light-colored saucepan. Carefully pour the water around the edge of the pan, trying not to splash any sugar onto the walls. Very carefully, gently stir to moisten the sugar, being sure not to splash any sugar crystals onto the sides of the pan.
Over high heat, bring to a full boil and cook without stirring, swirling the pan occasionally to even out the color, until it reaches a medium caramel color, 5 to 15 minutes. (Note: If you are not using a heavy duty, high quality pan it may take more or less time to caramelize the sugar.) Immediately remove from the heat and use a long-handled spoon to slowly and carefully stir in the cream - it will bubble up and may splatter so be cautious. Stir in the nuts and coconut. Keep warm or re-warm when ready to use.
To Assemble: Loosen the cakes from the pans and turn them out onto a rack. Place one layer, rounded side down, on your serving platter. Top with about half of the coconut/macadamia mixture, spreading it out until it just barely reaches the edges of the cake. Set the second cake layer, rounded side up, on top of the filling and gently press down, spreading the filling to the edges so it shows between the layers. Scoop the remaining coconut/macadamia nut mixture on top and spread it out, leaving it slightly thicker in the center. The edges of the cake will not be covered.
Slice and serve.
Nutrition Information:
Yield:
10
Serving Size:
1
Amount Per Serving:
Calories:

778
Total Fat:

33g
Saturated Fat:

9g
Trans Fat:

1g
Unsaturated Fat:

21g
Cholesterol:

77mg
Sodium:

675mg
Carbohydrates:

115g
Fiber:

4g
Sugar:

86g
Protein:

9g
Create a New Tradition Today!
Welcome! Unauthorized use, distribution, and/or duplication of proprietary material from The Heritage Cook without prior approval is prohibited. If you have any questions or would like permission, please contact me. The suggestions here are not intended as dietary advice or as a substitute for consulting a dietician, physician, or other medical professional. Please see the Disclaimers/Privacy Policy page for additional details. This page may contain affiliate links. Thanks for visiting The Heritage Cook!