Welcome to June's edition of the Secret Recipe Club! I love this day because I get to introduce you all to some of the wonderful food blogs that are out there and which you may not have discovered yet. Today I am lucky to have been assigned the blog Cookin' Mimi written by Micha. If you love good ole Southern cookin' you're going to adore Micha!
Cookin' Mimi is chock full of recipes that made my mouth water. I wish I had more freedom to create some of her savory dishes because I am a closet Southern Belle, but I am always on the hunt for a chocolate treat. Yep, you heard me right, this California Girl has a real soft spot for anything southern! I spent a lot of time in Georgia, Florida and Texas during my high tech career and was soon craving the classic southern dishes and the graciousness that is unique to the South. I'm sure I must have been Scarlett O'Hara in a past life … all I'm missing is hoop skirts and a parasol, LOL.
Micha calls herself a "Double Southerner" having lived in Southern California and the Deep South. She developed a passion for Mexican food while in California and embraced the classic recipes her mother's family grew up eating when she moved back South. She focuses on recipes that can be put together quickly with ingredients in your pantry, never sacrificing taste for ease of preparation. This is one food blog that you can turn to when time and ingredients are short and find many options that will thrill your friends and family!
Today's recipe is a recreation of a true southern classic, the Little Debbie snack cake. If you've never had the chance to taste one of these little treats, it is a bit like a Ho-Ho or Ding Dong. This is a chocolate cake with a vanilla cream filling and chocolate frosting. It is the perfect dessert for all the chocoholics in our lives!
There is another bonus to making this cake. Because it does not require any eggs, you can make it for your family and friends even if they are allergic to eggs or casein! I added an egg to help compensate for the liquid absorption rate of the flours in my gluten-free baking, but if eggs are an allergen for someone in your family, leave it out.
Something tells me Micha and I would be fast friends if we ever get the chance to meet in person. I learned to cook standing next to my grandmother Mimi and Micha learned from her granddaddy. I made dumplings and she made biscuits. Both of us evolved to write food blogs. Oh yeah, that is destiny!
Happy Chocolate Monday everyone and make sure you check out all the links below to some truly amazing recipes from the members of the Secret Recipe Club!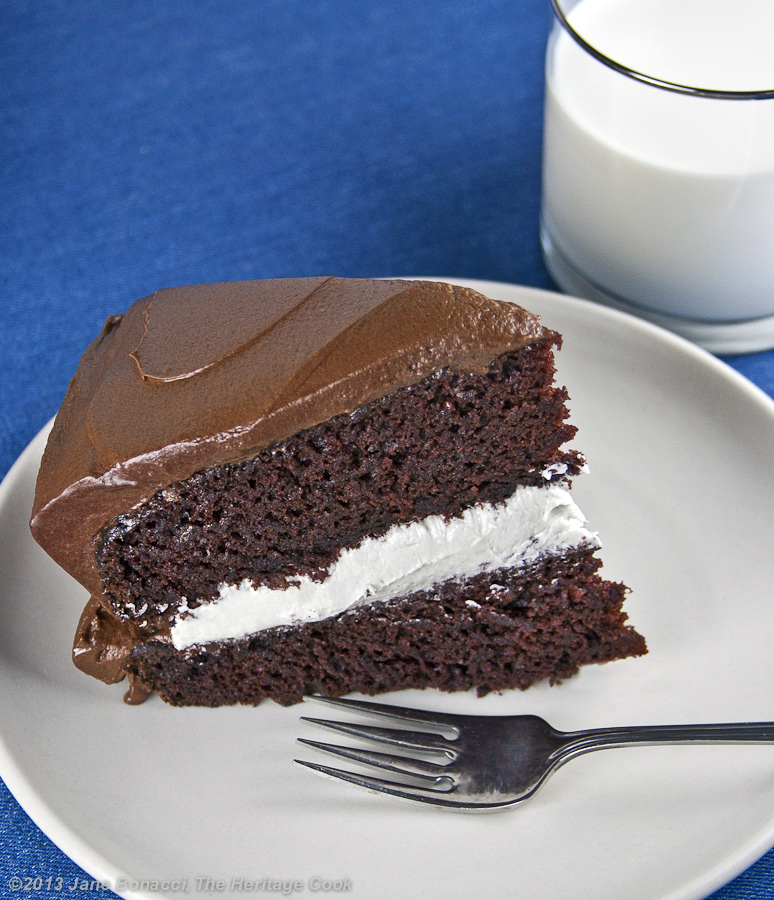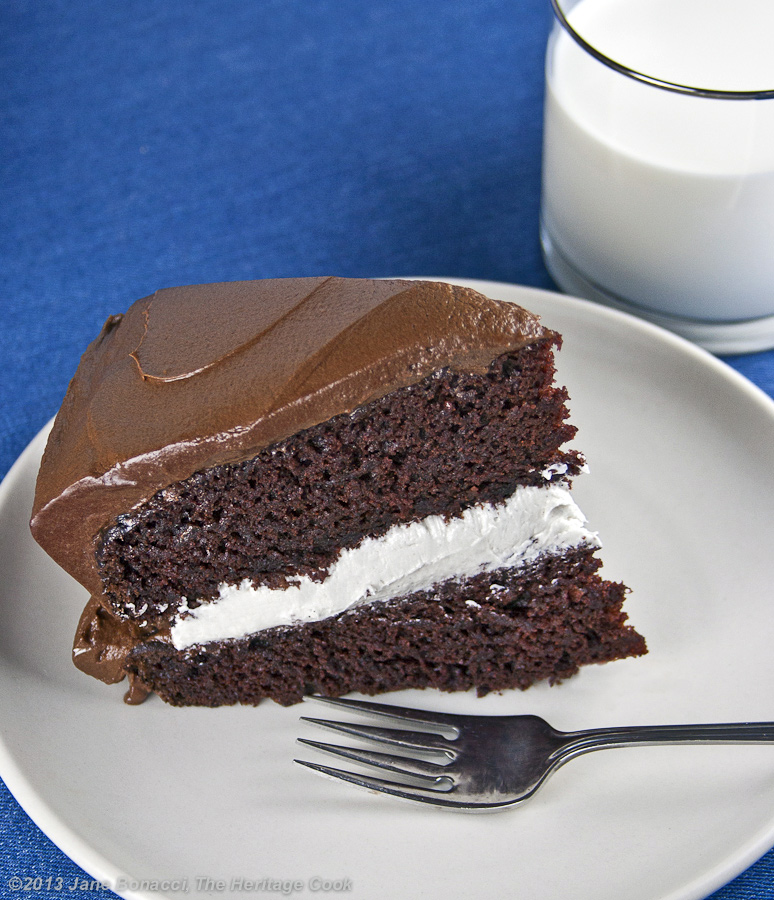 Homemade "Little Debbie" Chocolate Layer Cake with Vanilla Filling
2015-06-30 19:55:01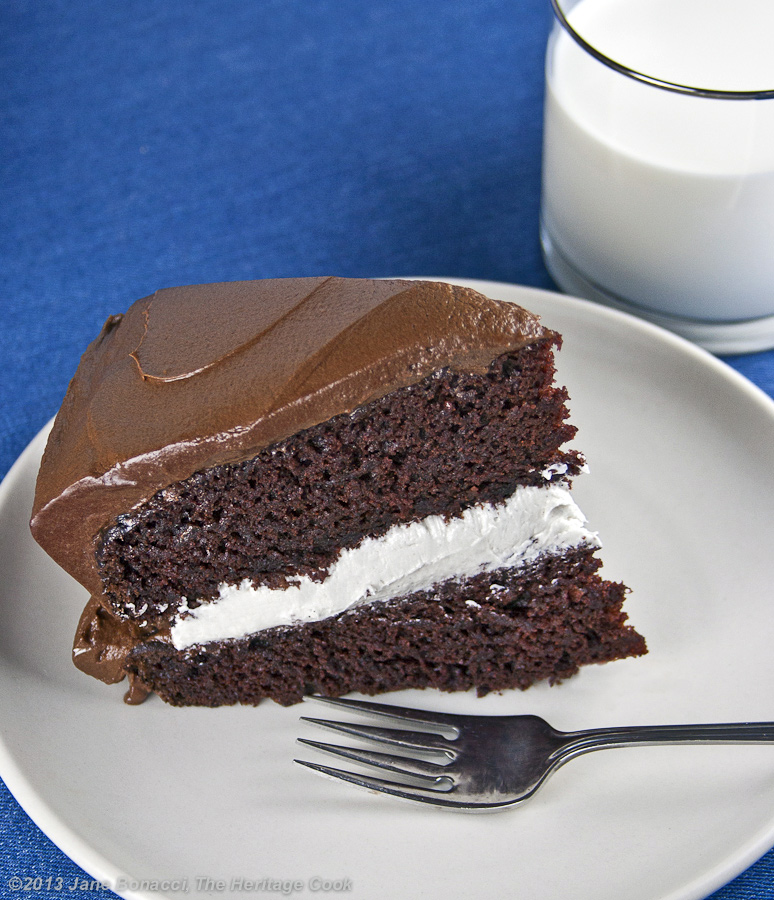 Ingredients
Cake
3 cups all-purpose flour (or 2-1/2 cups gluten-free flour blend with xanthan gum and 1/2 cup almond meal)
2 cups sugar
6 tbsp cocoa powder
2 tsp baking soda
1 tsp salt
3/4 cup organic olive or vegetable oil (neutral flavor)
1 large egg, optional but recommended for gluten-free version
2 tbsp vinegar (white or apple cider)
2-1/2 tsp pure vanilla extract
2 cups water
Filling
3 tbsp all-purpose flour (or gluten-free flour blend)
1/2 cup milk
1/2 cup butter or vegetable shortening, at room temperature
1/2 cup granulated sugar
1 tsp pure vanilla extract
Frosting
1/2 cup butter, softened
2/3 cup unsweetened cocoa powder
2 to 3 cups powdered sugar, sifted
1/3 to 1/2 cup milk, or as needed
1 tsp pure vanilla extract
Instructions
Prepare the Cake: Preheat oven to 350°F. Butter 2 (9-inch) round cake pans and dust with cocoa powder.
In the bowl of your standing mixer, combine the flour, sugar, cocoa, baking soda and salt. In a measuring cup combine the oil, egg (if using), vinegar, vanilla and water. Pour the wet ingredients into the dry ingredients and beat until smooth. Divide equally between the two prepared pans.
Bake in hot oven for about 25 minutes, spinning the pans halfway through the baking time, or untilfine crumbs cling to a wooden toothpick inserted in the center of the cake layers.
Cool in pans for 10 to 15 minutes, remove from the pans and and place upright on wire cooling racks and cool completely.
The cake layers can be baked a day or two in advance, wrapped tightly in plastic and refrigerated. If you are using gluten-free flours, cakes are usually better a day or two after baking.
Make the Filling: Whisk together flour and milk in a small saucepan making sure there are no lumps. Cook over medium-low heat until thickened, about 5 minutes, whisking constantly. Pour into the bowl of your standing mixer and let cool completely, stirring occasionally.
Once the flour/milk mixture has cooled, add the butter, vanilla and sugar to the bowl. Beat with mixer on high for about 5 minutes or until light and fluffy. Set aside.
Make the Frosting: Beat the butter and cocoa powder together. Alternate the milk and powdered sugar until your desired consistency is reached. Stir in vanilla. Beat on high until light and fluffy. Refrigerate if needed to firm up the frosting slightly (especially if it is a hot summer day).
Assemble the Cake: For a two-layer cake, use the cake layers as they are. If you want a four-layer cake, split each cake layer in half horizontally with a serrated knife.
Place bottom layer topside down on serving plate. If making a 2-layer cake, top the cake layer with all of the filling, spreading it to the edges and place the second layer on top, rounded side up. Press down gently, helping to spread the filling all the way to the edge. If you are making a 4-layer cake, use 1/3 of the filling between each layer.
Cover entire cake with a very thin coating of the frosting and place it in the refrigerator to firm up. This crumb coat holds any loose crumbs and will help you get a perfectly frosted cake every time! (The cake can be made to this point up to a day in advance and kept in the refrigerator, wrapped tightly in plastic wrap. After 15 minutes, remove cake from the refrigerator and finish frosting. Slice and serve.
Notes
Yield: 1 (9-inch) layer cake
The Heritage Cook ® https://theheritagecook.com/
Create a New Tradition Today!
Here are more recipes from The Secret Recipe Club just for you!
Unauthorized use, distribution, and/or duplication of proprietary material on The Heritage Cook without prior approval is prohibited. This includes copying and reprinting content and photographs. If you have any questions or would like permission, I can be contacted via email: theheritagecook (at) comcast (dot) net. Feel free to quote me, just give credit where credit is due, link to the recipe, and please send people to my website, www.theheritagecook.com. Please see the Disclaimers page (under the "About" tab above) for additional details.
Thank You!