Tuesday I shared my favorite Mexican soup and today I am sharing the Greek classic, Avgolemono, a lemon chicken and rice soup. It is rich yet light, flavored with fresh lemon juice and thickened slightly with eggs. Incredibly delicious, it is like sipping pure sunshine with the lemon bringing a delightful freshness, creating a whole new type of chicken soup. This might just become your new favorite!
You start with a very simple homemade chicken stock, then mix together lemon juice and eggs. Whisking the lemon-egg mixture into the stock creates an indulgent soup that tastes creamy without any dairy in it! On top of the amazing broth you've got big chunks of chicken and creamy rice. Mmmmm, so good!
This would be wonderful served with toasted crostini smeared with Greek feta, sprinkled with fresh oregano and a touch of fresh lemon zest, adding a delightful crunch and the traditional flavors of Greece.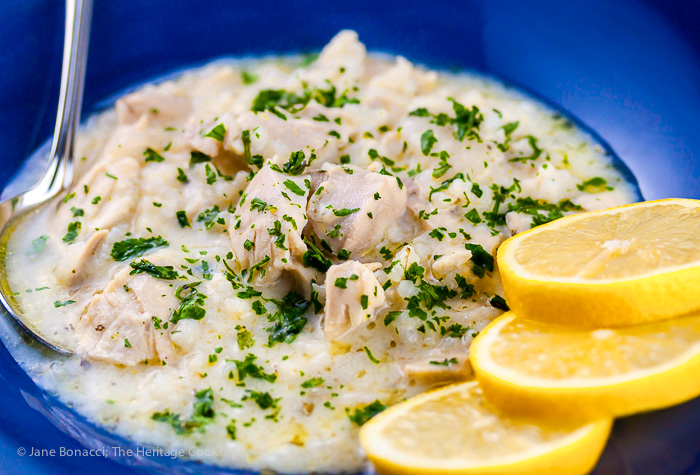 If you can't have gluten products, use a gluten-free bread to make your own crostini. As it happens, I have a GF baguette in my cookbook that would be perfect (wink, wink)! Slice, place on a baking sheet, and toast at 300°F until golden brown. Flip to cook the other side and remove from the oven when both sides are toasted. Let them cool completely before topping with the feta, oregano and lemon zest.
When I think of Greece, I picture the brilliant white buildings surrounded by the bluest water imaginable. The movement of the ocean is always mesmerizing and I could sit gazing at it for hours. This lemon chicken and rice soup makes me long to be sitting high on a hill, sipping a glass of wine in anticipation of the incredible meal we can smell cooking, looking out at the perfect scene stretching to the horizon.
This soup is delicious all year long but it is especially good in these last few warm days and cool nights before the fall and winter really set in. It will warm you and the lemon juice makes it almost refreshing. A great combination of flavors and textures. Enjoy!
Jane's Tips and Hints:
You can use either a whole chicken or cut up pieces. The pieces will cook faster so keep an eye on them. I use a whole chicken because they are cheaper and I've gotten used to breaking them down so it is easy for me.
Gluten-Free Tips:
Make sure the chicken you buy is as fresh as possible and hasn't been injected with any brines that might contain gluten ingredients.
Lemon Chicken and Rice Soup (Gluten-Free)
2017-09-26 01:10:08
Ingredients
1 (3 lb) whole or cut-up chicken, on the bone, organic if possible
1 onion, trimmed, peeled and quartered
2 bay leaves
10 whole peppercorns
2 carrots, peeled, trimmed and cut into large chunks
2 stalks celery, trimmed and cut into large chunks
2/3 cup arborio or carnaroli rice
2 to 3 tsp kosher or fine sea salt
2 large eggs
1/4 cup freshly squeezed lemon juice, about 1 large lemon
Ground white or black pepper, to taste
Fresh chives, for garnish
Fresh lemon slices, seeds removed, for garnish
Instructions
Rinse the chicken pieces with cold water and place in a large stockpot. Add enough water to cover by about 1-inch. Bring to a boil over high heat, reduce to medium-low, and simmer, skimming and discarding foam from the surface as needed.
When the chicken is cooked through, or when an instant read thermometer registers 160°F when inserted in the breast. This will take about 1 hour to 1-1/2 hours for a whole chicken, roughly 30 to 45 minutes for cut up pieces. Remove the chicken from the liquid (reserve the broth) and transfer to a sheet tray to cool. When it is cool enough to handle, discard the skin and pull the meat from the bones. Cut into bite-sized cubes and set aside. Discard the bones.
To the broth in the stockpot, add the onions, bay leaves, peppercorns, carrots, and celery and bring to a boil. Reduce the heat to medium-low and simmer about 30 minutes to infuse the flavors and concentrate the stock.
Using a slotted skimmer or tongs, remove the vegetables and solids from the broth and discard. Stir the rice and salt into the broth. Bring to a boil over high heat and then reduce to medium-low and simmer until the rice is cooked al dente, about 30 minutes or according to package directions.
In a medium mixing bowl, whisk the eggs and lemon juice together. Slowly pour 2 cups of the chicken broth into the bowl, whisking continuously. This gently warms the eggs and so they don't get scrambled when added to the hot liquid, this technique is called tempering.
Once all the broth is added to the eggs, slowly whisk the egg mixture into the pot of soup until fully incorporated. Add more water if the stock has reduced too much, is too concentrated or salty. Taste the broth and adjust seasonings if needed. Add the chicken meat to the broth to rewarm.
Ladle into serving bowls, sprinkle the tops with chives and set a lemon slice on the side if the bowls have a wide lip or slide a split lemon slice on the edge of the bowls. Serve hot.
Notes
Yield: about 6 servings
The Heritage Cook ® https://theheritagecook.com/
Create a New Tradition Today!
Welcome! If you ever need any entertaining or cooking advice, need to alter a recipe for gluten-free, or want recipe suggestions, don't hesitate to ask. Unauthorized use, distribution, and/or duplication of proprietary material from The Heritage Cook without prior approval is prohibited. If you have any questions or would like permission, please contact me. The suggestions here are not intended as dietary advice or as a substitute for consulting a dietician, physician, or other medical professional. Please see the Disclaimers page for additional details. Thanks for visiting The Heritage Cook!