Today is Festive Friday and the weekend is here! Are you hosting a party or having friends over for dinner? When the weather is warm I look for recipes that are cool and refreshing. This mousse is perfect for warm summer evenings, a lovely brunch, or baby shower. It is elegant and refined enough for the fanciest affairs and also perfect for serving at your annual Super Bowl party.
There are people you meet in your life that are naturals in the kitchen. Everything comes easily to them and they have all the confidence in the world when it comes to cooking and baking. They have an inherent instinct for what tastes good together. I got this recipe from my friend Linda Burns, one of the best cooks I've ever known. She has three beautiful daughters so her days are busy. The last thing she has time for is a time consuming recipe. No matter what she serves for dinner, it is guaranteed to be fantastic and easy to put together quickly.
If you are anything like me, you have several appetizer recipes that you know you can take to any party and everyone will be thrilled to see them arrive. This is one of those recipes where you look at the ingredients and shake your head, thinking there is no way this is going to taste good. But you will be surprised. This is velvety and very rich tasting. I don't normally use canned condensed soups, but this is one case where it is necessary for the consistency and flavor.
This is one of my all time favorites because it is incredibly easy to make, delicious to eat, and can be made ahead. The ingredients are easy to have on hand and you can whip this up in just a few minutes. I like to serve it with crackers or a thinly sliced baguette and garnish the plate with bright yellow lemon slices. If you can't get fresh crabmeat, canned works just fine. Make sure you rinse and drain it well. You don't want a lot of excess moisture in the mousse. If you want, you can also use cooked or canned salmon in place of the crab.
If you have never made a jell-o mold, it is really fun. You pour in something that is semi-liquid, set it in the refrigerator for a while and it turns into a solid form. It is like magic! Buy a couple of pretty copper molds and use them as decorations in your kitchen. Then when you are having a party, you can pull one down and use it to make this appetizer. Make sure you keep the mousse in the refrigerator, unmolded, until time to serve. When it is time to remove the mousse from the mold, you can dip it in hot water or wrap the outside of the mold with a hot towel to make it easier for the mousse to release. Oiling the form ahead of time will also help.
This mousse is normally formed in a single 4-cup mold, but you can also use smaller, individual ramekins or other decorative molds for more formal events. If you make them this size, you would invert them onto a lettuce leaf on small salad plates, and garnish the plate with fresh dill, parsley and lemon slices. Fan a few crostini, crackers, or baguette slices on the plate and serve.
I love that this recipe makes a generous sized appetizer. There are usually leftovers which I happily eat the next day. When you are making this for your next party, give me a call. I'll be over with a spoon to eat up all the leftovers!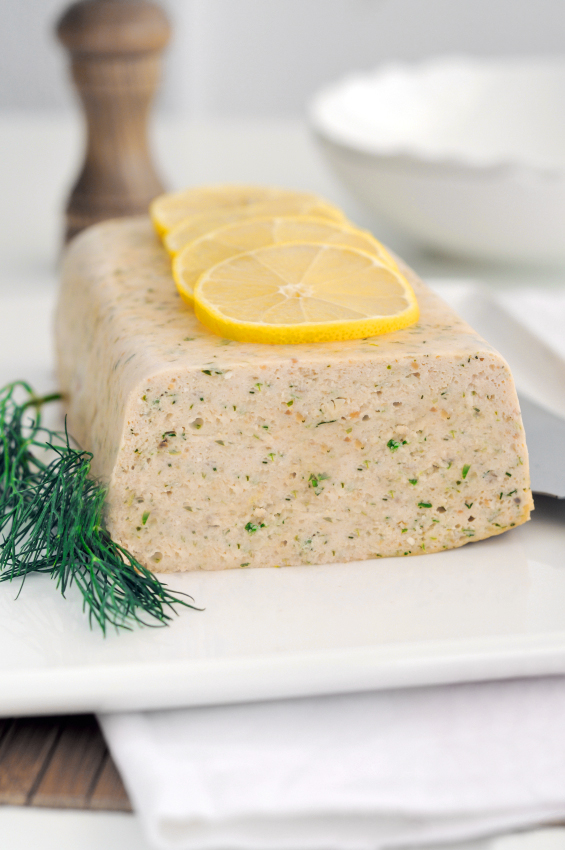 Crab Mousse
2015-07-16 16:55:13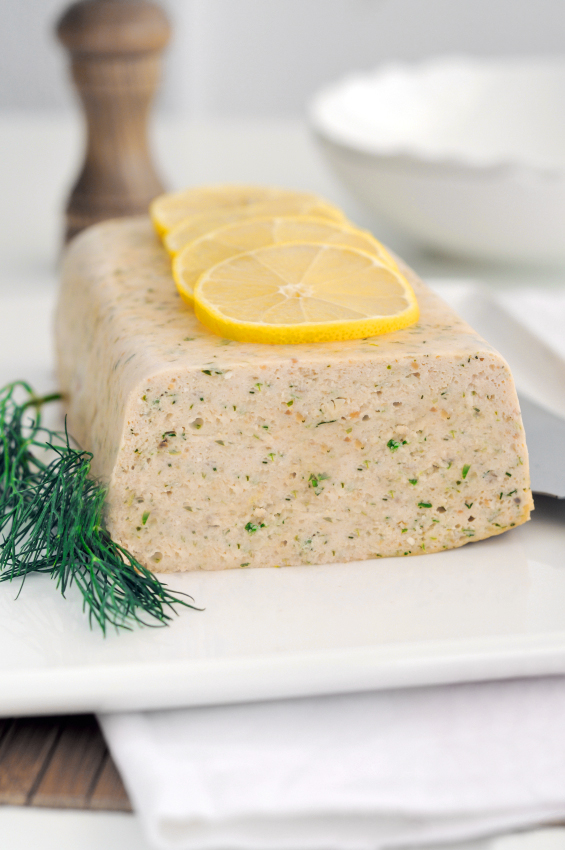 Ingredients
1 packet unflavored gelatin (see Note)
3 tbsp cold water
1 can cream of mushroom soup, undiluted
8 oz cream cheese, softened
1 cup mayonnaise
1 cup finely chopped celery
3 scallions or green onions, minced
1 tsp minced fresh garlic, about 2 large cloves
1 tsp lemon pepper, or to taste
1 tsp fresh lemon juice
12 to 16 oz flaked crabmeat (fresh if available; or canned, rinsed & drained works well as a substitute)
Parsley sprigs for garnish
Lemon slices for garnish
Instructions
Dissolve gelatin in water in a small bowl and set aside. Gelatin will expand, absorbing all of the liquid. Lightly oil a 4-cup metal food mold (the kind used for Jell-O molds); set aside.
In a medium saucepan over low heat, heat undiluted soup, stirring until melted and smooth. Add cream cheese and stir until melted. Remove from heat. Add dissolved gelatin, whisking to incorporate. Add remaining ingredients, except crab and garnishes, stirring to make sure everything is well blended and distributed evenly. Gently fold in crab using a rubber spatula.
Pour into oiled mold and smooth the top. Cover top with plastic wrap and place in refrigerator. Chill at least 8 hours or overnight.
Keep mousse molded and refrigerated until just before serving. To help the mousse release, dip mold in hot water being careful not to get any water on the mousse, or wrap it with a hot towel for a few seconds. Set your serving plate on top of the mold, hold the two together and quickly flip it upside down. Wiggle the mold gently to help ease the mousse out of it. If it is stubborn, wrap the mold again with a hot towel. If everything else fails, very gently insert a knife between the mousse and the mold, breaking the vacuum seal.
Garnish platter with parsley and lemon slices and serve mousse with a variety of crackers, thin baguette slices, or crostini.
Notes
Yield: about 15 to 20 appetizer servings.
Unflavored gelatin is found next to the "Jell-O" display. It comes in a small box which contains individual packets.
The Heritage Cook ® https://theheritagecook.com/
Unauthorized use, distribution, and/or duplication of proprietary material without prior approval is prohibited. If you have any questions or would like permission, I can be contacted via email at: heritagecook (at) comcast (dot) net. Feel free to quote me, just give credit where credit is due, link to the recipe, and please send people to my website,
www.theheritagecook.com.
Thank You!