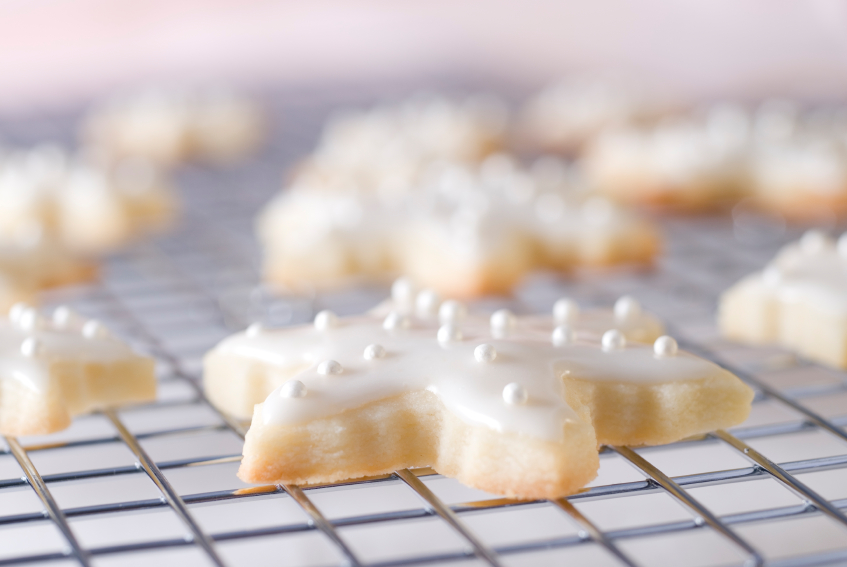 I love cookies, any kind of cookies, but the more buttery and sweet they are, the better! If you add citrus I am even happier, so when I saw this recipe for Lemon Zest Shortbread I knew I would love them. If you want to make them in the most traditional method, press into a circle, use a fork to define the wedges, and sprinkle with coarse sugar. But I wanted to jazz them up just a bit and decided to add a lemon glaze. These are now officially my favorite cookies in the world!
When I was a little girl, my mother and I would bake cookies together. She would roll out the dough and let me cut out the cookies. I could barely stand to wait the 10 minutes it took for them to bake. For special occasions she would make colorful frostings and we would cover them with all kinds of decorations. When we were done my hands, arms, and face were all stained with food coloring from eating the frosting, and my mom would put me in the tub and scrub me clean. Whenever I see brightly colored sugar cookies, I smile with the wonderful memories of my childhood.
The pride of Scotland, shortbread evolved from a medieval type of bread that was baked twice, dusted with sugar, and formed into a disc. Over time butter replaced the yeast and the shortbread we know today was born. Often said to be the favorite of Mary, Queen of Scots in the 16th century, shortbread has been around since the 12th century. It can be formed in a circle and cut into wedges, rolled into a rectangle and then cut into thin pieces called "fingers," or made into individual rounds.
Because of the expense of the ingredients, it was originally reserved for special occasions such as weddings, or served during the holidays. But as butter, flour, and sugar became more readily available, these delicious morsels became an every day treat. The truest version contains only butter, flour and sugar, but occasionally additional ingredients are added which change the consistency of the cookies. If you add rice flour the shortbread will be more grainy and crumbly. If cornstarch is included the cookies will have a denser texture.
When you make a recipe with so few ingredients, the quality of your ingredients is even more important than usual. In this case, choosing the best butter, flour, and sugar makes all the difference. Different brands of flour contain differing quality and types of wheat. The protein ratios vary from one to the other and can cause challenges if you are trying to make a very tender cookie or cake. I use King Arthur Unbleached All Purpose flour for my everyday cooking and baking. But I keep specialty flours on hand for bread, pastry, and pasta. When you first bring a bag of flour home, put it in the freezer for a day or two. This kills any larvae that might be in the bag, preventing infestations of weevils and other critters.
Did you know that different brands of butter have different percentages of water and fat in them? If you use different brands each time, your baked goods will never come out the same way twice. You can use any that you like, but the most important thing is to always use the same brand. My favorite is Land O' Lakes. It is easy to find and reasonably priced. I love their consistently high quality and the fact that I know my baked goods will come out exactly the same way every time I make them. And unlike most bakers, I don't buy unsalted butter just for baking. I use regular salted butter and cut back a bit on the amount of salt called for in recipes. I store my butter in the freezer where it stays fresh for months.
The sugar you use has the potential to cause you extreme frustration. At a Baker's Dozen meeting years ago, the issue of inconsistency in baking came up. No one could figure out why one time their cookies were perfect and the next time they failed. They used exactly the same ingredients each time. The inconsistency was because they were using beet sugar. Beets grow beneath the ground and minute particles remain in the finished product no matter how hard the manufacturers try to filter it all out. These particles of dirt can cause havoc with baking. Cane sugar on the other hand grows above ground and does not contain any contaminates. Due to a variety of reasons we are losing our sugar cane fields. By purchasing cane sugar you can help support the sugar cane farmers and make sure cane sugar remains available for all of us. The only sugar I buy and use is C & H brand. Look for the pink and white packages!
Buttery shortbread cookies are perfect for any occasion. Whether as an accompaniment to a cup of tea or coffee, served alongside a bowl of ice cream or fresh fruit, or packed in a beautiful package and given as gifts. Whenever you bake, especially with children, expect to make a mess and have fun … Remember, you are creating memories that last a lifetime!
Kitchen Skill: Rolling Cookie Dough
When preparing to roll out cookie dough, clear off a large surface and set up your tools. You'll need a large rolling pin, extra flour or powdered sugar to help with sticking, decorator sugars or icing (if using) and cookie cutters. Flour both your working surface and the rolling pin before starting.
If you are working with a butter dough, keeping it cool will help tremendously. If the dough starts to get sticky and hard to work with, pop it back in the refrigerator for a few minutes to firm up again. If the dough is too hard to roll out, let it sit at room temperature for a few minutes to soften.
Always start with a round disc – it is much easier to roll into a circle. Roll from the center out to the edges in smooth, long strokes, picking up and turning the dough occasionally. Rerolling the scraps is fine, but each time you do it, the dough will be a little tougher. Try to get as many cookies as possible from each circle of dough. Use a thin metal spatula to transfer cut out cookies to the baking sheets so the shapes don't stretch or warp. And remember that sugar cookies are done when they are barely colored at the edges. Don't overbake them!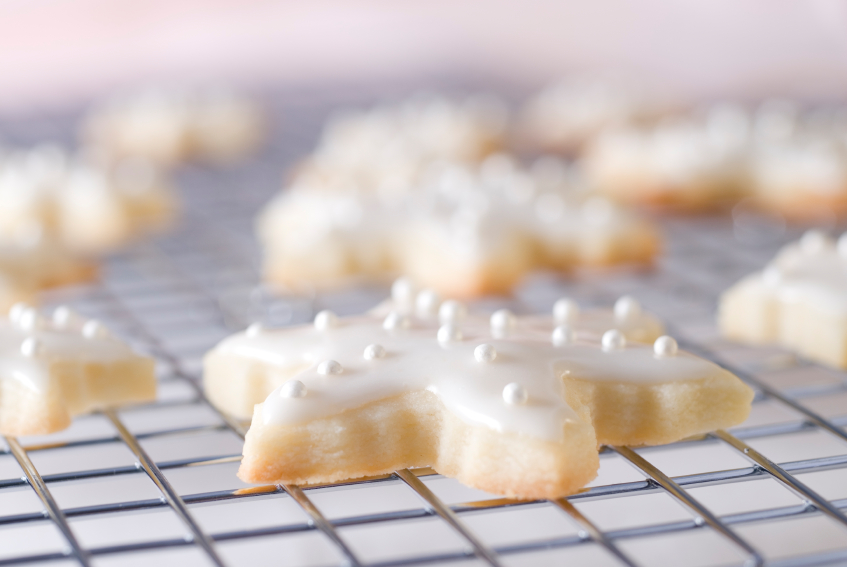 Lemon Zest Shortbread Cookies with Lemon Glaze
2015-07-16 17:06:34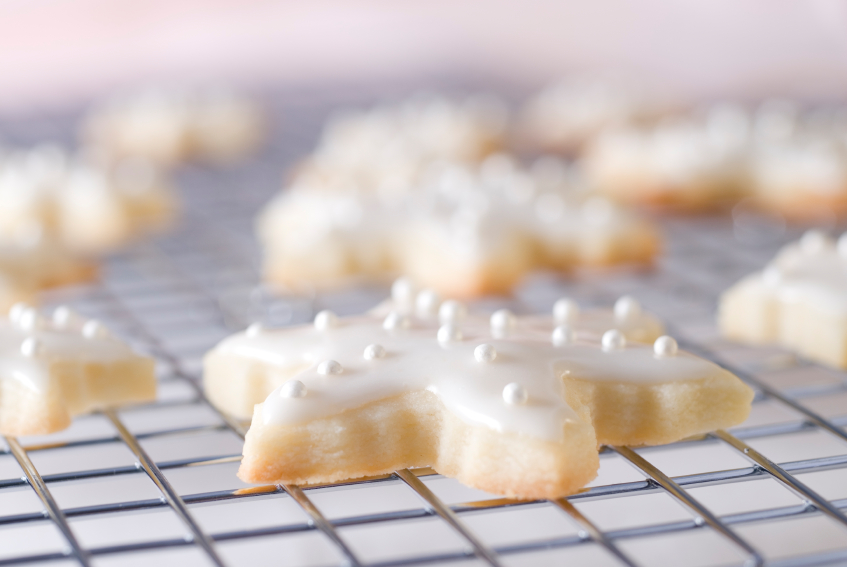 Cookies adapted from "Williams-Sonoma Holiday Entertaining" by Georgeanne Brennan Glaze from MarthaStewart.com
Ingredients
Cookies
2 cups all-purpose flour
1/3 cup plus 1 tbsp granulated sugar
1/3 cup confectioner's sugar
2 tsp grated lemon zest
1/4 tsp salt
16 tbsp (2 sticks) unsalted butter, cut into pieces, at room temperature
Lemon Glaze
2 cups confectioners' sugar
2 tbsp finely grated lemon zest
1/3 cup fresh lemon juice
Instructions
Preheat an oven to 325°F.
In a food processor, combine the flour, the 1/3 cup granulated sugar, the confectioner's sugar, lemon zest and salt and process briefly to blend. Add the butter and process just until the mixture resembles coarse meal. Turn the dough out onto a floured work surface and gather it into a rough ball.
For Shaped Cookies: Roll dough out to 1/4-inch thick. Cut out cookies with shaped cutters. Carefully transfer to baking sheets and bake until lightly golden at the edges and firm to the touch, about 15 to 20 minutes.
Transfer to a wire rack and cool thoroughly.
For Slice and Bake Cookies: Roll dough into a log and refrigerate until very firm. With a very sharp knife and using a sawing motion, sliced into 1/4-inch thick rounds. Place on an ungreased baking sheet about 1 inch apart and bake until lightly golden at the edges and firm to the touch, about 15 to 20 minutes.
Transfer to a wire rack and cool thoroughly.
For Traditional Wedges: Pat the dough evenly over the bottom of an ungreased 10-inch springform pan or tart pan with a removable bottom. Press the tines of a fork around the edge to form a decorative border, and then pierce the surface every 2 inches with the fork. Sprinkle the surface with the 1 tbsp granulated sugar.
Bake the shortbread until lightly golden at the edges and the center is firm to the touch, 45 to 50 minutes. Transfer to a wire rack and let cool in the pan for 10 minutes.
Carefully remove the sides of the pan. Using a long, sharp knife, score the shortbread into thin wedges. Let cool completely before cutting and serving.
To Glaze Cookies: Combine glaze ingredients in a medium bowl, and whisk until smooth. Use an offset spatula to spread glaze over cookies. Set glazed cookies back on wire racks and let set, about 1 hour. Once completely dry, you can stack to store.
To Store Cookies: Stack in layers, separated by waxed paper, in an airtight container at room temperature for up to 5 days.
Notes
Yield: 1 dozen cookies
The Heritage Cook ® https://theheritagecook.com/
Unauthorized use, distribution, and/or duplication of proprietary material without prior approval is prohibited. If you have any questions or would like permission, I can be contacted via email at: heritagecook (at) comcast (dot) net. Feel free to quote me, just give credit where credit is due, link to the recipe, and please send people to my website,
www.theheritagecook.com.
Thank You!