Today is Secret Recipe Club day at The Heritage Cook and this month I was assigned Food Babbles, the delightful and enticing blog written by Kate. With an adorable crew of three children, loving husband and pup Murphy, Kate shares her passion for desserts, photography and all things food. Beware, one look at this blog will have you running to the kitchen to whip up a new favorite!
As I started browsing through Kate's website looking for the perfect recipe to make and share with all of you, I kept getting side tracked with gorgeous photos and drool-worthy recipes. Some recipes that called my name include Salted Caramel Chocolate Cake, Chocolate Walnut Cranberry Pear Tea Bread, and her Coconut Pecan Triple Chocolate Muffins. I will be back Kate to make more of your fabulous recipes!
This weekend we had a wonderful friend visiting from France and as soon as I saw it, I knew which recipe I wanted to make … a chocolate cake with red wine in it. How perfect! What Frenchman could resist this cake with a whipped mascarpone cream topping? The Artist and I couldn't wait to try it too and all three of us were very excited. I am happy to report that this recipe did not disappoint!
Our French friend brought us a beautiful bottle of plum liqueur called Prunelle de Bourgogne from Dijon where he lives (that's why we love him, LOL). As soon as I took a sip, I knew it would be amazing in baked goods. With the red wine already in the cake, I poured a couple of tablespoons into the whipped cream/mascarpone mixture. It added a beautiful sweetness and fruit-notes to the whipped topping. I am really looking forward to finding other ways to incorporate it into my cooking and baking. Thank you Tarek!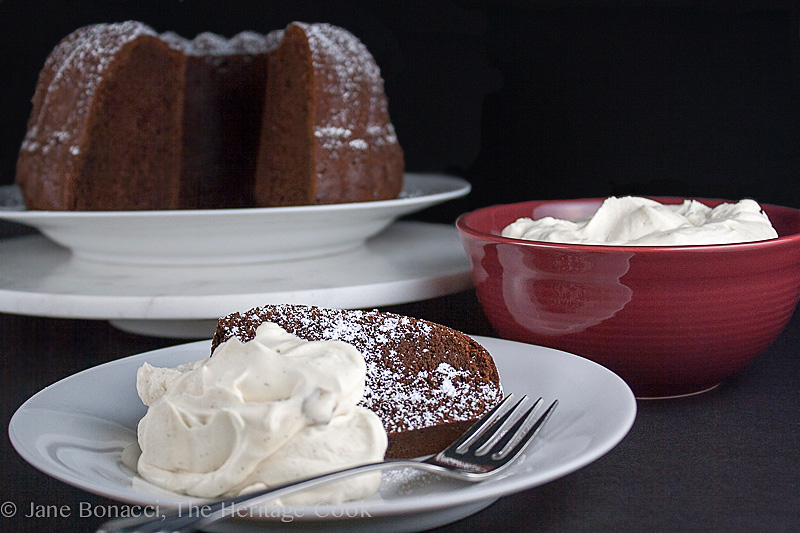 Baked in a bundt pan, this is an easy to make, deeply chocolatey cake that would be fantastic for any party, potluck, or gift. People would love to receive this and it transports well. You can even make the whipped cream topping ahead and store it in the refrigerator until you leave. Then give it just a few strokes with a whisk when you arrive and it is ready for serving!
If you have people who cannot have alcohol, you could substitute non-alcoholic wine or just use more milk. This substitution would also work if you have children with picky palates. But honestly, we couldn't taste the wine with all the chocolate. It added a subtle fruit undertone and a certain heady perfume to the cake that I could easily become addicted to. 😉
I made this cake gluten-free, just substituting regular flour with my standard GF AP flour blend. With no other adjustments it was a very heavy batter and the cake had the texture of a pound cake or flourless cake. It was absolutely delicious, but would probably be even better with a little more liquid. I have adjusted the recipe to add one additional egg if you are using gluten-free flours. If you are making this and it still feels too heavy, feel free to add a little more milk. Remember, with gluten-free flours you don't have to be as concerned about over-beating the batter.
Thank you Kate for a lovely dessert that everyone really enjoyed. I will definitely be making this again! Make sure you check out the other Secret Recipe Club posts in the link party below the recipe.
Happy Chocolate Monday!
Gluten-Free Tips:
Use a gluten-free all-purpose flour blend (my favorite is here), and add one extra egg or a splash of milk. Mix and if still heavy, add more milk, 1 tablespoon at a time, until you get the perfect consistency.
Red Wine Chocolate Cake with Mascarpone Whipped Cream
2015-06-29 12:12:14
Ingredients
Red Wine Chocolate Cake
1-3/4 cups firmly packed brown sugar
10 tbsp butter (1 stick plus 2 tbsp), at room temperature
3 large eggs, slightly beaten (use 4 eggs if making gluten-free)
2-1/4 cups all-purpose flour or gluten-free all-purpose flour blend
1 cup unsweetened cocoa powder
2 tsp baking powder
1 tsp baking soda
1/2 tsp salt
1 cup bold red wine, such as Cabernet Sauvignon, Malbec, or Syrah
1/3 cup whole milk or half and half
1/2 tsp vanilla paste or pure vanilla extract
Mascarpone Whipped Cream
1 cup (8 oz) mascarpone cheese
1 cup chilled heavy cream
2 tbsp plum liqueur, espresso, or rum, optional
1/4 cup light brown sugar
1 tsp vanilla paste or pure vanilla extract
Instructions
Make the Cake: Preheat oven to 350°F and butter a 10-cup bundt pan. Make sure you get the butter in all the indentations. Set aside.
In a small bowl, melt the chocolate and set aside to cool slightly. In a large bowl, whisk together the flour, cocoa powder, cinnamon, baking powder, baking soda and salt. In a measuring cup with a spout, combine the wine, milk, and vanilla.
In the bowl of a stand mixer fitted with a paddle attachment, beat the brown sugar and butter together until light and fluffy, about 5 minutes on medium-high speed. Add the eggs and beat until combined. Pour in the melted chocolate and mix until incorporated.
Add the dry ingredients to the chocolate/butter/sugar mixture in the mixing bowl. Pour in the liquid ingredients. Beat on low until everything is combined, and then increase speed to medium and beat until smooth, scraping down the sides as necessary. Use your spatula to drop the batter into the pan, moving around the edges until the entire pan is full. Smooth the top of the cake with the back of the spatula.
Bake for 45 to 55 minutes, until a tester inserted into the center of the cake comes out clean. Cool 10 minutes in the pan before turning out onto a wire rack to cool completely.
Prepare the Whipped Cream: In the bowl of a standing mixer fitted with the whisk attachment, whip together the mascarpone, cream, liqueur (if using), sugar, and vanilla until soft peaks form.
To Serve: When the cake has cooled, cut into slices, top with a dollop of the Mascarpone Whipped Cream and serve.
To Store: Wrap the cake tightly in plastic wrap and store at room temperature or in the refrigerator. If chilled, rewarm slightly before serving. Keep the whipped cream in an airtight container in the refrigerator. Whisk it lightly to loosen up and incorporate any separated liquid before serving.
Adapted from Food Babbles
The Heritage Cook ® https://theheritagecook.com/
Create a New Tradition Today!

Here are more recipes from The Secret Recipe Club just for you!
Unauthorized use, distribution, and/or duplication of proprietary material on The Heritage Cook without prior approval is prohibited. This includes copying and reprinting content and photographs. If you have any questions or would like permission, I can be contacted via email: theheritagecook (at) comcast (dot) net. Feel free to quote me, just give credit where credit is due, link to the recipe, and please send people to my website, www.theheritagecook.com. Please see the Disclaimers page for additional details.
Thank You!