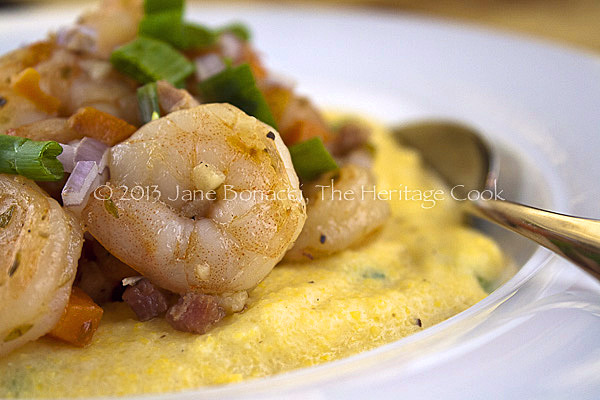 A few weeks ago I was contacted by the good folks at FreshDish with the offer to try one of their pre-assembled dinners. I checked out their website to see what they had available. Each week they offer a selection of four meals to choose from. I selected their shrimp and polenta meal, which sounded great, was gluten-free and safe for me to eat. In a few days a box arrived on my doorstep and the fun began!
I was happy to see that, as promised, they had shipped the meal in an insulated box with plenty of cold packs to keep the ingredients nicely chilled. Lift the lid and everything you need is neatly packed in individual packets, most vacuum-sealed. They even included salt and pepper!
Each box comes with a list of the ingredients included, equipment you'll need to make the meal, and storage instructions. On the opposite side is the recipe with detailed directions on how to make everything. Even beginning cooks should be able to make the meal as directed, and those who are more adventuresome can use this as a guideline and change things if they like.
Though the original recipe looked wonderful, I took the second option because I was looking for a single-dish meal to serve The Artist and our guests. When I looked at the ingredients my mind went toward a more Italian-inspired dish than the Southern one created by their chefs. That is what happens when you live with an Italian for 18 years!!
Everything is pre-measured and prepared for you. My box contained polenta, diced pancetta, green onions, tomatoes, chopped carrots, minced garlic, cleaned shrimp, white wine, butter, shredded cheese, salt and pepper. It was like having a prep-chef and all you have to do is the final cooking and assembly.
The original recipe combined the pancetta with the cooked polenta and served the onions, tomatoes, and carrots on the side. Instead I chopped the tomatoes and onions and cooked them with the pancetta and carrots, making a very flavorful sauce to cook the shrimp in.
The result was a marvelous meal that everyone loved. Full of flavor from the pancetta, shrimp and polenta, this was so good people were begging for seconds. Because the polenta is so filling, I served fairly small first portions so we were able to give everyone a second helping. The true testament to a good meal was the silence while they are eating and huge smiles all around the table!
The price may seem high, but when you factor in your time to plan, shop and prep the ingredients for the meal, all of which is done for you, I think this is a bargain.
For anyone who works a full time job, these meals will save you valuable time and energy. While they are more expensive than if you shopped for the ingredients and made everything yourself, they are much less expensive than going out to a restaurant and you have the luxury of dining in your pajamas if you want!
I can think of many times in my life when meals such as these, delivered to my door, would have been extremely welcome. When a new baby is born, after the death of a family member, following surgery or other physical challenge, to name a few. I suggest you try a few and see what you think. I believe you will find them extremely high quality and very worth the money!
Have a wonderful weekend and Happy Festive Friday!
Create a New Tradition Today!
Disclosure: FreshDish sent me a sample meal free of charge. I was not paid or asked to write a review. All opinions are my own.
Unauthorized use, distribution, and/or duplication of proprietary material on The Heritage Cook without prior approval is prohibited. This includes copying and reprinting content and photographs. If you have any questions or would like permission, I can be contacted via email: theheritagecook (at) comcast (dot) net. Feel free to quote me, just give credit where credit is due, link to the recipe, and please send people to my website, www.theheritagecook.com. Please see the Disclaimers page (under the "About" tab above) for additional details.
Thank You!