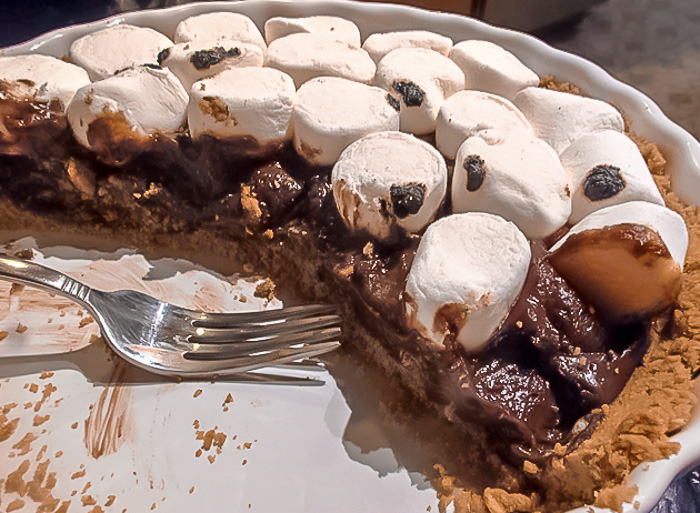 Some of my friends have graciously sent me articles and photographs to share with all of you while I am out of town. I can't wait for you to meet each one and discover new blogs to follow and meet some of the best talent in the industry!
Today I have a fun one for you guys. Amanda of Dancing Veggies is stepping away from her normally healthy cooking style to give you a luscious tribute to childhood. Who doesn't love S'mores? Amanda has come up with a super easy-to-make pie with all the flavors of our favorite campfire treats. Hold onto your horses, this is an awesome idea that your family will love!
* * * * * * * * * * * * * *
Hi! I'm Amanda E and I can normally be found blogging about vegetarian dishes over at DancingVeggies. I'm in the Secret Recipe Club with Jane, and with that have been following her for a few years now – which is why I jumped at the opportunity to write a guest post.
While I normally stick to the healthier recipes, the crazy weather here in the mid-Atlantic has driven me to the sweeter side of life. This past weekend we watched as the weather went from 60 and rainy to below freezing and snowing in a matter of hours – typical for February but not the tail end of March. Since we weren't exactly expecting snow at the end of March, all of our firewood was outside which resulted in a minor panic. See, I'm not a fan of snow and the only positive I can find about winter weather is the excuse to build a fire indoors and make S'mores!
I needed my chocolate marshmallow fix but had no way to safely prepare the marshmallows since we are currently living microwave-free. In my panic I started rummaging through the pantry before finding a box of pudding tucked away behind my backup flour. I then realized what needed to be done – I needed to prepare a S'more pie. So I got out all my ingredients and set to assembling all my goodies, with the added excitement of being able to show this pie off to the company joining us for dinner.
In the future I would hunt down a creme brulee torch (or blow-torch) in order to fully char the marshmallows but we had to work with what we had and it worked out. I made sure to char a few for my hubby while leaving the rest just slightly cooked per guests' requests.
In the end, we had the awesome combination of s'mores ingredients without the hassle of drying out wood. Even better, this pie ensures that the goodness of s'mores can continue into the summer months – which is as it should be.
Thanks Jane for letting me do a guest post on your amazing blog!
S'More Pie
2015-06-20 15:51:45
Serves 6
Ingredients
10 full-size graham crackers
2 tbsp unsalted butter or Earth Balance, melted
1 box instant chocolate pudding
2 cups cold milk (regular or coconut - do not use almond milk because it will not set!)
1/2 bag large marshmallows (I used Dandies), cut in half
Instructions
Preheat oven to 375°F.
Break the graham crackers in quarters and place in blender or food processor along with the melted butter. Blend until the crackers form small (pencil eraser) sized crumbs. Press the crumbs into the bottom and up the sides of a 10-inch pie or tart pan.
Place crust in the oven and bake for 15 minutes. The crust will solidify and turn a rich caramel shade. Set aside to cool.
Once crust has reached room temperature begin preparing the pudding per instructions on the box. After whisking for 2 minutes quickly pour the mixture into the pre-baked crust before it fully sets. Place in the refrigerator for 1 hour.
Gently press the marshmallows into the partially set pie then place back in the refrigerator for another hour.
Remove pie from the refrigerator. Carefully use a brulee torch or your broiler to toast the marshmallows to your desired "doneness".
Serve and enjoy!
Notes
Yield: 1 (10-inch) pie; 6 to 8 servings
Adapted from Amanda of Dancing Veggies
The Heritage Cook ® https://theheritagecook.com/
To learn more about Amanda, follow her food adventures and discover her delicious recipes, make sure you visit Dancing Veggies. And to follow her on social media, click on these links:
Facebook: https://www.facebook.com/amanda.eisenberg.7
FB Dancing Veggies: https://www.facebook.com/pages/Dancing-Veggies/189560427791553
Twitter: https://twitter.com/DancingVeggies
Pinterest: http://www.pinterest.com/adancingveggies/
Create a New Tradition Today!
Unauthorized use, distribution, and/or duplication of proprietary material from The Heritage Cook without prior approval is prohibited. This includes copying and reprinting content and photographs. If you have any questions or would like permission, I can be contacted via email at theheritagecook (at) comcast (dot) net. Feel free to quote me, just give credit where credit is due, link to the recipe, and please send people to my website, www.theheritagecook.com. Please see the Disclaimers page for additional details.
This site is not intended to provide medical advice. The suggestions here are not intended as dietary advice or as a substitute for consulting a dietician, physician, or other medical professional. It is the reader's sole responsibility to determine which foods are appropriate and safe for their family to consume. Always consult your doctor. The author makes no claims regarding the presence of food allergens and disclaims all liability in connection with the use of this site.
Thank You!