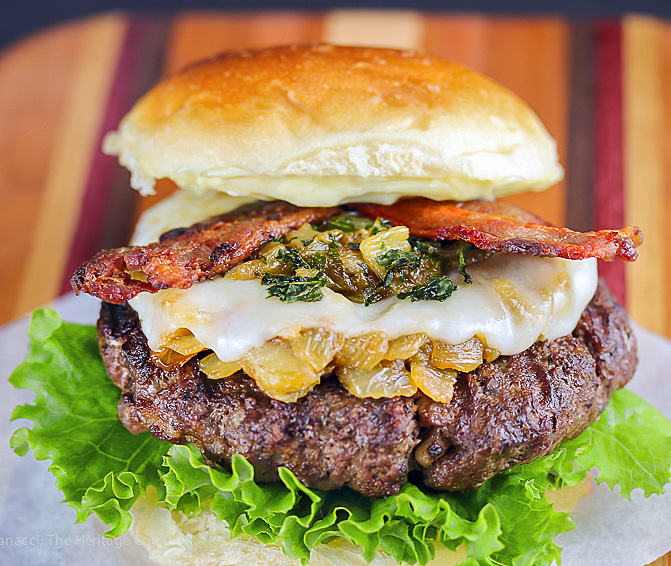 Today's Santa Fe Green Chile Bacon Burgers are a tribute to the delightful and spicy flavors of the cuisine of New Mexico. The Artist and I inhaled them, enjoying every single bite. I hope you guys give them a try too!
I love the flavors of the Southwest, particularly New Mexico. I thought I knew what New Mexican cuisine was until The Artist and I took a vacation in Santa Fe and Taos. Boy were our eyes opened, and it only took about 30 minutes from the time we landed until we had our first meal and nearly incinerated our mouths on the chips and salsa. We were so used to California-style salsa that we dove in with abandon and at almost the same moment for both of us, the chiles hit. Once again we dove in, but this time it was into our margaritas, LOL.
It was a good lesson to beware of the heat present in nearly every dish served in the state. We quickly learned to request the sauce on the side and to ask our servers which was hotter, green or red. By the end of our trip, we were more adventuresome and ordered "Christmas" getting some of each sauce on our plates.
If you haven't been to New Mexico, the cuisine is a blend of three primary influences, Anglo, Indian, and Mexican, proof that when people live in harmony and share traditions, delicious things can happen. The two common regional sauces are made from the same chiles – the green sauce from fresh chiles and the red from dried ones.
The chile capital of our country, and some say the world, is a little town called Hatch, NM. Just North of El Paso, it is a tiny dot on the map, but known worldwide. Each year at harvest time, usually August into early September, visitors descend like locusts on this town, in search of authentic fresh Hatch green chiles to take home. During the annual Hatch Chile Festival, there are so many people roasting chiles that the entire area is perfumed from morning to night with smoke from the fires, like the heady aromas during crush in Napa Valley.
Each year Melissa's Produce hosts chile roasting days across the country. It's like having a bite of New Mexico in your neighborhood for the day.
Green chile cheeseburgers became popular in the 1950s as people stopped at roadhouses along Route 66 for meals. Thanks to newspaper and magazine articles and features on cooking shows, there has been a recent resurgence of interest in this popular culinary creation. There is even a Green Chile Cheeseburger Trail in New Mexico where you can sample variations at over 200 restaurants, cafes, and drive-ins all along the path. The best of the best were chosen when 8000 locals and visitors voted for their favorites. The next time you are in the area, check it out!
In honor of the infamous Hatch chile and our love of the foods of New Mexico, I am sharing my Santa Fe Green Chile Bacon Cheeseburgers for this month's Progressive Eats. Instead of the typical green chile strips laid across the burger, I thought it would be fun to take a different look at a sweet & spicy topping by caramelizing Vidalia onions and tossing in some chopped Hatch chiles. Add a little bacon – who doesn't love bacon – and some melted cheese to cool things down a touch. Yee haw, we've got some deliciousness going on at our house!
When beef patties hit a hot a charcoal grill, especially seasoned buffalo burgers like I made today, they sizzle away, sending tantalizing smoke into the air, drawing the neighbors to your fence. It doesn't get much better – the lingering scent of summer fun.
I hope you guys make these Santa Fe Green Chile Bacon Burgers soon. This weekend, take a moment to say thank you to all those brave souls who died in service of their country. And be sure to check out all the recipes below for inspiration for your Memorial Day celebrations.
Key Ingredients for Santa Fe Green Chile Bacon Burgers:
Mayonnaise, chile oil, lemon juice, butter, Vidalia onions (or any sweet onion)

Hatch green chiles, ground buffalo or beef, bacon fat

Ancho powder, garlic powder, onion powder, coriander, chipotle

Cheese slices, bacon, lettuce, hamburger buns (gluten-free if needed)
PRO Tip:
Always line the bottom bun with a lettuce leaf to help keep the juices from making the bun soggy – it will help capture the juices!
PRO Tip:
If you are roasting and cutting your own chiles, I suggest you wear latex gloves while working. It will save you from getting the juices on your hands. Wearing gloves also helps protect my hands from getting too dried out from constant washing. They make filling the charcoal chimney a lot cleaner job too.
How to make Santa Fe Green Chile Bacon Burgers:
Whisk together the aioli ingredients; refrigerate until ready to use

Caramelize the onions and chiles in butter; set aside

Cook the bacon, transfer to a paper towel-lined plate and set aside

Mix the meat with bacon fat (if using buffalo) and seasonings; divide into 4 equal portions and pat out into patties; refrigerate until ready to cook

Build a medium-hot charcoal fire in your BBQ or preheat a gas grill on High; scrape clean with a grill brush and assemble all the ingredients and toppings

Cook the patties until they release easily from the grates, about 2 to 3 minutes, then flip and cook second side; top with some of the onion/chile mixture and add a slice of cheese

When done transfer to a clean baking sheet and let them rest as you prepare the plates

Assemble the burgers with their toppings and serve immediately
Kitchen Tools I Use to Make This Recipe (affiliate links):
PRO Tip:
Pressing your thumb in the center of each raw patty helps keep them flatter. As they cook, they tend to become rounded in the center and the indentation helps reduce this.
PRO Tip:
If you don't have chile-flavored oil, you can use the liquid from the canned chiles to add flavor and a touch of heat to the aioli.
Gluten-Free Tips:
Canned Hatch chiles are gluten-free! Use gluten-free buns or wrap your burgers in lettuce leaves for a safe and delicious gluten-free version. If you are cooking for someone with celiac or a wheat allergy, lay a sheet of foil on your grill and cook on that surface to avoid any cross contamination. Be sure to use separate utensils to flip, move, and otherwise handle the gluten-free burgers! Keep everything separate and let the gluten-free people go through the line first so the toppings aren't contaminated by mistake.
Welcome to Progressive Eats, our virtual version of a progressive dinner party where each course is held at a different home. With Progressive Eats, a theme is chosen each month, members share recipes suitable for a delicious meal or party, and you can hop from blog to blog to check them out. This month's theme is Memorial Day BBQ and Picnic Favorites hosted by me! We have a great mix of recipes just for you to enjoy. See the links below for more inspiration and great recipes!
Memorial Day BBQ and Picnic Favorites
Cocktail
Appetizers
Main Courses
Side Dishes
Yield: 4 servings
Santa Fe Green Chile Bacon Burgers
Take a virtual trip to New Mexico and savor the Southwestern flavors of these Santa Fe Green Chile Bacon Burgers! Loaded with green chile flavor and the complete satisfaction of a perfectly made burger, these are real crowd pleasers. Great for your Memorial Day BBQs or anytime all summer and fall.
Cook Time
1 hour
10 minutes
Additional Time
15 minutes
Total Time
1 hour
45 minutes
Ingredients
Green Chile Spread
1/4 cup mayonnaise
1/2 to 1 tsp green chile infused oil (or liquid from the canned chiles)
1 tsp freshly squeezed lemon juice
1/4 tsp kosher or fine sea salt, optional
Caramelized Onions and Green Chiles
2 tbsp butter
1 large Vidalia or other sweet onion, finely chopped
1 (4 oz) can chopped fire roasted Hatch green chiles, drained
Santa Fe Burgers
1-1/2 lb ground buffalo or 80/20 beef
2 tbsp minced bacon fat (trimmed before cooking) if using ground buffalo
1 tsp ground ancho chile powder
3/4 tsp kosher or fine sea salt
1/4 tsp freshly ground black pepper
1/4 tsp garlic powder
1/4 tsp onion powder
1/4 tsp ground coriander
1/4 tsp ground chipotle powder
Toppings
Slices of Pepper Jack, mozzarella or Monterey Jack cheese
8 cooked bacon strips
Lettuce leaves
Green Chile Aioli (from above)
Caramelized onions and green chiles (from above)
Brioche buns or gluten-free buns
Instructions
Make the Spread: In a small bowl, whisk together the mayonnaise, green chile oil, and lemon juice. Add salt to taste if needed. Cover and refrigerate until ready to use.
Caramelize the Onions and Chiles: In a large nonstick skillet, melt the butter over medium high heat. Add the onions and drained chiles. Reduce the heat to medium or medium-low and cook slowly for about 45 minutes, stirring often. When the liquid from the vegetables has evaporated, they will slowly turn golden brown and the sugars will start to caramelize. Stir often so that they don't burn. When they are sweet and softened, remove from the heat and set aside.
Cook the bacon while the onions are caramelizing. When cooked through but not too crispy, transfer to a paper towel-lined plate.
Make the Burgers: Place the meat in a bowl and add the minced bacon fat (if using buffalo) and seasonings. Use your clean, damp hands to mix the seasonings evenly throughout the meat. Divide into 4 equal portions. Roll each one into a ball and the press down into a flat, round disk. Press your thumb in the center of each patty to make a deep indentation. Place on a plate, cover, and refrigerate until ready to cook. Because buffalo cooks so much faster than regular beef, having the patties well chilled will help protect the center while the outside cooks.
Build a medium-hot charcoal fire or preheat your gas grill on High. If using a charcoal grill, light the coals in a charcoal chimney instead of using lighter fluid. This will make your food taste so much better!
Cook the Burgers: When the grates are hot and the coals have burned down and are covered with ash, place the burgers on the grill. Cook until the meat easily releases from the grates, about 2 to 3 minutes. If it resists lifting, give it a little longer. Flip and cook the second side another 2 to 3 minutes; after 1 minute add a scoop of the onion/chile mixture and top with a slice of cheese to melt. Buffalo patties should be served medium for the best flavor.
Assemble and Serve: Split the rolls and lay a lettuce leaf on the bottom halves. Add a burger patty on top of the lettuce, and add 2 slices of bacon, crisscrossed. Spread some of the mayonnaise mixture on the top half of the buns and set them on the bacon.
Recipe Source: The Heritage Cook
If you love this recipe, be sure to follow me on social media so you never miss a post:
Create a New Tradition Today!
Welcome! The suggestions here are not intended as dietary advice or as a substitute for consulting a dietician, physician, or other medical professional. Please see the Disclaimers/Privacy Policy page for additional details. Unauthorized use, distribution, and/or duplication of proprietary material from The Heritage Cook without prior approval is prohibited. If you have any questions or would like permission, please contact me. We participate in the Amazon Services LLC Associates Program, an affiliate advertising program designed to provide a means for sites to earn advertising fees by advertising and linking to amazon.com. This page may contain affiliate links. This post was first shared in Aug 2015. The article was updated in 2021.