Today's Recipes: Turkey Hash and Sweet Potato Hash
When I was growing up, my mother loved going out for breakfast on the weekends. It was a huge treat for her. It wasn't until I grew up that I realized because she had to get up and go straight to work making breakfast for everyone else, she never had the chance to relax first thing in the morning. While we were all eating and laughing, she was being a short-order cook, making breakfast to order! Now, when I am cooking for the family, I can't help but smile at how much she would have enjoyed my cooking for her today!
You probably don't normally think of eating turkey for breakfast, but this hash is one of my favorite ways to use leftover turkey. If you wanted to, you could use leftover mashed potatoes instead of the boiled potatoes or frozen hash browns. Season the mashed potatoes to taste and form into small patties. Fry in a small amount of butter over medium heat until golden brown. Very carefully flip them over and fry the other side. Transfer them to a plate and keep warm in the oven while you cook the onions and peppers and reheat the turkey meat. When ready to serve, break up the potato pancakes and toss with the other ingredients. This is rich and comforting, in the best way imaginable!
For the sweet potato hash, you can leave out the sugar if you prefer a more savory dish, but made as directed below, it is a healthy breakfast option and can replace pancakes or waffles.
On this holiday weekend, I hope you have an opportunity to relax and enjoy yourself. Thank you for joining me on this blogging journey. I am so thankful for each and every one of you!
Happy Thanksgiving!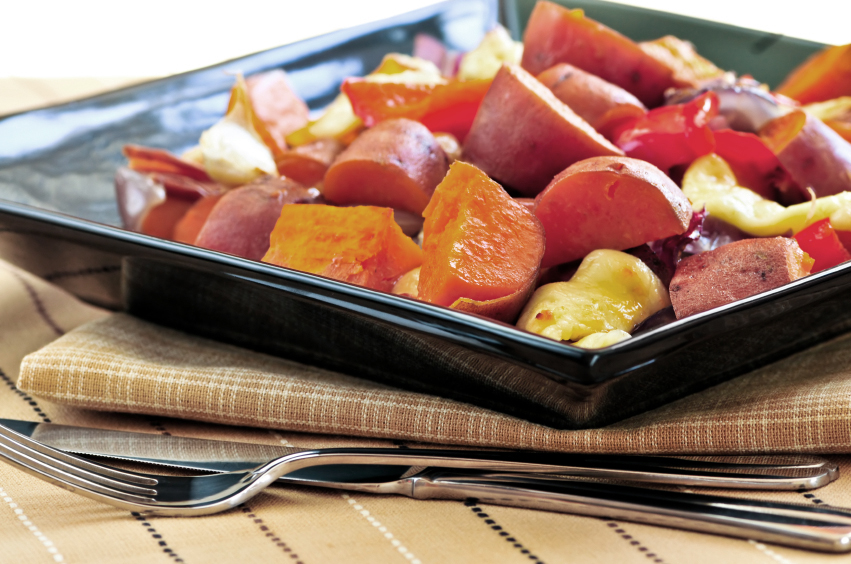 Jane's Tips and Hints:
When you are planning on making a big breakfast for your family or visiting guests, figure out how much of it you can do the day before. Pre-cut your vegetables, par-cook as much as you can, and choose recipes you can assemble the night before and bake in the morning. You can relax more in the morning and enjoy your breakfast!
Turkey Hash
2015-07-21 19:07:30
Ingredients
1-1/2 lb medium Yukon Gold potatoes (or frozen hash brown in a pinch)
7 tbsp unsalted butter, divided
1 medium yellow onion, finely chopped
2 Cubanelle peppers (Italian green frying peppers), seeded and chopped
1 cup shredded cooked turkey, preferably dark meat
3/4 tsp salt
1/2 tsp ground black pepper
4 large eggs
Instructions
Place the potatoes in a large stockpot, then cover with enough cold water to cover by at least 1 inch. Bring to a boil over medium-high heat, then reduce to a simmer, partially cover the pot and cook for 20 to 25 minutes, or until just tender.
Drain the potatoes and let cool slightly.
While the potatoes cool, in a large non-stick skillet over medium-high heat, melt 6 tablespoons of the butter. Add the onion and peppers and sauté until golden brown, about 8 to 10 minutes.
Once the potatoes have cooled, peel them and coarsely grate them with a box grater.
Add the potatoes, turkey, salt and pepper to the skillet, then cook, turning occasionally, until browned in spots, about 15 to 20 minutes. Transfer the hash to serving plates.
Add the remaining 1-tablespoon of butter to the skillet. Set over medium heat. When the butter has melted, fry the eggs. Serve 1 egg over each serving of hash.
The Heritage Cook ® https://theheritagecook.com/
Sweet Potato Hash
2015-07-21 19:08:06
Ingredients
3 lb red-skinned sweet potatoes (yams), peeled, cut into 1/2-inch cubes (about 8 cups)
4 tbsp (1/2 stick) unsalted butter, divided
1/4 cup canola oil
3 cups coarsely chopped onions (about 2 large)
1/2 cup (packed) golden brown sugar
2 tsp pumpkin pie spice
Instructions
Cook potatoes in large pot of boiling salted water until slightly softened, about 4 minutes. Drain. Rinse under cold water to cool; drain. Transfer to large bowl.
Melt 1 tablespoon butter with oil in heavy large skillet over medium-high heat. Add onions and sauté until deep golden brown, about 10 minutes. Transfer to bowl with potatoes.
DO AHEAD: Potatoes and onions can be prepared 1 day ahead. Cover and chill.
Add brown sugar and pumpkin pie spice to potatoes; toss. Melt remaining 3 tablespoons butter in large nonstick skillet over medium heat. Add potatoes to skillet; spread in even layer, pressing with back of spoon or spatula. Cook until golden brown, turning occasionally, about 15 minutes. Season with salt and pepper. Transfer to bowl and serve.
The Heritage Cook ® https://theheritagecook.com/
Unauthorized use, distribution, and/or duplication of proprietary material without prior approval is prohibited. I can be contacted via email at: heritagecook (at) comcast (dot) net. Feel free to quote me, just give credit where credit is due, link to the recipe, and please send people to my website,
www.theheritagecook.com.
Thank You!