Today's Recipes: Peppermint Patties and Creamy Fudge!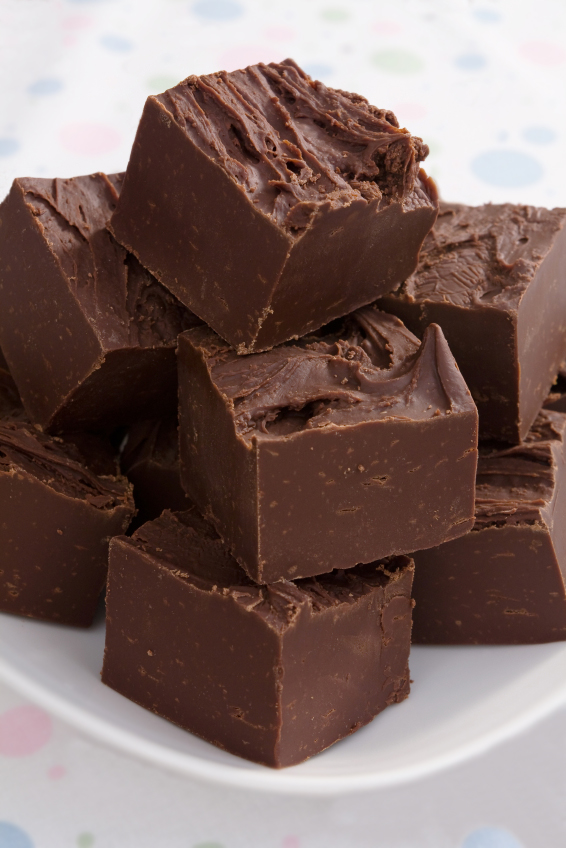 The holidays are the perfect time for candy and there are all kinds of sweets that show up at this time of year. My grandmother used to make a huge box of candy every December and ship it to us. What a treat it was when we got that delivery. My parents used to put the box in the tallest cupboard so that it was above our reach. If I had my way, I would have eaten the entire box in about 30 minutes. It was a good thing I was the littlest one and couldn't reach it, LOL!
When I was growing up I used to love to eat Junior Mints at the movie theater. I still love the cold blast of peppermint against the bite of dark chocolate. One of my husband's favorite candies is Peppermint Patties. We used to be able to find a privately branded version that used Scharffen Berger dark chocolate – they were outstanding! From that point on we were spoiled and I searched high and low to find a recipe so I could make them for him. I found one in Gourmet magazine and am sharing it here with you today.
Tempering chocolate (heating and cooling it repeatedly) gives it a beautiful sheen, nice snap when you bite into it, and helps prevent the butterfat from separating when it sits at room temperature. It isn't necessary especially if you are going to eat the chocolate candies right away. When chocolate develops a gray covering, that is called a bloom, and is just the butterfat moving to the surface. It doesn't affect the performance or taste of the chocolate.
Another perennial favorite is fudge. My father used to make the best fudge. He would cook it from scratch, always using the same pan. Then when it was cool enough – and he had this down to a science – he would beat it with an old wooden spoon until it lightened in color and got thicker. He quickly poured it into the buttered pan and we would all watch in amazement as it set up into perfect candy every time.
These days many recipes add marshmallows to get amazing creaminess. Fudge's creaminess is a delicate balance of microcrystals. They need to stay small enough that they are not discernable when you eat it but big enough to create the firm texture you want in candy. Getting the crystals to form at exactly the right time is the real trick to making fudge. You must cook it long enough and leave it undisturbed to cool. I like to add a little corn syrup to my recipe as an extra insurance policy against grainy candy.
Candy making, and fudge in particular, is really all about science. Don't let that scare you – anyone can make candy if you can follow a recipe and use a candy thermometer. Candy is notoriously temperamental. Humidity or other changes in the weather may make it more challenging. If it is a rainy or a high humidity day, you will need to cook the candy a few degrees higher than normal to compensate for the increased moisture in the air. If you want to know more about the reasons why candy behaves the way it does, The Accidental Scientist website has terrific information on the Science of Candy:
• Why do I add corn syrup?
Corn syrup acts as an "interfering agent" in this and many other candy recipes. It contains long chains of glucose molecules that tend to keep the sucrose molecules in the candy syrup from crystallizing. In fudge, the addition of "interfering agents" can be a double-edged sword: you want crystals to form, but not until the cooked mixture has cooled down to a certain degree.
• Why do I need to stop stirring after the syrup begins to boil?
At this point, you have dissolved the crystal structure of the sugar. Stirring or other agitation is one of the many factors that can encourage the fructose and glucose molecules in your syrup to rejoin and form sucrose—crystals of table sugar.
• Why do I wash down the sides of the pan?
The sugar crystals are dissolved at this point in the process. But a single seed crystal of sugar clinging to the side of the pan might fall in and start the cycle of re-crystallization.
• Why does the fudge need to cool for such a long time?
The key to a smooth and creamy texture is a fudge that's full of thousands of tiny sugar crystals. Heating the syrup to a high temperature and then allowing it to cool, undisturbed, produces a supersaturated solution—this means that the solution contains more sugar molecules than would normally be possible at room temperature. A supersaturated solution is highly unstable, and any agitation will cause crystallization to occur throughout the solution. If fudge is stirred while it's still hot, fewer crystals form, and they grow larger as the syrup cools, resulting in a coarse, grainy candy.
• Why is it so important to keep stirring until the fudge "sets"?
Stirring helps control the size of the sugar crystals that form—it keeps them from growing too large, which would produce gritty fudge.
• What happens if I add extra ingredients?
If you're adding nuts or fruit, you may want to warm them slightly in a microwave before adding them. If they are too cold, the temperature difference may "shock" the fudge and cause it to solidify too quickly.
I hope you have a wonderful holiday season full of cookies, candies, and other delicious treats!
Jane's Tips and Hints:
Candy making success is highly dependent on temperature. Don't try to make candy without a candy thermometer. Even my grandmother used a thermometer. If you don't use one, it may work out but more likely it won't and you'll have to start over. Save yourself that frustration and buy a thermometer before you start!
Another of my tricks is to keep a flashlight by the stove when I am using a thermometer. The steam rising off the candy can make it difficult to read the temperature and shining a light on it makes this easier.
Kitchen Skill: Calibrating a Thermometer
Every thermometer is a little different and conditions change daily, so it is always a smart idea to calibrate them before making candy. Bring a pan of water to a boil. The thermometer should register 212°F or 100°C. If it is off slightly, adjust your final temperature by the same amount. For example if the boiling water temperature is 210°F, decrease your final cooking temperature by 2°.
They are not expensive and greatly increase your chances of success. If you can, find one with a mercury tube suspended on top of a flat metal plate. This is the most accurate kind and the glass is protected from breaking by the metal.
Peppermint Patties
2015-07-21 19:04:58
Ingredients
2-1/2 cups Confectioner's sugar (less than 1 lb), divided
, plus more for dusting
1-1/2 tbsp light corn syrup
1-1/2 tbsp water
1/2 tsp pure peppermint extract
1 tbsp vegetable shortening (preferably trans-fat-free)
10 oz 70%-cacao bittersweet chocolate, coarsely chopped
Equipment
1-inch round cookie cutter
Instructions
Make filling: In an electric mixer (with paddle attachment if using a stand mixer) beat 2-1/4 cups of the Confectioner's sugar with corn syrup, water, peppermint extract, shortening, and a pinch of salt at medium speed until just combined.
Knead on a work surface dusted with remaining 1/4 cup Confectioner's sugar until smooth. Roll out between sheets of parchment paper-lined large baking sheet into a 7 to 8-inch round (less than 1/4 inch thick). Freeze until firm, about 15 minutes. Remove top sheet of paper and sprinkle round with confectioner's sugar. Replace top sheet, then flip round over and repeat sprinkling on other side.
Cut out as many rounds as possible with cutter, transferring to a parchment-lined baking sheet. Freeze until firm, at least 10 minutes. Meanwhile, gather scraps, re-roll and freeze, then cut out more rounds, freezing them until very firm.
Temper chocolate and coat filling: Melt 3/4 of the chocolate in a metal bowl set over a saucepan of barely simmering water. Remove bowl from pan and add remaining chocolate, stirring until smooth. Cool until thermometer inserted at least 1/2 inch into chocolate registers 80°F.
Return water in pan to a boil and remove from heat. Set bowl with cooled chocolate over hot water and reheat, stirring, until thermometer registers 88°F to 91°F. Remove bowl from pan.
Dipping: Balance 1 peppermint round on a fork and submerge in melted chocolate, letting excess drip off and scraping back of fork against rim of bowl if necessary, then return patty to sheet (to make decorative ridges on patty, immediately set bottom of fork briefly on top of patty, then lift fork straight up).
Coat remaining rounds, re-warming chocolate to 88°F to 91°F as necessary. Let patties stand until chocolate is set, about 1 hour.
Notes
Yield: Makes about 4 dozen 1-inch candies
Make Ahead: Patties keep, layered between sheets of parchment in an airtight container, chilled, 1 month. Bring to room temperature before serving.
The Heritage Cook ® https://theheritagecook.com/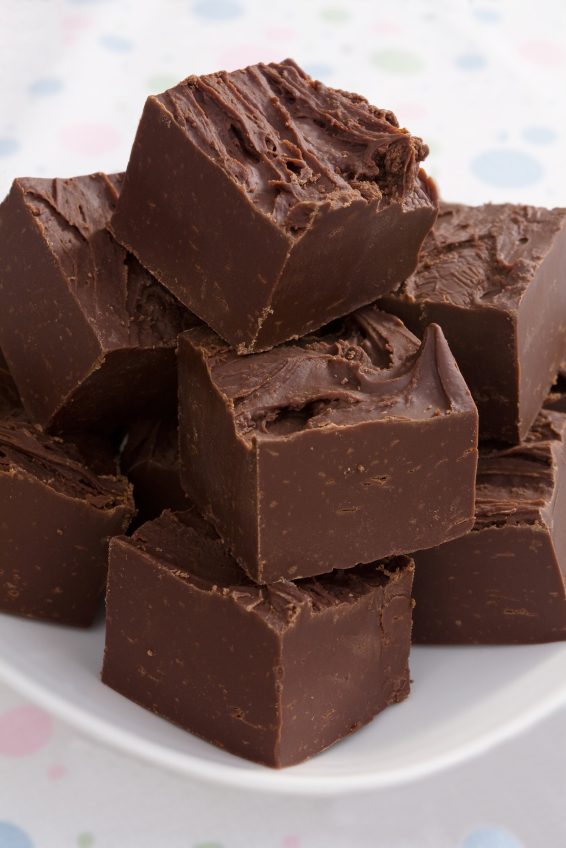 Creamy Fudge
2015-07-21 19:05:50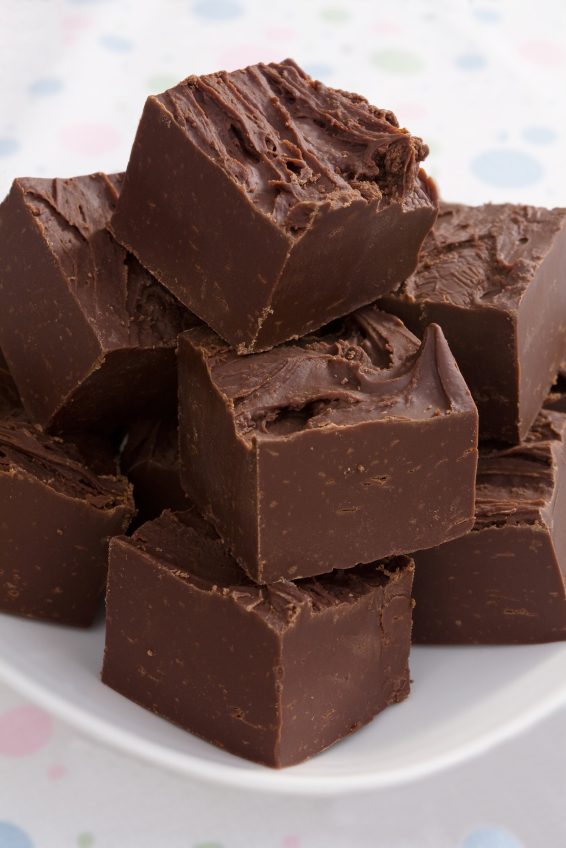 Ingredients
1 cup butter (2 sticks), melted
4 cups sugar
2 tsp white corn syrup, optional
1 (12 fl oz) can evaporated 2% milk
1 cup mini marshmallows
1 (12 oz) pkg of semi sweet chocolate chips or you can use 5 oz unsweetened and 7 oz bittersweet chocolate
1 tsp vanilla
1 to 2 cups chopped nuts, optional
Instructions
Butter a 9x13-inch pan; set aside.
In a large saucepan melt the butter, and using a wooden spoon, stir in sugar, corn syrup (if using), and evaporated milk together. Stir until sugar is totally dissolved then wash down the sides with a wet pastry brush, attach the candy thermometer to pan, and cook without stirring to the soft-ball stage, about 240°F. The temperature will rise quickly at first (as it comes to a boil) and then it will stay very still for a long time while the water evaporates. When you are close to the soft-ball stage, watch carefully because it can rise quickly.
Remove from the heat, remove the thermometer, and add marshmallows and chocolate. Stir until marshmallow and chocolate have completely melted and are thoroughly combined. Stir in vanilla. Add nuts, if using. Pour into prepared 9x13-inch pan.
Set aside and let sit uncovered and undisturbed until firm. If you have time, let it set up overnight before cutting it into squares.
Store in an airtight container, in layers separated by parchment paper or wrap individual squares in cellophane, plastic, or waxed paper.
Notes
Yield: 1 (13x9 inch pan) fudge, about 40 pieces
The Heritage Cook ® https://theheritagecook.com/
Unauthorized use, distribution, and/or duplication of proprietary material without prior approval is prohibited. I can be contacted via email at: heritagecook (at) comcast (dot) net. Feel free to quote me, just give credit where credit is due, link to the recipe, and please send people to my website,
www.theheritagecook.com.
Thank You!