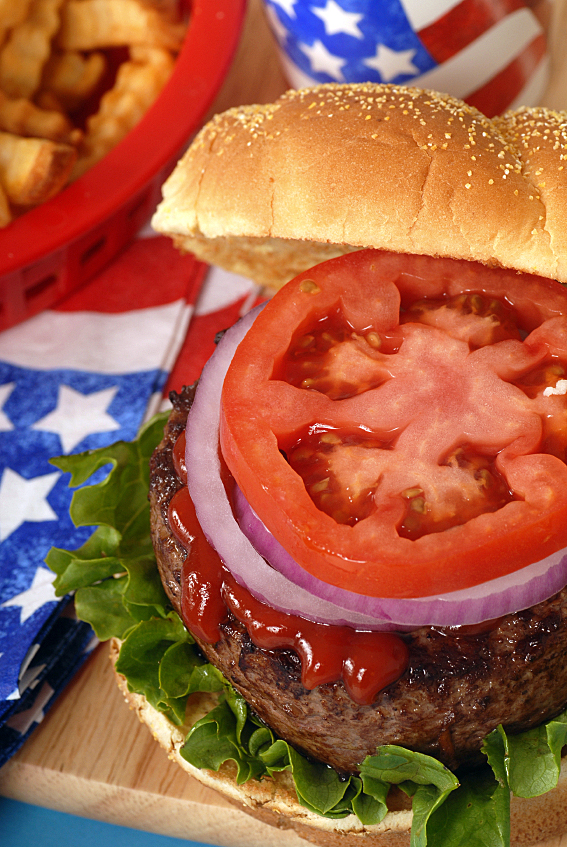 Mouthwatering aromas wafting skyward from backyard barbecues. The sound of ice clinking in glasses, joyous laughter, the sizzle as new food hits the hot grill, and splashing water as kids play in the pool. Warm, balmy evenings with the whisper of a cooling breeze. The mysterious blue of a twilight sky as day surrenders to night. This is summer to me and nothing says summer more than the Fourth of July celebrations.
When I was growing up, my father, like most dads of that era, declared himself the King of the Grill. He had one of those silly aprons stating this prowess. The only problem was that he had no clue how to barbecue correctly. Everything was overcooked; the chicken in particular was tough as leather and always charred black on the outside. Of course we didn't know any better and thought everything was delicious.
We have learned a lot in the past 30 years thanks to some very talented chefs and barbecue specialists. Thanks to them we now can turn out perfectly cooked grilled foods every time.
Start by building a 2-tiered fire creating a hot zone and a cooler area. If you are using charcoal, bank the coals on one side of the grill; if using a gas grill turn one side to high and the other to medium or low. Never use lighter fluid with charcoal – it is unhealthy and leaves an unpleasant flavor on your foods. Use a charcoal chimney or electric starter for the best results.
Put the grate on the barbecue while the coals are burning down to preheat it and make it easier to scrub clean, which helps keep the food from sticking. Charcoal should always have a covering of ash on it before you start cooking. Always pat your meats dry before placing on the grill, especially if they are marinated. If you are using an oil-based marinade you will likely get flare ups, but don't use a water bottle to extinguish them unless they are dangerously high. Instead, cover the grill with the lid and adjust the air holes if necessary to reduce the amount of oxygen getting to the fire. Place your meats "presentation side" down first, which gives the best grill marks. For a perfect diamond shape, place all your pieces facing the 10 o'clock position then switch them all to face the 2 o'clock position. Voila! Everyone will call you a BBQ master!
There are special techniques for each type of protein you cook that help you produce the best results possible. Follow these guidelines and you will impress everyone at the party!
When you are cooking chicken you want to brine the pieces first. Brining adds a bit of flavor but more importantly it guarantees moist grilled chicken. It also gives you a little wiggle room because it is harder to overcook brined chicken. Make sure you remove it from the brine and pat dry with paper towels. This will keep the skin from steaming instead of searing when it hits the hot grill.
Always start chicken over the hot part of the grill to develop grill marks and to sear the surface, trapping the moisture in the meat. Once it is marked, move it to the cooler side of the grill and finish cooking there. If you are using a sauce, you can add it in the final minutes of cooking on the cooler side of the grill without the fear of it burning. Treat each piece individually, removing it from the heat when it is done. The larger pieces and those on the bone will take longer than the wings or boneless breasts.
When you throw your burgers on the grill, think about also adding the tomato and onion slices. Cooking them over the fire adds an extra boost of smokiness, enhancing the flavor of the burgers. Onion slices are notorious for falling apart, so I use a skewer to hold them together while they cook. You can also use a grill basket to corral everything.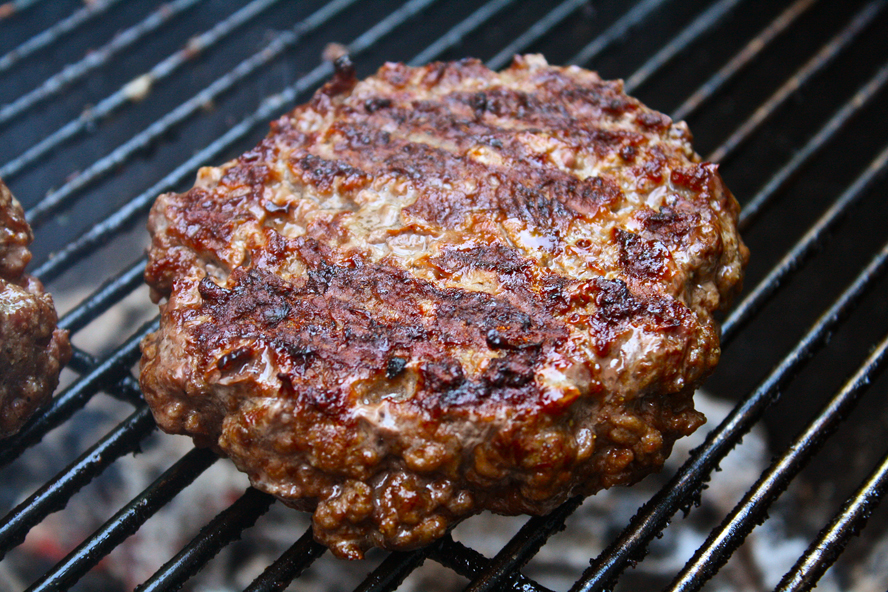 If you want a real treat, make your own hamburger buns from scratch. They are actually quite easy to make and don't take as long as bread does to rise. Start the buns about midday and they'll be baked and ready by the time you are ready to grill the burgers. If this is too much work or you don't have the time, many gourmet grocery stores are selling very high quality buns. I like brioche if I can find it. It gives you a buttery goodness that is hard to beat.
Throwing some water-soaked wood chips on the fire will create very flavorful smoke. This is one way to boost the flavor without overcooking your grilled foods.
Most hot dogs and many sausages are already cooked so they just need to be warmed up on the grill. There is no need to "cook" them, so they can be placed on the cooler side of the grill while you cook the other items over high heat. If your sausages are raw, start them on the hot side for just a minute or two, and then move them to the cooler side for gentler cooking. When they are firm to the touch, they are done. I usually bring them off the heat a little early and let them finish cooking under foil in the kitchen. Test one and if they need a little more, you can either pop them back on the grill or give them a quick zap in the microwave.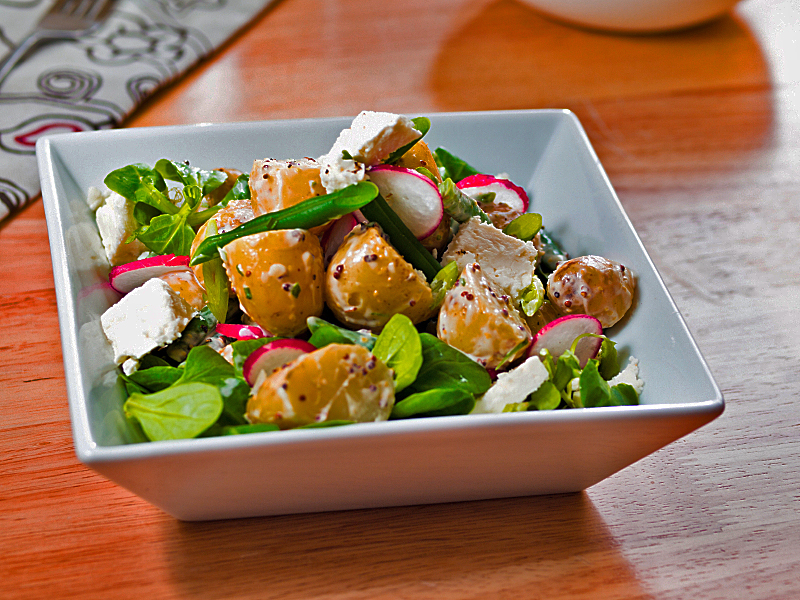 I put a lot of thought into my menus and try to create a good balance of flavors, textures, nutrients and "favorites." My mother used to say that if a plate of food was "pretty" and had lots of color, then it was healthy. She was way ahead of her time. Today we know that fresh fruits and vegetables are essential for good health and are nature's rainbow. Just like a leprechaun's pot of gold, eating fresh produce will give you a happy life!
When you are planning your side dishes, ask yourself these questions: Will it complement the smoky flavors? Does it add texture to the plates? Does the dish have lots of bright colors? Am I serving a different menu than the last time my guests came to dinner? And, if it is a holiday, do I have enough "traditional" foods to satisfy people's memories? Instead of just making the same things over and over, look for new and unusual sides that will be interesting and fun for your guests to experience.
Everyone loves a traditional potato salad, myself included, but if you are concerned about keeping a mayonnaise-based dressing cool enough (important if you are having a picnic), try my other favorite salad. It is also made with potatoes, but in the French-style, it has green beans and a vinaigrette dressing. I like the acidic dressing because it helps cut through the richness and fattiness of burgers and the other dishes. It really wakes up your taste buds!
When making baked beans, instead of starting with dry beans, you can save yourself hours by using good quality canned beans. I like a blend of white, black, and pinto for a more interesting look and texture. As with many casseroles, I think the flavor improves with time, so if you can, make the beans a day or two ahead to let flavors meld.
No matter how you choose to spend your holiday, I am sure you will be creating new memories and family traditions to pass down to the next generation. Whether you stay with the traditional ingredients or try something daring, enjoy this American holiday with your family and friends as you watch the fireworks and celebrate our country's independence. Happy Fourth of July!

Jane's Tips and Hints:
Picnics take some extra planning and strategy, but it can be easy with the right equipment. You want to plan meals that travel well, nothing with a lot of liquid with the exception of cold drinks. Look for things that don't have to be kept frozen, or conversely piping hot. You want recipes that can be served at room temperature, that don't take any last minute preparation, and that go well together. You always want a variety of flavors, textures, and colors to create interest. Remember that you taste first with your eyes, so bring a few sprigs of fresh herbs to garnish your plates.
You need to have non-breakable containers, preferably square or rectangular, with tight fitting lids. These will stack more easily, save room, and stay cooler longer. Freezer packs interspersed throughout keep things at the right temperature and won't melt when they thaw. And lastly, the right cooler makes all the difference in the world. We have a soft-sided rolling cooler that collapses down to a small flat package when not in use. We have used ours for many years and always have it in the trunk of the car when we take road trips just in case we find something yummy that "needs" to come home with us.
Kitchen Skill: Measuring Reducing Liquids
To know when a liquid has reduced to a specific amount, before starting the recipe, in the saucepan you will be using, pour in the amount of water equal to the final volume your recipe calls for. If it says to reduce to 1 cup, place 1 cup of water in the pan. Stick the handle of a wooden spoon in the water and mark the level with a pencil. Cook your liquid until it is at or below the pencil line on the spoon handle.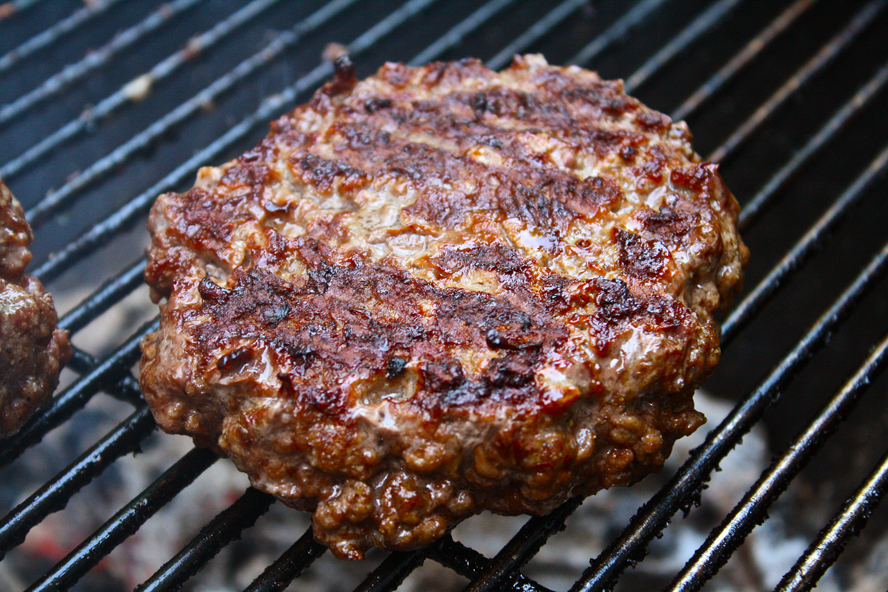 The Best Grilled Hamburgers
2015-07-03 14:58:12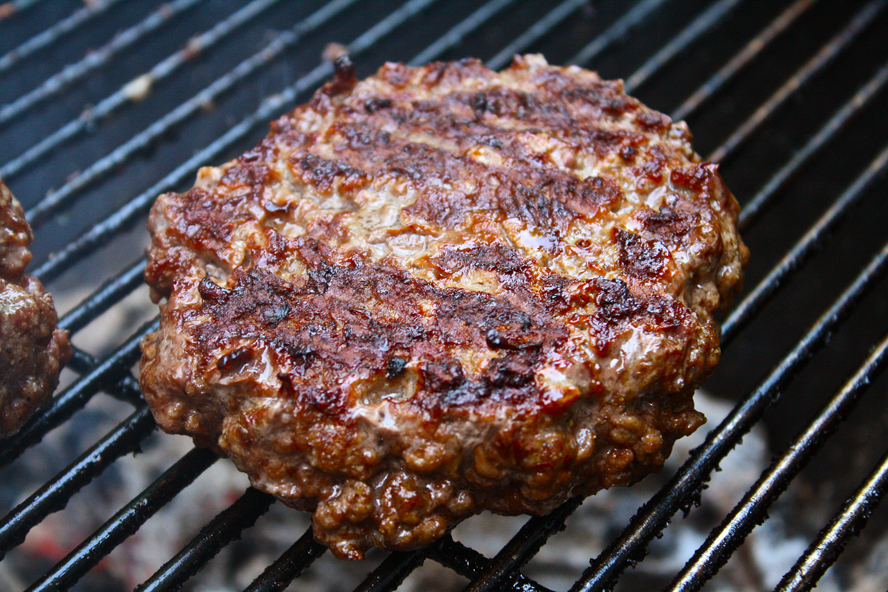 Feel free to alter the ingredients and seasonings to your personal taste. Some additions are roasted green peppers, chipotle peppers in adobo sauce, ground cumin, and including ground pork or bacon with the meat before cooking. Adding unusual cheeses like a combination of provolone and smoked gouda adds a nice richness to your burgers.
Ingredients
2-1/2 lb freshly ground chuck and/or sirloin, preferably 20% to 30% fat
1 tsp soy sauce or kosher salt
1 tsp freshly ground black pepper
6 slices of cheese
6 large hamburger buns
6 thick slices ripe tomatoes
Crisp iceberg lettuce leaves, stem portion removed
Thin slices of mild onion, such as Vidalia or red
Instructions
Set up your grill for 2-tier cooking. If using charcoal, light the coals and when covered with ash, bank most of them on one side of the grill bed. If using a gas grill, preheat with all the zones on and then turn off one or two to create a cooler area.
Place your meat in a large bowl and season with the soy sauce (or salt) and pepper. Toss lightly to distribute the seasonings. Working gently, form into 6 patties. Press the center of each one to create a shallow depression. This will help avoid a bulging burger that looks more like a baseball than a disk. Don't overwork the meat and handle as little possible to avoid melting the fat with the heat of your hands.
Place the patties over the direct heat and cook for about 1-1/2 minutes per side. Move them to the cooler side of the grill and continue cooking for about 3 minutes longer per side for medium. If you have freshly ground meat from a reputable butcher you can eat your burgers rare to medium-rare. If you are less sure, cook them to at least medium. But remember that the longer you cook them, the drier they will become.
When done, transfer to a clean platter and tent with foil. Let them rest off the heat for about 5 minutes. While the meat is resting, you can toast the buns if you like on the cooler side of the grill. Watch them carefully, especially if you are using Brioche buns, so they don't burn.
On the bottom half of the buns layer the lettuce, burger patty, tomato and onions. Add any other garnishes that you like and serve immediately.
The Heritage Cook ® https://theheritagecook.com/
Unauthorized use, distribution, and/or duplication of proprietary material without prior approval is prohibited. If you have any questions or would like permission, I can be contacted via email: theheritagecook (at) comcast (dot) net. Feel free to quote me, just give credit where credit is due, link to the recipe, and please send people to my website,
www.theheritagecook.com.
Thank You!