Traditional chile rellenos are usually made with poblano peppers that have been seeded and stuffed with cheese. Then they are dipped in a batter and fried until crispy. You cut into them and the hot, melted cheese blends with the crunchy exterior and rich flavor of the peppers creating the perfect bite.

The Artist loves chile rellenos, but is rarely satisfied when he orders it at Mexican restaurants. It is one of those dishes that is remarkably easy to screw up and it takes a delicate hand to make correctly. This casserole is a lovely adaptation of the classic, creating a much easier way to serve this delicious meal.
The traditional version does not contain meat, but in order to make this a heartier dish, I added a seasoned meat layer on the bottom of the dish. This meat mixture is held together with beaten eggs giving the illusion of the flavors of chile rellenos. If you don't want to use beef, you could replace it with turkey, pork, cooked rice, potatoes or any combination of vegetables.
I thought it would be fun to make this in au gratin dishes. Not certain if it would rise as it cooked, I divided the meat mixture between three dishes. It turns out that I could have put it in two, filling them about 3/4 or more full. Mine came out fairly thin, so we each ate an entire au gratin of the dish.
The egg mixture doesn't take up much room in the baking dish, but it acts as a binder to hold all the other ingredients together. Bake this casserole until the eggs are solid and the top is nicely browned. Your oven will very likely differ from mine, so always use timings as an estimate. If you over bake it, the eggs will get rubbery, so it is better to pull it a little early and then let it finish firming from the carry over cooking up as it rests.
The Artist commented that this would make a great breakfast or brunch dish and I agree. I might add some sausage to the meat mixture for a little more typical breakfast/brunch flavor profile, but it would certainly be popular on a buffet!
If you wanted, you could make the meat layer a day ahead, cover and refrigerate. Then 20 minutes before you are ready to bake it, bring it out, pour the eggs over the top and pop in the oven for an easy, hands-off breakfast, brunch, lunch, or dinner!
We loved this dinner and the leftovers will be even better. I know what I'm having for lunch tomorrow, how about you? 😉
Jane's Tips and Hints:
Make sure you break up the hamburger really well. Large chunks will not hold together well. A little extra attention when the beef is browning and you'll have a much more attractive and easier to eat dinner!
If you decide to use more than a single baking pan, place them on a baking sheet – they are much easier to move in and out of the oven!
Gluten-Free Tips:
This dish is naturally gluten-free, but always check the labels for any hidden gluten ingredients.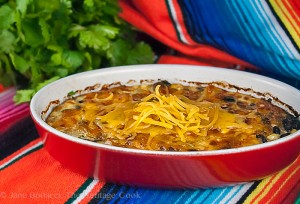 Chile Relleno Casserole
2015-06-19 18:46:07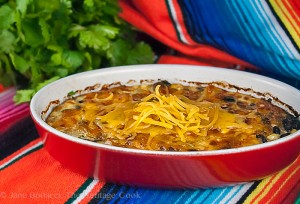 Ingredients
1 lb ground beef
1 medium onion, peeled and finely chopped
1 red or yellow bell pepper, stem and seeds discarded, finely chopped
1 tsp ground cumin
1/4 tsp chipotle chile powder
1/4 tsp garlic powder
1 can (4 oz) mild or hot chopped green chilies
3/4 cup frozen corn, thawed and patted dry
1 can (15 oz) black beans, rinsed and drained thoroughly
1/4 cup chopped fresh cilantro, plus extra sprigs for garnishing
7 eggs
3/4 cup milk
Kosher or sea salt and freshly ground black pepper, to taste
2-1/2 cups shredded Cheddar cheese
Fresh tomato salsa
Instructions
Preheat oven to 350°F. Grease a 9x13-inch baking dish. You can also bake this in two individual au gratin dishes or multiple large ramekins.
In a skillet, over medium-high heat, cook the beef until starting to brown. Add the onions and bell peppers, and continue cooking, breaking up any large clumps of meat. Lightly season with salt and pepper. When the beef if cooked through and the vegetables are slightly softened, drain and discard fat from the pan. Season the meat mixture with cumin, chipotle, garlic powder, and chopped green chiles. Remove from heat. Stir in the corn, black beans, and cilantro; set aside.
In a mixing bowl, whisk together the eggs, milk, salt and pepper to taste, until smooth. Set aside.
Spread the meat mixture in the prepared baking dish(es). Top with the cheese, reserving the 1/2 cup for garnishing. Pour egg mixture over the top.
Bake for 20 minutes and the spin them so the edge (dish) that was facing the front of the oven is now facing the back. Continue baking another 25 to 30 minutes, or until the top begins to brown and the eggs are set.
Remove from the oven and let sit for 10 minutes before cutting. Scoop servings onto plates, sprinkle with reserved cheese, garnish with cilantro, and pass the salsa at the table.
The Heritage Cook ® https://theheritagecook.com/
Create a New Tradition Today!
Let's connect! If you love The Heritage Cook, you can follow me on Pinterest or Twitter, and become a fan on Facebook. If you ever need any entertaining or cooking advice, need to alter a recipe for gluten-free, or want recipe suggestions, don't hesitate to email me at [email protected]. Thanks for reading!
Unauthorized use, distribution, and/or duplication of proprietary material from The Heritage Cook without prior approval is prohibited. This includes copying and reprinting content and photographs. If you have any questions or would like permission, I can be contacted via email ([email protected]). Feel free to quote me, just give credit where credit is due, link to the recipe, and please send people to my website, www.theheritagecook.com. Please see the Disclaimers page for additional details.
This site is not intended to provide medical advice. The suggestions here are not intended as dietary advice or as a substitute for consulting a dietician, physician, or other medical professional. It is the reader's sole responsibility to determine which foods are appropriate and safe for their family to consume. Always consult your doctor. The author makes no claims regarding the presence of food allergens and disclaims all liability in connection with the use of this site.
Thank You!