Like most kids, I grew up on fish sticks and jarred tartar sauce. That was the only kind of fish I liked. My mother would occasionally buy some "fresh" fish from the store and make it for dinner. It had been frozen and always smelled and tasted too "fishy" for me. I would do anything I could to get out of eating it. I'm sure you can imagine the lengths I went to try and hide it, LOL.
When I was in the sixth grade we moved up to Portland, Oregon. I loved it up there – it was completely different than San Francisco. One day a friend brought us a huge salmon filet he had caught the day before. My mom didn't know how to cook something that big, so she and I pulled out the old Joy of Cooking – not the first time that cookbook saved a meal in our house!
The book said to season it with salt and pepper, squeeze some fresh lemon over the top and broil it. I watched in fascination because I had never seen anything like this. It was beautiful; a deep rosy red color and it smelled like the ocean. I was doubtful, but I figured it might be OK.
It was more than OK – it was spectacular! For the first time in my life I not only didn't try to avoid eating it, but I couldn't get enough of it. I cleaned my plate and went back for seconds, thirds, and fourths. I was a picky eater and had never done anything like this, but I couldn't stop eating. That salmon changed my life.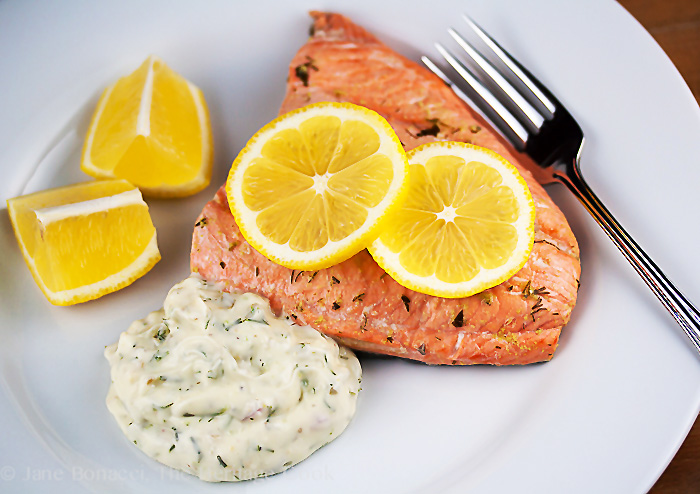 With fresh fish to eat, I decided to experiment and make my own tartar sauce from scratch. Wow, it was better than any jarred sauce we had at home and just as good as the sauce we had at restaurants. With a little freshly lemon wedges, I am a happy gal.
For today's tartar sauce I decided to kick it up a little, adding extra dill to complement the regular dill pickle I use and some capers for a touch more acid. And for a more delicate onion flavor, I chose shallots. I love them! This sauce is an adult version that I am in love with – a beautiful balance of flavors and enough pop to hold its own instead of being an afterthought.
I grew to love fish, especially salmon. I usually poach it now and it cooks very gently in seasoned water with wine and herbs. When cooked this way, the fish is beautifully seasoned, moist and perfectly cooked every time!
The next time you are having a dinner party and want a special, elegant meal, I hope you give this a try. It may change the way you think about fish just like that meal in Portland did for me!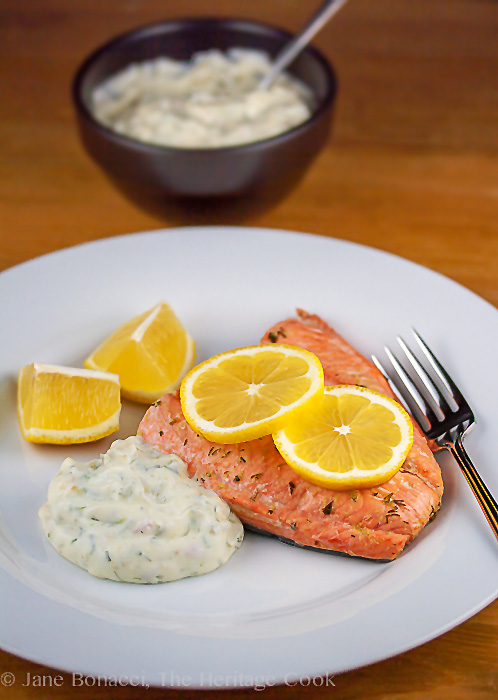 Jane's Tips and Hints:
One of the things I like the most about having Gourmet Garden herbs on hand is that I never have to make a special trip to the store or throw away half the bunch when it lingers in my refrigerator too long. I keep the tubes of herbs in my freezer and can add them to any recipe any time. I love the convenience!
Gluten-Free Tips:
Gourmet Garden herbs are naturally gluten-free.
Herb Poached Salmon with Dill Tartar Sauce (Gluten-Free)
2015-06-19 18:11:59
Dilled Tartar Sauce
3/4 cup light or low-fat mayonnaise (do not use non-fat)
1/2 tsp capers, rinsed and finely minced
1 to 2 tsp dill pickle relish
1-1/2 tsp finely minced shallots
1 tbsp Gourmet Garden Dill
1/2 tsp Gourmet Garden Garlic
2 tsp freshly squeezed lemon juice, or to taste
Poaching Liquid and Salmon
3 cups dry white wine or dry vermouth
4 cups water
1 lemon, cut into slices
1 medium onion, peeled and cut into large chunks
2 tbsp Gourmet Garden Parsley
2 tbsp Gourmet Garden Dill
10 whole peppercorns
2 salmon filets, about 3/4 lb each
Kosher or sea salt and freshly ground black pepper, to taste
Lemon wedges, for serving
Prepare Tartar Sauce
Combine all sauce ingredients in a medium bowl. Whisk until smooth. Taste and if your lemon was extremely sour, add a pinch of sugar to balance the flavor. Cover and refrigerate until thoroughly chilled, at least 1 hour. Sauce can be made up to 4 days in advance. Store, covered, in the refrigerator. Set out at room temperature for about 20 minutes before serving.
Make the Poaching Liquid
In a 12-inch skillet with straight sides, about 2-inches deep, combine the wine, water, lemon, onion, parsley, bay leaf and peppercorns. Bring to a boil over medium-high heat, and then reduce to a simmer. Cook for 10 minutes to allow the flavors to blend. Strain the solids out of the liquid and discard them. The poaching liquid can be made up to a day or two in advance. Store, covered, in the refrigerator.
Cook the Salmon
With the poaching liquid at a simmer, place the salmon filets in the pan. If needed, add water to bring the liquid level over the top of the fish. Bring the liquid back to a simmer and cover the pan with a lid. Do not let the liquid boil. Cook the salmon for about 3 minutes or until an instant read thermometer inserted in the thickest portion registers about 140°F. If you wait until the fish flakes, it will be overdone.
Use a slotted spatula to carefully transfer the salmon to a baking sheet. Tent with foil and let rest for 5 minutes. Cut each filet in half and transfer to 4 warmed serving plates. Add lemon wedges and pour some of the tartar sauce over the salmon. Serve immediately.
Notes
Yield: 4 servings; about 3 tbsp sauce per serving
The Heritage Cook ® https://theheritagecook.com/
Create a New Tradition Today!
Disclosure: This is a sponsored post. I received compensation and products for recipe development.
Let's connect! If you love The Heritage Cook, you can follow me on Pinterest, Twitter, and Facebook. If you ever need any entertaining or cooking advice, need to alter a recipe for gluten-free, or want recipe suggestions, don't hesitate to email me (theheritagecook[at]comcast[dot]net). Thanks for reading!
Unauthorized use, distribution, and/or duplication of proprietary material from The Heritage Cook without prior approval is prohibited. This includes copying and reprinting content and photographs. If you have any questions or would like permission, I can be contacted via email (theheritagecook[at]comcast[dot]net). Feel free to quote me, just give credit where credit is due, link to the recipe, and please send people to my website, www.theheritagecook.com. Please see the Disclaimers page for additional details.
This site is not intended to provide medical advice. The suggestions here are not intended as dietary advice or as a substitute for consulting a dietician, physician, or other medical professional. It is the reader's sole responsibility to determine which foods are appropriate and safe for their family to consume. Always consult your doctor. The author makes no claims regarding the presence of food allergens and disclaims all liability in connection with the use of this site.
Thank You!