Chicken and dumplings … one of my favorite meals of all time. Comforting, warming, and oh so satisfying. It is just like a hug from my grandmother. She used to make this for us when I was a child and when she came to visit, I started begging for it from the moment she stepped off the airplane. She always laughed at my enthusiasm. I could never get over how she could take so few ingredients and make something so delicious.
This recipe isn't exactly the one that my grandmother used, but it is fairly close. I prefer to add more seasonings than she did and like to brown the chicken for the extra flavor that adds to the dish. You can certainly skip this step if you like and merely cover the chicken with water and boil until tender.
Dumplings, in their simplest form, are cooked dough. They can be steamed, stewed, baked, boiled, or fried. They can be sweet or savory. They can be balls of risen dough or flattened and wrapped around a filling. Dumplings span the globe; most world cuisines have them in one form or another. From wontons and gnocchi to matzah balls and pierogi. From empanadas to samosas and apple turnovers to beignets, dumplings can be appetizers, side dishes, main courses, and desserts. A dinner party featuring nothing but dumplings would be fun and challenging to pull off. I may just have to do that!
In America when you talk about Chicken and Dumplings, (pardon the pun) it boils down to two types … rolled and drop. Both are cooked in boiling chicken stock. Rolled dumplings are a lot like noodles; the dough feels very much like pasta dough and behaves similarly. This was the kind of dumpling that I grew up with. The dough for drop dumplings is very sticky and is formed into balls using a scoop, spoon, or your wet hands. When cooked incorrectly both forms can turn out like hockey pucks, but when done right, they are as light as air. Everyone has their preferences. I have included recipes for both kinds, so make whichever you like better.
Unlike a lot of pastry doughs where excess flour is brushed off prior to cooking, the flour on rolled dumplings can be used as a natural thickener for the broth they are cooked in, saving you the trouble of making a slurry. I remember standing by the stove as my grandmother made this for me, amazed at how it would thicken as if by magic! However, if you are making drop dumplings, you will have to thicken the broth.
The first meal I ever made for my husband was chicken and dumplings. Because it was a weeknight, I took a shortcut and used canned chicken stock. What a mistake! As it reduced during cooking it became unbelievably salty. Poor James politely tried to get the nearly inedible meal down, thinking, "this woman thinks she is a good cook – Not!" Lucky for me he was willing to overlook what he later realized was an anomaly. Now, many years later, I think he would agree that I am a pretty good cook, but he still shudders when I mention chicken and dumplings, LOL!
Jane's Tips and Hints:
Depending on the moisture in the air, some days you will need all the milk or even a little more to get the dough for rolled dumplings to the right consistency. On wet days you may not need the whole amount. Don't automatically assume that you will use exactly 1/2 cup. Be flexible and you will make better dumplings!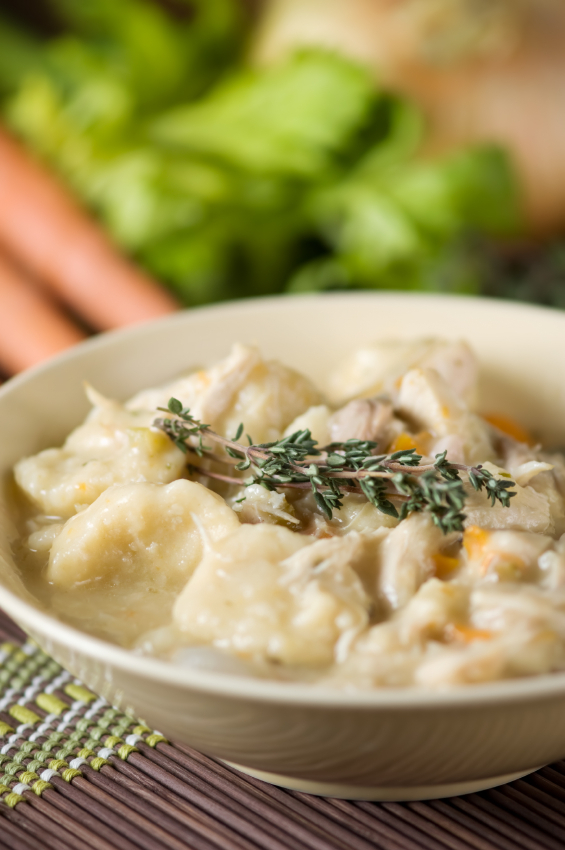 Old-Fashioned Chicken and Two Types of Dumplings
2015-07-23 17:25:35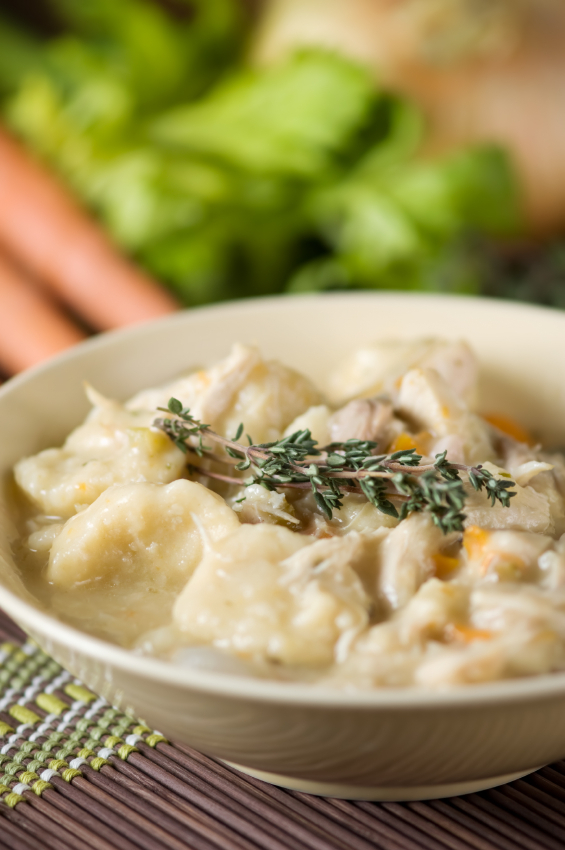 Ingredients
Chicken Stew
2 tsp olive oil
1 chicken (about 3 to 4 lb), cut up
1/2 cup chopped onion
1 tbsp flour
1/4 cup dry white wine or dry vermouth
1-1/2 cups chicken stock or water
1 tsp kosher salt
1/2 tsp freshly ground black pepper
1/2 celery stalk, diced
2 carrots, trimmed and diced
2 tsp dried thyme leaves
Rolled Dumplings
1 cup all-purpose flour
3/4 tsp baking powder
1/2 tsp salt
1/2 tsp fresh or dried thyme leaves, optional
2 tbsp minced chives, optional
2 tsp vegetable shortening 
or lard
1 tsp cold butter
1/2 cup milk, or as needed
Drop Dumplings
2 cups all-purpose flour
1/3 cup thinly sliced fresh chives, optional
1-1/2 tsp kosher salt
2 tsp baking powder
1 cup whole milk
3 tbsp unsalted butter, melted and slightly cooled (or chicken fat)
Garnish
Fresh Italian parsley, chives, or thyme leaves, chopped
1/4 cup frozen peas, thawed, optional
Instructions
Chicken Stew: Rinse and pat the chicken pieces dry with paper towels. Heat oil in a large Dutch oven over medium-high heat until just below the smoking point. Add half of chicken and brown on both sides, about 10 minutes. Using tongs, transfer to a plate. Brown the remaining chicken pieces; transfer to the plate.
Cook onions in chicken fat until softened and translucent, about 3 to 5 minutes. Stir in flour and cook until it colors lightly and no longer smells raw. Deglaze the pan with the wine or vermouth. Stir in the broth, seasonings, and vegetables. Return the chicken pieces to the pot along with any accumulated juices on the plate. Nestle the chicken into the broth. Reduce heat, cover, and simmer until the chicken is thoroughly cooked and tender, about 1 hour. Using a slotted spoon, remove chicken from broth and set aside to cool. Reserve the broth.
When chicken is cool enough to handle de-bone, discarding bones and skin. Tear chicken into bite-sized pieces and set aside. Return chicken to pot when you are cooking the dumplings so that everything is hot when you are ready to serve.
Meanwhile, make the dumplings:
For Rolled Dumplings: Combine flour, baking powder, and salt in a bowl. Cut in the shortening and butter. Stir in enough of the milk to make a stiff dough. Knead until just incorporated and fairly smooth, 1 to 2 minutes. Do not over work dough or dumplings will be tough and heavy. Divide into 3 pieces. Roll each piece of dough out on a floured board to about 1/8-inch thickness and using a sharp knife or pizza cutter, cut into 1 to 2-inch strips, squares, or diamonds. As they are cut, transfer to a baking sheet. Any extra flour on the dumplings will help thicken the broth.
Increase heat to medium-high and bring stock to a low boil. Gently add dumplings, a few at a time so the broth never stops boiling. Reduce heat to medium and cover. Stir in the chicken to re-warm it. After about 4 minutes, stir very gently to make sure dumplings aren't sticking to each other or the bottom of the pot. Boil gently 8 to 10 minutes or until dumplings are tender, they will float when they are done. Taste the broth and adjust seasonings with salt and pepper. When dumplings are tender, stir in peas, ladle into serving bowls, garnish with fresh herbs, and serve.
For Drop Dumplings: Whisk together the flour, chives, salt, and baking powder in a large bowl. Stir in milk and butter until dough just comes together and is very thick. Drop heaping tbsp of dough, one by one, into hot broth. Repeat until all dough has been used, distributing the dumplings evenly. Cover and cook until dumplings have risen to the surface and are fluffy and cooked through, about 10 to 15 minutes. Do not lift the lid until at least 8 minutes have passed. Keeping the lid on helps the dumplings cook all the way through.
Stir in the peas and ladle into warmed bowls. Garnish with some fresh herbs and serve.
Notes
Yield: about 6 servings
The Heritage Cook ® https://theheritagecook.com/
Unauthorized use and/or duplication of proprietary materials without prior approval is prohibited. I can be contacted at heritagecook at comcast dot net. Feel free to quote and link, just give credit where credit is due and please send folks to my website,
www.theheritagecook.com.
Thank You!