One of my favorite memories is sitting in a beautiful restaurant, flanked by a wall of windows, looking at the sun setting behind the Golden Gate Bridge. As the light dimed, the sky turned crimson and the fog started spilling over the hills of Sausalito like a rolling blanket of cotton. Soon the lights that illuminate the two towers of the bridge came on, bathing them in an amber light. Sipping wine and eating incredibly imaginative vegetarian creations while watching nature's beauty unfold is one of life's true pleasures. The next time you visit San Francisco, have dinner at Green's Restaurant and you can have a similar experience.
My first visit to Green's was life changing. I was reared in a typical 50's/60's Midwestern home where each meal consisted of meat and potatoes with overcooked vegetables and whenever possible, gravy. I was a tried and true carnivore and damn proud of it. I was actually a bit afraid of vegetarian restaurants because I knew I would never find anything on the menu to eat. And then came my friend's birthday party at Green's.
With a natural trepidation, I entered the hallowed hall and was immediately captivated by the beauty. Hardwood floors, simple wooden tables made of maple, walnut, and cherry provide clean lines that highlight the magnificent wall of windows looking out on the San Francisco Bay. Our group sat down and I began to peruse the menu. To my surprise, many things jumped out at me, but the one I settled on was their Winter Stew.
When it arrived, I was surprised at the tantalizing aroma that came from the bowl. One bite was all it took to change my life forever. I suddenly understood what all the hoopla was about, that meat wasn't the only thing in a dish that gave it the "umami" sensation, vegetables could deliver it all on their own! I was transported to another place entirely. One where nothing existed beyond the spoon moving between my bowl and mouth. One bite after another until the bowl was empty. Only then did I look up and realize that everyone was laughing at the rapture on my face. They all knew my predilection for eating meat and were wondering what my reaction would be. It must have been total amazement because they still talk about it all these years later. I wish I had thought to ask for the recipe because I would love to recreate that moment over and over.
Green's is located in a converted warehouse which opened in 1979. With its vegetarian menu and the location full of recycled and reclaimed woods, the restaurant still shows its roots in the Hippy movement of the 60's and 70's. At that time there was no high-end vegetarian restaurant in the entire country. They were typically housed in small, out of the way cafes, but Green's changed the restaurant landscape forever. It placed vegetarian cuisine on the same level as other fine dining restaurants.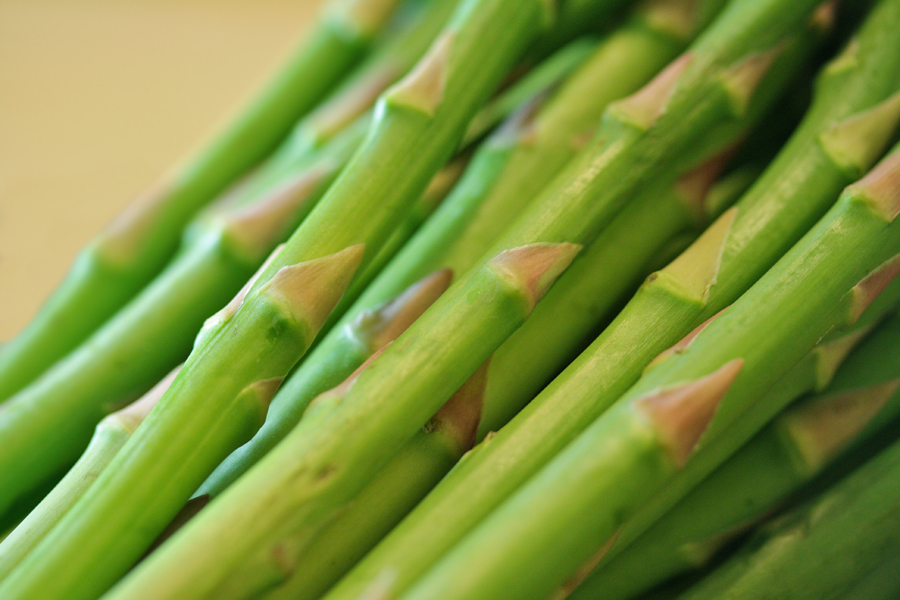 Utilizing fresh produce delivered daily from nearby Green Gulch Farm in Marin County, they continue to create imaginative and unusual combinations that thrill their faithful followers. Created with a balance of colors, flavors, and textures, each plate is a work of art. The primary influences are the Mediterranean, Mexico, and the American Southwest, each which inspires full flavored foods. Equally important is the wine list that focuses on small, high quality producers using sustainable vineyard practices from the United States and Europe. Nothing escapes careful scrutiny and attention to detail.
Spring has arrived – hallelujah! Soon we will have warmer weather, longer days, and lots of sunshine. Today's recipe celebrates two vegetables I wait all year for and that scream 'Spring' to me, asparagus and spring garlic. Bright green, tender, and full of flavor, they complement each other splendidly. I will bet that when you hear "Bread Pudding" you automatically think of dessert. Right? Wrong! There are wonderful savory bread puddings, like this one, that are ideal for an entree at brunch or dinner.
Sweet and savory bread puddings both start out with the same foundation, bread and custard. What you add to them determines whether this a dessert or main course. The custard is a simple combination of milk or cream and eggs beaten together. You can season it as you like and this is one place where some distinction can be made. If you are making a sweet bread pudding, you can use fresh fruit in place of the typical dried raisins. For savory meals, change out the vegetables and types of cheese to use what is in season and those you prefer.
You can bake these bread puddings ahead and serve them when it is convenient. Healthy and tasty, you can recreate it easily whenever you have day-old bread, eggs, and milk that need to be turned into something special. I hope you enjoy today's vegetarian offering. It is a way to offset the temptations of Chocolate Monday, LOL.
Have a wonderful week!
Asparagus Bread Pudding
2015-07-20 16:10:26
Ingredients
1 lb rustic bread, preferably day-old ciabatta or sourdough Italian, crusts removed, cut into 1/2-inch thick slices
1-1/2 cups milk
1 cup heavy cream
6 large eggs
3/4 tsp salt
Pinch of pepper
1 lb asparagus, tough stem ends removed, cut into 2-inch pieces
1 small bulb of spring garlic, finely minced
1 small shallot, peeled and finely minced
1 roasted red bell pepper, peeled and seeded, cut into 1/2-inch strips (fire roasted jarred peppers will also work well)
1/4 lb Fontina cheese, grated, about 1 cup
3 oz Parmesan cheese, grated, about 1 cup
1/4 cup chopped mixed herbs such as thyme, oregano, chives, and/or flat-leaf parsley
Instructions
Place the bread pieces in a large shallow dish and pour the milk over. Set aside to soak until the milk is mostly absorbed, about 35 minutes.
Preheat oven to 350°F. Bring a medium-sized pot of water to a boil and lightly salt it. Butter a 2 quart souffle or square baking dish and set aside.
Combine the cream, eggs, salt, and pepper in a bowl and whisk together. Set the custard aside.
Drop the asparagus in the boiling water and cook until just tender, 1 to 2 minutes. Rinse under cold running water and drain. Toss together with the garlic, shallots, and bell pepper strips.
In a small bowl, combine Fontina and Parmesan cheeses.
Place 1/3 of the soaked bread in the bottom of the prepared baking dish. Place 1/2 of the asparagus over, sprinkle with 1/3 of the cheese mixture, and 1/2 of the herbs. Top with 1/2 of the remaining bread, cover with the rest of the asparagus, half the remaining cheese, and the rest of the herbs. Cover with the last of the bread and the cheese. Pour the custard over the top.
Bake until golden brown, about 1 hour. Check for doneness with a skewer or paring knife. The custard should be set and the tester should come out clean.
Serve hot, warm or at room temperature.
Notes
Yield: 6 to 8 servings
Adapted from "Everyday Greens" by Annie Somerville
Adapted from "Everyday Greens" by Annie Somerville
The Heritage Cook ® https://theheritagecook.com/
Unauthorized use, distribution, and/or duplication of proprietary material without prior approval is prohibited. I can be contacted via email at: heritagecook (at) comcast (dot) net. Feel free to quote me, just give credit where credit is due, link to the recipe, and please send people to my website,
www.theheritagecook.com.
Thank You!