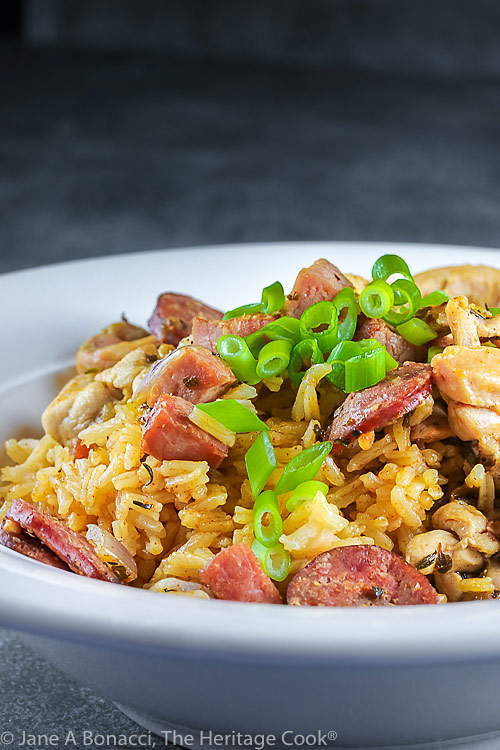 Get ready, Mardi Gras happens on Feb 16th this year! I love rice dishes because they are comforting, delicious, and typically simple to make gluten-free. Bursting with layers of flavor, jambalaya is a rich rice and meat dish associated with New Orleans and Mardi Gras. This Easy New Orleans Jambalaya is a perfect example. It is a filling meal, everything goes into one pot and cooks together, a spicy stew that feeds your whole family on a budget.
The word "jambalaya" probably comes from the French word "jambon" meaning ham, the French phrase "a la" which is "with" or "in the manner of", and "ya" the African word for rice. Jambalaya is New Orleans' version of "Stone Soup." You can throw everything in one pot and feed the entire village.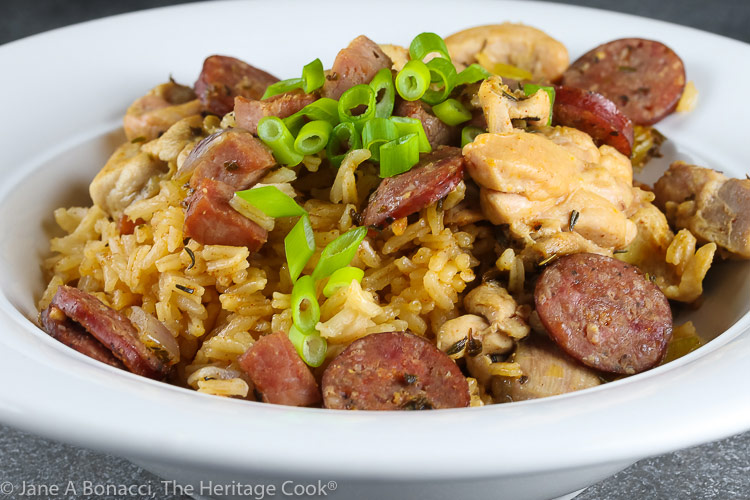 There are two types of jambalaya: "Red" is made with tomatoes and is considered Creole-style. Creole Jambalaya started in New Orleans and was as close as local Spaniards could get to their beloved paella, using the local ingredients. Because saffron was scarce, they substituted tomatoes. The red jambalaya is most common in and around New Orleans.
The "Brown" Cajun version is made with stock instead of tomatoes. Developed in Louisiana's rural, low-lying country, it has more of a smoky and spicy flavor. Eventually French and Caribbean influences combined with the two versions to create the jambalaya we know today.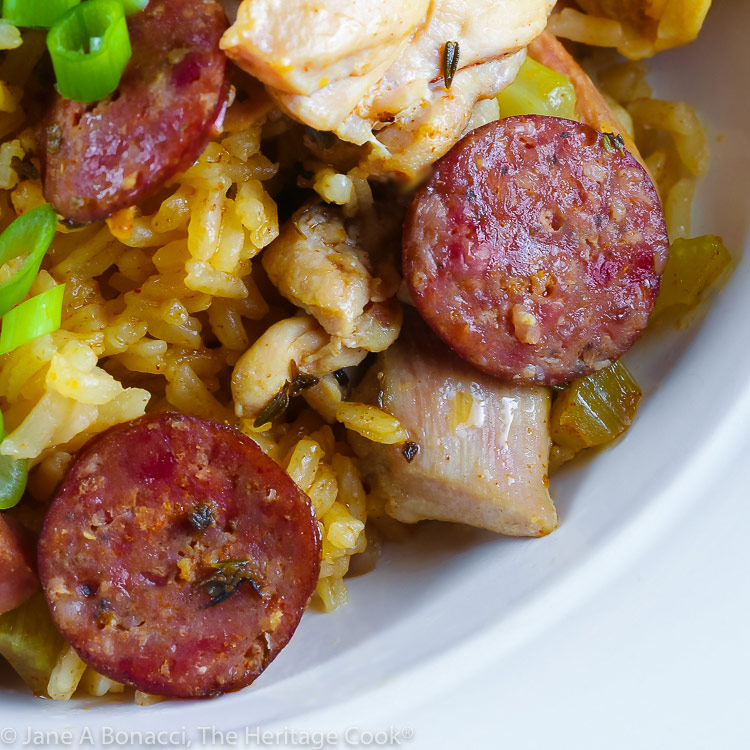 There may be a lot of ingredients, but once you get them in the pot you don't have to worry about it. Depending on the brand of sausage you choose, the heat quotient of your jambalaya can vary dramatically. Some are very spicy and others mild. Always taste before you add them to the stew so you can adjust the amount of seasoning mix and cayenne you add. Remember that the longer this sits, the stronger the seasonings will become – the heat will increase so don't start out too hot! Instead pass cayenne at the table and let people add to their personal taste.
Mardi Gras is fun, wild, crazy, full of debauchery and revelry, and unlike anything else. The streets are packed with people and lines form at the most popular spots like Preservation Hall and Pat O'Brien's. Guys are hanging from balconies, dangling strings of beads. You wouldn't believe what some girls will do for those plastic baubles! Everyone laughing, singing, dancing – it is a wonderful party that lasts for days.
There is so much to do in the Big Easy. Sampling all the incredible foods, riding in horse-drawn carriages, dancing at the House of Blues, watching the sunset along the Mississippi while paddle wheelers blow their horns, listening to jazz music and sashaying to Cajun Zydeco. New Orleans is a magical place, full of wonder and mystery.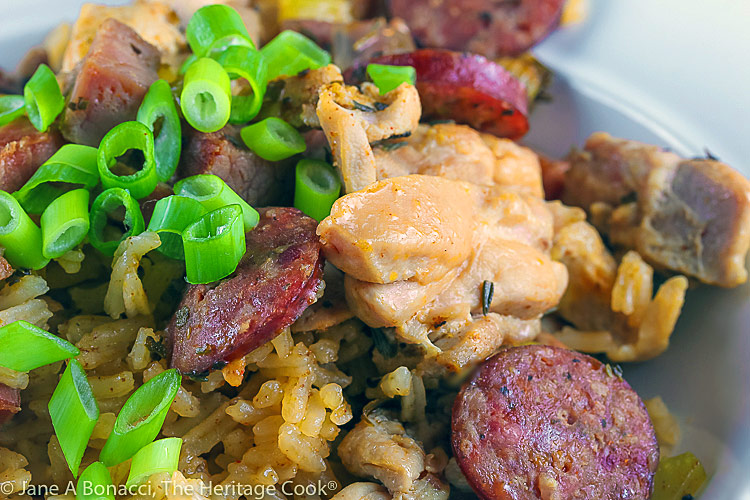 There are two New Orleans … the one during Mardi Gras, and the one the rest of the year. I prefer the quieter times, but it doesn't matter what time of year you go, New Orleans will cast its spell over you, drawing you into its arms like a welcoming friend.
I made this easy jambalaya while on a Zoom call with a friend and it was a wonderful way to get caught up while cooking. At the end of our chat, dinner was ready. What a fun and delicious way to spend an hour!
I hope you make this Easy New Orleans Jambalaya for your Mardi Gras celebration. If you've got a smaller gathering this year, the recipe is easy to cut in half. As they say, Laissez le Bon Temp Rouler or Let the Good Times Roll! Happy Mardi Gras everyone!
Key Ingredients for Easy New Orleans Jambalaya:
Paprika, salt, garlic powder, black pepper, onion powder, cayenne, oregano, and thyme

Chicken, smoked ham, Andouille sausage, shrimp

Onions, bell peppers, celery, garlic, tomatoes, bay leaves, thyme

Chicken broth, rice, green onions, parsley
How do I devein shrimp?
Deveining shrimp is one step you shouldn't skip. The "vein" is actually the intestinal tract and removing it improves the flavor of the shrimp. With a very sharp paring knife gently slice down the rounded outer side of the shrimp just deep enough to expose the vein. Separate the two sides and pull out the vein. Working under running water or in a bowl of water makes this easier.
Here are three shortcuts:
You can use a commercial Cajun spice blend instead of making your own, Emeril sells his own line of seasonings that are delicious.

Use pre-cooked chicken then you can add it when you add the broth, it will just need re-heating. I strongly recommend you use thighs as they will retain their moisture and are harder to over-cook.

If anyone in your house cannot eat or doesn't like shrimp, you can simply leave it out. The rice will still need to rest, covered, for the 15 minutes to finish cooking and steaming.
PRO Tip:
Emeril's seasoning mix makes a wonderful gift for family and friends. Put it in decorative jars and tuck it into a basket along with a bag of rice, package of andouille sausage, and some beautiful fresh bell peppers for a fun gift – perfect for a house warming party, etc. If you line the basket with purple, green, and gold kitchen towels it will be just like Mardi Gras!
PRO Tip:
Avoid using Tabasco sauce or other vinegar-based hot sauces. The flavors will clash with the other ingredients. Use additional cayenne pepper if you want to add more heat to your dish.
How to make Easy New Orleans Jambalaya:
Make the creole seasoning mix or use a store-bought version

Brown the chicken and set aside; cook the ham and sausage then add the onions, bell peppers, celery, and seasonings until softened; stir in the tomatoes

Stir in the stock; add the chicken, rice, and green onions; return to a boil, cover, reduce to a simmer and cook about 15 minutes (or according to package directions)

Toss shrimp in seasoning mix, tuck into the rice, put the lid back on the pot and move it off the heat; let rest about 15 minutes to cook the shrimp

Fluff the rice, mix in the parsley, taste and adjust seasonings and serve
PRO Tip:
There are two tricks to a great jambalaya: First, once you have stirred in the rice, leave it alone and don't stir the pot. This will keep the fragile grains intact. The second trick is that once it is finished cooking, move it off the heat and leave the lid on. Don't touch it for about 15 minutes (or according to package directions) and then use two forks to fluff the rice. Stirring at this point will make the rice clump together and it will be heavy. Enjoy!
Recommended Tools (affiliate links; no extra cost to you):
Gluten-Free Tips:
Jambalaya has a lot of ingredients, but is easy to put together and you only need to watch a few ingredients for gluten. For the ham and sausage, be sure to get gluten-free varieties. If you are using pre-cooked chicken, like a rotisserie chicken, be certain that it is safe and doesn't contain any gluten in the marinade or seasoning. And finally, if you are using a commercial Cajun spice blend, again, be sure there is no gluten ingredient or cross-contamination potential.
Yield: 6 to 8 servings
Easy New Orleans Jambalaya (Gluten Free)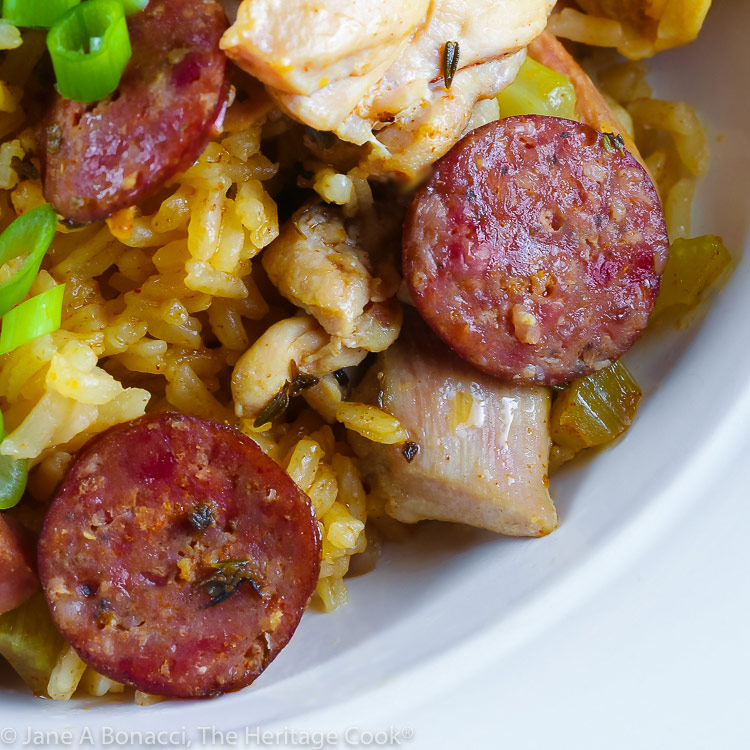 Bursting with layers of flavor, jambalaya is a rich rice and meat or seafood dish associated with New Orleans. Everything goes into one pot, cooks together, and it is served like a stew. This is a one dish meal that feeds your whole family.
Additional Time
15 minutes
Total Time
1 hour
30 minutes
Ingredients
Emeril's Essence seasoning mix (or use a store-bought Cajun spice blend, watch out for gluten!)
2-1/2 tbsp paprika
2 tbsp salt
2 tbsp garlic powder
1 tbsp black pepper
1 tbsp onion powder
1 tbsp cayenne pepper
1 tbsp dried oregano
1 tbsp dried thyme
Jambalaya
2 tbsp vegetable or olive oil
3 lb boneless skinless chicken thighs, cut into bite-sized pieces
1/2 lb thick sliced ham, cut in a small dice
3 links Andouille sausage (or other smoked sausage) sliced thinly
2 cups chopped onions
1 cup chopped red bell peppers
1/2 cup chopped celery
1-1/2 tbsp minced garlic
1/2 tsp cayenne, plus more for serving
2 tbsp Emeril's Original Essence seasoning mix from above, divided
1 (28 oz) can chopped tomatoes with their juices
3 bay leaves
1 tsp dried thyme leaves
5 cups low-sodium chicken broth
3 cups long-grain white rice
1 cup chopped green onions (light green and white parts)
Kosher salt and freshly ground black pepper, to taste
1 lb medium shrimp, peeled and deveined, optional
1/2 cup minced parsley, plus more for garnish
Instructions
Combine the seasoning mix ingredients in a bowl; set aside.
Heat the oil in a large enameled Dutch oven over medium-high heat. When hot, add the chicken pieces, sprinkle with a little kosher salt and sear until golden brown on all sides, 4 to 5 minutes. Using a slotted spoon, remove the chicken from the pan and set aside.
Reduce heat to medium. Add the onions, bell peppers, celery, garlic, pinch of kosher salt, the cayenne, 1 tbsp of the Essence blend, 1/2 tsp of black pepper, and thyme, and cook, stirring often, until the vegetables are softened, about 8 minutes. Add the ham and andouille to the oil in the pot and cook, stirring, about 2 minutes. Add the tomatoes (with their juices) and bay leaves and cook, stirring often, about 2 minutes.
Stir in the stock and bring to a boil. Stir in the reserved chicken, rice, and the green onions. Stir well and bring back to a boil. Cover the pot, reduce the heat to a simmer, and cook without stirring until the rice has absorbed all the liquid, usually about 15 minutes or according to package directions. Move the pot off the heat.
Toss the shrimp with the remaining 1 tbsp of the seasoning mix if using. Uncover the Dutch oven and tuck the shrimp gently into the rice to cover. Do not stir the rice. Cover the pot and let sit, undisturbed, for about 15 minutes or until the shrimp are pink and opaque.
Fluff the rice with two forks. Discard the bay leaves. Add the minced parsley and toss in gently. Taste and adjust if needed with additional salt, pepper, and cayenne. Ladle into warmed soup bowls and garnish with additional parsley if desired. Serve immediately.
Nutrition Information:
Yield:
8
Serving Size:
1
Amount Per Serving:
Calories:

635
Total Fat:

24g
Saturated Fat:

7g
Trans Fat:

0g
Unsaturated Fat:

15g
Cholesterol:

355mg
Sodium:

4250mg
Carbohydrates:

39g
Fiber:

4g
Sugar:

9g
Protein:

70g
If you enjoyed this recipe, be sure to follow me on social media so you never miss a post:
Create a New Tradition Today!
Welcome! The suggestions here are not intended as dietary advice or as a substitute for consulting a dietician, physician, or other medical professional. Please see the Disclaimers/Privacy Policy page for additional details. Unauthorized use, distribution, and/or duplication of proprietary material from The Heritage Cook without prior approval is prohibited. If you have any questions or would like permission, please contact me. We participate in the Amazon Services LLC Associates Program, an affiliate advertising program designed to provide a means for sites to earn advertising fees by advertising and linking to amazon.com. This page may contain affiliate links. This post was first shared in March 2011. The article was updated in 2021.