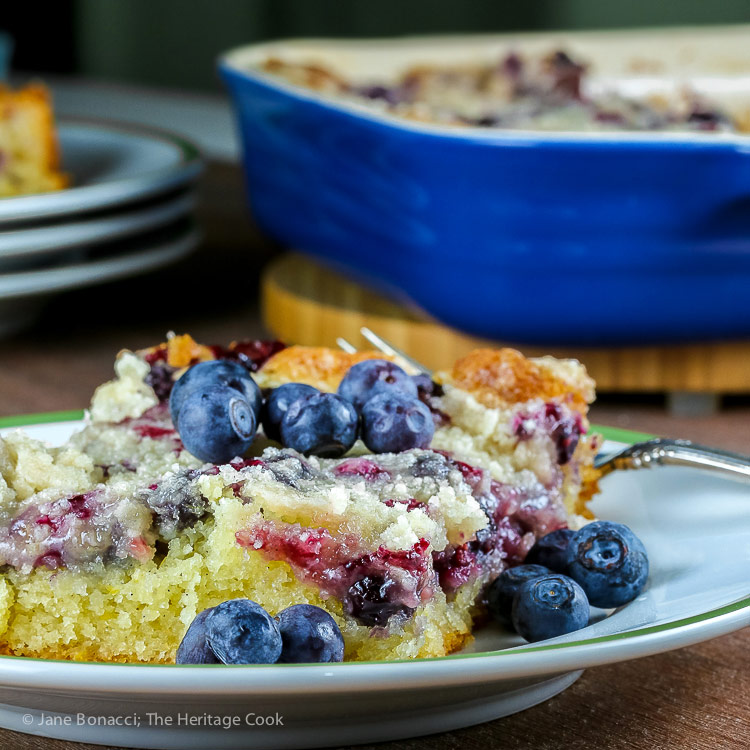 America The Great Cookbook by Joe Yonan (affiliate link) is a collection of recipes from 100 of the finest chefs and food personalities in the country. Joe asked them to share the foods they make for the people they love and boy did he come up with an amazing array of wonderful recipes. Look how many I've tagged to make – and this was just my first walk through of the book!!
It was hard to narrow it down to a single recipe to make and share with you, but I found a winner that you will love. Blueberry Buckle is an old-fashioned recipe, exactly the kind of dessert I would make with my mom and grandmother. Comforting, made from scratch, and more delicious because of the extra dose of love we add to everything we make for our families and loved ones.
There are so many recipes I want to make from this book including the Chicken Pot Tot Hotdish, Bricked Roast Chicken, and Grits with Green and Shrimp – it will take me months to get to them all and I know The Artist will be thrilled with the new variety of suppers and desserts showing up on our dinner table. I have a feeling the S'mores Bars may just show up on a future Chocolate Monday!
You will find recipes from noted chefs and food industry heavyweights such as Carla Hall, Virginia Willis, David Chang, Marcus Samuelson, Cecilia Chiang, Rick Bayless, and Jose Andres. Or dig a little deeper to find real gems from some lesser well known personalities like Dan Barber, Hugo Matheson, Nancy Silverton, Patrick O'Connell, Tanya Holland, Kate McDermott, Francis Lam, and Erin French. Recipes span from appetizers to desserts, representing all 50 states, and showcasing the diversity of our country.
Today's recipe is from food writer and cookbook author Toni Tipton-Martin. Her Blueberry Buckle is a family favorite that is being handed down to her children. Toni's comment about the recipe is: "Traditions related to food are so important. I've created a number of special-occasion rituals for my kids that they look forward to now as adults. When they call and ask about a particular recipe, I don't give it to them. I've turned into the older generation that says, "Well, you just come on over and I'll make it with you." We moms want to preserve every opportunity to be with our kids!" I love this way of thinking – sharing the experience of cooking together instead of just handing over a recipe!
When you buy this cookbook, (affiliate link) not only do you get a wonderful reference for your culinary library, you will also be helping provide meals through the No Kid Hungry organization. That's a double win!
This Blueberry Buckle is so simple to make, easy to bake (hands off for 45 to 50 min!), and so satisfying. The Artist and I loved the slight tartness of the fresh blueberries, the crunch of the sugar topping, and the delicate cake underneath. This is a classic dessert that will never fail to please everyone at your table!
Go buy some blueberries, grab a copy of America the Great Cookbook and make this dessert. Your family will thank you!
Jane's Tips and Hints:
The batter is pretty heavy and not easy to get into the corners of the pan (I used a square pan). Once I had the blueberries on the top I could use them to help me push the dough around without getting my hands covered with cake batter! Be sure to dry your blueberries well – I forgot to do this and the topping was wetter than I would have liked. Totally my fault.
Gluten-Free Tips:
Use a gluten-free flour blend, either homemade or a store bought version such as Bob's Red Mill 1-to-1 or Pamela's Gluten-Free All-Purpose Flour, at 120 grams per cup of flour called for in the original recipe.
Blueberry Buckle (Gluten-Free)
2018-02-16 05:41:31
Ingredients
Crumb Topping
1/2 cup (100g) granulated sugar
1/3 cup (40g) all-purpose flour or gluten-free flour blend
1/2 tsp ground cinnamon
Pinch of salt
1/4 cup (60g) unsalted butter, at room temperature
Blueberry Cake
1-1/4 cups (160g) all-purpose flour, plus extra for dusting or gluten-free flour blend
1-1/2 tsp baking powder (gluten-free if needed)
1/4 tsp salt
1/4 cup (60g) unsalted butter, at room temperature
1/4 cup (60g) vegetable shortening
1/2 cup (100g) granulated sugar
1 large egg
2 tsp grated lemon zest
6 tbsp (90 ml) milk
1/2 tsp pure vanilla extract
1-1/2 cups (225g) fresh or frozen blueberries, thawed and well drained if frozen
Instructions
For the Crumb Topping: In a small bowl, whisk together the sugar, flour, cinnamon, and salt. Using your fingers, rub the butter into the dry ingredients until the mixture is crumbly. Set aside until ready to use.
For the Blueberry Cake: Preheat the oven to 350°F (180°C). Lightly grease an 8-inch (20 cm) round baking pan with butter and dust lightly with flour, tapping out any excess. (Use gluten-free flour for dusting if needed.)
In a bowl, stir together the flour, baking powder, and salt. Set aside.
In a stand mixer fitted with the paddle attachment, beat together the butter and shortening until light. Gradually beat in the sugar until light and fluffy. Beat in the egg and lemon zest. Beat in half of the dry ingredients and half the milk. Repeat with the remaining dry ingredients and milk. Add the vanilla and beat until well mixed.
Spread the batter in the baking pan. Sprinkle the blueberries evenly over the batter and top with the crumb topping. Bake until the topping and edges are browned and the berries begin to bubble, 45 to 50 minutes. Let cool in the pan for 5 minutes before serving.
Notes
Yield: 6 to 8 servings
The Heritage Cook ® https://theheritagecook.com/
Create a New Tradition Today!
Welcome! If you ever need any entertaining or cooking advice, need to alter a recipe for gluten-free, or want recipe suggestions, don't hesitate to ask. Unauthorized use, distribution, and/or duplication of proprietary material from The Heritage Cook without prior approval is prohibited. If you have any questions or would like permission, please contact me. The suggestions here are not intended as dietary advice or as a substitute for consulting a dietician, physician, or other medical professional. Please see the Disclaimers page for additional details. Thanks for visiting The Heritage Cook!