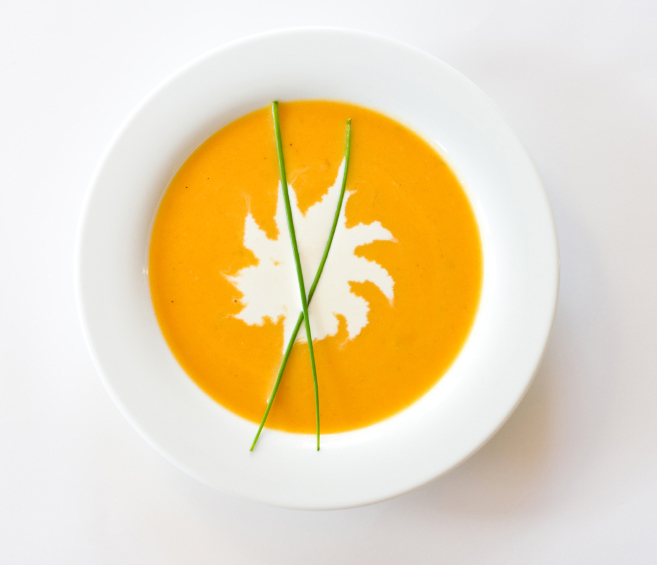 A big steaming bowl of butternut squash soup is guaranteed to warm the body and soul. It is thick and velvety without any milk in it. That is thanks to the creamy nature of the squash when pureed. This is one of the healthiest soups to serve and perfect to start your Thanksgiving meal.
Did you know that squash is a fruit? I find that amazing since it is usually considered a vegetable side dish on menus. Butternut squash has a sweet, nutty taste similar to pumpkin and can be used interchangeably in most recipes. The darker orange the skin is, the riper and sweeter the squash. Roasting it develops the flavors and is often the technique used in order to puree it for use in other recipes. You can also grill it for a nice smokiness.
Today's recipe blends butternut squash and apples, which lightens the consistency and adds another layer of complexity. It is important to use a tart apple such as Granny Smith to offset the natural sweetness of the squash and create a more savory soup. I love the addition of sage, especially for the Thanksgiving table because it complements the traditional seasoning of the turkey and stuffing.
Apple juice and cider are similar but they have differences. Apple juice has been filtered and pasteurized so that it will stay fresh longer. It also often has sweeteners added. Cider is made from freshly pressed apples, unfiltered and perishable. Always store cider in the refrigerator. Depending on the quality of the cider you are using, you may want to pour it through a fine sieve to catch any larger particles of pulp and sediment.
Leeks may be unfamiliar to many of you, but they are worth getting to know. Leeks are grown beneath the ground and tend to collect dirt in between the layers, which require careful cleaning. The dark green portions of the leaves are too tough to eat but can be used to flavor stocks and broths. See "Kitchen Skill" below for directions on how to clean them.
The recipe calls for chicken stock, but if you want to keep this vegetarian, you can easily substitute vegetable stock. If you do, check the flavors and adjust the seasonings to your taste. If you have made a lot of turkey stock for the holiday, it would also be wonderful in this soup!
The Cider Cream may be listed as an accompaniment, but I think serving this soup without it would be a crime. The combination of sour cream and apple cider is amazing and really improves the balance of the soup. I like to stir some into the soup before serving and also add a dollop on top with a sprinkling of chopped chives – it makes it look so professional!
I know you are probably buried in preparations for your Thanksgiving feast, but I wanted to introduce you to some of my talented blogging friends. Check them out and I know they will be on your must-read list too! Enjoy their writings and recipes; I know they will enhance your holiday meal.
Some of my Favorite Food Bloggers:
Culinary Adventures with Camilla
The Life & Loves of Grumpy's Honeybunch
Thru the Bugs on My Windshield
Thank you all for visiting The Heritage Cook and sharing in my holiday preparations. I know there are hundreds of blogs you can be reading and I truly appreciate the time you spend with me. Tomorrow I will share some of my favorite recipes to help you create new ways to enjoy the leftover turkey, stuffing, gravy and vegetables. I wish you all a wonderful Thanksgiving!
Jane's Tips and Hints:
Butternut and other squashes are notoriously difficult to carve. To make it easier, place the squash in the microwave and cook for 30 to 50 seconds. This will soften the rind enough that you can cut through it without much strength. Of course having your knife as sharp as possible is also imperative. Use a steel to take off any burrs and to reset the edge before cutting the squash.
Kitchen Skill: How to Clean Leeks
Trim off the dark green portions of the leaves; discard or set aside to use for stock. Cut off the root portion and discard. Slice the leek lengthwise into thirds, leaving the root end intact. Rinse under running water, separating the leaves to dislodge any hidden dirt.
Another technique is to fill a bowl with cool water. Slice the leeks as described above and swish the cut ends through the water. Leeks are so notorious for hiding grit that I usually take it one step farther and slice the leeks into rings and place those rings in the bowl of water. Agitate the water and let it sit to allow any grit to settle to the bottom. Carefully scoop out the leeks and add to soup or pat dry with paper towels if sautéing.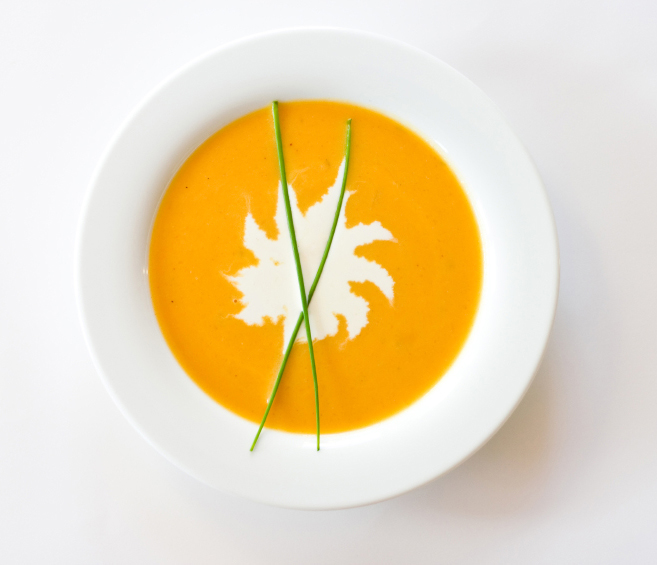 Butternut Squash Soup with Cider Cream
2015-07-10 11:07:43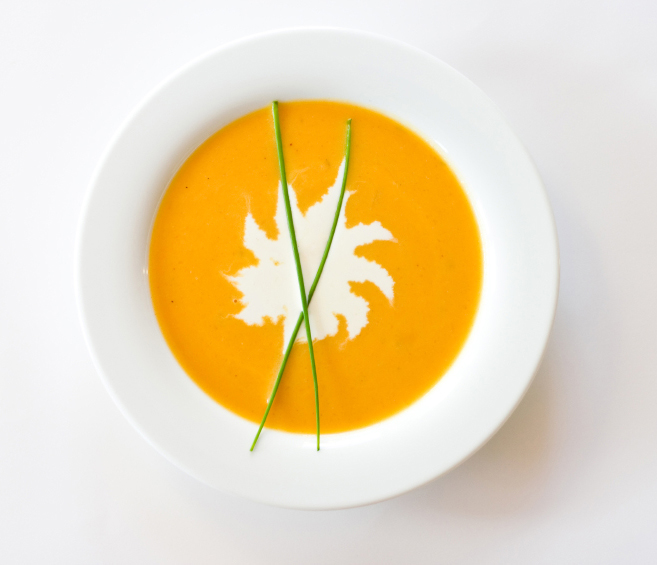 Ingredients
INGREDIENTS

Soup
5 tbsp butter
2-1/2 lb butternut squash, peeled, seeded, cut into 1/2-inch pieces (about 6 cups)
2 cups chopped leeks (white and pale green parts only)
1/2 cup chopped peeled carrot
1/2 cup chopped celery
2 small Granny Smith apples, peeled, cored, chopped
1-1/2 tsp dried thyme
1/2 tsp crumbled dried sage leaves
5 cups chicken stock or canned low-salt chicken broth
1 cup apple cider
Cider Cream
1/2 cups apple cider
2/3 cup sour cream
Garnishes
1/2 cup whipping cream
Chopped fresh chives
Instructions
Melt butter in heavy large saucepan over medium-high heat. Add squash, leeks, carrot and celery; sauté until slightly softened, about 15 minutes. Mix in apples, thyme and sage. Add stock and 1 cup cider and bring to boil. Reduce heat to medium-low. Cover and simmer until apples are tender, stirring occasionally, about 30 minutes. Cool slightly.
Working in batches, purée soup in blender. Return soup to pan. Boil remaining 1/2 cup cider in heavy small saucepan until reduced to 1/4 cup, about 5 minutes. Cool.
Place sour cream in small bowl. Whisk in reduced cider. (Soup and cider cream can be made 1 day ahead. Cover separately and refrigerate.)
Bring soup to simmer. Mix in whipping cream. Ladle soup into bowls. Drizzle with cider cream. Top with chives.
The Heritage Cook ® https://theheritagecook.com/
Unauthorized use, distribution, and/or duplication of proprietary material without prior approval is prohibited. If you have any questions or would like permission, I can be contacted via email at: heritagecook (at) comcast (dot) net. Feel free to quote me, just give credit where credit is due, link to the recipe, and please send people to my website,
www.theheritagecook.com.
Thank You!