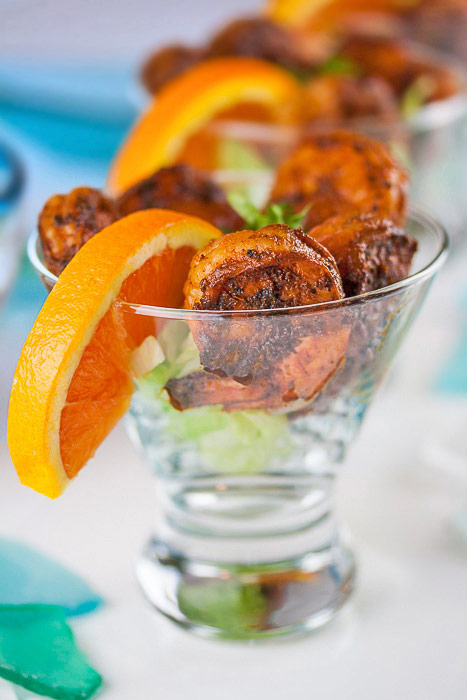 When I am looking for a fun appetizer for a dinner party, I turn to shrimp. They cook extremely quickly, everyone loves them, and they seem like a splurge even though they aren't that expensive. Today's Chipotle Orange Shrimp Cocktail will linger in your mind, begging you to making them again and again. And anything you eat with your fingers is sexy – try feeding your Valentine this shrimp cocktail and watch the sparks fly!
One of my favorite appetizers has always been shrimp cocktail. I love the spiciness of horseradish in the classic sauce and in this version I've added chipotle paste to the mix. The smokiness of the chipotle enhances the grilled shrimp and adds some extra spiciness to wake up your taste buds even more.
This beautiful citrus-infused sauce would also make a delicious marinade for chicken or pork and could be used to glaze other grilled meats. It is spicy with just enough sweetness to offset the heat.
I often use a wet rub on the shrimp, but if you are a purist and want more focus on the sauce, you can leave them plain. I would definitely make sure they are well coated with olive oil before cooking so they won't stick to the grill.
You can either metal skewers for the shrimp or use a nonstick grill basket on your barbecue. Both ways work well. Because I was making so many shrimp at the same time, I chose to use the grill basket, which worked beautifully. If you are using skewers, I highly recommend you buy flat versions – not round – to help your foods keep from spinning on the skewers, making them easier to flip. You can also double skewer them to give them more stability.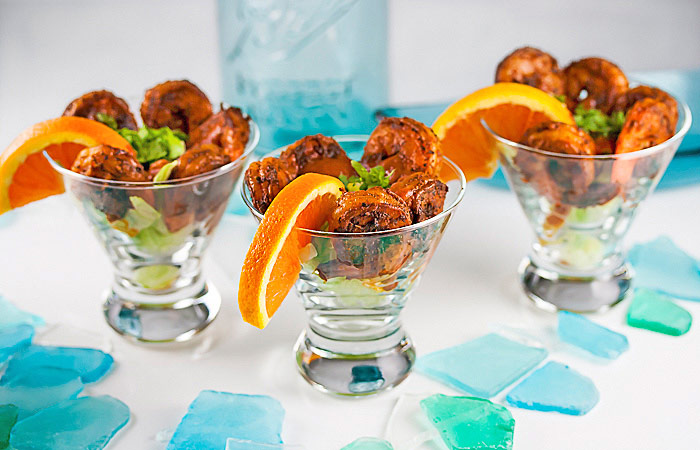 Today's recipe is part of Progressive Eats (#progressiveeats), a virtual version of a progressive dinner party. A theme is chosen each month, members share recipes suitable for a delicious meal or party, and you can hop from blog to blog to check them out. For this month's virtual party we have a great mix of recipes for you including sexy appetizers, entrees, and of course luscious desserts. Make sure you check out the links below for all the Valentine's Day specials.
The next time you are having a party, I hope you make these Chipotle Orange Shrimp Cocktail for your guests. You're sure to have a table full of smiling faces!
Gluten-Free Tips:
Be certain the seasonings and adobo sauce are gluten-free. If there is any question, contact the manufacturer to be sure.
Chipotle Orange Shrimp Cocktail Gluten Free
2018-01-27 22:37:53
Ingredients
Shrimp
2 teaspoons paprika
1/4 teaspoon kosher or sea salt
1 teaspoon Old Bay Seasoning (Old Bay is gluten-free)
1/4 teaspoon onion powder (Not onion salt!)
1/8 teaspoon garlic powder
1/4 to 1/2 teaspoon cayenne pepper, to taste
1 teaspoon dried thyme leaves
Pinch sugar
1 to 2 tablespoons olive oil, as needed to make a paste
24 medium shrimp, peeled, deveined, and rinsed well
Orange-Chipotle Cocktail Sauce
1/4 cup prepared sweet chili Sauce (Heinz brand is gluten-free)
1/4 cup ketchup
2-1/2 teaspoons creamy prepared horseradish (or more to taste)
1/2 teaspoon Old Bay Seasoning
1/4 teaspoon kosher salt
1/2 to 1 teaspoon adobo sauce from Chipotles en Adobo, to taste
1/2 teaspoon grated orange zest
1 tablespoon freshly squeezed orange juice
For Serving
1/4 to 1/2 head of lettuce, preferably iceberg, shredded
Fresh navel orange slices
Fresh cilantro or Italian parsley, sprigs or finely chopped
Instructions
Marinate the Shrimp: In a medium bowl, combine the paprika, salt, Old Bay, garlic, onion, cayenne, thyme, and sugar. Stir until evenly mixed. Add the oil and stir to create a paste, about the thickness of honey. Add the cleaned shrimp and rub the spice paste all over the shrimp. Cover the bowl and chill in the refrigerator while you make the cocktail sauce. Wash your hands thoroughly with soap and hot water to remove the chile pepper. If you don't do this and later rub your eyes, you'll be sorry!
Prepare the Sauce: In a medium bowl, combine the chili sauce, ketchup, horseradish, Old Bay, adobo sauce, orange zest and orange juice. Whisk together. Taste and adjust the seasonings. Cover and refrigerate until ready to plate.
The sauce will hold in the refrigerator for several days, tightly covered. Return to room temperature before serving.
Grill the Shrimp: You can cook the shrimp one of two ways. You can place them on skewers or you can cook them in a grill skillet. Both ways work well and it is your personal choice about how you want to prepare the shrimp.
If you use skewers, I recommend using reusable flat metal skewers. They will keep the shrimp from spinning when you try to turn them over and you don't have to worry about them burning. Use a hot pad or tongs to turn them because they do get hot. Rub the grates of the grill with an oiled paper towel before placing skewers on the hot grill.
If you use a grill skillet, oil it well before placing it on the grill. Heat it up, brush with oil again, and then add the shrimp. Use a heatproof spatula or long handled heatproof spoon to keep the shrimp moving while they cook.
Leave the shrimp on the heat about 2 to 3 minutes or until they are firm to the touch. The spice rub will make it hard to see them turn pink, but they will get lighter in color and the tail portions will turn pink. Firmness is the best way to tell when they are done. Remember that residual heat will continue after you pull them off the heat and you can always put them back on, so err on the side of undercooking rather than overcooking. When done, transfer shrimp to a plate to cool.
All of the components can be prepared up to an hour or two in advance and stored separately (covered) in the refrigerator. Do not assemble dishes until just before you are ready to serve. If you have made them ahead, let the components sit at room temperature about 20 minutes to warm up slightly before serving.
For Serving: Fill the dishes 2/3 to 3/4 full with the shredded lettuce and sprinkle with a little salt and pepper. If you want you can toss the lettuce with a tiny bit of vinaigrette, but this isn't necessary. Cut the orange into slender wedges and cut a slit in the middle, opposite the rind edge so they will fit onto the edge of the dishes (see photo). Chop the herbs and pat dry on paper towels. Herbs sprinkle better when they are dry.
When the shrimp are cool enough to handle, hook them over the edge of the dish or snuggle them around the edge as I did, and using a small spoon, drizzle with some of the cocktail sauce. Slip an orange wedge on the edge of each dish and sprinkle with the cilantro or parsley. Serve immediately.
Notes
Yield: 4 appetizer servings (6 shrimp each)
The Heritage Cook ® https://theheritagecook.com/
This recipe is part of our monthly progressive dinner party, Progressive Eats. See the links below for more inspiration and great recipes!
Love Foods: Aphrodisiac Foods / Foods for Valentine's Day
Cocktails
Appetizers
Main Courses
Desserts

To see our upcoming themes and how you can participate, please check out the schedule at Creative Culinary or contact Barb for more information.
Create a New Tradition Today!
Unauthorized use, distribution, and/or duplication of proprietary material from The Heritage Cook without prior approval is prohibited. If you have any questions or would like permission, please contact me. The suggestions here are not intended as dietary advice or as a substitute for consulting a dietician, physician, or other medical professional. Please see the Disclaimers page for additional details. Thanks for visiting The Heritage Cook!