Last week The Artist and I were invited to an event hosted by Brioche Pasquier/Galaxy Desserts. With the sun streaming through the windows and a view of boats rocking gently in a marina on San Francisco Bay, we were treated to a sumptuous breakfast featuring tender, rich breads from France.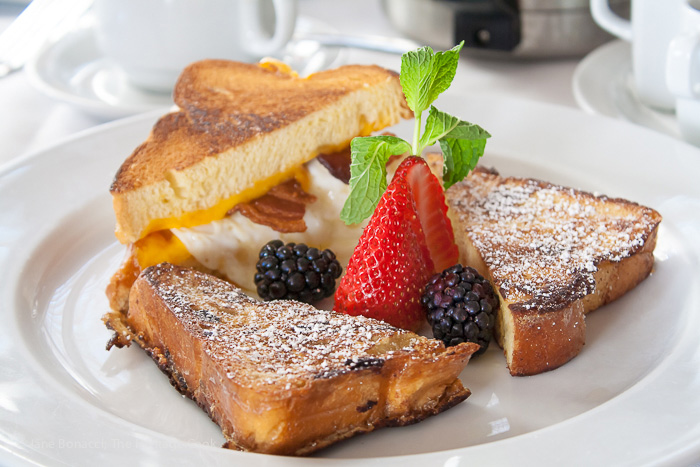 Hughues Pasquier, the national sales director of Brioche Pasquier for the United States, told us the story of his family. (For an English translation of the Brioches Pasquier website, click on the British flag icon on the bottom left of the front page.)
With recipes and techniques passed down through the generations, in 1936 Gabriel Pasquier opened a small family bakery in Les Cerqueux, a small village in the Loire Valley. The bakery became the most popular place for people in the region to buy their breads, especially the brioche. With hard work and big dreams, Gabriel and five of his sons developed innovative processes, expanding their family business, which led to the creation of Brioche Pasquier in 1974. Following their father's lead, the brothers were able to maintain the quality of ingredients and taste, becoming one of the best brioche bakeries in France.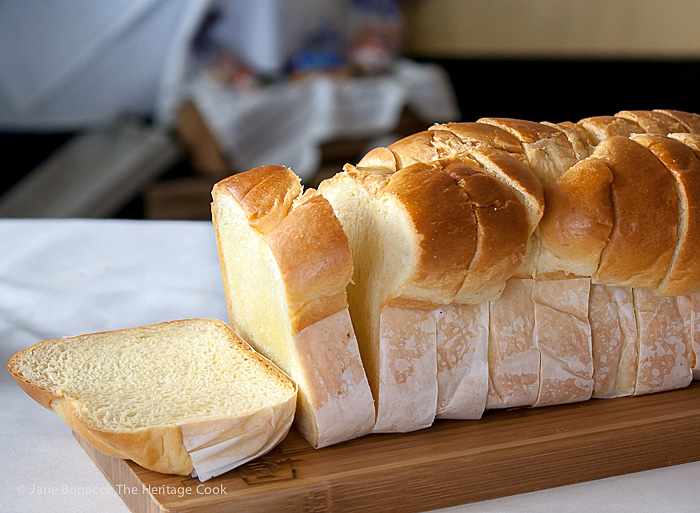 Brioche is a soft airy bread made with fresh butter and eggs and one of the signature breads of France. The Pasquier family developed their own au levain, a natural starter that works much the same way yeast does to give lift to baked goods. This starter gives all their breads a unique taste. In the same way San Francisco sourdough bread gets its distinct flavor from the natural yeasts in our region, Brioche Pasquier's breads have the flavor of Les Cerqueux, France.
Hughues speaks about the breads his family produces and the ingredients they use with the passion of a baker. He trained with some of the best in France at Le Sacre Coeur and Le Clos D'or, and also spent a year apprenticing at a bakery in Sydney, Australia. When he discusses the products, he knows exactly what it takes to create the quality, textures, and flavors. All of Brioche Pasquier products are preservative free, trans-fat free, and use non-GMO ingredients.
As is common in France, the Pasquier family sources their wheat, eggs, butter, and other ingredients from small producers who live within a short distance of their village. I love this dedication to and support of their community. We were enchanted by his French accent, making both The Artist and I long to be back with our friends in Burgundy.
I was amazed and delighted with the quality they are able to achieve in their production facilities. They have immense respect for the time it takes for the flavors to fully develop. In his grandfather's day, brioche took 6 hours to make … with all the mechanization they have trimmed that down to 5 hours, 50 minutes. They will not compromise the quality for speed!
Galaxy Desserts, an award-winning company specializing in French-inspired all-natural desserts and pastries is a Richmond-based subsidiary. Galaxy is helping produce and deliver Brioche Pasquier products to North America. The President and CEO, Paul Levitan, gave us a behind the scenes tour of the factory, normally not open to the public. Dressed in protective clothing and donning hair nets, we ventured into the vaulted corridors of the factory. I was a true vision of loveliness, LOL.
On the day of our visit we were able to watch as regular and almond croissants were being made. In a closely guarded proprietary process the huge blocks of butter are enclosed in pastry dough, pressed and folded in the same way bakers have done it for centuries. There are still some parts that are done by hand, but the bulk of the work is now done by machines. As someone who has made their own laminated doughs by hand, I was fascinated that technology has advanced to a point where it can now recreate with amazing accuracy the flavors and textures of homemade dough.
As we made our way through the factory, we discovered that their chocolate lava cakes were in also being made. Yes folks, we were able to climb a ladder and peer down into a huge vat of liquid chocolate being tempered – it was a good thing there were rails to grab onto as we nearly swooned with the heady aromas! 🙂
Galaxy's and Brioche Pasquier's products are shipped frozen so we can have delicious fresh baked treats every day. Brioche Pasquier products include Pain au Lait (sweet milk brioche rolls), Brioche Tressee (sliced brioche loaf), Brioche Tressee Chocolate Chip (sliced brioche loaf with chocolate chips), Pitch Chocolate Chip (brioche rolls studded with chocolate chips), and Pitch Chocolate-Filled (brioche rolls with chocolate filling). They are currently available in over 300 grocery stores in California, 80 stores throughout the Pacific Northwest, and Sprout's Markets from Arizona to Georgia. You can find them in the Bay Area at Safeway, Sprout's, Oliver's Markets, Draeger's, Lunardi's, Berkeley Bowl, and many more. This May Brioche Pasquier products will be available in all Northern California Safeway stores.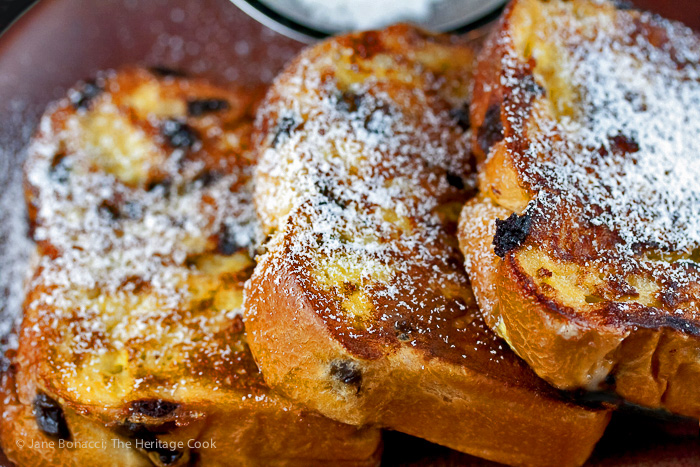 Today's recipe was made with slices of Brioche Tressee Chocolate Chip, which made incredible French toast. The bread has a beautiful natural sweetness highlighted with the chocolate chips. The Artist was happy with a light sprinkle of confectioners' sugar on his serving. I found some orange sugar glaze in the refrigerator that I had made for another recipe and used it to dip my bites in. You know how much I love the combination of chocolate and orange – ooh la la!
You can keep on top of the latest news on Brioche Pasquier's Facebook page and learn a little French while you're at it!
Galaxy's decadent desserts will soon be available directly through their website. They produce croissants for Williams-Sonoma and have been featured four times on Oprah's Favorite Things since 2002. You will be thrilled with the quality and array of products they have.
Thank you to the team from Brioche Pasquier/Galaxy for a wonderful morning. Your generous gift basket helped me create today's recipe – one that The Artist will be dreaming of for months!
Happy Chocolate Monday!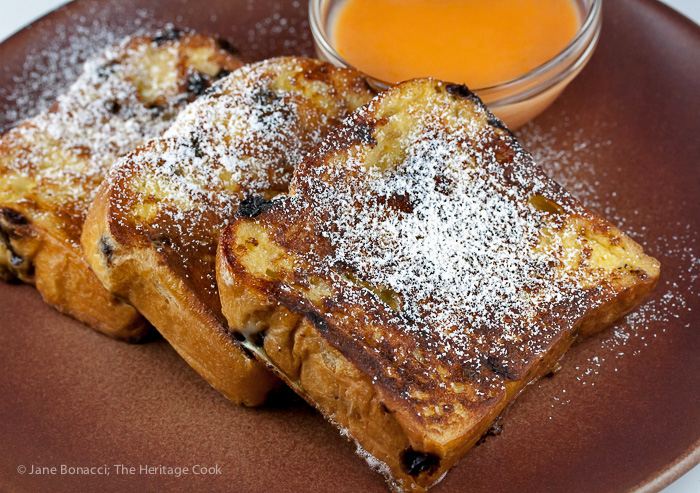 Jane's Tips and Hints:
Getting the oil (or butter if you prefer) really hot before adding the dipped bread slices will help get the beautiful deep golden color we love. The juxtaposition of the tender, airy center of brioche and the crispy crust is utterly delightful.
Gluten-Free Tips:
Brioche Pasquier products are not gluten-free. Substitute gluten-free bread (homemade or store bought) and cook it first to avoid cross contamination. Set it on a separate baking sheet if you are keeping it warm in the oven.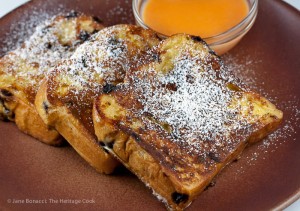 Chocolate Chip Brioche French Toast
2015-06-18 13:17:07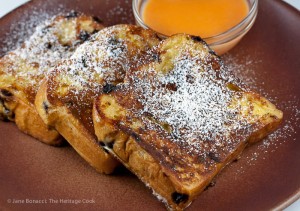 Ingredients
10 large eggs
1-1/2 cups half-and-half or whole milk
1 tsp vanilla extract or paste, optional
1 loaf sliced Brioche Tressee Chocolate Chip bread
Organic vegetable oil
Sifted confectioners' sugar
Instructions
In a shallow 9-inch square dish, whisk together the eggs, half-and-half, and vanilla (if using). Set next to the stove.
Heat a griddle over medium-high heat. Add about 2 tbsp of the oil to the griddle and heat until shimmering. Dip both sides the brioche slices in the egg mixture, letting them sit for about 30 seconds on each side.
Add the dipped brioche slices to the griddle and cook for 2 to 3 minutes on each side, until browned and cooked through. If you are cooking for a large crowd, you can cook the French toast in batches and keep it warm in a low oven on a baking sheet. Add more oil as needed for each batch.
Serve hot with a light dusting of confectioners' sugar.
The Heritage Cook ® https://theheritagecook.com/
Create a New Tradition Today!
Disclosure: I attended an event and was given products to sample. I was not asked to write this article or compensated for it. As always, my opinions are my own.
Let's connect! If you ever need any entertaining or cooking advice, need to alter a recipe for gluten-free, or want recipe suggestions, don't hesitate to email me. Thanks for joining the Heritage Cook Family!
Unauthorized use, distribution, and/or duplication of proprietary material from The Heritage Cook without prior approval is prohibited. This includes copying and reprinting content and photographs. If you have any questions or would like permission, I can be contacted via email. Feel free to quote me, just give credit where credit is due, link to the recipe, and please send people to my website, www.theheritagecook.com. Please see the Disclaimers page for additional details.
This site is not intended to provide medical advice. The suggestions here are not intended as dietary advice or as a substitute for consulting a dietician, physician, or other medical professional. It is the reader's sole responsibility to determine which foods are appropriate and safe for their family to consume. Always consult your doctor. The author makes no claims regarding the presence of food allergens and disclaims all liability in connection with the use of this site.
Thank You!