Here is a fun twist for you – chocolate dukkah – a sweet version of one of my favorite seasonings! These Chocolate Dukkah Roasted Almonds are easy and quick to make, and may become your favorite snack. Dukkah (also spelled dukka, duqqa, and du'ah) is an Egyptian blend of nuts, spices and herbs that can be sprinkled on vegetables, meats, or added to oil for an amazing dip. But this sweet version is a revelation. Oh yeah!
Last month I attended IFBC (International Food Bloggers Conference) in Sacramento and among the sponsors was California Almonds and Blue Diamond Almonds. They had a wide array of flavors for us to taste, including the addicting new flavors including Toasted Coconut and Bold Sriracha. Look out, one jar isn't enough!
Ever since the conference I have had ideas about ways to cook almonds rattling around in my brain. I have made seasoned almonds for years but I wanted to explore some new and different flavorings. Which direction would I head?
A couple of months ago, The Artist and I were in Napa visiting Oxbow Public Market. This is an intimate indoor mall of sorts, with food vendors that cover all different kinds of cuisines and products. There are candy shops, and bakeries, restaurants, cheese vendors, meat sellers, ice cream, wine merchants, and one of my favorite spice shops called Whole Spice. If you have a chance, make a stop the next time you are in Napa.
Whole Spice has row upon row of jars filled with exotic and delicious seasonings, some individuals and other house blends. Today's chocolate dukkah is a new discovery for me. I love the traditional savory version, and I was fascinated with the idea of a slightly sweet chocolate blend. And it didn't disappoint.
With a combination of toasted sesame seeds, hazelnuts, almonds, kosher salt, brown sugar, ground chocolate and cocoa powder, it is a cross between sweet and savory. The perfect blending of the two, in a way it is a little like kettle corn. I knew what I wanted to do with the dukkah – use it to season roasted almonds!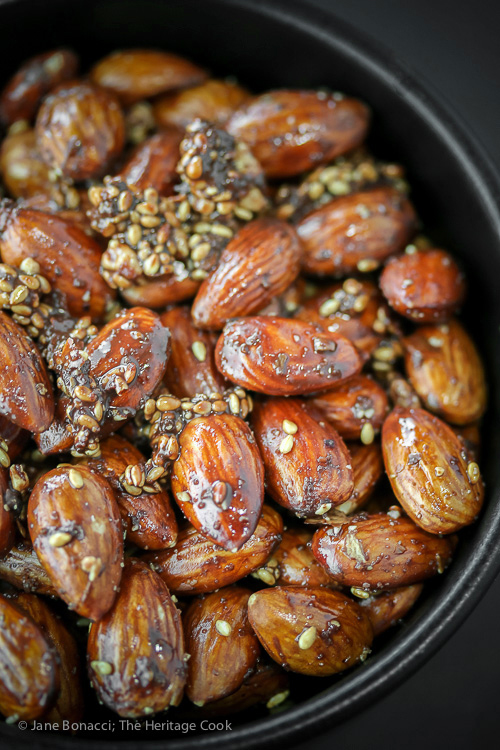 After a lovely visit with friends yesterday and sleep-over last night, I drove home and whipped these together in less than 30 minutes. The perfect sweet and healthy treat that anyone can make! You can tuck them in your child's lunch, serve them as part of a cheese board, or just put a bowl of them out for snacking and watch them disappear!
Happy Chocolate Monday!
Gluten-Free Tips:
Depending on where you buy this, watch the labeling carefully. And of course you can always make your own – there are recipes for it online. I may do that for the next round! 🙂
Chocolate Dukkah Roasted Almonds (Gluten Free)
2016-09-05 10:33:36
Ingredients
2 cups whole almonds
2 tsp olive oil or coconut oil
2 tbsp chocolate dukkah, or more to taste
Instructions
Preheat oven to 325°F with a rack set in the upper third. Line a baking sheet with parchment paper.
Place the almonds in a bowl, drizzle with the oil and toss until they are evenly coated. Sprinkle with the chocolate dukkah and toss again to evenly season the nuts. Spread them on a baking sheet and sprinkle any nuts that don't have dukkah on them with another pinch of the seasoning.
Bake for 10 to 15 minutes or until fragrant, shaking the pan occasionally as needed to keep them from burning.
Cool the almonds then transfer to an airtight container and store at room temperature.
Notes
Yield: about 4 servings
The Heritage Cook ® https://theheritagecook.com/
Create a New Tradition Today!
Let's connect! If you ever need any entertaining or cooking advice, need to alter a recipe for gluten-free, or want recipe suggestions, don't hesitate to email me. Feel free to quote me, just give credit where credit is due, link to the recipe, and send people to my website. Unauthorized use, distribution, and/or duplication of proprietary material from The Heritage Cook without prior approval is prohibited. If you have any questions or would like permission, please contact me.
The suggestions here are not intended as dietary advice or as a substitute for consulting a dietician, physician, or other medical professional. It is the reader's sole responsibility to determine which foods are appropriate and safe for their family to consume. The author makes no claims regarding the presence of food allergens and disclaims all liability in connection with the use of this site. Please see the Disclaimers page for additional details.
Thanks for joining the Heritage Cook Family!