The other day, while driving home from an event in San Francisco, The Artist and I were discussing the foods traditionally served at Thanksgiving. Despite being rather ambivalent about the taste and quality of the side dishes, some people absolutely demand to have sweet potatoes with marshmallows and a green bean casserole on the table. Wouldn't it be more interesting and fun to offer a change of pace dish that really complements the roast turkey?
I am very excited that today's #FallFest for the Food Network is our take on cauliflower. I combined two of my favorites, cauliflower and my newest seasoning discovery, Dukkah, and Egyptian classic. One taste and I'll bet you become a fan too!
I wasn't always a cauliflower lover. As a matter of fact, it wasn't until I was an adult that I was willing to give it another try. My mother never cooked it and I was suspicious of the "brain-like" vegetable. What a shame, because cauliflower is now one of my favorite vegetables. I love its subtle flavor and value how well it works with a wide variety of sauces, seasonings, and other treatments.
A lot of people like to serve cauliflower for their holiday meals, but tend to load it up with a heavy cheese sauce. As much as I love cheese and cheese sauces, when I am putting together my holiday meals, I am always looking for lighter side dishes to offset the typically rich main entrée. This dish is cooked in olive oil and is healthy as well as delicious.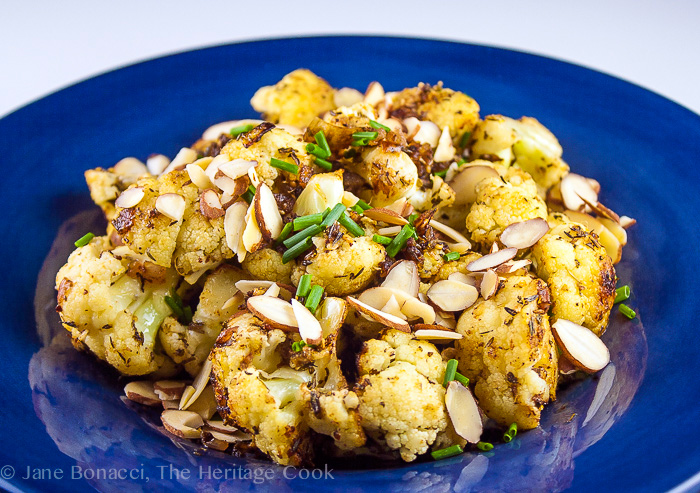 If you haven't tried Dukkah yet, it is an Egyptian seasoning blend that is often made with a combination of very finely chopped nuts, sesame seeds, coriander and cumin. Versatile and addicting, you will love how Dukkah transforms an ordinary dish into something special! The exact mixture varies depends on who is making it, but is addicting. My personal favorite is from Spice Ace in San Francisco. You can use it with olive oil as a dip for bread, on grilled meats, or like I did with fresh vegetables.
If you want a more traditional flavor profile to match your Thanksgiving turkey, you can use poultry seasoning in place of the Dukkah. You can also make your own version of Dukkah by following one of the many recipes available on the Internet. Spice Ace's version contains hazelnuts, sesame seeds, pistachios, coriander, cumin, sea salt and black pepper.
The other thing that makes this a delightful side dish for the holidays is that you can prep the ingredients ahead of time and toss the dish together in less than 30 minutes. It doesn't require a lot of steps or ingredients, and just needs an occasional shake of the pan or stirring. You can easily keep an eye on it while finishing the gravy and slicing the turkey.
If you dare, risk the chance of grumbling at your holiday table and step out of the norm. Make something different for this year's meal and give your family a chance to try something new and unique!
Make sure you check out all of the incredibly creative recipes posted below. Each week I am astonished at the breadth of new ways offered to prepare these fruits and vegetables. I love them and I am sure you will too! And you can find all the recipes from the series on our Pinterest page!
Jane's Tips and Hints:
Use a small, sharp paring knife to cut up the cauliflower. It will give you more control as you separate the florets.
Gluten-Free Tips:
Naturally gluten-free!
Lemon Kissed Dukkah Cauliflower Florets
2015-06-29 16:07:45
Ingredients
1 large head of cauliflower, leaves removed, cored, and cut into florets
3 tbsp extra virgin olive oil
1 large shallot, peeled and thinly sliced
2 tbsp Dukkah seasoning or poultry seasoning
1 tbsp fresh thyme leaves
1 tbsp freshly squeezed lemon juice, or to taste
Kosher salt and freshly ground black pepper
2 tbsp chopped green onions or chives, for garnishing
1 tbsp sliced almonds, for garnishing
Instructions
Rinse the cauliflower florets and pat dry. In a large skillet, heat oil over medium heat until shimmering. Add the cauliflower and cook, stirring often, until the cauliflower is mostly tender (pierce it with a fork, you should feel mild resistance), about 10 to 15 minutes. Add the shallots, dukkah, thyme, lemon juice, salt and pepper, tossing until the cauliflower is evenly coated and is tender. Cook for an additional 5 minutes or until the shallots are translucent and the cauliflower is tender. Taste and adjust seasonings.
Transfer to a warmed serving bowl, garnish with chopped green onions and almonds. Serve immediately.
Notes
The cauliflower and shallots can be prepped up to a day ahead. Store in an airtight container in the refrigerator until ready to cook. Because they are chilled, the florets may take an extra minute or two to fully cook.
The Heritage Cook ® https://theheritagecook.com/
Create a New Tradition Today!
Make sure you check out all of these remarkable recipes from my blogging friends!
Big Girls, Small Kitchen: Roasted Cauliflower and Bulgur Salad
Jeanette's Healthy Living: Roasted Garlic Cauliflower and Potatoes
Feed Me Phoebe: Pan-Roasted Cauliflower
Devour: Cauliflower and Broccoli Mac and Cheese for Thanksgiving
Blue Apron Blog: Cauliflower "Mac 'n Cheese"
Napa Farmhouse 1885: Roasted Cauliflower and Broccoli with Cranberries and Garlic Breadcrumbs
Red or Green: Cauliflower, Leek and Pepper Frittata
Virtually Homemade: Roasted Cauliflower with Bacon and Parmesan Cheese
Taste With The Eyes: Saffron Cauliflower à la Ottolenghi
Domesticate Me: Cauliflower Crust Pizza with Roasted Vegetables and Goat Cheese
The Sensitive Epicure: Cauliflower Flat Bread (Gluten-Free)
Weelicious: Cheddar Cauliflower
Cooking With Elise: Roasted Cauliflower with Cheese Fondue
FN Dish: Comforting Cauliflower Recipes
Unauthorized use, distribution, and/or duplication of proprietary material on The Heritage Cook without prior approval is prohibited. This includes copying and reprinting content and photographs. If you have any questions or would like permission, I can be contacted via email at theheritagecook (at) comcast (dot) net. Feel free to quote me, just give credit where credit is due, link to the recipe, and please send people to my website, www.theheritagecook.com. Please see the Disclaimers page for additional details.
Thank You!