I recently returned from spending a week in Austin, Texas, connecting with some of the world's most incredible food professionals. IACP, the International Association of Culinary Professionals is an awe-inspiring organization of people passionate about every aspect of food. From food photographers and chefs to culinary instructors, publishers, food writers, and many more culinary careers, everyone there was enamored with food. Every break had snacks from generous sponsors, evenings were spent sampling the talents of local chefs and exploring their cuisine, and the days were filled with session after session of extraordinary instruction. I always walk away completely amped up and full of ideas.
Of course there were culinary luminaries galore like Jacques Pepin, Martin Yan, Rick Bayless, John Besh, Joanne Weir, and many more that are well known within the industry. This was the 25th anniversary of the IACP Book Awards, which, along with the James Beard Awards are the highest recognition in the culinary industry. Some of this year's big winners were Dorie Greenspan, Alice Medrich, Amanda Hesser, Sarah Moulton, and James Peterson. The awards ceremony is like a mini Academy Awards, with everyone cheering for their favorites. And afterward there is always a lot of celebrating being done around town.
This was my second year, and so much more fun than last year. This time I had friends to hang with, I was much more comfortable and less intimidated, and I have a much clearer direction I am heading in. I was happy to be in the company of some truly amazing writers. I have so much to learn, but I am enjoying writing every day for you.
Today's recipe was served at the opening night event, a reception held at the Bob Bullock Texas State History Museum Rotunda. There were tables filled with samples of Texas regional cuisines. From Frito Pies or Salmon and Salsa on Tortilla Chips to Braised Short Ribs and Chocolates for dessert. There were Texas specialty cocktails to try and a variety of entertainers showcasing local talent and musical styles. This delightful chocolate dessert was presented by Whole Foods and was one of the big hits of the night. A creamy chocolate ganache with fresh berries and spiced pecans served in small clear containers. Just when you think you know exactly what you are eating, you get a look at the ingredient list, and WHOA, there is avocado in there! You would never know by the taste, but it helps create an amazingly smooth and creamy mousse. One bite and you will fall in love just like I did!
Avocados are one of the best things for you to eat. They are packed with Vitamin E, oleic acid, monounsaturated fats, antioxidants, are good for eye and heart health, they lower your cholesterol and risk of strokes, and are a key ingredient in the fight against prostate, oral, and breast cancers. Adding avocado to a salad greatly increases the absorption of lycopene and beta-carotene, two key carotenoid antioxidants. Don't be afraid of the fat content of avocado because it is an unusually beneficial type of fat. If you are going to cut back, cut out fried foods and other less healthy options, and leave the avocado in your diet.
This rich, velvety dessert is much healthier than most, with a variety of delicious ingredients including a few you never would guess from tasting it. Try it and you will be amazed at how creamy, luscious, and satisfying it is!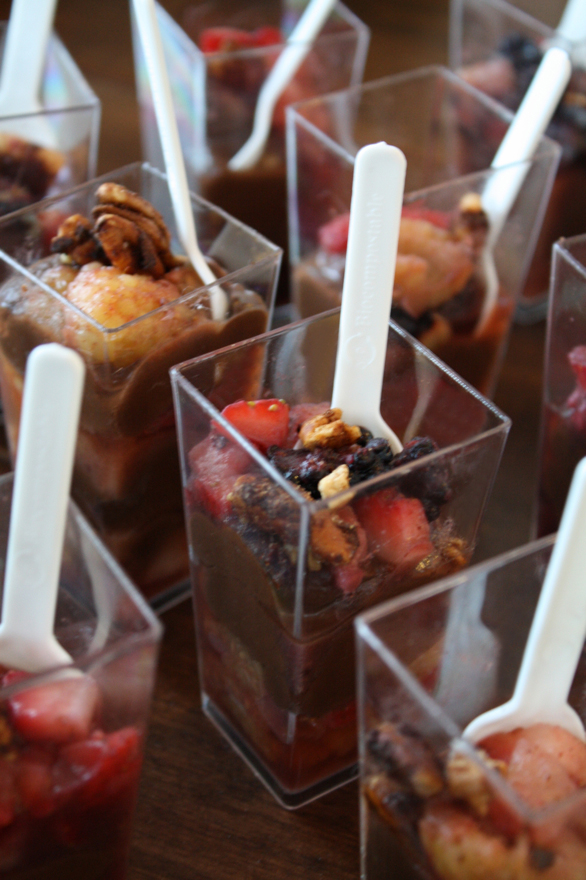 Jane's Tips and Hints:
To ripen an avocado, place it in a brown paper bag and leave it on the counter for a day or two until it gives slightly when gently pressed. If you are short on time and need ripe avocados quickly, add an apple to the paper bag. Apples give off ethylene gas which hastens the ripening process.
Kitchen Skill: How to Pit and Slice an Avocado
When you look at an avocado, you have to wonder who the first person was that figured out that this ugly, bumpy, fist-sized lump was edible. They are easy to peel, but you have to know the trick to safely get the pit out of the center. Cut the avocado in half lengthwise, sliding the knife around the pit. Twist the halves apart, and holding the one with the pit in the palm of your hand, smack the pit with the blade of a heavy-duty chef's knife. Twist the knife and the pit will come right out of the meat. Use the largest shallow spoon you have, and run it between the meat and the skin, scooping it out in one motion. You can then slice or dice it as needed. If this method scares you or you have children helping in the kitchen, you can use a small spoon to scoop under the pit and pop it out.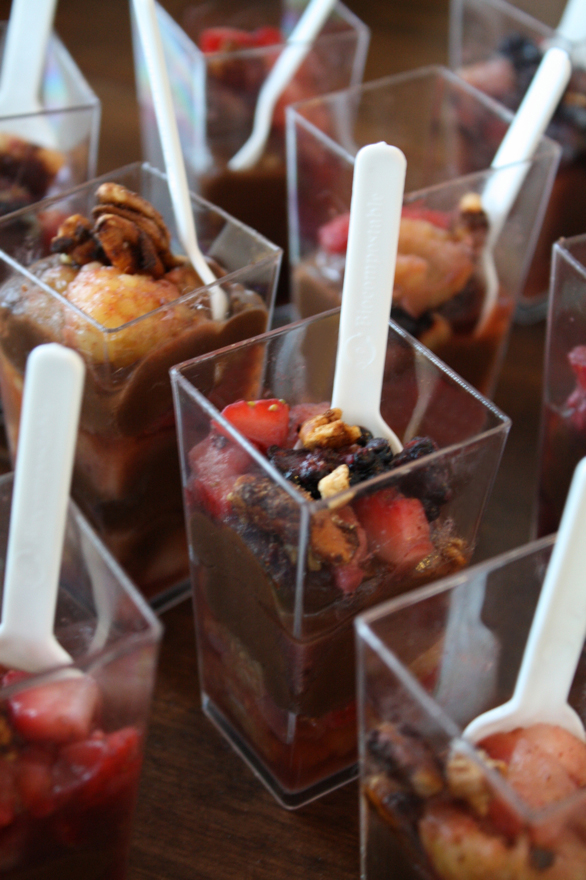 Chocolate Ganache, Fresh Berries, and Spiced Pecan Parfaits
2015-07-16 15:44:59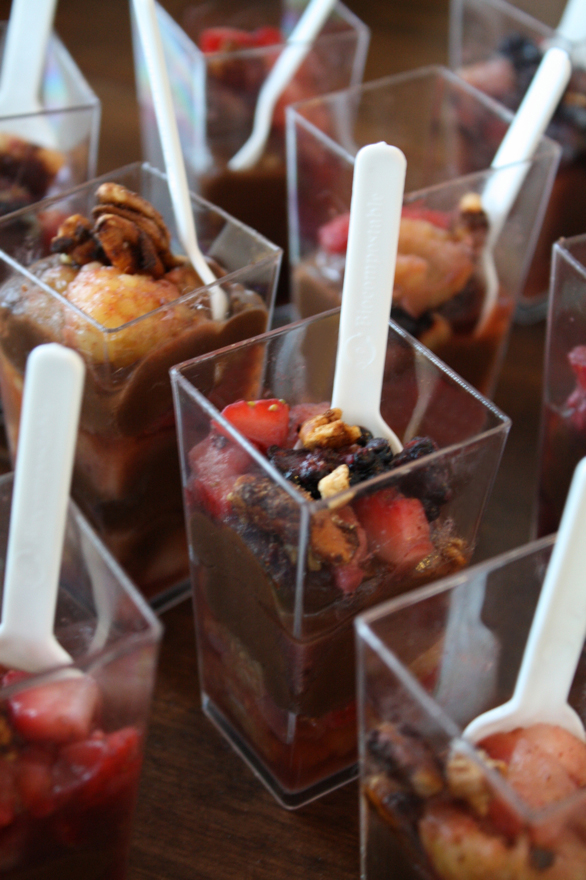 Ingredients
Port Poached Berries
2 cups fresh seasonal berries (such as blackberries, strawberries, blueberries and raspberries)
1 cup port wine
1/2 lime, squeezed
1/4 cup date syrup, date molasses, pomegranate molasses, or honey
1 vanilla bean, split lengthwise and seeds scraped out of center
1/2 tsp sea salt
Date Paste (used for Spiced Pecans & Ganache)
1-1/2 cups dates, pitted
1/4 cup water
Toasted Spiced Pecans
2 cups pecans
2 tsp chipotle powder
1 tbsp cinnamon
3 tbsp date paste (from above)
1 tsp sea salt
Ganache
1 cup raw almond butter
1-1/2 cups date paste (from above)
1 avocado, split lengthwise, seed removed, meat scooped out of shell
1 tbsp tamari
1 tbsp vanilla extract
1-1/2 cups unsweetened cocoa powder
3 to 4 cups coconut water, or as needed
Instructions
To make Port Poached Berries: In a medium bowl, gently toss all the ingredients together. Allow to sit for a few hours to absorb and marry all the flavors, tossing occasionally.
To make Date Paste: Place dates and water in blender. Blend until it becomes a thick paste. This paste will be used to make the Toasted Pecans and Ganache.
To make Toasted Spiced Pecans: Soak pecans in water for 1 hour to moisten; drain. Preheat oven to 325°F. Toss pecans with spices and date paste and bake on a sheet pan in preheated oven until toasted and crisp. Refrigerate until cool and serve on parfait.
To make Ganache: In a high speed blender, blend almond butter, date paste, avocado, tamari, vanilla, and cocoa powder until smooth. Add coconut water as needed for desired consistency.
To Assemble: In small glasses or bowls, layer ganache, berries, and pecans. Create additional layers as desired. Finish with pecans.
Notes
Yield: depends on the size of your containers and number of layers in each
The Heritage Cook ® https://theheritagecook.com/
Unauthorized use, distribution, and/or duplication of proprietary material without prior approval is prohibited. If you have any questions or would like permission, I can be contacted via email at: heritagecook (at) comcast (dot) net. Feel free to quote me, just give credit where credit is due, link to the recipe, and please send people to my website,
www.theheritagecook.com.
Thank You!