Nobody is perfect and everyone is human.
I was reminded of that yesterday when I attempted to make a gluten-free version of Chocolate Pound Cake. I was running behind schedule and got the cake in the oven later than I had wanted. It was done just as The Artist and I were leaving to go to dinner, so I set it on a wire rack to cool, and off we went.
When we got home, I went over to the cake and was devastated to see that it had completely sunken in the center … I hadn't been there to turn it out when I was supposed to. But that's OK, I thought. I can slice it and it will be fine, just a little funky looking.
But the texture was all off; it crumbled as I tried to slice it, not even close to the creamy luscious cake that I had envisioned. Phooey!! Even the next day, when gluten-free baked goods are often vastly improved. What had gone wrong? When you are converting a recipe to gluten-free, the list is nearly endless.
The original recipe was from a very reputable cook/baker and probably would have been perfect if I could have used wheat flour. But when I tried to substitute my gluten-free blend, all hell broke loose.
So I decided to do a little investigation and discovered two other recipes that were very similar except they both called for twice the amount of eggs (and a few other adjustments). Hmmm, that might explain the failure of my cake. I found another recipe, this time from the baking genius Dorie Greenspan, and decided to give it another go with the hope that this one would turn out better.
The second time around was very different. Instead of cocoa powder, it called for melted chocolate (which was my inclination in the first place), as mentioned above it not only doubled the number of eggs, but also included an additional yolk, it used butter instead of oil (my personal preference) and it was baked at a higher temperature. The cake rose perfectly and did not collapse in the center – there was plenty of structure in this one!!
The cake sliced beautifully and each piece held together just the way I wanted. Hallelujah, we have success!!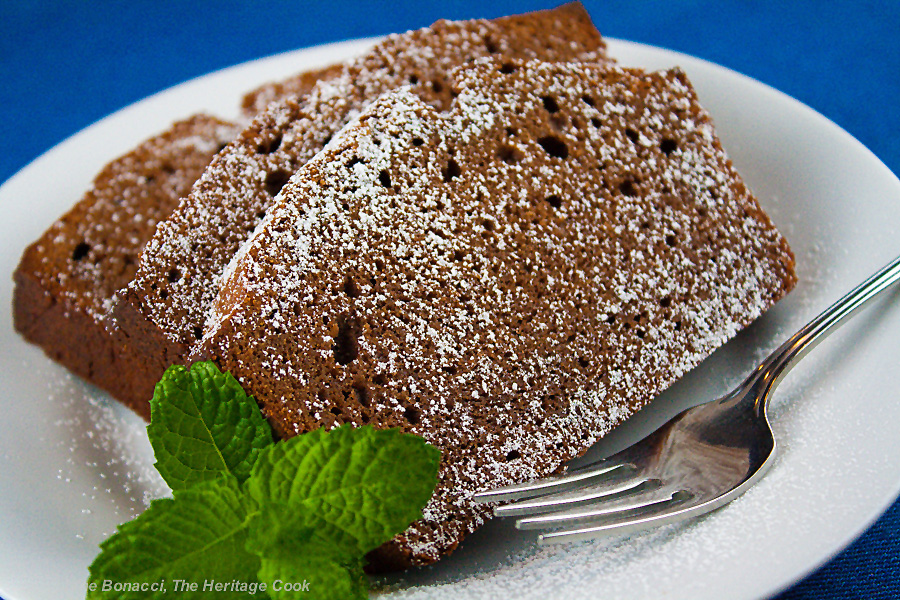 I love the richness of pound cake and it is wonderful on its own, but I have to say, the Kahlua sauce takes this dessert over the top for me. If you love intense chocolate, don't skip it. If you have little ones who don't like the flavor of alcohol, you can use coffee or cream instead.
This is a lovely dessert, perfect for any occasion. Eat it plain as a quick snack, sift a little powdered sugar over a slice and serve with fresh berries for a lovely luncheon dessert, or slather it with the Kahlua sauce for the perfect end to an evening meal.
Enjoy everyone and Happy Chocolate Monday!
Gluten-Free Tips:
I used my standard gluten-free flour blend and thanks to Dorie's exact weight measurements, it was simple to make the conversion. The eggs add moisture and structure, both needed when working with gluten-free flour blends.
Chocolate Pound Cake with Kahlua Glaze (Gluten-Free)
2015-06-19 11:54:53
Cake
4 oz (115g) bittersweet chocolate, finely chopped or semi-sweet chocolate chips (gluten-free if needed)
1-1/4 cups (175g) gluten-free flour blend or all-purpose flour
1 tsp baking powder (gluten-free if needed)
10 tbsp (1-1/4 sticks; 5 oz) butter or butter substitute
1 cup (180g) brown sugar, firmly packed
4 large eggs, at room temperature
1 large egg yolk, at room temperature
1/3 cup (85g) crème fraîche, mascarpone or non-dairy substitute
Extra melted butter and tapioca flour for the pan
Chocolate-Kahlua Glaze
2 tbsp butter
3 tbsp cocoa powder
2 tbsp Kahlua
1/2 tsp vanilla extract
1/2 to 1 cup powdered sugar, as needed
For the Cake
Preheat oven to 350°F. Grease and flour a 9x5-inch loaf pan with butter and tapioca flour.
Melt the chocolate in a small saucepan over very low heat. Watch carefully–make sure it doesn't burn. Just before it's all melted, remove from heat. Stir with a spatula to let remaining chunks melt.
In a small bowl, mix together flour and baking powder. Set aside. Place the eggs and yolk in a measuring cup with a spout. This makes it really easy to add them one at a time without multiple bowls.
In the bowl of a stand mixer fitted with the paddle attachment, beat the butter until light and fluffy. Add the sugar and beat until smooth, being sure to scrape down the beater and sides of the bowl.
Add eggs and egg yolk one at a time, beating after each addition. Add the sour cream. Beat for a minute more. The mixture will look a bit curdled–this is OK. Add the melted chocolate and beat to combine. Be sure to scrape the bottom of the mixing bowl to incorporate all of the ingredients.
Add the dry ingredients and beat just until combined. Scrape into prepared loaf pan and smooth the top.
Bake at 350°F for about 1 hour, or until tester comes out clean. (In my oven it took 55 min.) Remove from oven and cool in pan for 5 minutes before turning out and placing right side up on a wire rack to cool completely.
For the Glaze
In a small saucepan over medium-low heat, melt the butter. Add the cocoa powder, Kahlua and vanilla, whisking until smooth. Add 1/2 cup of the powdered sugar and whisk until smooth, adding more sugar until you reach your desired consistency. If you add too much and it gets too thick, add little water to thin it. Can be made ahead and reheated quickly in the microwave if needed to get to a pouring consistency.
To Serve
Cut the pound cake into thin slices and serve drizzled with a little of the chocolate glaze. Alternately, you can serve the slices plain or sift a little powdered sugar over the top and garnish with fresh seasonal berries if you prefer.
Notes
Glaze: © 2014 Jane Bonacci, The Heritage Cook. All rights reserved.
Yield: 6 to 8 servings
Adapted from Dorie Greenspan (Slightly)
Adapted from Dorie Greenspan (Slightly)
The Heritage Cook ® https://theheritagecook.com/
Create a New Tradition Today!
Let's connect! If you love The Heritage Cook, you can follow me on Pinterest, Facebook, and Twitter. If you ever need any entertaining or cooking advice, need to alter a recipe for gluten-free, or want recipe suggestions, don't hesitate to email me. Thanks for reading!
Unauthorized use, distribution, and/or duplication of proprietary material from The Heritage Cook without prior approval is prohibited. This includes copying and reprinting content and photographs. If you have any questions or would like permission, I can be contacted via email. Feel free to quote me, just give credit where credit is due, link to the recipe, and please send people to my website, www.theheritagecook.com. Please see the Disclaimers page for additional details.
This site is not intended to provide medical advice. The suggestions here are not intended as dietary advice or as a substitute for consulting a dietician, physician, or other medical professional. It is the reader's sole responsibility to determine which foods are appropriate and safe for their family to consume. Always consult your doctor. The author makes no claims regarding the presence of food allergens and disclaims all liability in connection with the use of this site.
Thank You!