I had to miss last month's Secret Recipe Club because we were traveling, but I am back and happy to introduce you to another wonderful food blog. This month I was assigned Food Ramblings written by Elizabeth. I've had the opportunity to experience many of the SRC bloggers sites and Elizabeth's is one of my favorites. She focuses on healthier versions of classic favorites (I can always use a lower calorie recipe, LOL) and you can bet that they are family-approved and delicious!
Elizabeth loves cooking, traveling, and eating … boy can I relate! She started her blog in 2012 in order to keep herself on track and wound up losing 30 pounds in the process. Brava Elizabeth!! 🙂 She and her husband Austin make the cutest darn couple. I've had such fun exploring Food Ramblings this month!
Sometimes it takes me a while to figure out what I want to make from my assigned blog, I waffle back and forth (pardon the pun) between several before finally deciding on one. But this month it took me maybe a whole 15 seconds to choose this recipe. As soon as I saw Elizabeth's Chocolate Waffles, I knew it was the one. A little sweet, a little decadent, and most definitely special, these were the perfect choice for today's Chocolate Monday!
These beautiful waffles would be absolutely perfect as a fun dessert for the holiday season topped with a dollop of whipped cream and sprinkled with fun decorations. And by changing your toppings, they can be customized easily. Use chocolate jimmies and orange sprinkles for Halloween, yellow and orange colored sugars for Thanksgiving, green and red for Christmas, a rainbow of pastels for Easter, or a combination of blue and pink for a baby shower. Let your imagine take these wherever you want!
You can also use them as a base for a different dessert like chocolate mousse if you want to get extra fancy ~ and we all know we tend to go a bit overboard for the holidays! Make smaller waffles or break them apart into sections. Pipe the mousse on top and watch your guest's eyes light up. If you want to give your kids a special breakfast, setting a plate of these in front of them will guarantee a bright and fun day!
After I decided on the waffles for today's recipe, I took a few more minutes to look around and found more recipes that I will definitely be making later. Unfortunately, I was doing in the late afternoon and was craving a snack … I had to stop myself from listing 50 recipes I want to make, LOL! Here is a sampling that will be making an appearance on our table in our future:
These waffles came together really easily. You can have them on the table in no time. For the gluten-free version I needed to add an extra 2/3 cup milk to get a good semi-pouring consistency. Use your best judgment, understanding that gluten-free flours will be a little more "gluey" than normal waffle batter. It needed a little nudging to get it out of the ladle (use a little flexible spatula), we turned down the waffle iron* a couple of notches from the top heat, and took it off just a touch before the machine thought it was done.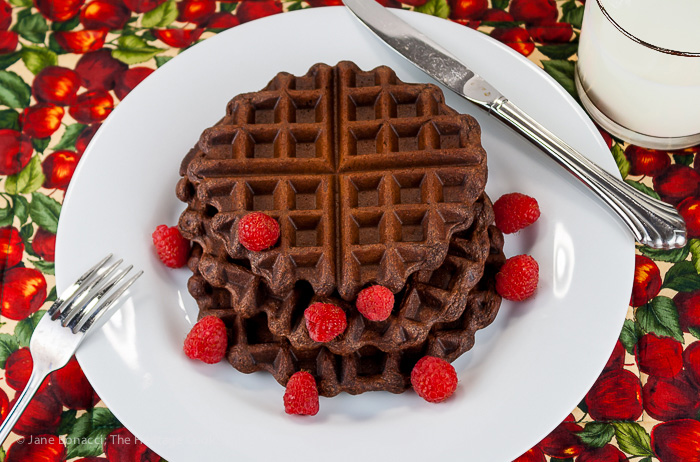 They baked up beautifully, rose just like we hoped they would, and tasted fantastic! I can't wait to serve these for our holiday get togethers! Thank you Elizabeth for a fun romp through the recipes on your blog and for adding another favorite to the Chocolate Monday collection of treats!!
* We used the Chef's Choice Belgian Waffle maker
Gluten-Free Tips:
Note the adjustments I noted in the recipe and in the second to last paragraph of the article above. I'm sure you will enjoy them and what a treat to be able to have waffles again!
Chocolate Waffles with Chocolate Whipped Cream (Gluten-Free)
2015-06-18 20:18:32
Ingredients
Waffles
1-1/2 cups (180g) flour or gluten-free flour blend
1/2 cup unsweetened cocoa powder
1/3 cup granulated sugar
2 tbsp double-acting baking powder (gluten-free if needed)
1/4 tsp kosher or sea salt
2 large eggs, lightly beaten
1-3/4 cups low fat milk (add an additional 2/3 cup for gluten-free, or as needed)
1/2 cup light vegetable oil
2 tsp vanilla extract or paste
Chocolate Whipped Cream and Garnishes
1 cup cold heavy cream
2 tbsp cocoa powder
About 2 tbsp confectioners' sugar, or to taste
Fresh berries, colorful sprinkles or other decorations, if desired
Instructions
Prepare Waffles: In a large mixing bowl, combine the flour (or GF flour blend), sugar, baking powder, and salt. Whisk to thoroughly blend and distribute the leavener. In a medium bowl, whisk together the eggs, milk, oil, and vanilla and mix until just combined. Add the egg mixture to the dry ingredients, and mix until just a few small lumps remain. Set the batter aside for about 15 minutes to rest while you warm up the waffle iron. This rest gives the gluten-free flours time to more fully absorb the liquids, giving you better tasting waffles. If needed, add a little more milk.
Preheat the waffle iron and spray with cooking spray (do not use one with flour added if you are gluten-free). Add 1/2 to 3/4 cup of batter to the hot iron and close the lid. Cook according to directions for your waffle iron. Because these waffles are dark from the cocoa powder, it may be a little harder to tell when they are done. Watch them carefully so they don't burn.
If you are making a large batch, set up a baking sheet with a wire rack inside and place cooked waffles on the rack and keep warm in a low oven. This keeps the outsides nice and crispy.
Make Chocolate Whipped Cream: In a chilled bowl of your standing mixer, using the whisk attachment, start beating the cold cream on low slowly increasing the speed to High. When the cream is frothy, stop the beaters and sprinkle the cocoa powder over the top. Beat again until it starts to thicken. Stop the beaters, add the sugar, and finish beating to a stiff peak (lift the beater and turn it up, the peak should bend over but not collapse).
To Serve: Place on serving plates and top with a dollop of chocolate whipped cream. Scatter fresh berries around the plate or sprinkle the top with colorful decorations for a fun and festive breakfast treat.
For a Holiday Dessert: If you are serving these for dessert on a holiday buffet, break each waffle into quarters and don't add the whipped cream until just before serving. This helps keep them crispy. Or set a bowl with the whipped cream next to the plate of waffles on the buffet and let your guests serve themselves.
Notes
Yield: 3 to 4 main course servings; 6 to 8 dessert servings
Adapted from Elizabeth of Food Ramblings
The Heritage Cook ® https://theheritagecook.com/
Create a New Tradition Today!
Here are more recipes from The Secret Recipe Club just for you!
Let's connect! If you love The Heritage Cook, you can follow me on Pinterest, Facebook, and Twitter. If you ever need any entertaining or cooking advice, need to alter a recipe for gluten-free, or want recipe suggestions, don't hesitate to email me. Thanks for reading!
Unauthorized use, distribution, and/or duplication of proprietary material from The Heritage Cook without prior approval is prohibited. This includes copying and reprinting content and photographs. If you have any questions or would like permission, I can be contacted via email. Feel free to quote me, just give credit where credit is due, link to the recipe, and please send people to my website, www.theheritagecook.com. Please see the Disclaimers page for additional details.
This site is not intended to provide medical advice. The suggestions here are not intended as dietary advice or as a substitute for consulting a dietician, physician, or other medical professional. It is the reader's sole responsibility to determine which foods are appropriate and safe for their family to consume. Always consult your doctor. The author makes no claims regarding the presence of food allergens and disclaims all liability in connection with the use of this site.
Thank You!