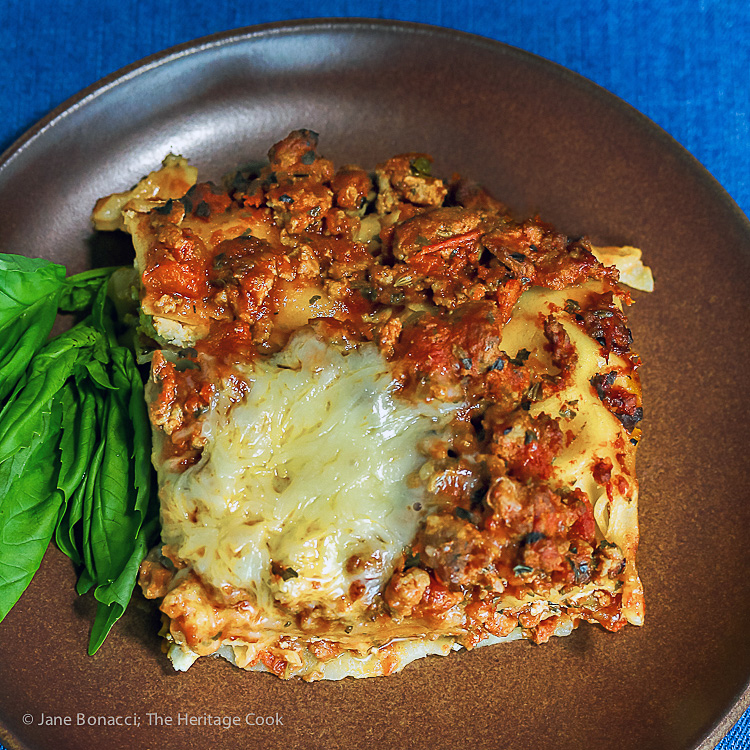 The approaching cooler weather is making us crave traditional comfort foods, deep flavors developed with slow cooking. Today's Classic Meat Lasagna has kept The Artist and me well fed for several days, helping us stay warm and dry without having to make multiple trips to the grocery store.
I love to make recipes that can be made ahead, frozen in individual servings for later meals, and are not too complicated. While the recipe for this classic meat lasagna may seem long, the individual components can easily be made ahead and the casserole assembled a day later. And like so many dishes, this lasagna actually tastes better on the second day! It gives the flavors time to meld and be fully absorbed by the pasta.
I decided to make a meat version with Italian sausage and it was filling and delicious. The sausage adds a lot more flavor than the more commonly used ground beef. You can use either one or a combination of the two if you prefer. If you want to make a vegetarian version, use regular marinara sauce and add sliced and lightly sautéed vegetables as extra layers on top of the ricotta cheese mixture. This will make your lasagna more substantial and filling. Zucchini, summer squash, onions, mushrooms, eggplant, etc. are all good choices.
The photos are of my gluten-free version and thanks to Pastificio La Rosa Gluten-Free pasta, it has perfect texture and the pasta sheets stood up to multiple re-heatings without becoming gummy! This brand is the best GF pasta we've found so far with the blend of rice and corn flours balancing each other and giving a very satisfying texture and flavor.
If you don't need to eat gluten-free, you can use any lasagna noodles or pasta sheets you like. Follow the package directions for prepping before assembling the casserole. Professional cooks use pasta sheets that do not have the wavy edges to make dishes like this. They lay flat for perfectly compacted layers that make the easiest cutting and serving.
When you are reheating individual servings, microwave in 30 second bursts, letting it rest about 10 seconds between each one. We found that 3 or 4 sets of 30 seconds got the lasagna heated all the way to the center. If you want to reheat this in the oven be sure you cover it to retain the moisture!
Have a terrific weekend everyone!
How to make Classic Meat Lasagna:
Cook the meat sauce

Prepare the cheese mixture

Assemble and bake the lasagna

Remove from the oven and let rest 20 minutes for easier serving
What if I want to make a vegetarian lasagna?
You can make a marinara sauce in place of the meat sauce and add a layer or two of sautéed vegetables – such as mushrooms, squash, onions, bell peppers, eggplant, etc.
PRO Tip:
To help keep the pan of lasagna from moving on the baking sheet when you are taking it in and out of the oven, set it on a Silpat or silicone baking mat. It gives it a little sticking power, making it easier for you.
Which tomatoes do you prefer to use?
I like to use Pomi brand of tomatoes. They come in red and white boxes and are found next to other brands of canned tomatoes or online. They are imported from Italy and are consistently high quality. We have to avoid contact with metal and the boxes help us keep the Artist healthier.
PRO Tips:
Make the lasagna, let it rest overnight in the refrigerator (covered), then cut into squares. If you wrap each piece tightly in plastic wrap and then a layer of foil, you can freeze these and pull them out whenever you want a quick and delicious homemade meal.
I rarely ever pre-cook lasagna noodles anymore. I just make sure the sauce I use is a little on the soupy side and the noodles will absorb the moisture they need from the sauce. If this makes you nervous, pre-cook the noodles … your peace of mind is much more important than following a recipe exactly!
Key Ingredients for this Recipe
Olive oil

Onions and garlic

Bulk Italian sausage or ground beef

Tomato paste and chopped tomatoes

Oregano, basil, and bay leaf

Red wine, optional

Ricotta cheese

Eggs

Parmesan cheese

Lasagna noodles, gluten-free if needed

Mozzarella cheese, shredded
Kitchen Tools I Use to Make This Recipe
Other Comfort Food Recipes You May Enjoy:
Gluten-Free Tips:
The Pastificio La Rosa gluten-free pasta can be found in some grocery stores – check the website for sites in your area. If your stores don't carry it, feel free to use your favorite gluten-free brand such as Barilla.
Yield: 6 to 8 servings
Classic Meat Lasagna (Gluten-Free)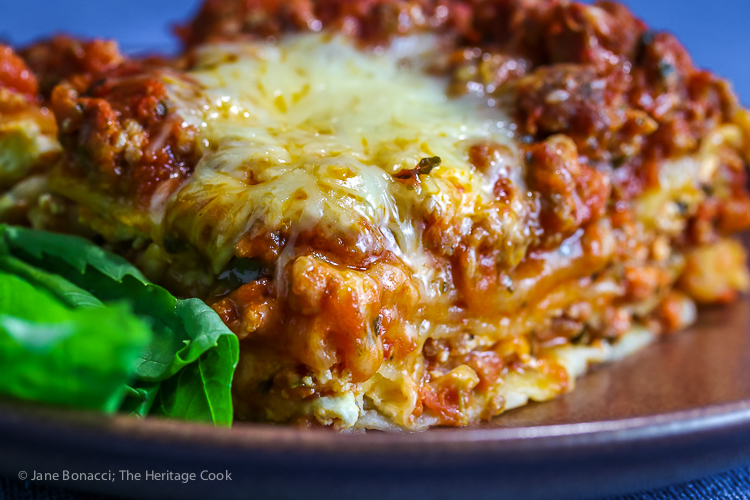 The cooler days of autumn call for the best comfort foods, like today's Classic Meat Lasagna. The layers of tomato and meat sauce, gluten-free or regular noodles, and creamy cheese are irresistible. Make this or a veggie version (using marinara sauce), and your family will thank you!
Cook Time
1 hour
15 minutes
Additional Time
20 minutes
Total Time
2 hours
20 minutes
Ingredients
Meat Sauce
1/4 cup extra-virgin olive oil
2 large yellow onions, trimmed and cut into 1/4-inch dice
Kosher salt and freshly ground black pepper, to taste
1 lb bulk Italian sausage, gluten-free if needed
2 large cloves garlic, smashed, peeled, and minced
2 tbsp tomato paste
2 tbsp dried oregano
3 to 4 (28-oz) containers chopped or strained tomatoes (I like Pomi brand)
1 cup water
1 cup red wine (or more water)
4 to 5 fresh basil leaves, chopped
1 bay leaf
Cheese Mixture
1-3/4 cups (15 oz) ricotta cheese
2 large eggs, beaten
3/4 cup grated Parmesan cheese
1/2 tsp Kosher or fine sea salt
1/2 tsp ground black pepper
2 to 3 tbsp milk or water, if needed
2 tbsp finely chopped fresh basil
Lasagna Assembly
1-1/2 (16-oz) boxes lasagna noodles, gluten-free if needed
Olive oil
1 lb mozzarella cheese, shredded, optional
3/4 cup grated Parmesan cheese
6 to 7 basil leaves, chopped
Instructions
Make the Meat Sauce: Coat the bottom of a large Dutch oven with olive oil and heat over medium-high heat. When the oil is shimmering, add the onions, season generously with salt, and stir to coat with the olive oil. Reduce the heat to medium and cook for about 5 minutes, stirring frequently, until softened. Add the sausage, breaking it up as it cooks so there are no large clumps. Cook until the sausage is fully cooked through. Add the garlic, tomato paste, and oregano, and cook for another minute, stirring frequently.
Pour the tomatoes into the pot Stir in the water, wine, basil, and bay leaf. Season generously with salt and pepper. Reduce the heat to medium-low and cook at a simmer for about 30 min until the sauce is thick, tasting occasionally and adjusting seasonings as needed. If the sauce is too acidic, sprinkle with a pinch or two of sugar.
This sauce is delicious served right away or you can store it in the refrigerator for a couple of days. Freeze for longer storage. You can use it to make the lasagna or serve it with pasta for a dinner your family will love.
Prepare the Cheese Mixture: In a bowl, place the ricotta, eggs, and Parmesan. Sprinkle with the salt and pepper and whisk together until smooth. If needed, whisk in the milk - you want the mixture spreadable but not too watery. Stir in the chopped basil. Set aside.
Assemble and Bake the Lasagna: Set a rack in the center of the oven and preheat it to 350°F. Set out a 9x13-inch baking pan, if possible one with 3-inch high sides.
If you are working with traditional lasagna noodles, cook them in a large pot of well-salted water until softened but not limp. Transfer the noodles to a baking sheet and lay them flat while they cool. NOTE: Some brands do not need pre-boiling so be sure to check the package directions.
Ladle about 1 cup of the sauce in the bottom of the baking pan, spreading it out to cover the surface. Place a layer of the lasagna noodles to cover the sauce. Spread 1/3 of the ricotta cheese mixture over the noodles, spreading so it covers most of the noodles. Add 2 cups of the sauce, spreading it over the cheese, and another layer of the noodles, this time in the opposite direction to the first layer to give the casserole more stability when cutting. (If you laid them lengthwise the first time, lay them perpendicular this time, alternating direction for each layer.) Add 2 cups of the sauce and top with half the mozzarella and half the Parmesan. Repeat the layers until all the noodles have been used or the pan is full. Reserve the last of the Parmesan and basil.

Cover the pan with foil, tucking it tightly around the edges of the pan, and place on a baking sheet in case the sauce boils over. Bake an hour until the lasagna is hot and bubbling. Pull out of the oven, remove the foil, sprinkle with the remaining Parmesan and return to the oven for another 15 minutes until the top is bubbling, the Parmesan is melted, and there are a few brown spots appearing.

Remove from the oven and let it rest at least 20 minutes before cutting into squares. Sprinkle a little of the chopped basil on the top of each piece just before serving. If you prefer, let it cool, cover, and refrigerate up to overnight. Reheat before slicing and serving.
Nutrition Information:
Yield:
8
Serving Size:
1
Amount Per Serving:
Calories:

660
Total Fat:

48g
Saturated Fat:

20g
Trans Fat:

0g
Unsaturated Fat:

27g
Cholesterol:

155mg
Sodium:

1566mg
Carbohydrates:

16g
Fiber:

2g
Sugar:

4g
Protein:

35g
If you love this recipe, be sure to follow me on social media so you never miss a post:
| Facebook | Pinterest | Instagram | Twitter |
Create a New Tradition Today!
First Published: 10 Feb 2017
Last Updated: 27 Sept 2019
Welcome! The suggestions here are not intended as dietary advice or as a substitute for consulting a dietician, physician, or other medical professional. Please see the Disclaimers/Privacy Policy page for additional details. Unauthorized use, distribution, and/or duplication of proprietary material from The Heritage Cook without prior approval is prohibited. If you have any questions or would like permission, please contact me. We participate in the Amazon Services LLC Associates Program, an affiliate advertising program designed to provide a means for sites to earn advertising fees by advertising and linking to amazon.com. This page may contain affiliate links.