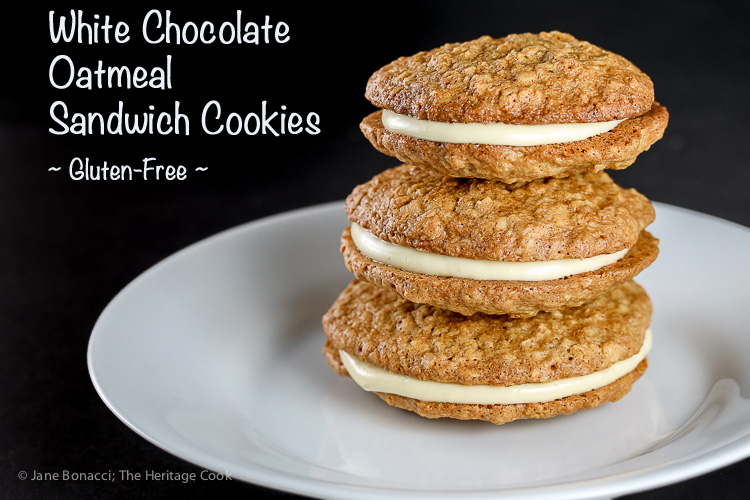 Today's White Chocolate Oatmeal Sandwich Cookies are the best of both worlds – the flavors of my childhood favorite in a homemade gluten-free cookie! Oh how I love oatmeal cookies. I craved the packaged iced oatmeal cookies when I was a child and begged my mother for them whenever we were at the grocery store. My mom was not a baker, I learned that from my grandmother, so those store-bought cookies were as close as I could get to homemade.
Today's cookies taste a bit like an Anzac biscuit in flavor, with the addition of coconut and spices, with the cardamom and mace echoed in the filling. A lovely balance without any single spice standing out more than another.
Oatmeal cookie dough is notoriously heavy and hard to mix. Using a heavy-duty stand mixer will make this an easy task and let you walk away while it is beating. I have had my KitchenAid for over 20 years and it is still going strong. This mixer is an investment that will pay for itself many times over the years.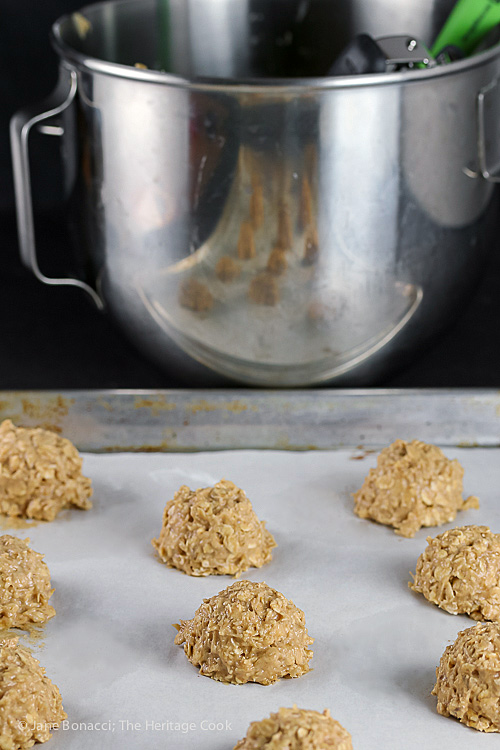 One trick to making sandwich cookies is to use a spring-loaded ice cream scoop. They come in a variety of sizes and make the job of portioning a snap. You really want all your cookies to be very close to the same size when you have to match them to make the sandwiches.
The crunch of the cookies and the smooth creaminess of the filling delivers pure decadence and enjoyment in every bite! And if you have little ones, they will love to help you scoop out the batter with the ice cream scoop and putting the filling between the cookies. So much fun!
The Artist and I will be nibbling on these White Chocolate Oatmeal Sandwich Cookies for days – happily rationing them to make them last longer! I'll bet you do the same, or heck, just double the recipe and dive in with abandon, LOL.
Happy Chocolate Monday – have a wonderful week!
How to make White Chocolate Oatmeal Sandwich Cookies
Melt the butter; set aside. Mix together the eggs and vanilla in a bowl

Whisk together the dry ingredients

Combine the melted butter with the sugars, beating until creamy

Beat in the dry ingredients and egg mixture, then add the oatmeal, coconut, and nuts

Scoop dough onto baking sheets and bake the cookies

Make the Filling: melt the white chocolate with the coconut oil

Place a dollop of the filling on the bottom of half the cookies, then sandwich them together and let the filling firm up
Are Oats Gluten-Free?
On their own, oats are gluten-free, but they are often processed on equipment also used for gluten or wheat products. That and the proximity while growing to fields of wheat, makes them challenging for some people. To be safest, always use certified gluten-free oats.
PRO Tip:
Start with 6 cookies on one baking sheet to see how much they spread while baking; then you will know how many balls of cookie dough you can bake at a time! The pans are called half sheet pans because they are half the size of professional pans – and designed to be used in home kitchens.
Key Ingredients for this Recipe
Butter
Eggs
Vanilla
Flour or gluten-free flour blend
Spices: cinnamon, ginger, nutmeg, cardamom, and mace
Brown sugar
Granulated sugar
Oatmeal
Unsweetened coconut, optional
Finely chopped walnuts or pecans, optional
White chocolate
Coconut oil
Kitchen Tools I Use to Make This Recipe
Other Oatmeal Cookie Recipes You May Enjoy:
Gluten-Free Tips:
Simply swapping a good gluten-free flour blend for the regular all-purpose flour gives you delicious cookies that your whole family can enjoy! Just use 120 grams of a GF flour blend (not a single flour) for each 1 cup of flour called for in traditional recipes. There should be few additional changes required. In this recipe, use gluten-free oats that are guaranteed not to have any cross contamination issues.
Yield: about 20 sandwich cookies
Gluten Free White Chocolate Oatmeal Sandwich Cookies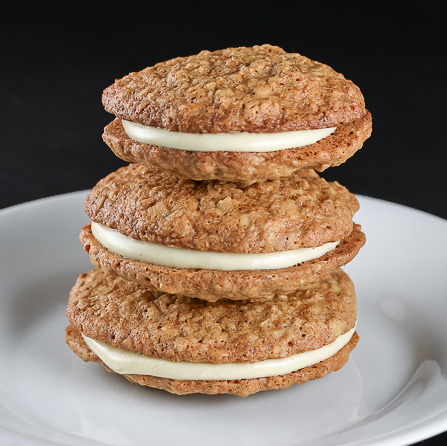 Crunchy cookies filled with cardamom and mace flavored white chocolate are the best way to start the week!
Additional Time
10 minutes
Ingredients
Cookies
1 cup (2 sticks, 8 oz, 227g) butter, melted and slightly cooled
3 eggs, well beaten
1 tbsp pure vanilla extract (this is not a typo!)
180 g (1-1/2 cups) gluten-free flour blend or all-purpose flour
1 tsp baking soda
1/2 tsp kosher or fine sea salt
1 tsp ground cinnamon
1/2 tsp ground ginger
1/2 tsp ground nutmeg
1/4 tsp ground cardamom
1/4 tsp ground mace
3/4 cup firmly packed brown sugar
3/4 cup granulated sugar
4 cups gluten-free old-fashioned oats (not instant)
3/4 cup unsweetened dried coconut (optional)
1 cup finely chopped walnuts or pecans (optional)
!Filling
12 oz white chocolate, chopped
1 tsp vanilla paste or pure extract
1/4 tsp ground cardamom
1/4 tsp ground mace
2 to 3 tsp coconut oil, or as needed
Instructions
Preheat oven to 350°F. Line two baking sheets with parchment paper or Silpats.
Make the Cookies: Melt the butter in the microwave and set aside to cool. In a small bowl, whisk the eggs and vanilla together; set aside.
In a bowl, combine the flour, salt, baking soda and spices. Whisk until well blended and set aside.
Pour the melted butter in the bowl of your heavy-duty stand mixer, and let cool slightly. Add the sugars and beat on medium speed with the paddle attachment until you can comfortably hold your hand on the bottom of the bowl, and the mixture is smooth, creamy, and lightened in color, about 3 minutes. Scrape the bowl and beater.
Add half the dry ingredients, beat until incorporated; add the egg/vanilla mixture, beat until incorporated; add remaining dry ingredients. Beat the dough until smooth and creamy. Scrape the bowl and beater occasionally.
Add the oatmeal, coconut, and nuts and mix well. It will be quite moist and soft. You can make the dough to this point a day or two in advance and store, covered, in the refrigerator. Gluten-free doughs are often better when left overnight, allowing the flours to fully absorb all the liquids.
Using a spring-loaded ice cream scoop, (a scoop is really fast and gives you very uniform cookies) form the dough into balls about the size of a small walnut and place on the prepared baking sheets, leaving room between each for spreading. I prefer to bake one tray at a time for the most consistent results, but you can bake two trays at the same time if you prefer.
Bake about 15 minutes, spinning the tray(s) so that cookies in the front are now facing the back of the oven (and top to bottom if baking 2 trays at a time) halfway through.
Let cool on the baking sheet for a couple of minutes before transferring to a wire rack to cool completely.
Make the Filling: While the cookies are cooling, place the chopped white chocolate, vanilla, and spices into a heatproof bowl that fits into a saucepan, sitting at least 2 inches above the bottom of the pan. Place about 1-inch of water in the saucepan and bring to a simmer over medium-high heat. Reduce the heat to medium and set the bowl with the chocolate over the water.
Hold the bowl steady with a hot pad and stir often until nearly all the pieces of chocolate are melted. Do not walk away, white chocolate can burn easily if not kept moving regularly. Add the coconut oil and let it melt, stirring it into the chocolate, loosening the mixture. Remove from the heat and stir until all the chocolate is melted and the mixture is completely smooth. If
needed, add a little more of the coconut oil until you get a smooth, silky consistency.
Fill the Cookies: Pair cookies that are about the same size together. Flip half the cookies bottom-side-up and drop a dollop (about 2 to 3 tsp) of the filling on each upturned cookie. Use the back of the spoon to gently press the filling outward in concentric circles. If there isn't enough filling to show (you need about 1/4-inch), add a little more to the center. Be sure to stir the filling occasionally as you are using it to make sure the oil is fully incorporated and it stays loose and soft.
Top each one with a second cookie, flat side down, pressing gently and spinning the top cookie a little to spread the filling to the edges. Let them sit until the filling has cooled (if you can stand the wait!) and the chocolate is firm, about 30 minutes.
Store in an airtight container at room temperature.
 
If you love this recipe, be sure to follow me on social media so you never miss a post:
| Facebook | Pinterest | Instagram | Twitter |
Create a New Tradition Today!
First Published: 16 Jan 2017
Last Updated: 23 Sept 2019
Welcome! The suggestions here are not intended as dietary advice or as a substitute for consulting a dietician, physician, or other medical professional. Please see the Disclaimers/Privacy Policy page for additional details. Unauthorized use, distribution, and/or duplication of proprietary material from The Heritage Cook without prior approval is prohibited. If you have any questions or would like permission, please contact me. We participate in the Amazon Services LLC Associates Program, an affiliate advertising program designed to provide a means for sites to earn advertising fees by advertising and linking to amazon.com. This page may contain affiliate links.