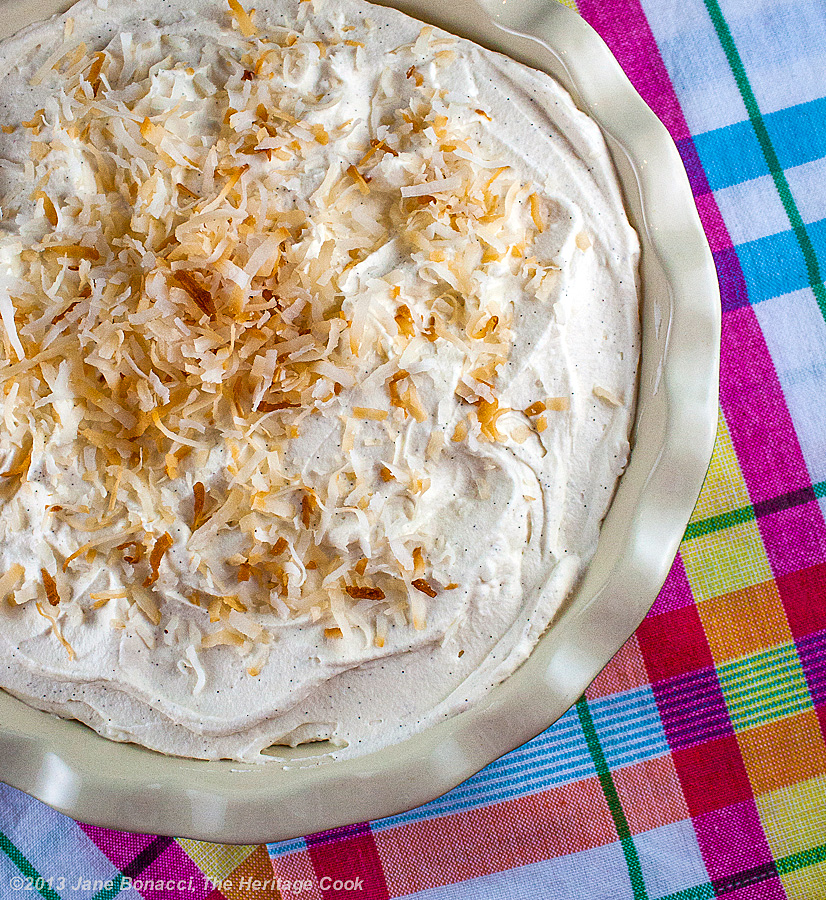 Cream pies are a beautiful thing, with towering billows of whipped cream perched on top of the sumptuously flavored fillings, all encased in a rich crust. There are many different kinds, but my favorite is Coconut Cream Pie.
Today's recipe is from Lisa Schroeder, the owner of Mother's Bistro & Bar in Portland, Oregon. At the restaurant, they serve traditional homemade favorites that have been refined by classically trained chefs. This means you get to relive your childhood memories, but the meal surpasses anything you've ever had!
Lisa was a business professional and raising a daughter when she realized that there was no place to get the kind of homemade foods she wanted to make but didn't have the time for – slow braises and stews that take hours to develop the flavors. She enrolled in the Culinary Institute of America and excelled. She graduated with honors, worked at Lespinasse and Le Cirque in New York City, apprenticed at restaurants in France, and toured Europe extensively learning about regional cuisines and products.
In 2000, Lisa's dream of opening the restaurant she had long imagined became a reality. Mother's Bistro & Bar opened to rave reviews and continues to be one of Portland's favorite places to dine. The Artist and I had the opportunity to eat there a couple of years ago and it is always on our list to visit any time we get to Portland.
I had the opportunity to meet Lisa in person during the IACP conference in New York City. We were lucky to join Ruth Reichl on a tour of the Lower East Side, learning about the history of the area and sampling some of the best Jewish food in the City. It was delightful to meet Lisa, someone I had respected for years and whose restaurant is one of my favorites.
Do yourself a favor and buy her cookbook, Mother's Best: Comfort Food That Takes You Home Again. It is filled with over 150 recipes for comfort foods from soups and starters, entrees, sides, and breakfast, to desserts. There is something for everyone here. It is also a wonderful way to learn about the culinary traditions practiced in homes around the world, exploring cuisines that go well beyond our own concepts of what defines comfort foods.
I have always loved coconut cream pie but the rest of my family had other favorites. Over the years I made dozens of pecan, pumpkin, sugar, and lemon meringue pies. I was an adult and living on my own before I ever made my own coconut cream from scratch. The first one wasn't the best I've ever had and I realized that it wasn't as simple as it seemed.
When I wanted to improve on the results, I turned to Lisa's book – and I am so glad that I did!!
Most cream pies are made with a flaky pastry crust, but Lisa's utilizes a chocolate cookie crust that perfectly complements the coconut flavor and of course makes this dessert perfect for Chocolate Monday! If you want to experiment, I think ginger cookies, vanilla wafers, or spice cookies would also make wonderful bases for the crust.
Getting the perfect filling texture is an experiment in chemistry. Creamy fillings are a balance of liquid and thickening agents. You want it creamy and thick, but not so thick that a fork can stand up in it. When you are making this, if you feel you need to add a little more milk or cream, go ahead. Use your best judgment because there are many variables that can alter your results.
I hope you enjoy today's pie as much as I have. I'm eating more slices for lunch and will need to give the rest of the pie away to friends or I will eat the entire thing myself, LOL!
Happy Chocolate Monday my friends!
Jane's Tips and Hints:
Have you discovered vanilla paste yet? It is full of the seeds from vanilla beans but is a lot less expensive. I keep a bottle of it in my cupboard and use it whenever I want an extra boost of vanilla flavor or the speckles of vanilla in my baked goods.
Gluten-Free Tips:
Use gluten-free chocolate cookies to make the crust. If they are really crunchy cookies, bake as directed with the butter. If they are softly baked, you may want to toast them lightly in the oven after you've ground them in the food processor but before adding in the butter. This will take a little of the moisture out of them and make them a little easier to work with.
Kitchen Skill: Toasting Coconut
Spread sweetened coconut out on a baking sheet and place in a preheated 350°F oven. Cook for a 2 to 3 minutes, toss with a spatula or fork, spread it back into a single layer, and continue baking until some of the pieces are turning golden brown. Remove from the oven and toss a few more times as it is cooling. The residual heat of the baking sheet will help it finish toasting without burning.
Coconut Cream Pie with Chocolate Cookie Crust
2015-06-30 15:21:16
Serves 8
Ingredients
Crust
1-1/2 cups chocolate wafer cookie crumbs from about 30 wafers or 6 oz cookies or 15 to 18 Pamela's gluten-free chocolate-chocolate chunk cookies
3 to 5 tbsp unsalted butter, melted
Filling
1-1/2 cups whole milk
1/2 cup heavy cream
1 tbsp vanilla paste or 1 vanilla bean, split in half lengthwise
6 large egg yolks
1/2 cup granulated sugar
1/8 tsp kosher salt
2 tbsp cornstarch
1-1/2 cups sweetened, shredded coconut, toasted, plus more for garnish, if desired
4 tbsp unsalted butter
2 tbsp coconut rum, such as Malibu brand, or a few drops of coconut extract plus 2 tbsp milk
Topping
1-1/2 cups cold heavy cream
1 tsp pure vanilla extract or vanilla paste
1/4 cup confectioners' sugar
Extra toasted coconut for garnishing (see Kitchen Skill above)
Instructions
Make the Crust: Heat the oven to 350°F and place a rack in the middle of the oven.
Place the chocolate cookies in the bowl of a food processor fitted with the metal blade and pulse until ground into evenly sized crumbs. Drizzle the melted butter through the feed tube while pulsing. You are looking for a wet sand texture. Some cookies will need more butter, others less. Note: If you are working with softly baked gluten-free cookies, used the reduced amount of butter.
If doing this by hand, place cookies in zip-top bag and pulverize them with a rolling pin or meat mallet until finely crushed. Transfer crumbs to a bowl. Drizzle in the melted butter and mix with a fork until the crumbs are evenly moistened
Transfer the buttered crumbs to a 9-inch pie plate, and use the back of a spoon to press the mixture evenly into the pie plate, spreading it up the sides but not over the rim.
Bake for 7 to 10 minutes, or until the sides of the crust feel firm to the touch. Transfer to a wire rack to cool completely before filling. Note: If you are using gluten-free cookies, this may take longer. Watch carefully to make sure it doesn't burn.
To make the filling: Place the milk, cream, and vanilla bean in a large (4-quart) saucepan. Heat over medium-high heat, stirring occasionally, until just below a simmer to scald the milk. Do not let it boil. Remove from the heat and let the milk steep and cool for 15 minutes.
If using a vanilla bean, split it lengthwise with a sharp pointed knife. Add it to the cool cream and milk and steep. Leave it in the cream as it cools. Remove the vanilla bean from cream and use a knife to scrape out as many seeds as possible and add them to the milk. Swirl the pod in the milk to remove any remaining seeds. Discard the pod or save for another use.
While the cream is cooling, place the egg yolks, sugar, salt, and cornstarch in a medium mixing bowl and whisk together until very well blended, about 1 minute.
Add the toasted coconut to the cream mixture and place the pot over medium-high heat. Return to a simmer, and then remove from the heat.
Ladle out about 1/2 cup of the hot cream and, while whisking constantly, drizzle it into the egg mixture. This tempers the eggs, warming them gently so they won't scramble when you add them to the hot liquid. Slowly pour the warmed egg mixture into the cream, whisking steadily to keep the eggs from curdling.
Place the pot over medium-high heat and bring the mixture to a boil, stirring steadily and constantly so eggs don't scramble. Reduce the heat to low and continue to cook while whisking constantly until the mixture is very thick, about 2 to 3 minutes. Make sure you scrape the sides of the pan as well as the bottom while stirring.
Remove from the heat, add the butter and stir until melted, and then stir in the coconut rum or flavoring. Let the filling cool to lukewarm (about 15 minutes), and then pour into the cooled pie shell. Place a piece of plastic wrap directly on the surface (to keep a skin from forming).
Refrigerate the pie for at least 4 hours before serving.
To make the topping: Just before serving, place the cream and vanilla in the bowl of a stand mixer fitted with the whisk attachment. Beat on medium speed until frothy. Sprinkle in the confectioners' sugar and beat on medium-high until stiff peaks form. To tell if it is ready, stop the mixer and lift the beater. The cream should lift into peaks that hold their shape and just the tip will bend over. If they aren't holding firm, continue whipping.
Mound the whipped cream in the center of the chilled pie. Use the back of an offset metal spatula to spread it out to the edge and give it a few decorative swirls. Sprinkle with toasted coconut and serve.
Notes
Yield: 1 (9-inch) pie; 6 to 8 servings
Make Ahead: The crust can be made up to 1 day ahead; wrap in plastic and store at room temperature
Adapted from "Mother's Best" by Lisa Schroeder
The Heritage Cook ® https://theheritagecook.com/
Create a New Tradition Today!
Unauthorized use, distribution, and/or duplication of proprietary material from The Heritage Cook without prior approval is prohibited. This includes copying and reprinting content and photographs. If you have any questions or would like permission, I can be contacted via email at theheritagecook (at) comcast (dot) net. Feel free to quote me, just give credit where credit is due, link to the recipe, and please send people to my website, www.theheritagecook.com. Please see the Disclaimers page for additional details.
Thank You!