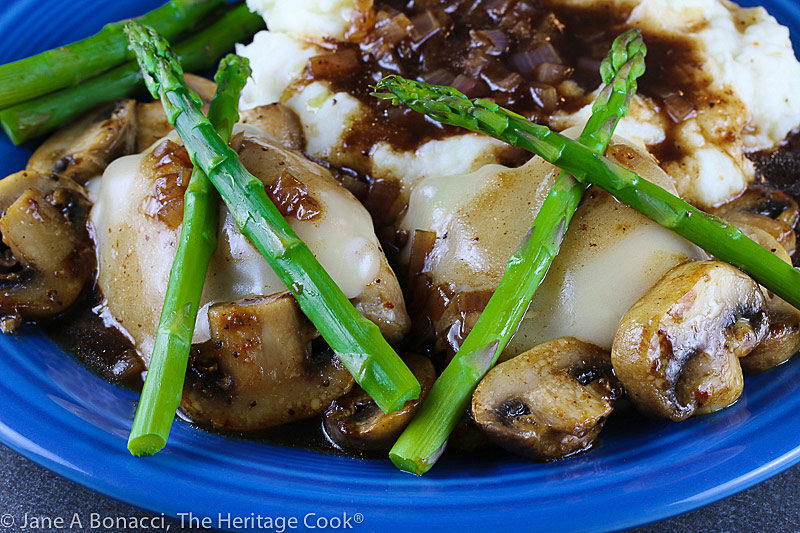 Today's recipe is Chicken Madeira in the style of the dish served at Cheesecake Factory restaurants across the nation. A wonderful dish with sautéed chicken, mushroom/wine sauce, asparagus, and mashed potatoes, your whole family will enjoy this beautiful meal.
When we were moving from California to Oregon, we were staying at a hotel near a Cheesecake Factory restaurant and we ordered dinner from there a few times during the transition. My favorite dinner was their Chicken Madeira.
Infused with the flavor of Madeira wine and mushrooms, the sauce that is poured over the chicken is served with mashed potatoes to help you get every last delicious drop. This dish is so good I would drive miles just to get it, but now I can make it at home!
When Karen, our Progressive Eats group's leader this month, decided on Copycat Recipes as our theme, I knew immediately what I wanted to make. This is my gluten-free version of Chicken Madeira that you can make at home for your family.
The original calls for pounded chicken breasts but I had chicken thighs in the freezer so that's what I used. They have more fat in them and are more forgiving in cooking. Use boneless thighs and if you want you can flatten them out in the pan so they cook a little faster.
Madeira wine is a sweeter fortified wine found in wine shops and some upscale grocery stores. Look for it near the white wines. If you can't find Madeira, Marsala wine is the best substitution. If you can't find either, port or dry sherry will also work. But the flavor of Madeira is very unique and specific to the recipe and while it will taste good, it will be different. If you want to avoid alcohol just use all stock – I would use low sodium chicken stock in this case.
When you have all your ingredients prepped in advance, this dish comes together in no time. Having everything pre-measured and lined up helps you walk through each step knowing you have everything you will need.
I hope you try this Chicken Madeira soon – I promise you will love the results and your family will be clamoring for more! The Artist said it was one of the best meals I've made recently and that our house smelled like a restaurant (in a good way) while it was cooking – that is a big compliment from him, LOL.
Did you enjoy this recipe? Let me know in the comments, I love hearing from you! Have a wonderful weekend!
Key Ingredients for Chicken Madeira:
Boneless, skinless chicken thighs or breasts

Salt, pepper, vegetable oil, butter

Mushrooms, shallot, Madeira wine, beef broth

Cream (optional), asparagus, mozzarella or Monterey Jack cheese

Shredded Parmesan (optional), mashed potatoes
Where can I find Madeira wine?
Look for the fortified wines, usually found near the white wines, in either a liquor store or wine shop and some upscale grocery stores. If you can't find it, Marsala, port, or sherry are good substitutes. If you are avoiding alcohol, use all chicken stock in place of the beef stock and wine.
PRO Tip:
Pre-measure all your ingredients and have your equipment set out. This way you will be able to add everything as it is called for in the recipe, saving time and making mealtime much easier.
How to make Chicken Madeira:
Sauté the chicken, seasoned with salt and pepper, in hot oil and butter; transfer to a baking sheet and cover with foil to stay warm

Cook the mushrooms and shallots in more butter until tender; transfer to the baking sheet with the chicken and cover to keep warm

Pour the wine and broth into the skillet, scraping the bottom to release any browned bits; bring to a boil and cook until reduced and slightly thickened – you can add cream now if desired

Steam the asparagus, drain, and keep warm in the empty pot off the heat

Return the mushrooms and chicken to the sauce and top the chicken with the cheese; broil until the cheese is melted and chicken is warmed through

Transfer chicken to serving plates, top with some of the sauce and mushrooms, garnish with the asparagus and sprinkle the top with a little Parmesan cheese if you want

Serve with mashed potatoes to get every drop of the incredible sauce
PRO Tip:
Always read the recipe through completely twice so you won't be surprised by any of the steps and are prepared for what's coming. You'll also note all the ingredients you will need and can make a trip to the store for anything you don't have on hand.
Kitchen Tools I Use to Make This Recipe (affiliate links):
Gluten-Free Tips:
Make sure you use gluten-free beef broth. The wine is under the standard of 20ppm of gluten making it safe to consume. The wines you need to watch out for are those with added color or flavoring such as dessert wines, and those made from barley malt, like wine coolers. If in doubt, contact the manufacturer.
Yield: 4 servings
Copycat Cheesecake Factory's Chicken Madeira (Gluten Free)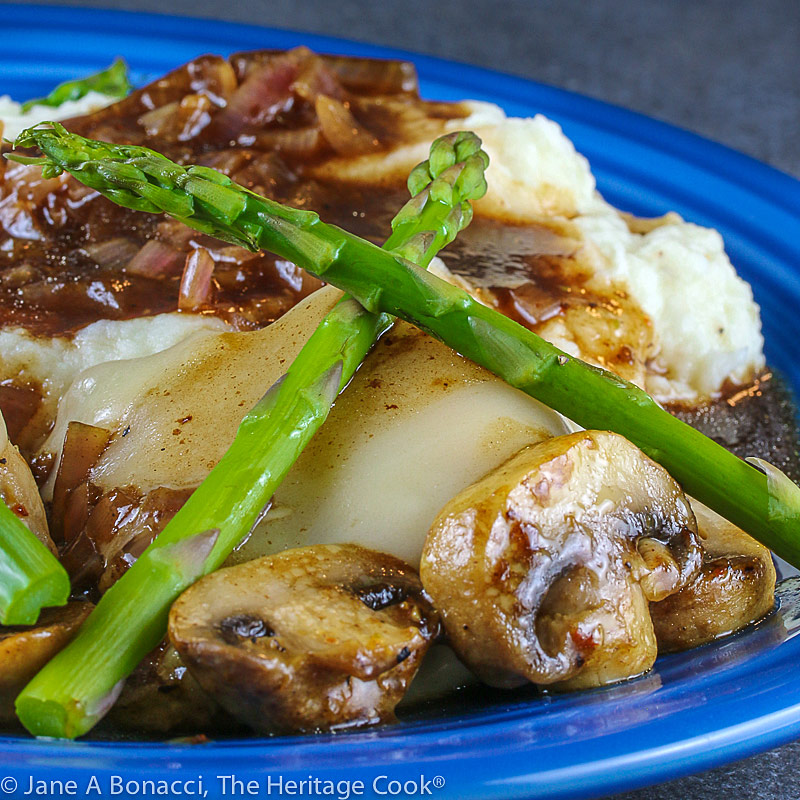 Chicken Madeira is the Cheesecake Factory's most popular chicken dish for good reason. The wine-infused sauce with mushrooms and butter is rich, luscious, and tastes like it took all day to make. This meal will impress even your toughest critics. This is perfect for dinner parties and special occasions but simple enough to make for weeknight meals.
Ingredients
8 boneless, skinless chicken thighs
Kosher salt and freshly ground black pepper, to taste
2 tbsp vegetable oil
4 tbsp butter, divided
8 oz white or small brown mushrooms, thickly sliced
1 shallot, minced
1-3/4 cups plus 2 tbsp low sodium beef broth
1 cup madeira or marsala wine
1 tbsp cornstarch
1/2 cup cream or half and half, optional
1/2 lb asparagus, tough ends snapped off
4 oz mozzarella or provolone cheese, sliced
Shredded Parmesan cheese, optional
Mashed potatoes, for serving
Instructions
Season the chicken with salt and pepper. In a large 12-inch skillet with a lid, heat the oil with 2 tbsp of the butter over medium-high heat. Add the chicken and reduce the heat to medium. Do not crowd the pan, cook in batches if needed.
Cook until lightly browned and cooked through (165°F on an instant read thermometer), 4 to 5 minutes per side. Transfer the chicken to a plate and cover with foil to keep warm. Do not wipe out the pan, you want all that deliciousness for the sauce!
Add 2 more tbsp of butter to the same skillet and add the mushrooms and shallots. Cook on medium-high heat 8 to 10 minutes, stirring occasionally, scraping up any browned bits from the chicken. Use a slotted spoon to place the mushrooms and shallots next to the chicken and cover to keep warm.
Put 2 tbsp of the beef broth in a small bowl and set aside. Pour the remaining beef broth and wine into the skillet. Be sure to scrape the bottom of the pan to loosen any browned bits. Bring to a boil, reduce to medium heat to maintain a low boil, and cook for 10 to 12 minutes or until reduced by half.
Whisk 1 tbsp cornstarch into the 2 tbsp beef broth until fully dissolved. Then whisk this mixture into the sauce making sure there are no lumps. Bring up to a boil and cook, stirring constantly, until thickened. If you want a creamier sauce, stir in the cream now and cook for another 2 minutes, stirring constantly, to blend the flavors. Taste and adjust seasonings.
While the sauce is reducing, steam your asparagus for 2 to 4 minutes (depending on thickness of the spears) in a saucepan. Strain, return the asparagus to the pan, and cover to keep warm off the heat.
Return the chicken and mushrooms to the skillet, plus any liquid from the chicken, turning to coat with the sauce. Cover the chicken pieces with the cheese. Place the lid on the skillet and cook a couple of minutes until warmed through and the cheese is melted.
To serve, scoop mashed potatoes onto each plate. Add 2
pieces of the chicken and top with some of the sauce and mushrooms. Lay the asparagus across the top and sprinkle with a little Parmesan if using. Serve immediately.
Recipe Source: The Heritage Cook
Nutrition Information:
Yield:
4
Serving Size:
1
Amount Per Serving:
Calories:

886
Total Fat:

58g
Saturated Fat:

26g
Trans Fat:

1g
Unsaturated Fat:

29g
Cholesterol:

367mg
Sodium:

1444mg
Carbohydrates:

24g
Fiber:

4g
Sugar:

6g
Protein:

68g
Welcome to Progressive Eats, our virtual version of a progressive dinner party where each course is held at a different home. With Progressive Eats, a theme is chosen each month, members share recipes suitable for a delicious meal or party, and you can hop from blog to blog to check them out. This month's theme is Copycat Recipes hosted by Karen Kerr of Karen's Kitchen Stories. Thanks Karen for such a fun theme! We have a great mix of recipes including appetizers, sides, bread, entrees, and desserts. See the links below for more inspiration and great recipes!
CopyCat Recipes
Beverage
Appetizer
Bread
Main Courses
Side Dish
Desserts
If you love this recipe, be sure to follow me on social media so you never miss a post:
Create a New Tradition Today!
Welcome! The suggestions here are not intended as dietary advice or as a substitute for consulting a dietician, physician, or other medical professional. Please see the Disclaimers/Privacy Policy page for additional details. Unauthorized use, distribution, and/or duplication of proprietary material from The Heritage Cook without prior approval is prohibited. If you have any questions or would like permission, please contact me. We participate in the Amazon Services LLC Associates Program, an affiliate advertising program designed to provide a means for sites to earn advertising fees by advertising and linking to amazon.com. This page may contain affiliate links.