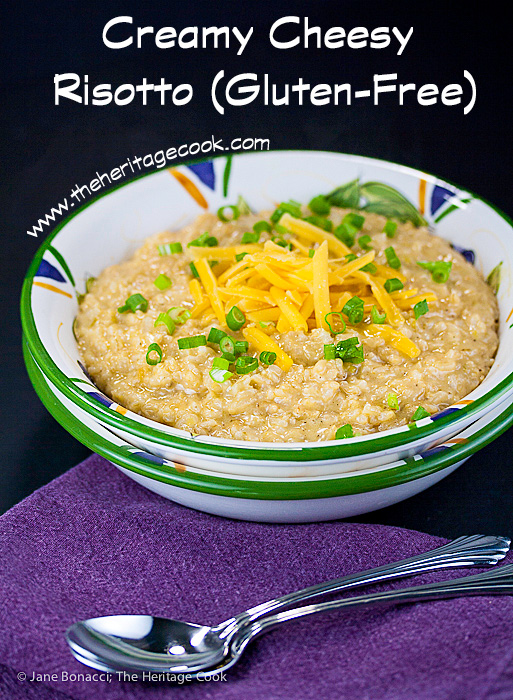 Welcome to the next installment of Food Network's #ComfortFoodFeast.This week we are putting our spin on the classic favorite, mac and cheese, but since I can't have regular pasta and haven't found a really good gluten-free elbow macaroni, I decided to use rice instead. This made me think of risotto, a perfect meal on these cold and blustery days. I thought it would be fun to combine risotto with a really creamy cheese sauce. Oh my!
There are three tricks to making risotto – using the right rice (see Kitchen Skill below), stirring, and not rushing it. There are a number of choice when it comes to the rice, but it needs to be short grain to get the creamy starchiness you are looking for. Stirring helps the rice release the starch – the more you stir, the creamier your risotto will be.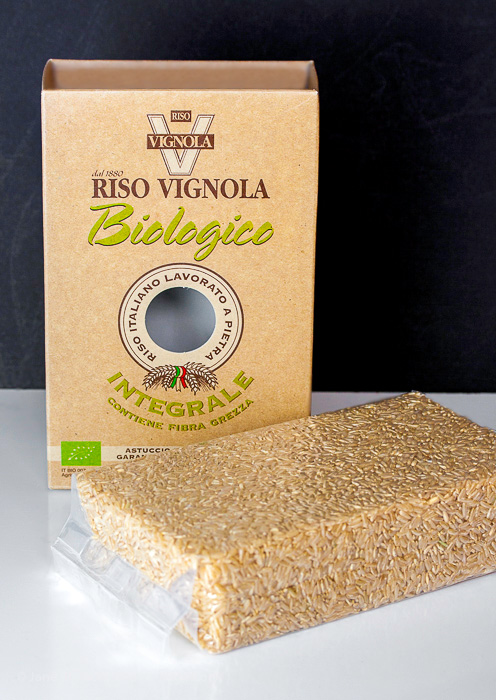 Risotto can be a pain, but the good news is that you can walk away for a minute or two without ruining it. So while I was stirring the rice and adding liquid every few minutes, I was able to set up my photo area and get the lights ready, answer a few emails, test another recipe, make notes, do some dishes, etc.
The third element is to not rush it by cooking it at too high a temperature. Listen to your rice and it will tell you what it needs. Does that sound strange? We tend to depend on directions on a box or in a recipe instead of our instincts. Depending on the type of rice, how long since harvesting, and moisture in the air can all affect the length of cooking time and how much liquid you'll need. If you are using arborio, start testing at 15 minutes, biting a couple of grains every few minutes until it is the perfect texture. Brown rice needs about 45 minutes and about 1-1/2 times the liquid.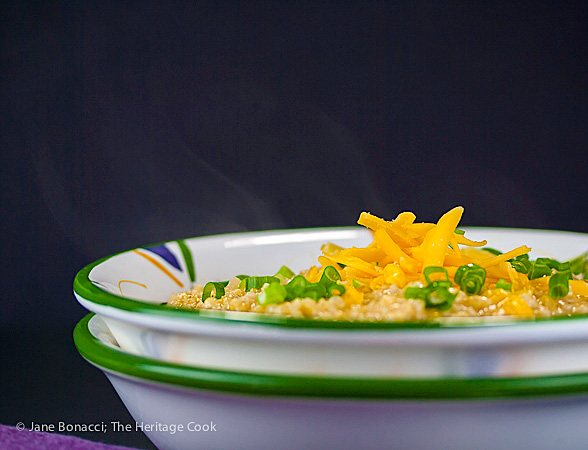 For today's recipe, I decided to combine two different types of recipes to make a new, delicious meal. The natural creaminess of the risotto blended beautifully with the cheesy Mornay sauce (a cheesy bechamel or white sauce), each one enhancing the other. Rich and satisfying with a deep cheese flavor, The Artist and I were very happy with dinner. I will always love mac and cheese, but if you can't have pasta like me, this is a wonderful substitute.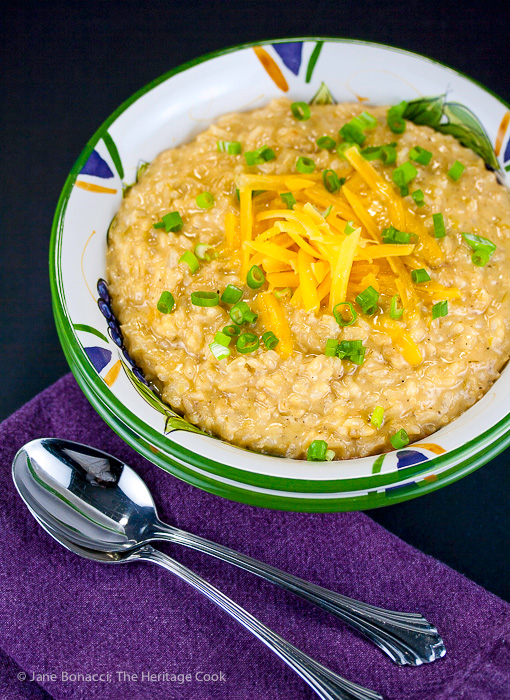 Never forget, recipes are just guidelines. Keep the ratios the same and you'll never go wrong. You have a lot of flexibility in flavor and seasonings, type of liquid you use, etc. Once you are comfortable with the technique, start playing and see what you can create. Making new combinations is addicting, LOL.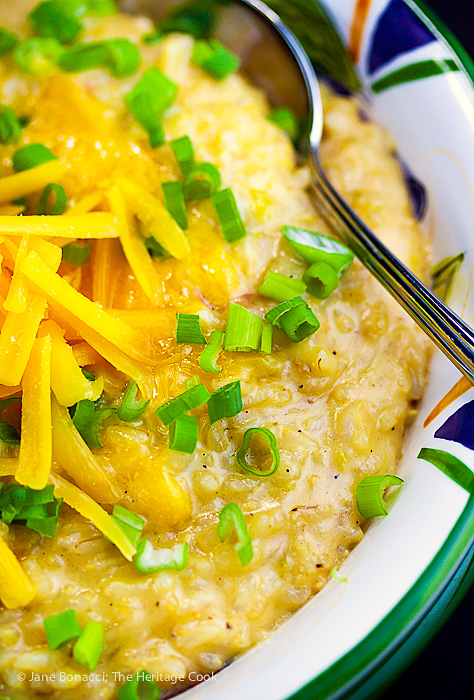 I hope you enjoy all the variations on the mac and cheese theme today. Make sure you check out the links below the recipe and don't miss our Pinterest page to follow all our postings!
Have a wonderful weekend and I'll see you next week for Chocolate Monday!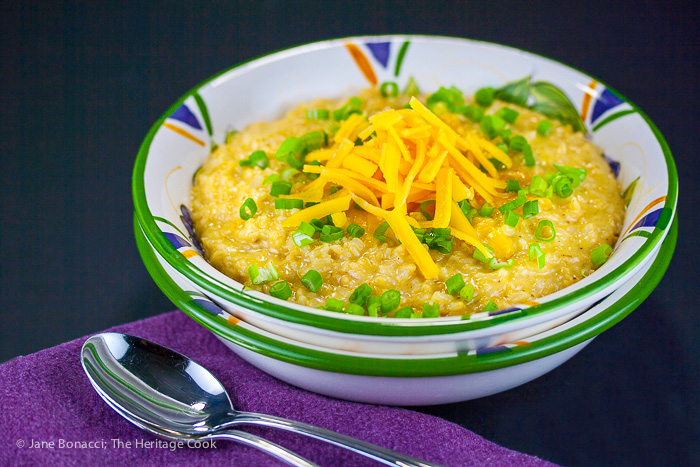 Jane's Tips and Hints:
How much is a ladle? In most professional kitchens a ladle is 1 cup. I usually use a 1/2-cup ladle at home, but you can use any size you like. You want to add 1/2 to 1 cup liquid at a time.
Once you have stirred the cheese into the sauce, you cannot bring it to a boil again or it will break and become grainy. Make sure the sauce is as thick as you want it before adding the cheese for the perfect Mornay sauce!
Gluten-Free Tips:
Gluten-Free pastas and rice tend to absorb a lot of moisture. I always add more liquid to my sauces to make sure they stay creamy. If they get too thick, just stir in a little more water or milk.
If you do not have super finely ground rice flour your sauce will be gritty. You are better off making a cornstarch slurry and using that instead.
Kitchen Skill: Which Rice to Use for Risotto
There are many different kinds of rice in the world, but only one type will give you the creamy risotto of your dreams. You need short grain rice, which gives off a lot of starch as it cooks, turning the liquid velvety and luscious. There is a wide range of short grain rices, varying in texture and starchiness.
Arborio is the most commonly called for rice in most risotto recipes. It gets very soft and tends towards gummy as it cools. Carnaroli or Italian Riso Vignola hold their shape and bite longer. There are also short brown rices available, which is what I used in this recipe. Brown rices take up to 45 minutes to cook and will require nearly twice as much liquid. Follow the ratios given on the box to know how much liquid you need and how long the rice will take to be tender. You can also use sushi rice for a dish that is pretty darn close to traditional risotto.
Gluten-Free Creamy Cheesy Risotto
2015-06-18 14:51:17
Ingredients
Mornay Sauce
1-1/2 cups milk, heated until steaming, just below boiling, plus more if needed
2 tsp kosher or fine sea salt
1/2 tsp Dijon mustard
1/2 tsp onion powder
2 tbsp butter
2 tbsp all-purpose flour, gluten-free flour blend, or super finely ground rice flour
Freshly ground black or white pepper, to taste
2 cups shredded or grated cheddar cheese
Pinch cayenne pepper, optional
Risotto
4 to 6 cups light chicken or vegetable broth (or 2 to 3 cups broth + 2 to 3 cups water if the stock is strongly flavored), or as needed
1 tbsp butter
2 tbsp olive oil
1 shallot, peeled and finely minced
3 green onions, tough ends discarded, finely sliced
1-1/2 cups short grain carnaroli or arborio rice
3/4 cup white wine or dry vermouth
Kosher or fine sea salt and freshly ground pepper or white pepper, to taste
3 tbsp grated Parmesan
2 tbsp chopped fresh chives or green onions, for garnish
Instructions
Make the Mornay Sauce: In a 2-cup measuring cup with a spout, heat the milk, and then whisk in the mustard and onion powder. Set next to the stove.
In a 3-quart heavy saucepan over medium-high heat, melt the butter. Stir in the flour, whisking until smooth with no lumps. Cook, stirring often, for 1 to 2 minutes or until the flour starts to smell a little nutty, but don't let it brown. Slowly whisk in the milk, stirring vigorously to make sure there are no lumps.
Bring to a boil and cook, whisking constantly, until thickened and smooth. Reduce the heat to medium-low. Slowly add the shredded cheese, whisking until it is melted before adding more. Do not let the mixture boil. Add the cayenne if using. Move the pan to a back burner and keep warm over low heat. Whisk occasionally to keep a skin from forming while you make the risotto.
Cook the Risotto: Pour the broth (and water if using) into a 3-quart saucepan and place over medium heat. Bring to just under a boil, then when steaming, reduce the heat to low and keep warm on a back burner. Set a ladle next to the stove.
In a 10-inch nonstick sauté pan with 2-inch high sides, melt the butter with the oil over medium-high heat. Add the shallots and onions, sautéing until they have softened, 2 to 3 minutes. Add the rice and toss until all the grains are coated with the oil. Keep stirring for a minute to lightly toast the rice, then turn the heat to medium, add the wine, stirring occasionally until the wine is absorbed.
Start ladling in the hot stock, letting each addition become absorbed as you stir, before adding the next one. When you push the spoon through the rice, very little liquid should flow into the channel. Stir and continue to slowly add the liquid one ladle at a time, until the rice is al dente. This will take about 18 minutes for arborio rice, or up to 45 minutes for brown rice varieties. Check the box for cooking times and liquid ratio.
The rice will let you know when it is done and depending on the type of rice you use, it could take longer and need more liquid to be fully cooked and not crunchy. Taste the rice occasionally to judge doneness. When the rice is chewy but not crunchy, add half the cheese sauce to the pan. Stir it until creamy and smooth and continue cooking over low heat for about 3 more minutes. Do not let the mixture boil. Whisk in the Parmesan. Taste and adjust the seasoning with salt and pepper.
If you make the risotto ahead, keep it warm over very low heat and continue to add a little more of the cream sauce and/or more milk or stock as needed to keep it creamy. It will thicken as it stands. I always keep extra liquid to add just before serving for the best consistency.
Spoon the risotto into warmed dishes, sprinkling the top with chopped chives. Serve immediately.
Notes
Yield: 4 servings
Inspired by Marion Cunningham and Nigella Lawson
A Mornay sauce is an old-fashioned white sauce or bechamel with cheese melted in it, creating a very smooth, creamy cheese sauce. This is how my mom always made her mac and cheese, but she used Velveeta instead of a blend of cheeses.
The Heritage Cook ® https://theheritagecook.com/
Create a New Tradition Today!
This recipe is part of Food Network's weekly Comfort Food Feast. See the links below for inspiration and great recipes and check out our Pinterest page for even more!
Let's connect! If you ever need any entertaining or cooking advice, need to alter a recipe for gluten-free, or want recipe suggestions, don't hesitate to email me. Thanks for reading
Unauthorized use, distribution, and/or duplication of proprietary material from The Heritage Cook without prior approval is prohibited. This includes copying and reprinting content and photographs. If you have any questions or would like permission, I can be contacted via email. Feel free to quote me, just give credit where credit is due, link to the recipe, and please send people to my website, www.theheritagecook.com. Please see the Disclaimers page for additional details.
This site is not intended to provide medical advice. The suggestions here are not intended as dietary advice or as a substitute for consulting a dietician, physician, or other medical professional. It is the reader's sole responsibility to determine which foods are appropriate and safe for their family to consume. Always consult your doctor. The author makes no claims regarding the presence of food allergens and disclaims all liability in connection with the use of this site.
Thank You!