I can eat ice cream and gelato any time of the year and always keep my freezer stocked, but it is a special treat during the summer. What is better than sitting on the porch on a hot summer night, enjoying a bowl or cone of homemade ice cream? I come by this passion naturally – my mother was a soda jerk in her father's drug store, back in the days when they were called Five and Dimes, scooping ice cream and making floats for her classmates. She always claimed that her right arm was larger than the left because of digging out the rock hard frozen custard 😉
Growing up I always assumed that ice cream was an American invention, but frozen desserts have been around since at least the 4th century B.C. Gelato, a denser form of ice cream, dates back to ancient Rome, China and Egypt and was made with snow and ice brought down from the mountains.
Modern ice cream is credited to Bernardo Buontalenti. It is said that he invented an innovative refrigeration technique and presented it along with a recipe to Catherine de' Medici in 1565. She then introduced the frozen custard to France, and a Sicilian fisherman perfected the first ice cream machine over a century later in 1686. Gelato has been around since the 17th century, but today's versions remain surprisingly close to the original.
The one aspect of ice cream that seems to truly be an American invention is the edible cone. It was created at the 1904 St. Louis World's Fair and was made with a crispy sweetened batter cooked on a waffle iron, very similar to today's waffle cones. Up until that time it had been served in metal cone-shaped containers and eaten with spoons. I have a few of this style of cup from my grandfather's drug store that I cherish.
Surprisingly, some of the coldest countries in the world are the largest consumers of frozen desserts. They are always in high demand in the Scandinavian countries, and in the United States, Alaskans eat more ice cream per person each year than any other state. Everyone loves ice cream!
Today's recipe is from Alice Medrich, the doyenne of chocolate, owner of a shop in San Francisco called Cocolat, and internationally known for her dedication to quality and depth of investigation into the intricacies of working with chocolate. Reading her cookbooks are like taking a masters class. If you are interested in learning more about chocolate and its interactions during cooking and freezing, I highly recommend any of Alice's books. Here are a few of my favorites:
A Year in Chocolate
Bittersweet
Chewy Gooey Crispy Crunchy Melt-in-Your-Mouth Cookies
Chocolate and the Art of Low-Fat Desserts
Chocolate Holidays
Cocolat: Extraordinary Chocolate Desserts
Cookies and Brownies
Pure Desserts
Sinfully Easy Delicious Desserts
For anyone who is gluten-intolerant or who doesn't eat dairy products, this is the dessert for you because it is made with coconut milk. It takes the place of eggs and cream and yet yields the same rich, silky smooth mouthfeel. It is also lower in cholesterol and an excellent substitute for those watching their weight. You can eat this gelato without guilt!
Coconut milk is slightly sweet, white, about the thickness of half-and-half, and made from the meat of a coconut. This is not the same thing as coconut water, the thin watery liquid found inside the hollow center of a coconut. Canned coconut milk is very shelf-stable, but may separate if it sits long enough. Shaking the can well before opening blends it smooth again or you can empty it into a bowl and whisk until smooth. It can be used in the place of regular milk, and in most cooked items has only the faintest coconut essence.
Coconut milk, while not a dairy product, adds a rich creamy texture to many international cuisines. Coconut milk is high in potassium and contains powerful antiviral and antifungal proprieties.I always have a couple of cans in my pantry because it is so flexible and lends itself to so many dishes.
As with all frozen desserts made with an ice cream machine, you must have pre-frozen the bowl prior to churning your chilled custard. I usually put the bowl in a couple of days ahead, then make the custard at least a day before I want to serve the dessert. Once you have churned it, you will need to transfer to a different container and freeze until more solid. Depending on the coldness of your freezer, this can take a couple of hours or up to overnight. Make sure you plan ahead.
The speed of churning is also important to the final texture of the ice cream. The custard mixture must be stirred slowly while cooling in the ice bath to add air and prevent large ice crystals from forming. Once churned, this gelato will hold in the freezer at least a week, so make it early and then you don't have to worry about dessert on the day of your party.
Keep this recipe handy because it can play a part in a recipe I will be featuring in a couple of weeks. Enjoy your Chocolate Monday treat and have a wonderful week!!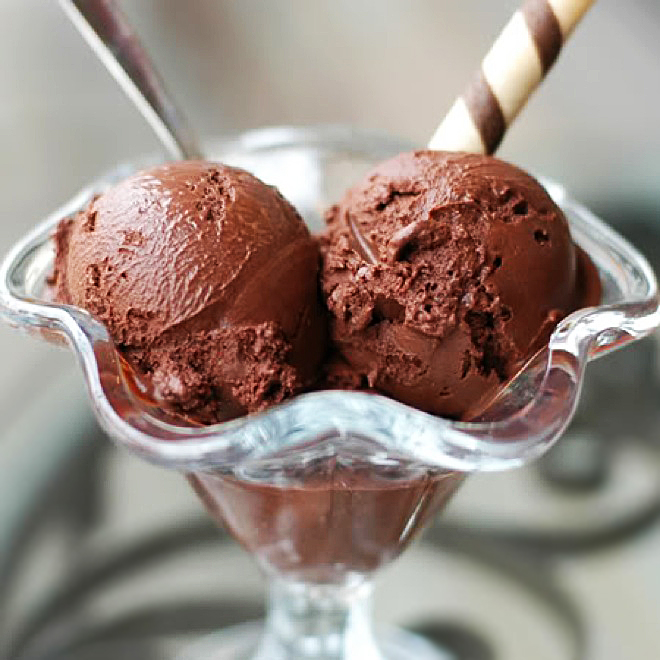 Jane's Tips and Hints:
Cocoa comes in two primary version, Natural and Dutch-Processed or "Dutched." As Alice Medrich writes, Dutched cocoa has been treated with alkali, which neutralizes the acid content of natural cocoa. This results in a darker cocoa with a smoother flavor. While they can be used interchangeably most of the time, occasionally a recipe, such as this one, will benefit from the higher acid content of Dutched cocoa.
A third version, called Black Cocoa, is a very strong, nearly black in color and can be used when you want an extra dark dessert. But because of its lack of full flavor, you want to combine it with natural or Dutched cocoa.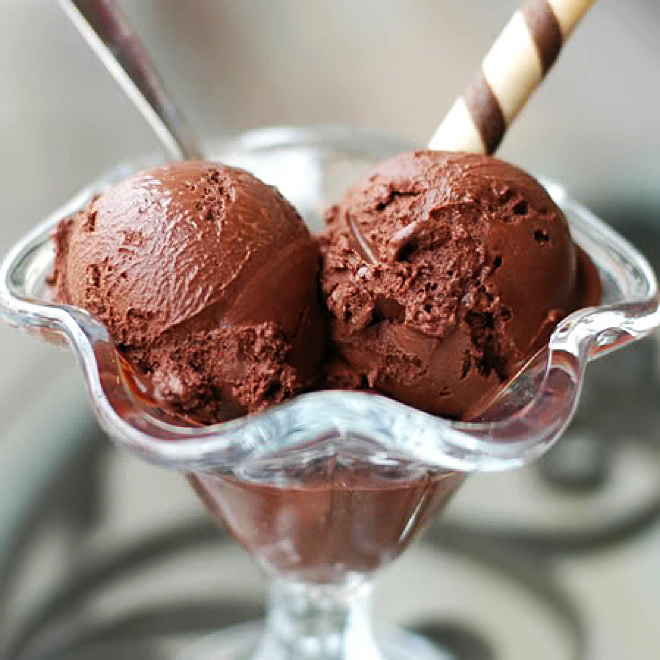 Creamy Chocolate Gelato
2015-07-06 14:54:54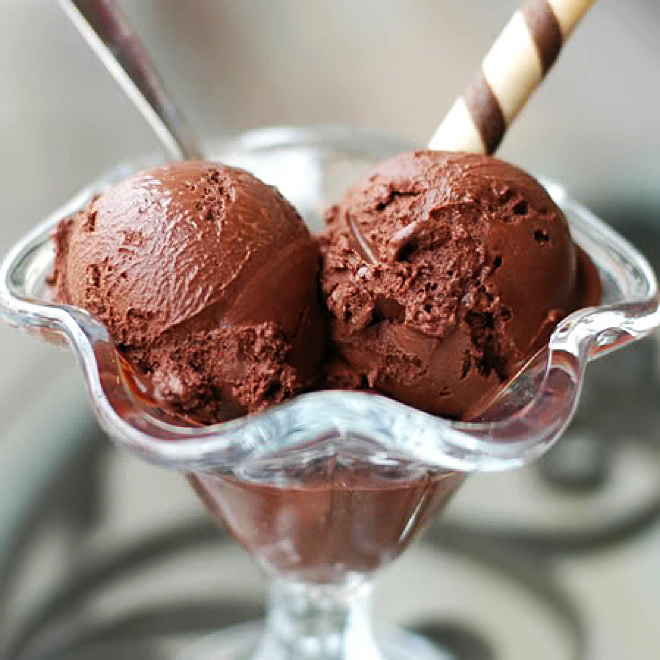 Ingredients
1/2 cup unsweetened cocoa powder, preferably natural (see Note)
2 (14 oz) cans "lite" coconut milk (about 3-1/2 cups), divided
1 tsp vanilla extract
3/4 cup plus 2 tbsp sugar
2 tbsp cornstarch
1/8 tsp salt
Instructions
Put cocoa in a medium bowl and whisk in enough coconut milk (about 2/3 cup) to make a smooth paste. Stir in vanilla.
Mix sugar, cornstarch and salt in a medium saucepan. Gradually whisk in the remaining coconut milk. Heat over medium heat, stirring frequently with a wooden spoon or heatproof spatula, until the mixture begins to barely simmer around the edges. Then, stirring constantly and scraping the sides and corners of the pan to prevent scorching, let the mixture simmer for 2-1/2 to 3 minutes to fully cook the cornstarch.
Scrape the hot mixture into the bowl with the cocoa mixture. Whisk until well blended. Let cool, undisturbed, for about 45 minutes. Cover and refrigerate until cold, at least 3 hours. Can be made ahead to this point; refrigerate up to 1 day.
Pour the gelato mixture into the chilled canister of an ice cream maker. Freeze according to manufacturer's directions.
Store gelato in an airtight container in the freezer for up to 1 week. For the best texture, let soften slightly before serving.
Notes
Yield: generous 1 quart
The Heritage Cook ® https://theheritagecook.com/
Unauthorized use, distribution, and/or duplication of proprietary material without prior approval is prohibited. If you have any questions or would like permission, I can be contacted via email: theheritagecook (at) comcast (dot) net. Feel free to quote me, just give credit where credit is due, link to the recipe, and please send people to my website,
www.theheritagecook.com.
Thank You!