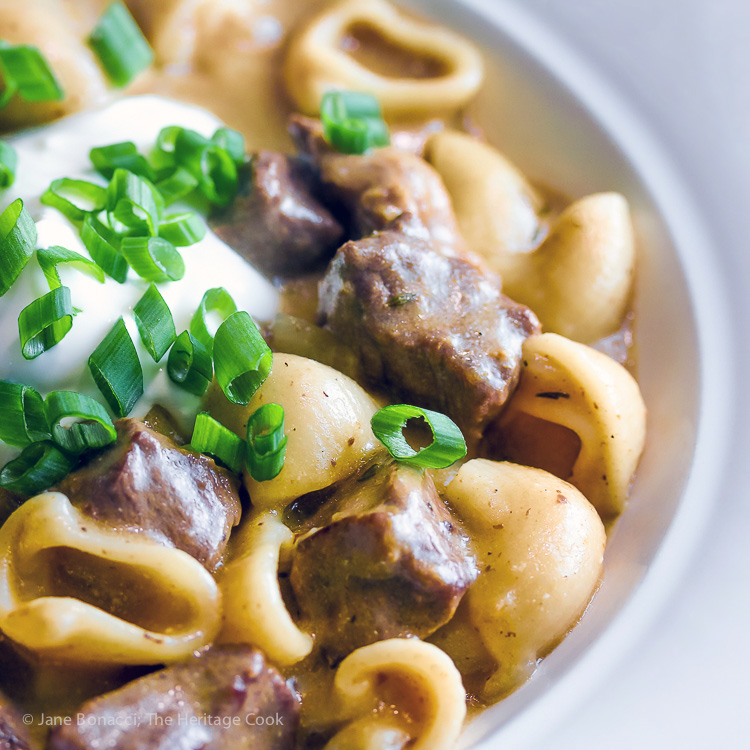 Last weekend while The Artist was visiting his sister, I made one of my favorite meals, Easy Homemade Beef Stroganoff. When he is here I am cooking healthy meals for us, but I can make anything I want when he travels. My mind spins with all my personal food indulgences, dishes that I love. I so seldom have these opportunities that I take full advantage of them. 😀
Last weekend all I could think of were traditional comfort foods. Though I don't have any Russian heritage, the post-World War II favorite, Beef Stroganoff is a favorite memory from my childhood.
When I was little, we didn't have much money and my mother would make filling meals using very cheap cuts of meat and cooking them a long time to tenderize them. Even then the meat was still very chewy, but in a way that was a good thing because it took us a long time to eat each serving, LOL. Our plates were mostly noodles and sauce with a few strips of meat, but we all loved that dinner and looked forward to it.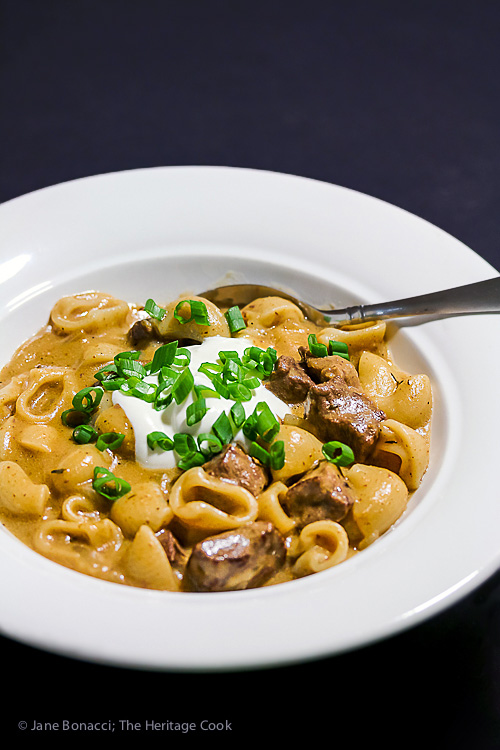 In its simplest form, the recipe is sliced beef, onions, beef broth, and sour cream. Mushrooms got added somewhere along the way and now we can't imagine beef stroganoff without them.
I worked with ingredients I had in the freezer and pantry to make my version this weekend. I didn't have fresh mushrooms but I did have mushroom powder and it was perfect for adding flavor and richness to the sauce.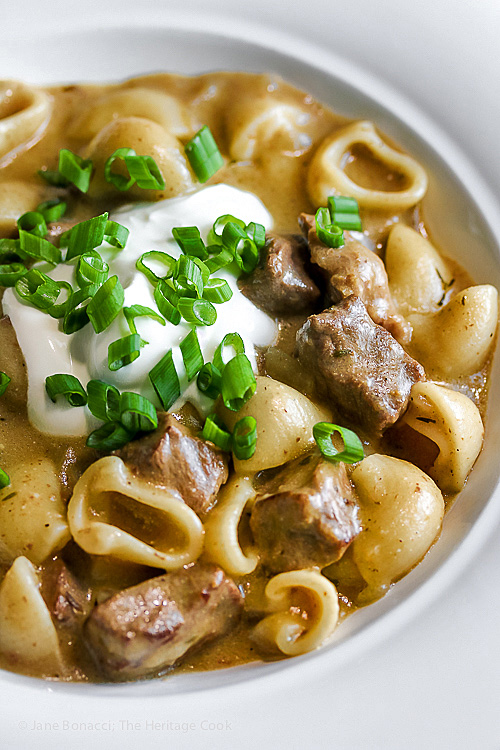 If you've never tried mushroom powder, it is a fabulous secret weapon to have in your pantry because it makes everything taste better! One of the first times I ever experienced it was at a cooking class with Jean Georges Vongerichten when he made us mushroom dusted scallops. What an introduction!
If you want to try using mushroom powder for your beef stroganoff, I have included the method I used to make my version of the recipe. Look for it at the bottom of the recipe!
When you are craving comfort foods, give this beef stroganoff a try. I know you'll love it!
Have a fun and rejuvenating weekend!
How to make Easy Homemade Stroganoff (Gluten Free):
Brown the beef cubes in the butter and oil
Sauté the onions and mushrooms; coat with flour
Stir in the broth, bring to a boil, and simmer for 30 minutes
Whisk in the sour cream
Serve sauce, meat and vegetables over cooked noodles
PRO Tip:
Using a deep, large pan to cook the meat and vegetables gives you enough room to add the liquid and make everything in just one pan – much less clean up needed! I used my 12-inch Anolon Stir Fry Pan and it was perfect!
Key Ingredients for this Recipe
Boneless beef, cut in cubes

Onions

Mushrooms or mushroom powder

Thyme

Flour or gluten-free flour

Beef broth

Sour cream

Noodles or gluten-free pasta

Green onions, for garnish
Kitchen Tools I Use to Make This Recipe
Gluten-Free Tips:
Use a gluten-free flour as a thickener while cooking the vegetables to add a thickening agent for the broth. If you want a thicker sauce, add a cornstarch (or other starch) slurry, whisking constantly so you don't get any lumps. The cornstarch slurry needs to come to a full boil to be activated so keep stirring and it will thicken right in front of your eyes – magic for the kids!
For this dish I used DeLallo gluten-free pasta and it held up beautifully to being in the sauce as well as when reheated. With a blend of corn and rice flours, it has very neutral flavor letting your sauces shine. It is carried in many grocery stores around the country or you can order it online.
Yield: 6 to 8 servings
Easy Homemade Beef Stroganoff (Gluten-Free)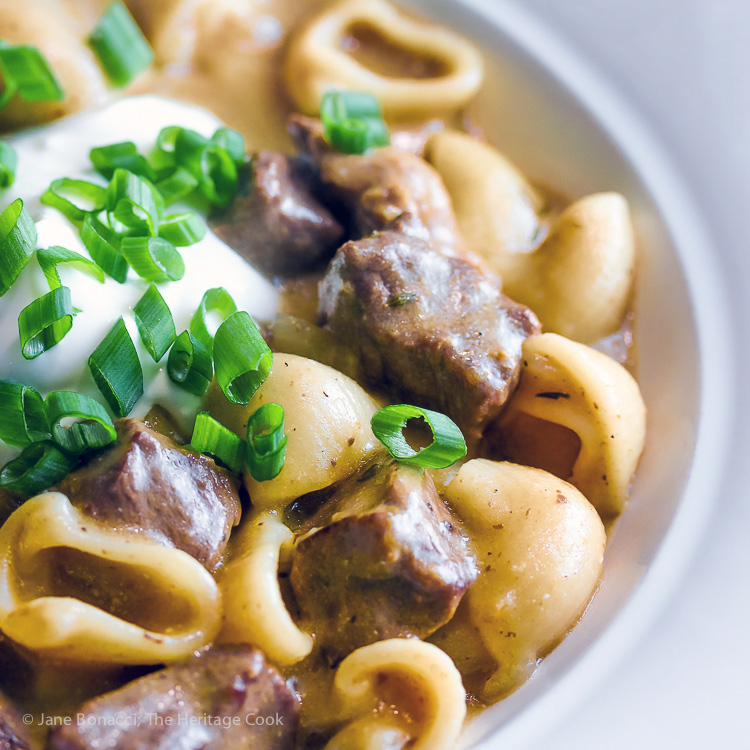 With a creamy sauce, beef, and mushrooms, this Easy Beef Stroganoff is fast and easy to make and you can do it all in one pan making clean up a snap!
Ingredients
1-1/2 lb cubed boneless beef, such as London broil or sirloin steak
Kosher or fine sea salt and freshly ground black pepper, to taste
1 tbsp olive oil
1 tbsp butter
1 medium onion, peeled, trimmed, and thinly sliced
8 ounces fresh mushrooms, trimmed and sliced, or 2 tsp mushroom powder * see below
1 tsp dried thyme leaves
2 tbsp all-purpose flour or a gluten-free flour such as rice, sorghum, or millet
2-3/4 cups (650ml) beef broth
2 tsp cornstarch or tapioca starch dissolved in 3 tsp water, optional
1/3 cup sour cream
Cooked noodles, gluten-free if needed) tossed with butter and sprinkled with chopped parsley if desired
Finely sliced green onions, for garnish
Instructions
Sprinkle the beef cubes lightly with salt and pepper. In a large skillet, heat the oil and butter over medium-high heat. When the butter is melted and the oil is shimmering, add the beef and brown on all sides, tossing often. Use a slotted spoon to transfer the beef to a plate.
Using Fresh Mushrooms Method: Add the onions and mushrooms to the same pan, sprinkle with the thyme, and cook for 3 to 5 minutes or until the onions are softened, stirring often. Sprinkle with 2 tbsp flour (gluten-free if needed), stirring until the vegetables are evenly coated with the flour. This will help thicken the sauce without lumps. Add the beef cubes back to the pan, tossing them with the onions and mushrooms to blend.
Stir in the beef broth. Bring to a boil, reduce the heat to medium-low, and simmer uncovered for 30 minutes. If you want a thicker sauce, pour the cornstarch/water mixture into the pan, whisking to make sure there are no lumps. Bring to a boil and cook until thickened. Adjust seasonings to taste, adding salt and pepper, as needed. You can keep this warm on very low heat for up to 30 minutes before finishing. If the sauce gets too thick as it sits, whisk in a little water or more stock to thin it out. (You can boil the noodles while the sauce is cooking.)
Just before serving, whisk the sour cream into the sauce, being sure there are no white streaks left. Taste and adjust seasonings if needed.
To Serve: Place cooked noodles in serving bowls. Top with some of the stroganoff meat, vegetables, and sauce. Sprinkle the top with green onions and serve immediately.

*Alternative Preparation: If you don't have fresh mushrooms on hand, or can't easily find them in your market, you can use mushroom powder instead. This is a wonderful product to keep on hand because it adds a powerful umami flavor boost to any savory foods you are cooking. In this recipe, because you do not have to cook the mushrooms to release their liquid, this will change the method as well.

Dissolve 2 tsp mushroom powder in the beef broth. Brown the meat, add the onions to the pan, and cook them both together until the onions have softened, stirring often. Add 2 tbsp flour, tossing to coat the meat and onions, breaking up any lumps. Pour in the beef/mushroom broth, bring to a boil, reduce the heat to low and cook for 30 minutes. If you want a thicker sauce, whisk in the cornstarch slurry, bring to a boil and cook until thickened. Adjust seasonings if needed. Whisk in the sour cream and serve over cooked noodles, garnished with the green onions.
Nutrition Information:
Yield:
8
Serving Size:
1
Amount Per Serving:
Calories:

607
Total Fat:

29g
Saturated Fat:

12g
Trans Fat:

0g
Unsaturated Fat:

14g
Cholesterol:

116mg
Sodium:

268mg
Carbohydrates:

46g
Fiber:

3g
Sugar:

3g
Protein:

38g
If you love this recipe, be sure to follow me on social media so you never miss a post:
| Facebook | Pinterest | Instagram | Twitter |
Create a New Tradition Today!
First Published: Jan 27, 2017
Last Updated: Sept 20, 2019
Welcome! The suggestions here are not intended as dietary advice or as a substitute for consulting a dietician, physician, or other medical professional. Please see the Disclaimers/Privacy Policy page for additional details. Unauthorized use, distribution, and/or duplication of proprietary material from The Heritage Cook without prior approval is prohibited. If you have any questions or would like permission, please contact me. We participate in the Amazon Services LLC Associates Program, an affiliate advertising program designed to provide a means for sites to earn advertising fees by advertising and linking to amazon.com. This page may contain affiliate links.