This week when I went to Whole Foods for some groceries, I couldn't resist the gorgeous fresh blueberries. My first thought was to make a blueberry tart and then The Artist suggested we make a batch of jam. I'm so glad he said that because blueberry jam is one of my favorites and I couldn't be happier to have this beautiful taste of summer that will last well into the winter months!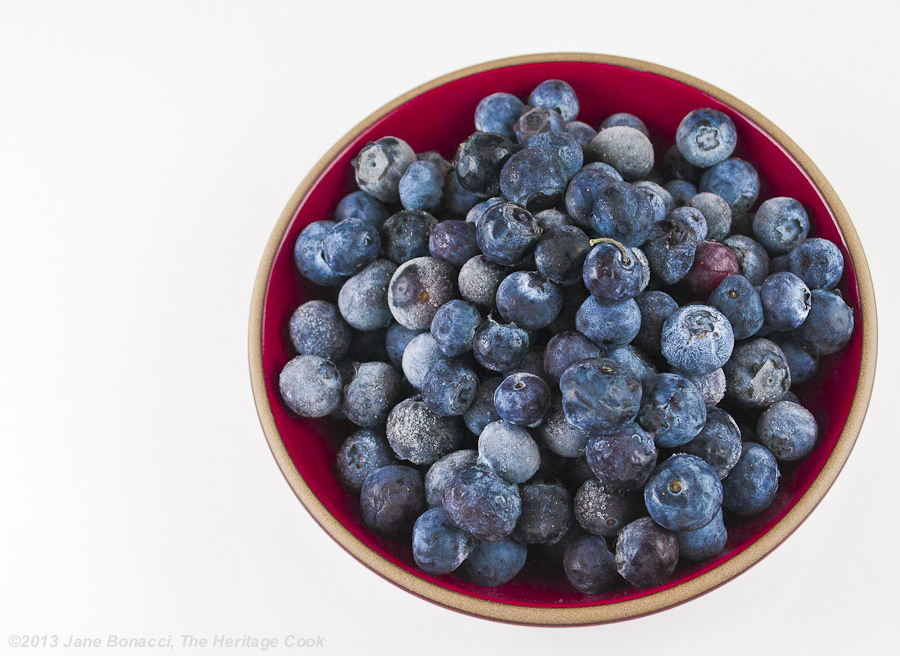 One day this week when The Artist got home from work, we got started making jam. It is a simple process, but it does take some set up and a lot of clean up. Make sure you have all your tools set up and arranged next to the stove. If possible, have two people working together, one on one side of the counter and the other on the opposite side. We could do that in our tiny kitchen, so we were bumping into each other a bit, but it worked out.
You can buy a canning kit that includes all the tools you will need in the process. But the one thing that I bought independently was a special ladle. It has spouts for both right- and left-handed use, making it easier to cleanly pour the hot mixture into the jars. I don't waste as much this way and it makes cleaning the outside of the jars much easier.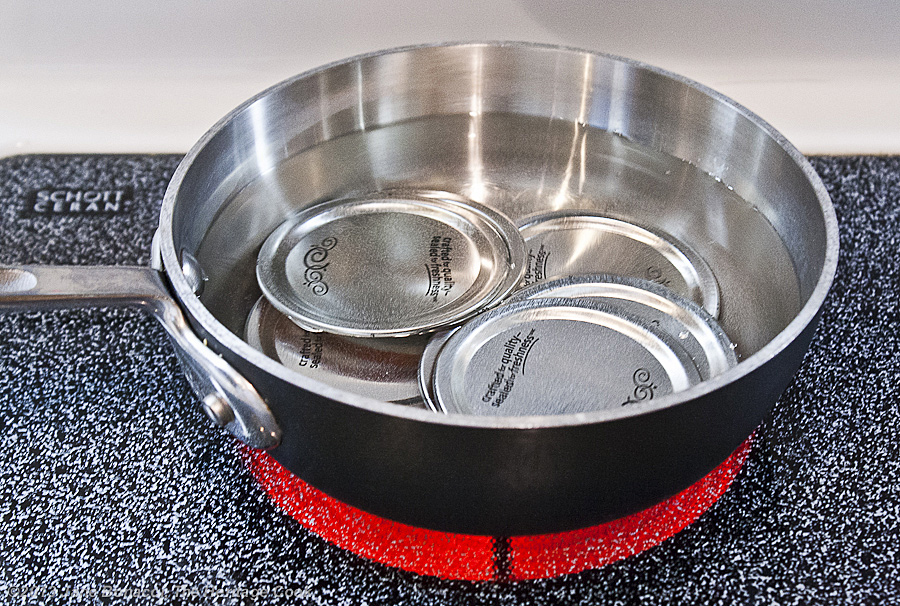 Because everyone loves homemade jam, I prefer to use the small 1/2-pint (1 cup) canning jars. This way you can give several away as gifts and still home some left to keep for your own use. If you want to get real industrious and make a huge quantity of jam at one time, get a few friends to come over and help you. You can share the jam and the work to make it, having a lot more fun!
Have you ever wondered what a blackberry-apricot-cherry jam would taste like? Do you like to include herbs in your sweets? What about making a rosemary-plum jam specifically to use for your duck recipes? That's the beauty of making your own. You can create unique flavor combinations! If you want some ideas for fun combinations and measurements, take a look at the recipe page at Sure-Jell.com. They have some wonderful options for you.
When I am in the kitchen I often fudge with measurements because most of the time there is plenty of room for interpretation. However, making jam is one place where I am absolutely exact. The interaction between liquid, pectin and heat must be just right in order to get the coagulation we want. I trust the copious testing that companies such as Sure-Jell and Certo have done to perfect their products. Their scientists have made sure that we will have successful results as long as we follow their directions exactly.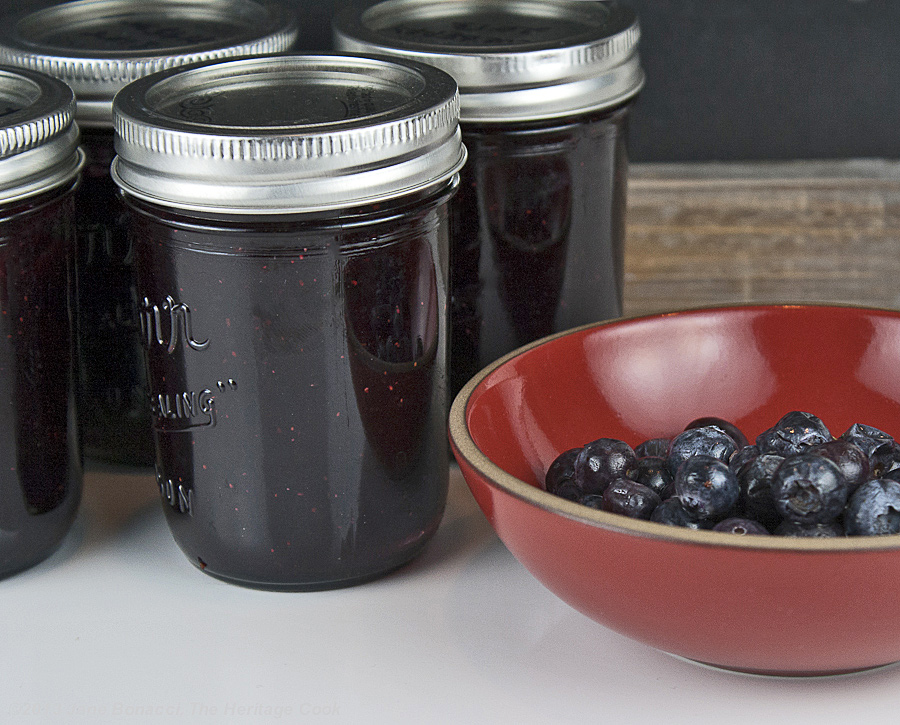 You may not know this, but sugar is an integral component in the jelling process. I always use Sure-Jell Premium Fruit Pectin in the yellow box. But if you want to reduce the amount of sugar in your jellies and jams, make sure you buy the Sure-Jell For Less or No Sugar Needed Recipes in the pink box. This is helpful if you are cooking for someone with diabetes or who has to reduce their sugar intake. The two products have been engineered to work specifically with different amounts of sweeteners.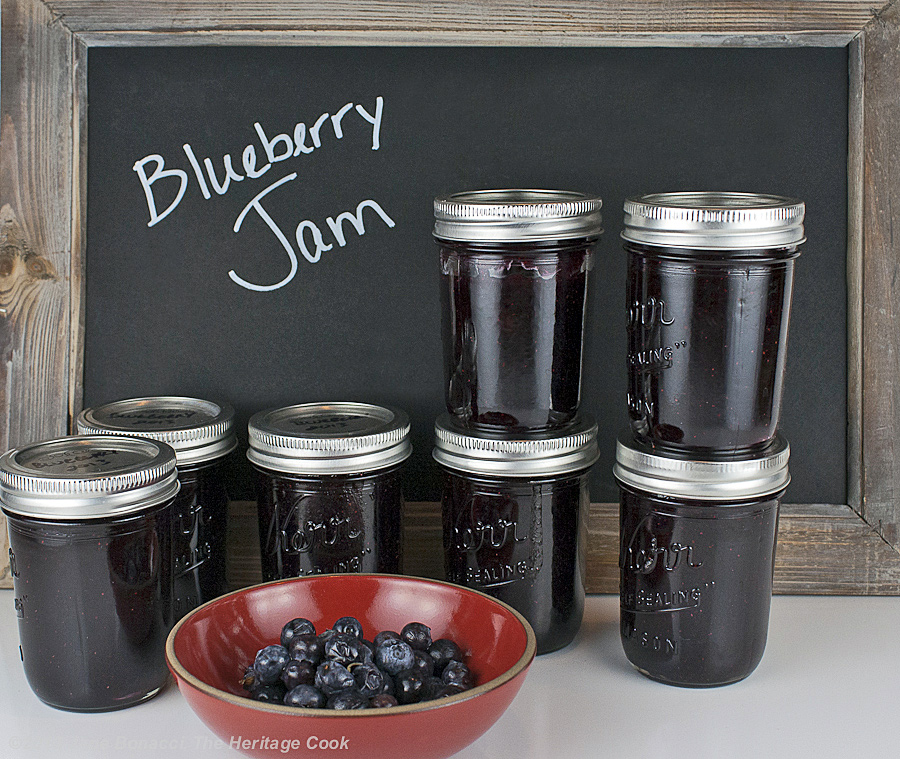 This may sound like a sponsored post for Sure-Jell, but it isn't. When I made my first batch of jam I asked my father-in-law what he recommended. He has always used Sure-Jell and who am I to mess with tradition! There are other brands of pectin available on the market, but I have not used them and cannot speak to their efficacy. If you go to the Sure-Jell website, they have lots of information on how to make a variety of products with their pectin and how to avoid problems.
When fresh fruit is plentiful and prices are low (or even better if you can pick your own) buy a bunch and plan on making your own jelly or jam. There is nothing more rewarding or delicious!
Have a wonderful weekend!!!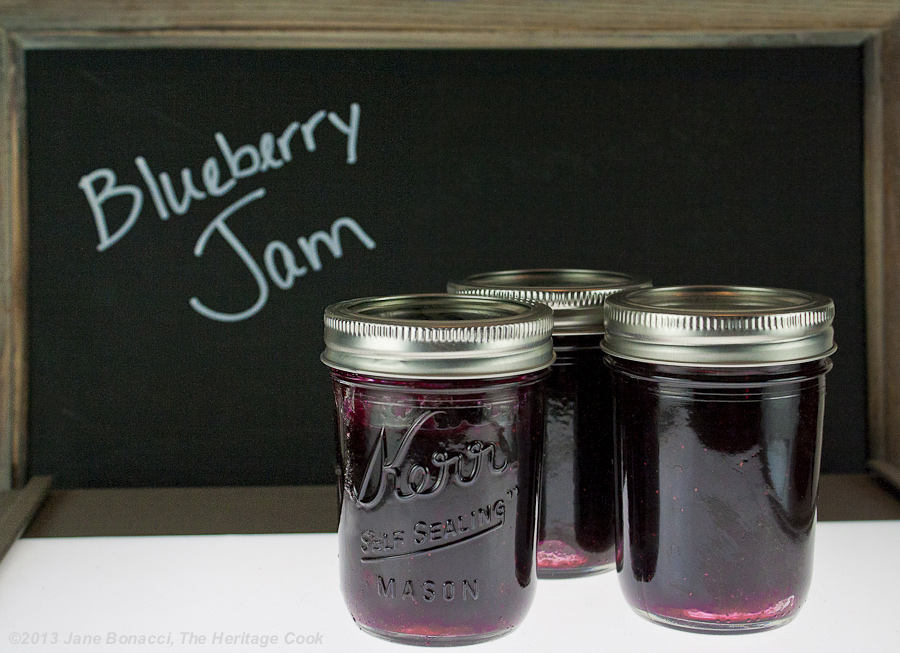 Jane's Tips and Hints:
Make sure you have everything completely ready to go before you start cooking the berries. Once they are ready you have to move fast!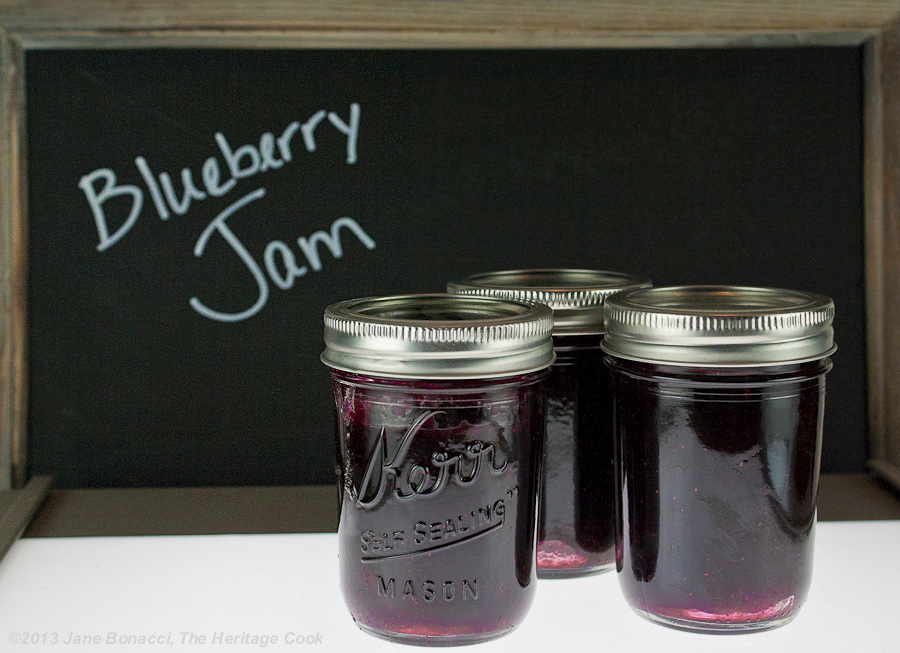 Homemade Blueberry Jam
2015-06-30 18:22:44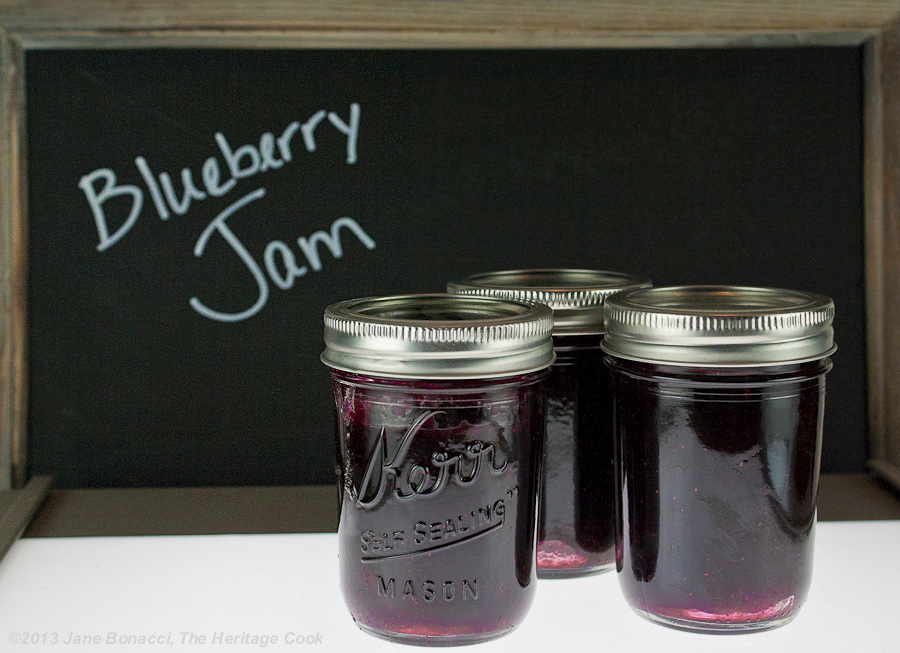 Ingredients
4-3/4 cups granulated sugar
4 cups crushed blueberries, from about 3 pints of fresh blueberries
1 box Sure-Jell pectin
Instructions
Prepare your work area: Clean and prep the berries, making sure you've removed any stems. Rinse well and then drain thoroughly. Set aside.
Place your clean jars on a baking sheet in the oven to warm on low heat, about 200°F. They need to be hot before you fill them with the hot jam mixture.
Place the rubber edged lids in a small saucepan on the stove and cover with water. Bring to a simmer and keep warm until just before you start cooking the berries. Drain and place on a dry towel. Set next to the stove.
Have a jar grabber, ladle and wet washcloth by the stove. Set up a double layer of kitchen towels next to the stove. This is where you will set the hot jelly-filled jars.
Make the Jam: Measure the sugar into a bowl and place it next to the stove.
Place the berries into a food processor in batches of about 2 cups at a time and pulse until pureed. Transfer to a wire sieve set over a large bowl. Use a rubber spatula to press the mixture through the sieve, extracting as much liquid as possible and leaving the solids behind. Discard the solids and rinse the sieve between batches. Repeat with remaining berries. Once you've strained all the berry puree, repeat the straining process removing even more of the solids. If you want the purest jam (nearly a jelly) do your final straining through a layer of cheesecloth.
Measure out 4 cups of the berry puree into a large stockpot and sprinkle the pectin over the top. Use a whisk to make sure there are no lumps. Bring to a full rolling boil over high heat, stirring constantly.
As soon as it is at a full boil (doesn't stop boiling when you stir it), add the sugar and whisk it in. Return it to a full boil and once it is boiling again cook it exactly 1 minute, stirring constantly.
Remove from the heat and skim off any foam. Remove the jars from the oven and using a jar grabber or heatproof mitt, fill each jar to within 1/4-inch of the top. Place the jar on the towels next to the stove and wipe off the top edge and threads with the damp towel, removing any drips or spills. Immediately top with one of the flat lids, rubber side down, and screw on the top until tight. Set the jar upside down on the towel.
Repeat until you have used all the puree. Leave the jars upside down for 15 minutes. This helps make a tight seal. Turn them upright, wipe off any sticky jam on the sides of the jars, and let them sit until the lids pop, which indicates they are completely sealed. Alternately you can process them in a water bath (the industry approved process) for 15 minutes. See www.surejell.com for full directions and tips for success. My father-in-law has been making jam for nearly 60 years and has never used a water bath. His technique of turning the jars upside down creates a perfect seal and he has never had a failure. If one of the jars doesn't pop (the center remains raised), place it in the refrigerator and use within a week or two.
One of our jars didn't seal properly so I used that one as a tester and for photography. When I opened it, there was a lot of liquid on the lid and we think that I didn't get the lid dry enough before placing it on the hot jar so it couldn't seal properly. I was just happy to have an excuse to dive into the jar and sample the jam!!
Store your jam jars in a cool, dark place and enjoy the flavors of summer all year long!
Notes
Yield: about 6 cups (1/2 pints) of jam
Adapted from Sure-Jell.com
Adapted from Sure-Jell.com
The Heritage Cook ® https://theheritagecook.com/
Create a New Tradition Today!
Unauthorized use, distribution, and/or duplication of proprietary material from The Heritage Cook without prior approval is prohibited. This includes copying and reprinting content and photographs. If you have any questions or would like permission, I can be contacted via email at theheritagecook (at) comcast (dot) net. Feel free to quote me, just give credit where credit is due, link to the recipe, and please send people to my website, www.theheritagecook.com. Please see the Disclaimers page for additional details.
Thank You!