Summertime cookouts … all the wonderful memories of childhood balmy days and nights spent with friends and family. I love barbecuing food and planning what else to serve with them. Today I am sharing Fresh Fruit Salad with Bourbon-Orange Syrup, my new absolute favorite side all summer long!!
Playing off the flavors in an Old Fashioned, my cookbook co-author Shannon's favorite cocktail, this is an adult version of a simple fruit salad, elevating it to a side dish that may become the star of your next cookout!
The bourbon adds caramel notes to the orange syrup that enhances the natural flavors of the fruits. You can use any fruit that is in season. Today I used cantaloupe and honeydew melons, blueberries, and fresh cherries – one look at my fingers and you know that I pitted them by hand!
I know you hear this a lot all over the Internet, but this syrup is seriously delicious. It is so good that I was sneaking spoons of it when The Artist wasn't looking, LOL. Yep, it is That good! I am going to pour the leftovers over a bowl of vanilla ice cream tomorrow – and I cannot wait!!
When I went to the store to pick up the fruit for the salad, the only oranges our market had were blood oranges – so beautiful. Instead of a lovely light orange syrup, I wound up with a stunning ruby gold color. Both are equally tasty, so you can use whatever oranges are available in your area.
This is one fruit salad that will thrill your adult guests. If you are making this for children, just leave out the bourbon. It is delicious both ways! Because you cook it for so long at a low boil, you have cooked all the alcohol out of the sauce but your children may not appreciate the flavor of the bourbon.
This salad will go with any summertime meal, but if you are serving a crowd of bourbon lovers, especially if you are grilling over smoke and using a bourbon BBQ sauce, then this side dish is the perfect accompaniment! But don't limit it to the summer, it is good all year long, using whatever fruits are in season. And don't forget that you can macerate dried fruits and include them too.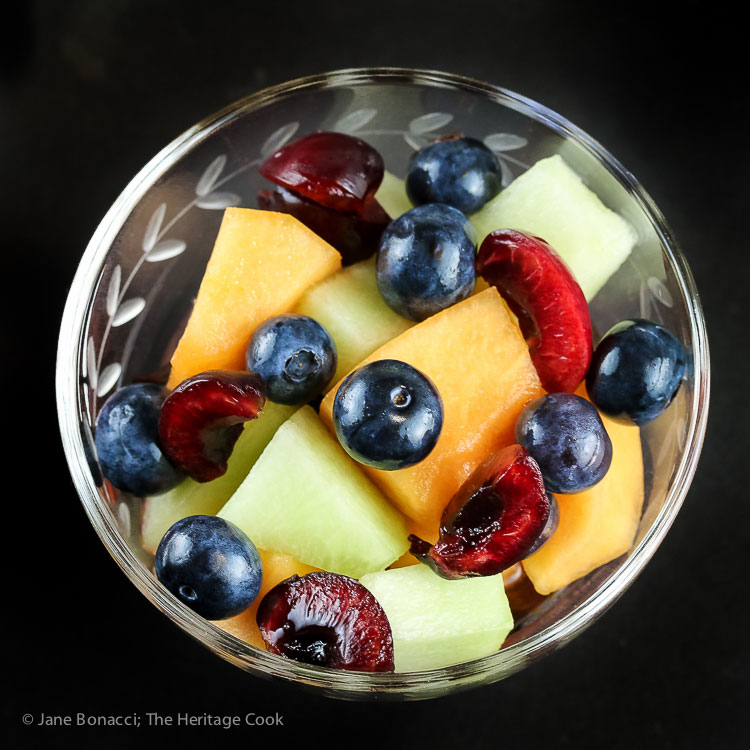 Today's recipe is part of our latest edition of Progressive Eats, our virtual version of a progressive dinner party where you can hop from blog to blog to check out all of our recipes. This month's theme is Summer Cookouts! hosted by Jenni of Online Pastry Chef. You'll love the recipes we have gathered, perfect for all your summer outdoor entertaining! Make sure you check out the links below the recipe.
Enjoy!
Jane's Tips and Hints:
If you want a stronger bourbon flavor, you can add 1/4 cup, just cook it down a little longer to a thin syrup. It will continue to thicken as it cools.
Gluten-Free Tips:
Either leave out the bourbon or use the alternative option if you are serving anyone with celiac or severe reactions to gluten. While the distillation process destroys gluten, some producers use caramel coloring which often contains gluten. If you are in doubt, always make the safer choice.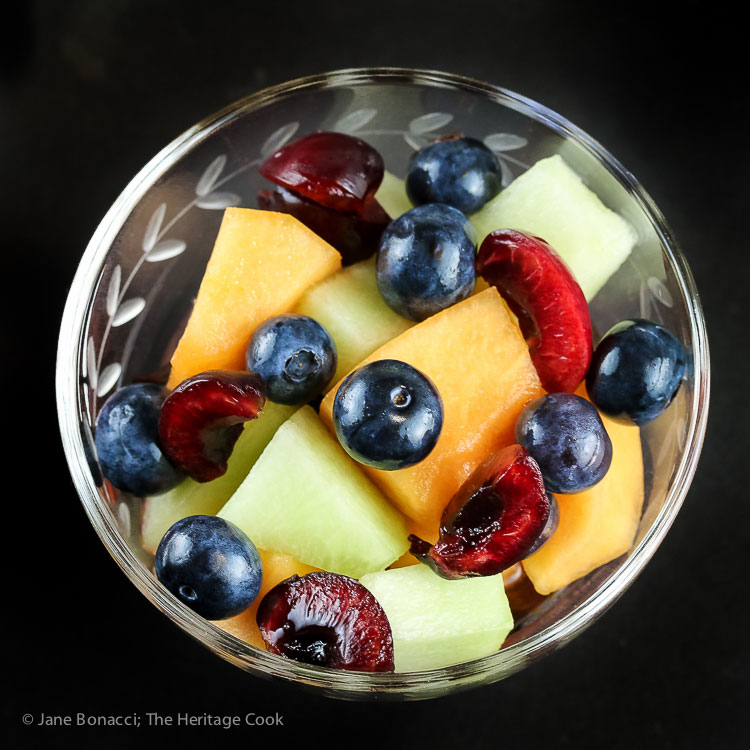 Fresh Fruit Salad with Bourbon-Orange Syrup (GF)
2017-05-30 08:00:02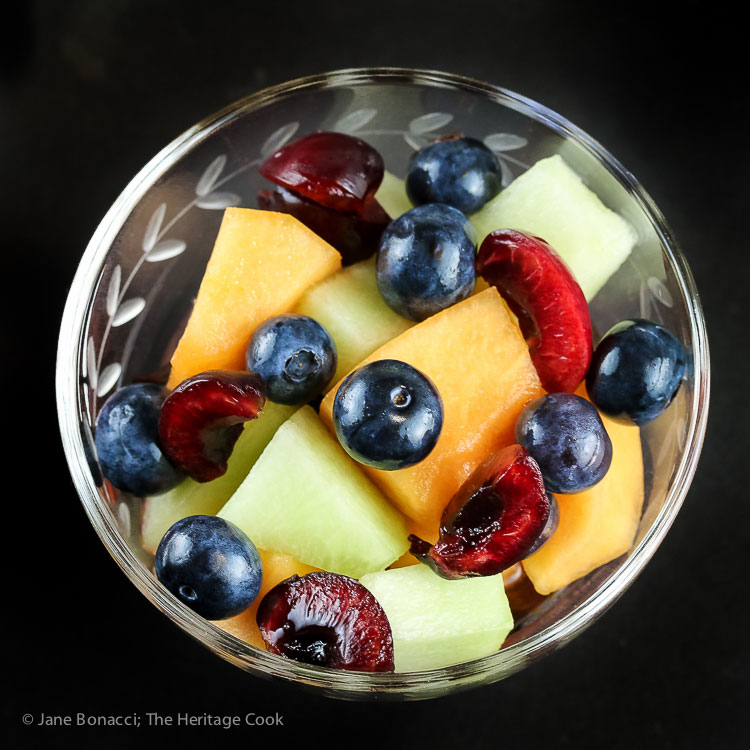 Ingredients
Bourbon-Orange Syrup
1 cup granulated sugar
1 cup water
Zest and juice from 1 Naval or 2 small oranges
2 tbsp bourbon (or use 2 tbsp potato vodka + 2 tsp brown sugar for gluten-free)
2 tsp vanilla paste or pure extract
Fruit Salad
8 to 10 pints mixed fresh fruits, such as strawberries, blueberries, grapes, cantaloupe, honeydew, watermelon, cherries, peaches, etc.
Instructions
Make the Syrup: Place the sugar, water, orange zest, juice, and bourbon in a small saucepan, whisking to combine. Bring to a boil, then turn the heat down to medium-low to a low boil/strong simmer and cook for 15 to 20 to thicken slightly. Set aside to cool, then store, covered, in the fridge until cold. The syrup can be made a day or two in advance.
Assemble the Salad: Rinse fruit well and if needed, prepare them. Hull and halve strawberries, cut grapes in half, pit cherries, cut melons into bite-sized cubes, etc. Toss all the fruit together in a large bowl.
Pour a little of the syrup into each small serving bowl, top with some of the salad and serve. Instruct your guests to toss their own carefully in the bowls. Do not dish the salads until just before serving.
Store leftover fruit and syrup separately in airtight containers in the refrigerator for up to several days.
Notes
Yield: 10 to 12 servings
The Heritage Cook ® https://theheritagecook.com/
This recipe is part of our monthly progressive dinner party, Progressive Eats. See the links below for more inspiration and great recipes!
Cookout!
Appetizers
Main Course
Side Dishes
Desserts
To see our upcoming themes and how you can participate, please check out the schedule at Creative Culinary or contact Barb for more information.
Create a New Tradition Today!
Welcome! If you ever need any entertaining or cooking advice, need to alter a recipe for gluten-free, or want recipe suggestions, don't hesitate to ask. Unauthorized use, distribution, and/or duplication of proprietary material from The Heritage Cook without prior approval is prohibited. If you have any questions or would like permission, please contact me. The suggestions here are not intended as dietary advice or as a substitute for consulting a dietician, physician, or other medical professional. Please see the Disclaimers page for additional details. Thanks for visiting The Heritage Cook!