Ahi, otherwise known as yellowfin tuna, is one of The Artist's favorite foods. I am more of a teriyaki fan so I usually leave the sushi to The Artist to enjoy. Ranging from a deep crimson color to pink, it is considered a delicacy in much of the world, is widely used in raw fish dishes – especially sashimi, and is also becoming common in ceviche.
You definitely want sushi-grade tuna. Any less quality and I would be concerned about the safety of serving it rare or raw. The main muscle of the fish is triangular-shaped with rounded corners. Any shape other than that has been trimmed or comes from another part of the fish.
It is always important to know where your fish comes from and how it was caught. In the case of yellowfin tuna, you want to make sure it was caught in the U.S. Atlantic or Pacific by troll or pole-and-line fishing techniques. This is important for the long-term health of the oceans and the longevity of the tuna. If you want to learn more about these techniques, click Here for information from Seafood Watch.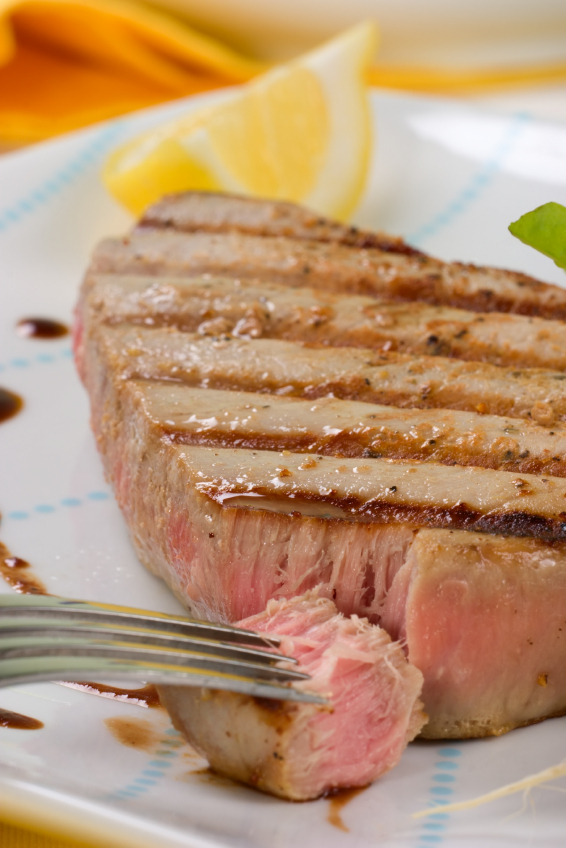 While color is usually an indicator of healthy fish, there are some unscrupulous people who will dye the fish to make it more appealing. Beware if any of the liquid seeping out of the fish is tinted pink. Always ask to smell the fish before you buy it – you don't want it to smell "fishy" or have any sign of ammonia odor. Anything other than the clean smell of the sea is a sign that the fish is old.
When you are cooking tuna (not to be confused with commonly canned "tuna" which is albacore) you must be careful not to overcook it. Either plan on serving it raw or give it just a quick sear on the outside, leaving the center uncooked. Cook it too long and it becomes tough and dry, quite unappealing.
My favorite method to cook ahi is a quick sear on a hot grill. I love the flavor boost you get from the smoke of a live fire. But if the weather is bad or you just want the convenience of cooking inside, use a stovetop grill pan for almost the same results. Make sure that both the barbecue and indoor grills are really hot before you start cooking the fish. A quick blast of heat will cook the exterior without going all the way through, leaving you with the results you want.
For a special party appetizer or first course, you can slice the ahi thinly and fan out 3 or 5 slices on each plate. Place a dollop of the wasabi aioli at the "top" of the fan and sprinkle with chopped chives. It makes a stunning presentation and everyone will feel extra special when they see the care you took to plate the dish.
Ahi definitely benefits from strong seasonings, particularly wasabi, a form of horseradish. The most common way we see wasabi is ground into a vibrant green paste that we blend with soy sauce for a sushi dipping sauce. Wasabi root is difficult to find but thankfully you can now buy powdered wasabi in tiny cans that have a long shelf life and give us instant access to the delightful flavors and heat of wasabi.
I like incorporating wasabi in both the marinade, which infuses the flavor into the center of the fish, and as a condiment. The wasabi aioli is a little like a spicy tartar sauce. I always use low fat mayonnaise to make mine, and I never miss the extra calories. If you are watching your weight and want to reduce the fat calories even more, you can also mix some of the wasabi paste into soy sauce and use it instead for a dipping sauce.
Ahi is the Hawaiian name commonly used for Yellowfin tuna and occasionally Bigeye tuna. Extremely high in protein (92%) and naturally low in total fat as well as saturated fats, sodium, carbohydrates and dietary fiber, it is a nearly perfect protein source. It is also high in energy producing B-complex vitamins and selenium, which assists the body in the creation of antioxidants. In addition to fueling your body, the protein in ahi supports your immune system and helps promote lean muscle development.
Make friends with your local fishmonger and have him tell you when they are expecting their next delivery of fresh ahi. Then you can plan on serving this when it is at its freshest!
Happy Festive Friday – have a wonderful weekend everyone!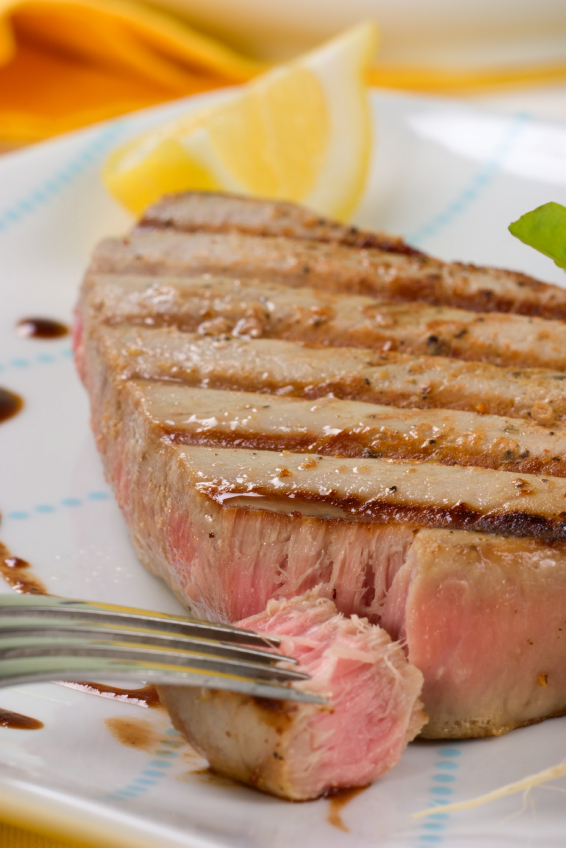 Ginger-Soy Marinated Ahi Tuna with Wasabi Aioli
2015-07-07 17:46:23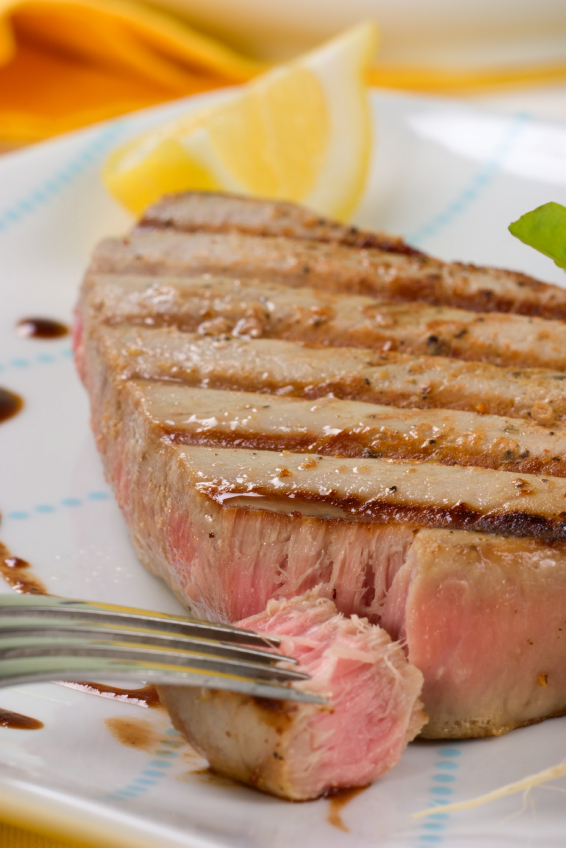 Ingredients
Marinade
3 tbsp soy sauce (use Tamari for gluten-free)
1 tbsp minced fresh ginger
1 tbsp honey
3 tbsp olive oil
1/2 tsp five-spice powder
1/4 tsp wasabi powder
2 garlic cloves, minced
2 tsp Asian garlic-chili sauce
Fish
2 to 4 sushi-grade ahi tuna steaks
Olive or canola oil
White sesame seeds
2 scallions, tough ends discarded, remainder cut into 2-inch pieces and julienned
1 carrot, julienned, optional
Fresh lemon and lime wedges
Wasabi Aioli
1 tsp wasabi powder
2 to 3 tsp water, as needed
1 cup low-fat mayonnaise or homemade mayonnaise
1 tbsp very finely minced fresh garlic
2 tbsp soy sauce (use Tamari for gluten-free)
1 tsp freshly squeezed lime juice
Pinch sugar, optional
Instructions
Make Marinade: Combine all the marinade ingredients in a small bowl. Whisk until smooth. Taste and adjust seasonings.
Marinate Fish: Place tuna steaks in a resealable plastic bag and pour in the marinade. Press out most of the air and seal the bag. Marinate in the refrigerator for 15 to 20 minutes, turn the bag over and continue marinating for another 15 to 20 minutes.
Prepare Aioli: While fish is marinating, make the Wasabi Aioli. In a small bowl combine the wasabi powder and water. Use enough water to make a fairly thin paste. Combine the wasabi paste with the remaining aioli ingredients in a medium bowl. Whisk until smooth. Taste and adjust seasonings. Cover and refrigerate until ready to serve.
Prepare Fish: Heat an outdoor barbecue or indoor grill pan until very hot. Remove fish from marinade and wipe off excess; discard marinade. Rub the grill grates with a light coating of oil and cook fish quickly until just seared on the outside. Depending on how hot your grill is this will take about 1 to 2 minutes per side. Remove from the heat. The tuna will have grill marks but will still be raw in the center.
To Serve: Transfer fish to serving plates, sprinkle with sesame seeds, place a dollop of the wasabi aioli next to the fish and garnish with the julienned scallions, carrots and citrus wedges. You can also pre-slice the tuna and serve fanned out on the plate to make smaller portions look more substantial.
This is delicious served with a green salad tossed with Asian vinaigrette and a sesame noodle salad. You can also go more casual and serve it like you would a hamburger on a bun with sliced onions, tomato and lettuce.
The Heritage Cook ® https://theheritagecook.com/
Unauthorized use, distribution, and/or duplication of proprietary material without prior approval is prohibited. If you have any questions or would like permission, I can be contacted via email at: heritagecook (at) comcast (dot) net. Feel free to quote me, just give credit where credit is due, link to the recipe, and please send people to my website,
www.theheritagecook.com.
Thank You!