Welcome to the crazy Holiday Season! Thanksgiving was late this year, compressing the time we have until Christmas and Hanukkah. I love it when the two line up like they have this year. Hanukkah ends on Dec 24th. The crush is on and it is going to be a wild few weeks.

To help get everyone in the spirit and make it just a little more fun, I am doing a Giveaway! With all the events, parties, family gatherings coming up and all the holiday desserts you're serving, wouldn't you love a hot, rich cup of coffee or two to go with them?
Today's cookies are made from ground hazelnuts and are delicate and tender with just the right blend of nuttiness and chocolate for perfect tiny bites. They are about as healthy a cookie as you can choose and the dough can be made in advance and frozen. Then you have fresh cookie dough ready to be baked anytime!
I discovered hazelnuts when I was 11 years old. My father's job transferred our family up to Portland, Oregon and we arrived with a sense of adventure. It was an amazing, life-changing experience, opening my eyes to life outside of my little world. I still love Portland and get up there as often as I can.
When we first got there, we discovered this "new" nut that we had never tasted before, the filbert. Unbeknownst to us, a filbert is virtually the same as a hazelnut and the terms are often used interchangeably, but they do come from two different yet closely related types of trees. I instantly fell in love with filberts and try to find true Oregon varieties whenever I can.
There are some people that do not like the flavor of hazelnuts – nearly impossible to imagine. If you don't care for them or you have an allergic reaction, you can swap in almonds or another nut instead. I think they would be wonderful with just about any nut and it would be fun to make more than one variety for side-by-side comparisons.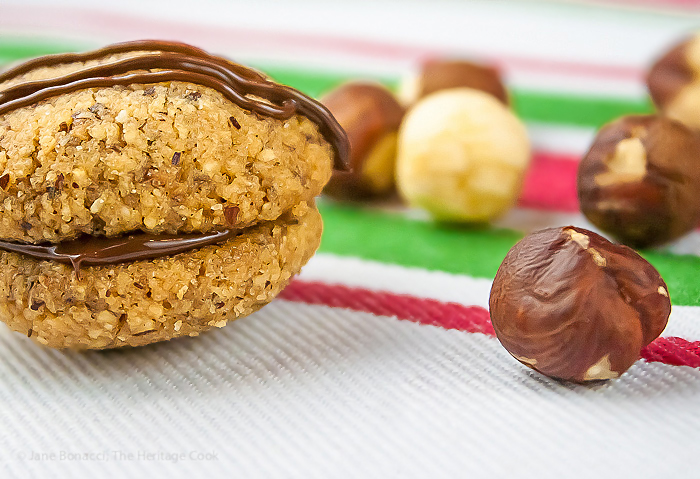 These cookies are fantastic on their own, but even better with the chocolate filling. For variety on a dessert buffet you could use raspberry jam or other favorite flavors as the filling and maybe dip the tops in chocolate for even more fun. What sounds good to you? I'm always looking for ways to change up recipes.
When The Artist learned that I would be making these miniature Italian sandwich cookies, he was thrilled. He gets so excited about Italian cookies! LOL. Whenever I make Italian cookies that contain chocolate, I always make an extra batch for my wonderful husband!
And now for information on the Giveaway … In honor of the holiday season and to say Thank You for following The Heritage Cook, you can enter the Giveaway to win a fantastic KitchenAid Coffee Maker! This coffee maker is beautiful and can make up to 14 cups so all of your dinner guests can enjoy your desserts even more! It allows you to choose how strong your coffee is brewed and will hold it warm in the carafe for up to 4 hours.
Follow the directions below from Rafflecopter – the more entries you complete, the more chances you have to win! The Giveaway will run for three weeks, so be sure to spread the word and invite your friends to get in on the fun. The more the merrier! Giveaway limited to the 48 contiguous US states. Sorry my more distant friends!
It will be wonderful to be able to send another present to one of my readers. There are directions below about how to enter … Oh, and a steaming cup of coffee is the perfect accompaniment for today's cookies!
I hope you enjoy these wonderful little cookies and the Giveaway. Have a fabulous holiday season!!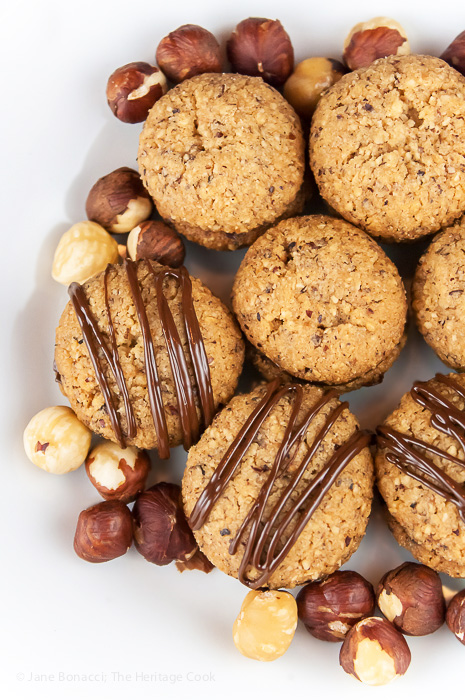 Gluten-Free Tips:
Use your favorite gluten-free all-purpose flour or rice flour or a pre-blended mix sold such as those from King Arthur Flour, Pamela's, Bob's Red Mill new 1-to-1, or another brand.
Kitchen Skill: How to Toast and Skin Hazelnuts
Preheat the oven to 325°F. Place the hazelnuts on a baking sheet. Toast the nuts for about 10 to 15 minutes or until they are golden brown.
Remove from the oven and as soon as they are cool enough that you won't burn yourself, place half the nuts in a rough tea towel and rub them briskly to remove the skins. Leaving a few pieces of the skins on the nuts is fine, but it does add a slight bitterness. Set aside and repeat with remaining nuts.
Let nuts cool completely before grinding.
Hazelnut-Chocolate Cookies (Gluten-Free)
2015-06-18 19:01:28
Ingredients
140g hazelnut meal or 1-1/4 cups (140g) hazelnuts, toasted & skinned (see Kitchen Skill above) or you can use ground almonds/almond meal
1 cup (140g) brown or white rice flour, or all-purpose flour (sifted)
1 stick (3-1/2 oz; 100g) unsalted butter, at room temperature, cut into small pieces
1 to 2 tbsp melted butter, if needed (see below)
1/2 cup (100g) granulated sugar
Pinch of salt (leave out if using salted butter)
1/2 tsp pure vanilla extract
2 to 3 oz (55g to 86g), about 1/2 cup semisweet chocolate, chopped or chocolate chips
Instructions
If you are using whole hazelnuts, put them in a food processor and pulse them until about the consistency of coarse polenta. If you are using hazelnut meal (or almond meal), skip to the next step.
Place the ground nuts in the bowl of a heavy-duty stand mixer and add the rice flour and stir together. Cut the butter into pieces then add the butter, sugar, salt and vanilla to the dry ingredients. Blend together on low until the butter is evenly dispersed and the nut mixture starts to come together and clean the sides of the bowl. In my KitchenAid mixer this took about 1 to 2 minutes.
The dough should be very smooth and hold together. If not, knead it until it does. Keep kneading, either by hand or in the mixer until it comes together. If needed, add another 1 to 2 tbsp of melted butter.
Divide the dough into three equal pieces and roll each piece to 3/4-inch (2cm) round ropes or logs. Try to get them as smooth as possible, with no cracks. If it breaks, pinch it back together. Place the three ropes of dough on a baking sheet lined with parchment paper.
Chill the dough logs until firm. NOTE: gluten-free doughs tend to be easier to work with when they have had time to rest and fully absorb the liquid. I let mine rest in the refrigerator about 2 hours before forming and baking.
Preheat oven to 325ºF (160ºC) and line two baking sheets with parchment paper or silicone baking mats. Set aside.
Working with one section of dough at a time, keeping the others in the refrigerator, cut off equal-sized pieces, about 5 grams each (about the size of a marble), using a knife or pastry cutter. To do this, cut a slice off one, adding or subtracting until you have the right weight, then hold that slice alongside the ropes and use it as a template to cut the others. If your ropes are different sizes like mine were, I weighed a piece for each rope and used that as a template.
Once you've cut all the pieces, roll them into little round balls and place them on the baking sheet, leaving a little space between them. Make sure they hold together, and if they are threatening to break apart, gently press them back together and then roll into a ball again. They will not spread much, so you can snug them up pretty close. Continue cutting the dough and rolling it into little balls until you've used all the dough.
Bake the cookies for 10 to 14 minutes, rotating the baking sheets in the oven midway during cooking, top to bottom and spinning front to back, until the tops are lightly golden brown.
Carefully slip the parchment paper with the cookies off the baking sheet and onto wire cooling racks. Let the cookies cool completely before continuing.
When they are cool, match the cookies into pairs that are just about the same size. Set half the cookies flat-side up on a baking sheet with its partner next to it.
In a small saucepan over medium heat, melt the chocolate until smooth, stirring often with a flexible spatula. Transfer the melted chocolate to a piping bag or resealable plastic bag. Cut a small hole in the point/corner of the bag and squeeze a chocolate chip-sized dollop of melted chocolate on the bottom of one cookie and top it with a similar-sized cookie, flat sides together. Wiggle the top cookie gently to spread the chocolate to the edges, sandwiching the two halves together.
Once filled, set the cookies back on a wire cooling rack until the chocolate is firm. If you have extra melted chocolate (like I did) you can squeeze the extra over the tops of some of the cookies, creating a fun zig-zag pattern. If you want to decorate all of the cookies, add another ounce or two of chocolate chips to the saucepan when melting and use whatever is left over after piping the filling between the sandwich cookies.
Notes
Yield: about 4 dozen cookies
Storage: The cookies will keep in an airtight container at room temperature for up to one week.
Adapted from a recipe by David Lebovitz
Adapted from a recipe by David Lebovitz
The Heritage Cook ® https://theheritagecook.com/
Create a New Tradition Today!
This Giveaway has ended. Congratulations to our winner, Lindsay!
Thanks to everyone who entered!
Giveaway limited to the 48 contiguous US states. Sorry my more distant friends!
Let's connect! If you love The Heritage Cook, you can follow me on Pinterest, Facebook, and Twitter. If you ever need any entertaining or cooking advice, need to alter a recipe for gluten-free, or want recipe suggestions, don't hesitate to email me. Thanks for joining the Heritage Cook Family!
Unauthorized use, distribution, and/or duplication of proprietary material from The Heritage Cook without prior approval is prohibited. This includes copying and reprinting content and photographs. If you have any questions or would like permission, I can be contacted via email. Feel free to quote me, just give credit where credit is due, link to the recipe, and please send people to my website, www.theheritagecook.com. Please see the Disclaimers page for additional details.
This site is not intended to provide medical advice. The suggestions here are not intended as dietary advice or as a substitute for consulting a dietician, physician, or other medical professional. It is the reader's sole responsibility to determine which foods are appropriate and safe for their family to consume. Always consult your doctor. The author makes no claims regarding the presence of food allergens and disclaims all liability in connection with the use of this site.
Thank You!