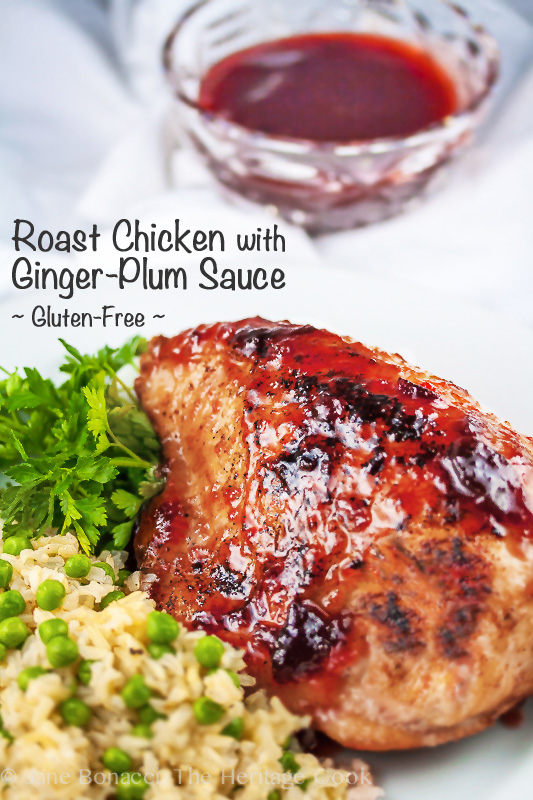 My grandmother made the best chicken in the world and boy do I wish I could talk to her today and discover all of her secrets. She passed away when I was ten, but had already passed along her love of cooking to me. I think part of why everything she made was so good was the extra love she put into her cooking. Love and passion for cooking truly do show up in the final dish. You can always tell when the cook is happy – the food has perfectly balanced flavor!
I love the variability of chicken. You can keep it simple and roast it whole, cut it up and serve it in pieces, toss it in a slow cooker, shred it and serve it in a sauce, chop it and turn it into a salad. The possibilities are nearly endless. That is probably why it is the most popular protein in America.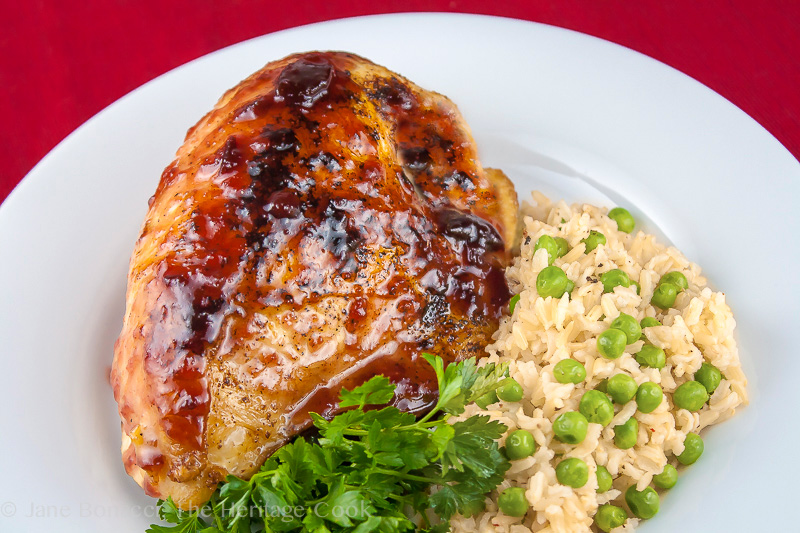 If you are anything like me, you are always looking for new and interesting ways to serve chicken to your family. I love it, but tend to fall back on my standard recipes. Then, once in a while I push myself to break out of the rut and create something new. Boy oh boy, are you guys going to love this one!
Have you discovered the beauty of pan sauces? Using the flavors that are developed when you brown proteins, you sauté some aromatics, deglaze the pan with a little wine or stock, add some herbs, and voila, you have an instant sauce!
If you are looking for an easy and quick way to elevate ordinary chicken to something special, use a fruit jam-based pan sauce. When seasonings are added along with a little wine, your ordinary meal becomes truly elegant. Today's sauce is outstanding and would also be a wonderful accompaniment to pork, turkey or duck. In fact, the next time I make this, I think I am going to double the sauce ingredients and have it on hand for basting when I am cooking on the grill. That would be amazing!
Disclosure – While I am a recipe developer for Gourmet Garden, I use their products all the time in my kitchen, not just on paid projects. I use their products because I love them. They add tremendous flavor without any prep time and there is never any wasted herbs left over. The perfect component to have on hand.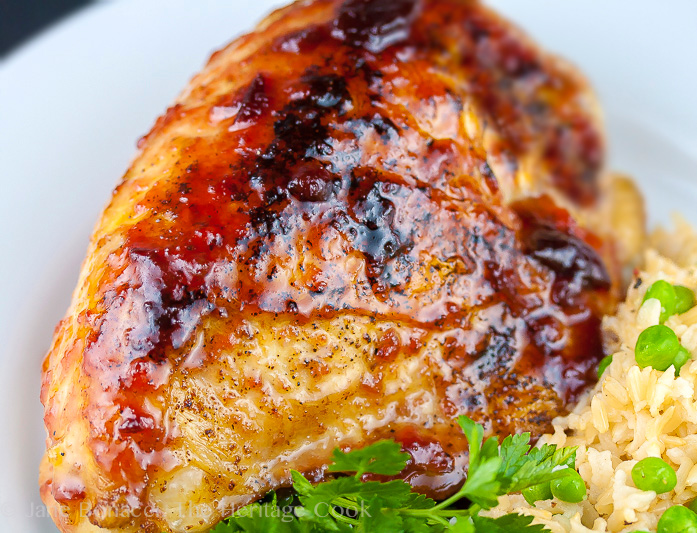 For those of you who are new to using wine in your cooking, make sure that the wine you use is one that you enjoy drinking. Never buy anything labeled "cooking wine" because it is heinous tasting. I like to use the same wine I will be serving to expand on the experience. My motto for cooking with wine is "undrinkable wine makes and unpleasant meal"!
If you are a beginning cook, a bachelor who is looking for the perfect meal to make for your gal, want to make a meal for someone special, or want to impress your new in-laws, give this recipe a try. Always do a practice run before the big event. You want to be comfortable with the techniques and ingredients and have a chance to make it the first time when there is no pressure. You will be more comfortable when you are making it for others.
Enjoy!!
Jane's Tips and Hints:
When you use a skillet to brown proteins on the stove and then finish them in the oven, make sure you have a pan with a metal handle that can take the heat. And once you pull the pan out of the oven, wrap the handle with a towel or drape it with a hot pad. This will remind you that the handle is hot and help avoid burns!
Gluten-Free Tips:
This dish is naturally gluten-free! Using Gourmet Garden products bump up the flavor of any dish and are all gluten-free. All the flavor, none of the fuss, and no waste!
Gluten-Free Roasted Chicken Breasts with Ginger-Plum Sauce
2016-02-19 09:35:33
Ingredients
Ginger-Plum Sauce
1/2 cup (about 6 oz) plum jam or preserves
1 tsp Gourmet Garden Ginger Paste
1/2 tsp Gourmet Garden Garlic Paste
1/3 cup dry white wine, dry vermouth, or chicken stock
Zest of 1/2 lemon, very finely grated
Kosher or sea salt and freshly ground black pepper, to taste
Chicken
1/2 tsp onion powder, to taste
1/2 tsp kosher or sea salt
1/4 tsp freshly ground black pepper
2 tbsp olive oil
4 bone-in chicken breasts with skin
Instructions
Make the Sauce: in a small saucepan, combine jam, ginger, garlic, and wine. Stir until the jam has melted and the ingredients are smooth. Bring to a boil over medium-high heat, reduce heat to medium and cook until reduced by about half, 5 to 10 minutes. Whisk in the lemon zest, salt and pepper. Taste, and adjust seasonings if needed. Set aside while you prepare the chicken. While it rests it will thicken and the flavors will blend.
This sauce can be made up to two days in advance. Transfer to an airtight container and store in the refrigerator. Reheat before serving.
Prepare Chicken: Preheat the oven to 350°F. In a small bowl, combine the onion powder, salt and pepper. Set aside.
In an ovenproof skillet, heat olive oil over medium-high heat until shimmering. Pat the chicken breasts dry and sprinkle the onion powder, salt, and pepper mixture on both sides. Place skin-side down in the skillet and cook without disturbing until golden brown, about 3 to 5 minutes. Using tongs, turn the chicken over and place the skillet in the oven.
Bake the chicken about 20 to 35 minutes, or until an instant read-thermometer register 155°F when inserted in the thickest portion without touching a bone. The timing will depend on the size and thickness of the chicken breasts you use. When the chicken is cooked through, remove the pan from the oven and set aside for about 10 minutes to rest. Set a hot pad or towel over the handle so you don't forget that it is hot and burn yourself. Transfer the chicken to a platter and tent loosely with foil.
While you finish the dish, lightly warm your serving plates.
Finish the Sauce: Carefully pour the pan juices from the chicken into the sauce and whisk until thoroughly blended. Taste for balance of the sweetness and savory seasonings. Add salt and pepper as needed.
To Serve: Place a chicken breast on each warmed serving plate and spoon a little of the plum sauce over the top. Serve immediately.
The Heritage Cook ® https://theheritagecook.com/
Create a New Tradition Today!
Let's connect! If you ever need any entertaining or cooking advice, need to alter a recipe for gluten-free, or want recipe suggestions, don't hesitate to email me. Thanks for joining the Heritage Cook Family!
Unauthorized use, distribution, and/or duplication of proprietary material from The Heritage Cook without prior approval is prohibited. This includes copying and reprinting content and photographs. If you have any questions or would like permission, I can be contacted here. Feel free to quote me, just give credit where credit is due, link to the recipe, and send people to my website. The suggestions here are not intended as dietary advice or as a substitute for consulting a dietician, physician, or other medical professional. It is the reader's sole responsibility to determine which foods are appropriate and safe for their family to consume. The author makes no claims regarding the presence of food allergens and disclaims all liability in connection with the use of this site. Please see the Disclaimers page for additional details.
Thank You!