You guys are going to love this amazing Gluten-Free Pretzel-Coated Chicken with Mustard Cream Sauce using Gratify Foods Pretzel Crackers. It is easy to make for a casual weeknight meal or elevate it for a fancy dinner party. My favorite kind of recipe!
As you know, I am always on the lookout for new gluten-free foods to try out. And I have a real gem today. I am delighted to share the latest treats from Gratify Foods with you #ad. This is a wonderful recipe that reinterprets the crackers I used!
Gratify has been making gluten-free products for decades and certify all their products through the Gluten-Free Certification Organization (GFCO), part of the Gluten Intolerance Group. Head over to Gratify's website to check out their broad selection of gluten-free pretzels and crackers. You can enjoy their entire line of products without worry! They even have small snack size packages that would be perfect to send to school with your kids.
Their line of Gluten-Free Pretzel Crackers and Baked Bites are delightful and put a whole new spin on gluten-free snacking. The New Pretzel Bites are available in Sea Salt, Buffalo Wing, and Tuscan Herbs; the New Baked Bites Crackers are both sweet and savory, coming in Original, Cinnamon, Everything, and Tuscan Herbs. They are perfect for dipping, as a base for toppings, and enjoying straight out of the box.
If you are more in the mood for a sweet/salty bite, don't miss their chocolate-dipped pretzels. Oh yeah, now we're talking!!
Pretzel Crackers – is it a pretzel or a cracker? No need to choose, these new treats satisfy your cravings for crunchy goodness with a gluten-free line of snacks. They have the look and taste of a pretzel with the bite and texture of a cracker. You'll notice in the recipe that I call for 1-1/2 boxes of the Sea Salt variety … that's so you can coat the chicken and still have some leftover to snack on because they are addictive!
They sent me three versions to use to create a recipe for you guys and I immediately picked the Sea Salt Pretzel Crackers. I used to eat a ton of pretzels before my diagnosis, especially the fat crunchy rods dipped in yellow mustard – oh baby – and I still crave that flavor combination.
I was thrilled to get to use the crackers to make a pretzel crust on boneless chicken breasts. And to bring in the mustard flavor I love, I made a creamy mustard-shallot sauce. It is so good you could use it all on its own as a dipping sauce, especially with the Pretzel Crackers!
The pretzel coated chicken is a snap to make. You need something to help keep the pretzel crumbs on the chicken and I used a seasoned mayonnaise. Before you shake your head and dismiss this, remember that mayo is just eggs and oil with a little lemon juice whipped into an emulsion – similar to ingredients you would use with the regular breading technique. The light layer you brush on helps hold the moisture in the chicken, which helps when using boneless skinless breasts as they can have a tendency to dry out as they cook.
Whisk the flavorings in and brush it over the chicken pieces and immediately drop them into the pretzel crumbs. Press to make sure most of them stick, place them on a rack set into a baking sheet, and bake until cooked through. The pretzel crust stays crunchy and the chicken is moist and tender … the perfect combo. Then you add the mustard sauce and it launches it out of the stratosphere!
This dinner is casual and quick so you can make it for a weeknight meal or it can be dressed up and elegant enough for a fancy dinner party. Change up the veggies you serve alongside and suddenly you have a meal worthy of candlelight and wine.
So where can you find these delightful gluten-free treats? The Gratify Foods website has a convenient store locator tab on their main page and their products are widely available in stores across the country. Some of the larger chains are Albertson's, A&P, Giant Eagle, Food Lion, Kroger, Piggly Wiggly, RiteAid and Walmart. And if your local store doesn't have all the flavors and varieties you are looking for, Amazon to the rescue.
I hope you love this pretzel-coated chicken with creamy mustard sauce – the perfect comfort food for these cold and blustery days!
Disclosure: This is a compensated post in collaboration with Gratify Foods. Thank you for supporting brands that support The Heritage Cook. As always, all opinions are my own.
How to make Pretzel-Coated Chicken Breasts with Creamy Mustard Sauce:
Coat the chicken pieces with seasoned mayonnaise and roll in crushed pretzels.
Bake until they register about 160°F on an instant read thermometer.
Meanwhile cook the wine and shallots together until reduced by half. Stir in cream and again reduce by half; whisk in the mustard and simmer a couple of minutes. Add salt and pepper to taste.
Serve the chicken topped with some of the sauce and enjoy!
PRO Tip:
Baking the coated chicken on a wire rack helps cook the pieces evenly and keeps the crust crispy.
What is the benefit of reducing the sauce twice?
When you're making the creamy mustard sauce, the double reduction steps intensify the flavors – and is worth the time. Once you have it made, taste and if the mustard is too strong add more cream, a tablespoon at a time, whisking and re-tasting after each addition.
PRO Tip:
Whenever you are doing any breading, always keep one hand dry and use the other to dip in and out of the liquids. This will help you always have one hand that can move a pan off a burner, answer the phone, etc.
Key Ingredients for this Recipe
Gratify's Gluten-Free Sea Salt Pretzel Crackers
Mayonnaise
Onion powder and black pepper
Boneless, skinless chicken breasts
Dry white wine
Minced shallots
Heavy cream
Dijon mustard
Kitchen Tools I Use to Make This Pretzel Coated Chicken (affiliate links)
Gluten-Free Tips:
Gratify products are all gluten-free and their pretzels are addicting!
Yield: 4 servings
Gluten-Free Pretzel Coated Chicken with Mustard Cream Sauce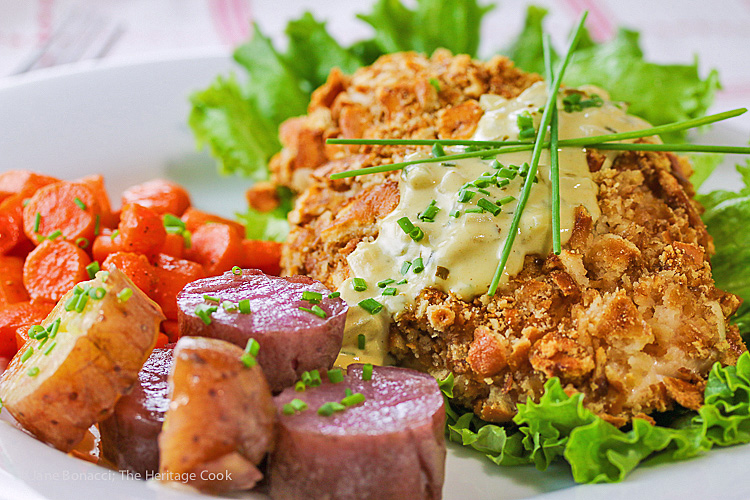 The classic flavor combination of pretzels and mustard are reinterpreted in an elegant and delicious meal fit for dinner parties or casual weeknight meals.
Ingredients
Chicken
1-1/2 boxes (4.5 oz each) Gratify Gluten-Free Sea Salt Pretzel Crackers
1/3 cup mayonnaise
1/2 tsp onion powder
1/2 tsp freshly ground black pepper
4 skinless, boneless chicken breast halves
Mustard Sauce
1/3 cup dry white wine or dry vermouth
2 tbsp minced shallots (about 1/2 of a large shallot)
1/2 to 3/4 cup heavy cream
1 tbsp Dijon mustard, preferably Edmond Fallot brand Basil Dijon
Garnish
Instructions
Prepare the Chicken: Move a rack to the center of the oven and preheat to 400°F. Set a wire rack in a baking sheet with sides. Spray the rack with cooking spray and set aside.
Place the pretzel crackers in a resealable plastic bag and use a rolling pin to crush them, leaving some larger pieces along with crumbs. Or you can use your food processor, pulsing until coarsely ground. Transfer the crushed pretzels to a shallow wide dish, such as a pie plate or square baking pan.
In a small bowl, whisk together the mayonnaise, onion powder, and pepper. Brush this mixture on all sides of the chicken pieces. As each piece is coated with the mayo mixture, roll it in the crushed pretzels, pressing to be sure they adhere, and place on the sprayed wire rack. Repeat with the remaining chicken.
Bake the chicken for 20 to 30 minutes or until an instant read thermometer inserted in the center registers about 160°F. Timing will depend on the size of the chicken breasts. Remove from the oven and let rest for about 5 minutes. The internal temperature of the chicken will rise to about 165°F giving you perfectly cooked, moist and tender chicken.
Make the Sauce: While the chicken is cooking, place the wine and shallots in a heavy, small saucepan. Cook over medium-high heat, stirring often, until the liquid is reduced by at least half (to concentrate the flavors). Lower the heat to medium and stir in the cream. Simmer until reduced by half, about 3 to 5 minutes, stirring regularly. Whisk in the mustard, reduce the heat to low and simmer for a couple of minutes to help the flavors blend together. Taste and add salt or pepper if needed. If the mustard is too strong, stir in a little more cream, 1 tablespoon at a time.
To Serve: Set a piece of chicken on each serving plate. Drizzle with the sauce, sprinkle with the chives, and serve immediately along with your favorite vegetables.
Make Ahead: The sauce can be made a day in advance, refrigerated covered, and rewarmed over low heat before serving. Whisk well to be sure the sauce is smooth. Do not cook the chicken until you are ready to serve so the crust stays crispy.
Nutrition Information:
Yield:
4
Serving Size:
1
Amount Per Serving:
Calories:

451
Total Fat:

27g
Saturated Fat:

9g
Trans Fat:

0g
Unsaturated Fat:

17g
Cholesterol:

135mg
Sodium:

540mg
Carbohydrates:

6g
Fiber:

1g
Sugar:

2g
Protein:

39g
If you love this recipe, be sure to follow me on social media so you never miss a post:
| Facebook | Pinterest | Instagram | Twitter |
Create a New Tradition Today!
First Published: 15 Apr 2016
Last Updated: 10 Jan 2020
Welcome! The suggestions here are not intended as dietary advice or as a substitute for consulting a dietician, physician, or other medical professional. Please see the Disclaimers/Privacy Policy page for additional details. Unauthorized use, distribution, and/or duplication of proprietary material from The Heritage Cook without prior approval is prohibited. If you have any questions or would like permission, please contact me. We participate in the Amazon Services LLC Associates Program, an affiliate advertising program designed to provide a means for sites to earn advertising fees by advertising and linking to amazon.com. This page may contain affiliate links.