Autumn is here and Thanksgiving is only a few weeks away. If you are hosting the family dinner or taking a dish to another home, today's recipe is the perfect side dish and one that will bring you rave reviews. While it may not be a combination of ingredients that you normally would think to put together, they blend beautifully.
Today I am celebrating the harvest, with the beautiful apples of the season and the root vegetable that is sometimes the scourge of childhood. I love the natural sweetness of carrots and adding the apples and maple syrup highlights them.
If you have been looking for a slightly sweet holiday side dish that isn't as cloying as sweet potatoes with marshmallows, something a little more "adult" and healthier, this is the one for you. If you want to kick it up a little more (especially if you are not having any children at your dinner), try substituting 1 to 2 tbsp of wine or bourbon (use wine for gluten-free) for part of the orange juice. A little grated fresh ginger would be lovely and add just a hint of heat while not taking away from the delicate sweetness.
I have loved the combination of carrots, dill and maple syrup for years. You can use any type of maple syrup you like, but I recommend you get 100% pure Grade A. I once thought it only came from Vermont (they do make wonderful syrup there) but when I visited Columbus, Ohio, I discovered that it can be made anywhere that maple trees grow. I am now officially hooked on the "real" thing and can't imagine going back to pancake syrup again!
The combination of orange juice and maple syrup in this recipe is a really nice counterpoint of sweet and slightly sour. If you are using freshly squeezed orange juice you might want to increase the maple syrup slightly. Conversely, if you are using prepared orange juice, you can lower the amount of maple syrup to compensate for the added sugar.
The only challenge with this recipe is figuring out how to cook ingredients with such different consistencies, carrots and onions are hard and take a long time, apples are tender and cook quickly. How do you get them both to turn out perfectly?
One trick is to start cooking the carrots and onions first and then add the apples and finish the baking so that everything comes out at the right texture. Get the carrots and onions in the oven and then slice the apples. By the time you are done with them, it should be just about the right time to add them to the dish in the oven.
Another trick is to make sure all the carrots are about the same size so they cook evenly and to cut the onions and apples slightly larger. If you like your vegetables more on the crisp side, reduce the time the carrots and onions cook before adding the apples.
If I am making this for a special occasion, I will take the time to shingle all the ingredients into beautiful layers. But if I am making this for the family or a casual dinner, I just toss all the ingredients together. Both ways work just fine and are equally delicious.
This dish is a nice change of pace and could become a new holiday favorite.While The Artist and I shared a half recipe of these carrots and apples tonight for dinner along with a beautiful green salad, I easily could have eaten the entire pan. I am certain that it will be making a repeat appearance at this year's holiday festivities. They are positively addicting!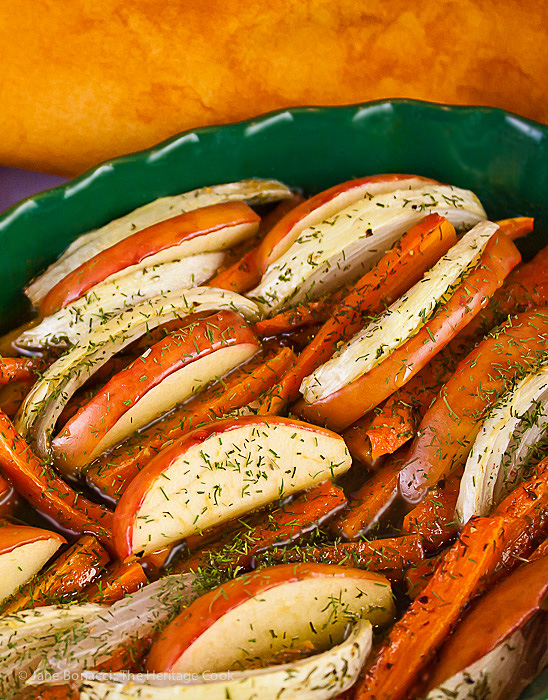 Jane's Tips and Hints:
For an easier option, use your food processor to slice the carrots and onions. (Cut the carrots into pieces short enough to stand up vertically in the feed tube.) Toss them into the prepared pans, making sure they are mixed. Bake for 15 minutes. Add the apple wedges and toss together. Drizzle with maple syrup and bake for another 15 minutes or until everything is medium firmness. Check by sticking a fork into several areas.
Gluten-Free Tips:
This recipe is naturally gluten-free, but always check the labels for possible gluten ingredients.
Harvest Maple Carrots, Apples and Onions
2015-06-19 11:17:33
There is no need to be "fancy" when cutting the vegetables and apples. Shingling them is beautiful for parties, but for regular dinners, cut them into sticks or cubes and toss them together. No matter what they look like, they are absolutely delicious!
Ingredients
2 tbsp organic olive oil, divided
4 large carrots, peeled and ends discarded
1 medium onion, peeled and ends discarded
1/4 cup orange juice
1 tbsp minced fresh dill weed, or to taste
Kosher salt and freshly ground black pepper, to taste
3 medium-tart apples, such as Gala,
3 tbsp pure maple syrup, preferably light amber, grade-A
Instructions
Preheat the oven to 350°F. Pour oil into a small bowl and lightly brush two shallow au gratin dishes with about 1 tsp of the olive oil each.
Prepare the Vegetables: Cut the carrots crosswise, at about 2/3 of the thicker end and 1/3 of the tapered end. Take the thicker pieces and cut in half lengthwise, then each half into thirds. For the slender ends, cut in half lengthwise and if needed, cut in half crosswise. You will wind up with 6 pieces from the thick top end and 2 to 4 pieces from the tapered end, each about the same thickness. NOTE: If you are using baby carrots, which are very tender, reduce the cooking time to compensate.
Cut the onion in half lengthwise (through the root end). With a very sharp knife, slice lengthwise into thin wedges. Evenly divide the carrots between the two oiled au gratin dishes. Tuck the onion wedges in between the carrots, distributing them equally between the two dishes.
Add the orange juice to the dishes, brush with the remaining oil, sprinkle with dill, and season with salt and pepper. Place, uncovered, in the hot oven. Bake for 20 minutes, 30 if you are using very large carrots.
Prepare the Apples: While the carrots and onions are baking, cut the apples. The fastest way to cut apples is to take a thin slice off the bottom so that they sit flat. Then make two cuts, on either side of the center core (which is about 3/4-inch thick). Spin the apple and slice off the two remaining thin sections on either side of the core. Lay the apple pieces, flat side down, and slice vertically into thin wedges.
Remove the pans from the oven and carefully add the apples, again interspersing them with the vegetables in both dishes. Drizzle with the maple syrup. Return to the oven and continue baking for an additional 20 to 30 minutes or until golden brown and slightly crispy at the edges. Adjust seasoning if desired with more salt and pepper.
To Serve: Transfer the fruit and vegetables to serving plates and drizzle with a little of the pan juices. Sprinkle with a little more of the dill if desired.
Make Ahead
If you want to prepare this ahead, cook carrots and onions as directed. Add the apples and bake for 10 minutes. Remove from the oven, let cool, cover and refrigerate up to overnight. To reheat, place in hot oven and bake for about 15 to 20 minutes to warm through and finish baking apples.
Notes
Yield: about 4 servings
The Heritage Cook ® https://theheritagecook.com/
Create a New Tradition Today!
Let's connect! If you love The Heritage Cook, you can follow me on Pinterest, Facebook, and Twitter. If you ever need any entertaining or cooking advice, need to alter a recipe for gluten-free, or want recipe suggestions, don't hesitate to email me. Thanks for reading!
Unauthorized use, distribution, and/or duplication of proprietary material from The Heritage Cook without prior approval is prohibited. This includes copying and reprinting content and photographs. If you have any questions or would like permission, I can be contacted via email. Feel free to quote me, just give credit where credit is due, link to the recipe, and please send people to my website, www.theheritagecook.com. Please see the Disclaimers page for additional details.
This site is not intended to provide medical advice. The suggestions here are not intended as dietary advice or as a substitute for consulting a dietician, physician, or other medical professional. It is the reader's sole responsibility to determine which foods are appropriate and safe for their family to consume. Always consult your doctor. The author makes no claims regarding the presence of food allergens and disclaims all liability in connection with the use of this site.
Thank You!