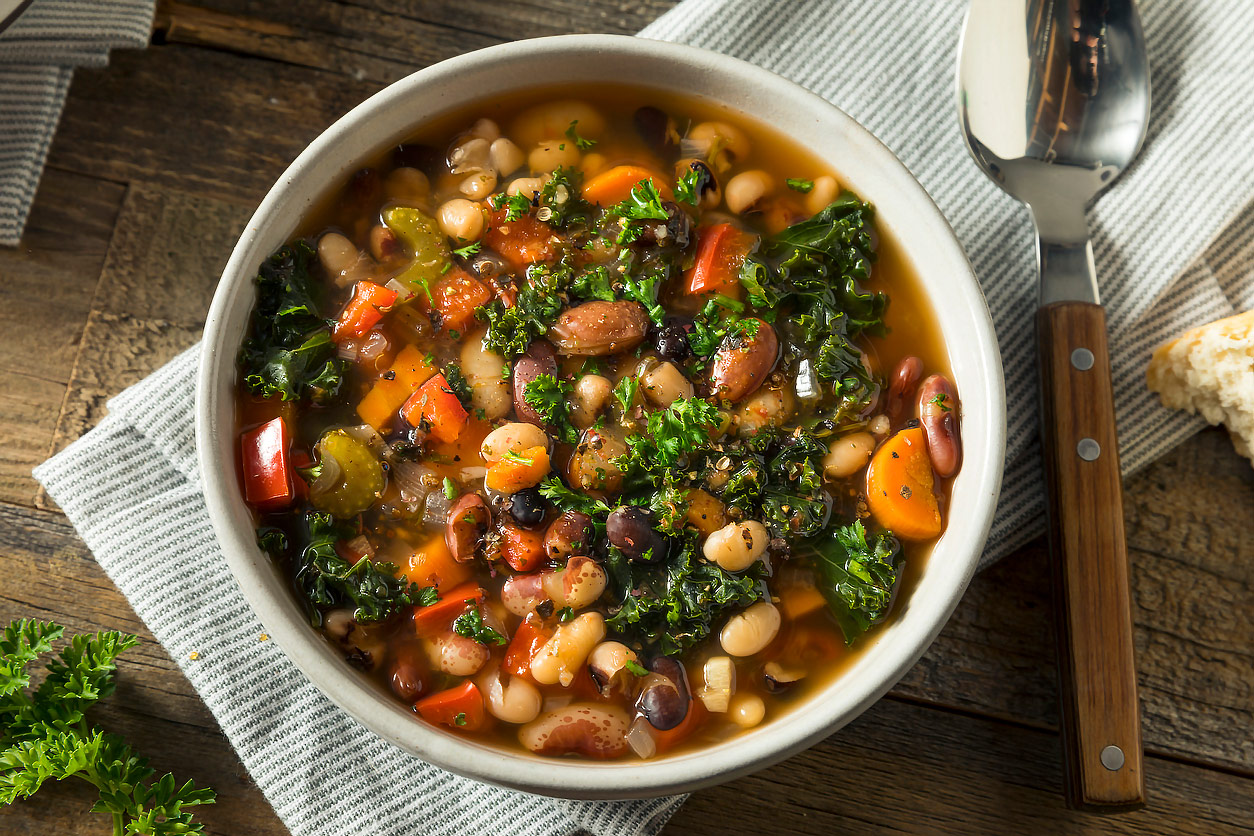 This pot of Hearty Mixed Bean Soup is the perfect way to warm up on cool days, feed your hungry gang, or to bring to a potluck. Healthy, delicious, and so substantial that you only need a salad for a complete meal, this will keep you well fed all winter long.
Today's mixed bean soup brings up the age-old question, "Do I really need to presoak the beans?" The short answer is yes you do. Soaking the beans helps reduce the cooking time and reduces the natural sugars which we humans have trouble digesting. Because they are filled with water, soaked beans cook more evenly and are less likely to fall apart during cooking.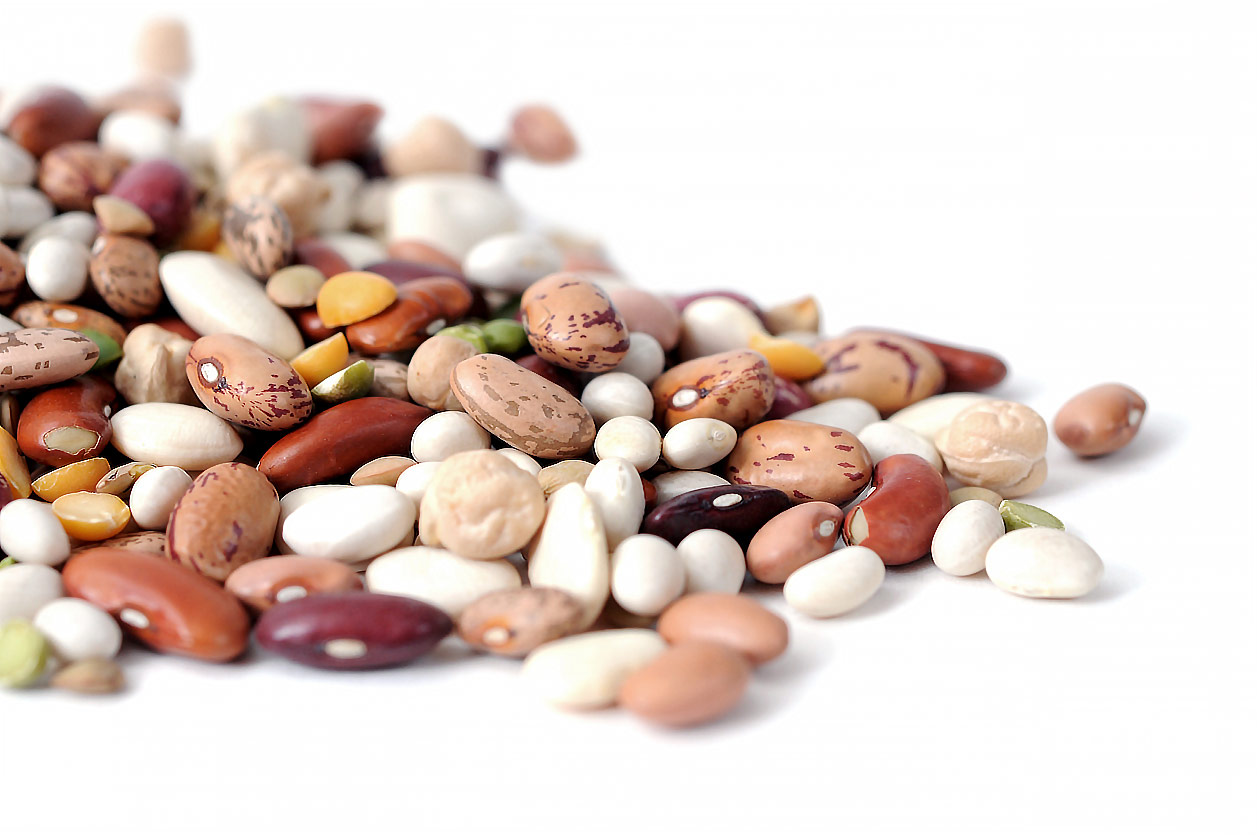 If you don't have the time to soak overnight or you forgot to do it, you can take a short cut and boil the beans in fresh water for a couple of minutes, then set the pot aside and let it sit for an hour and accomplish the same thing!
Legumes are a delicious and healthy source of protein. They are naturally low in fats and cholesterol and high in fiber, folate, potassium, iron and magnesium. They are a great option when you want to add protein without the cost of meat.
While this recipe calls for a ham hock, you can leave it out if you want a vegetarian soup. But it does add a lot of flavor, so if you don't include it, after soaking in water, drain the beans and use a flavorful vegetable stock to cook them in.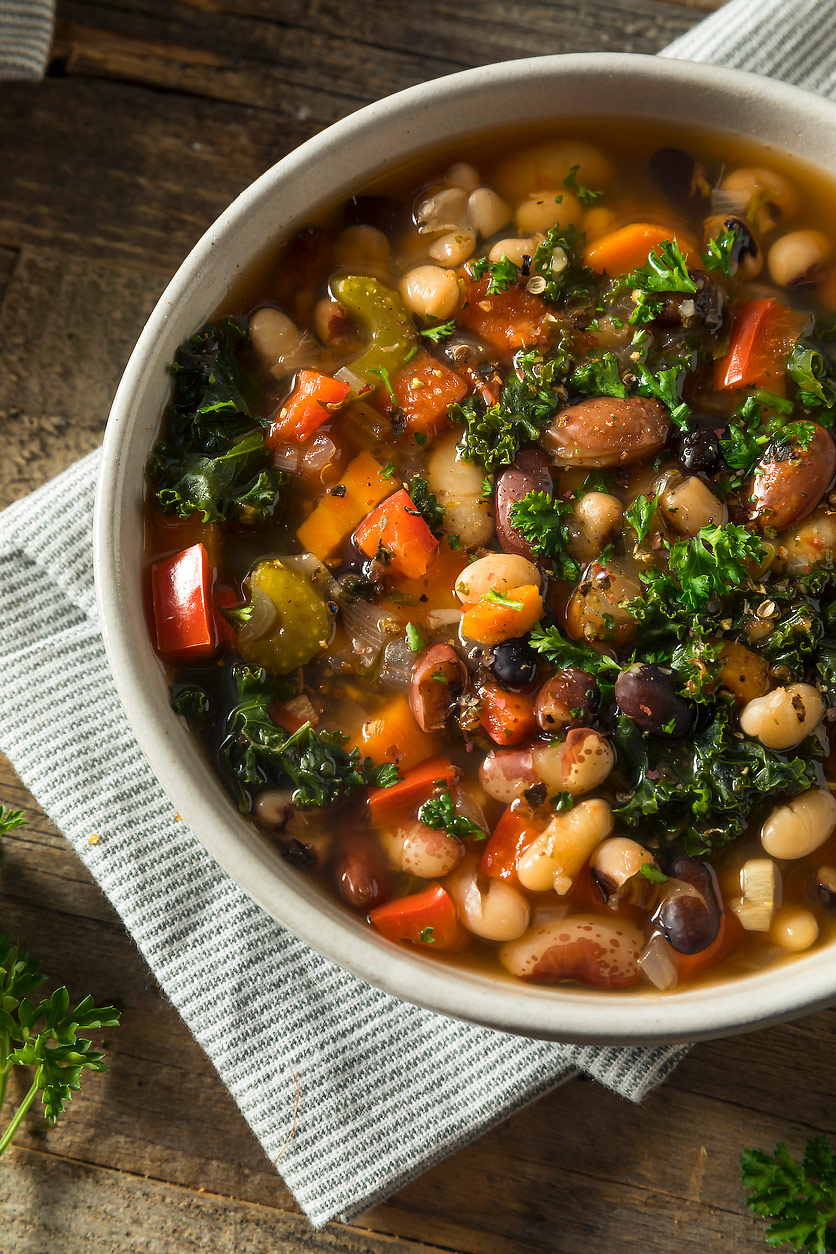 If you have been wanting to get more creative in the kitchen, this recipe is perfect for you. Using the basic concept of cooking aromatics and beans together, you can use anything you have in the cupboard to make this soup. I usually have a variety of dried legumes on hand and today I'll probably use a combination of favas, split peas, and chickpeas. Maybe I'll throw in a can of black beans toward the end too – they'll look nice in the finished soup!
I am always looking for new ways to eat healthier and soups are the perfect simple meal. Combined with some slices of bread (gluten-free if needed) and a salad, you have a wholesome, filling, hot meal. Soups make wonderful weeknight dinners!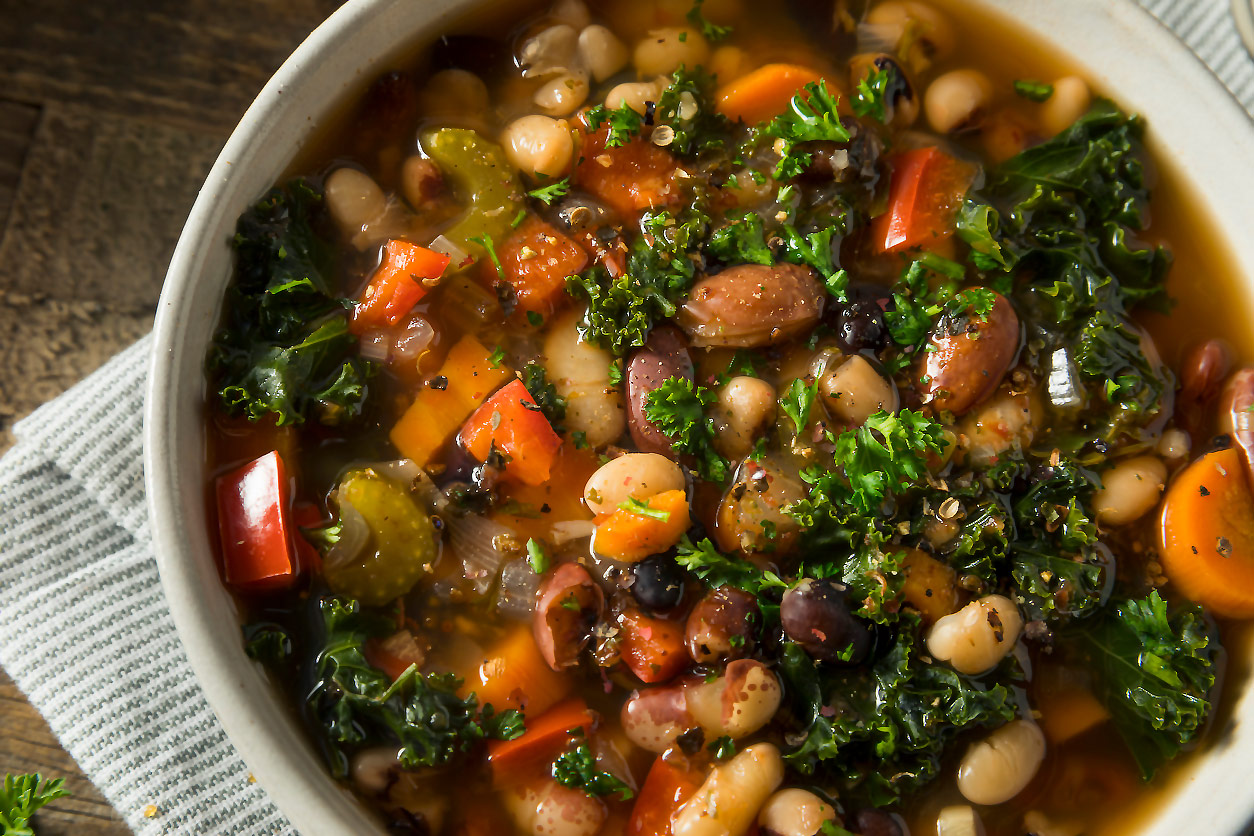 Key Ingredients for Hearty Mixed Bean Soup:
Assorted dried beans

Ham hock (optional)

Onions, garlic, celery, carrots

Canned chopped tomatoes

Chipotle pepper, balsamic vinegar, and parsley
PRO Tip:
Be sure to very carefully sort through them, a little at a time, to be sure there are no small pebbles or other things that shouldn't be there. Given how beans are grown, it is nearly impossible to remove all the debris, but you can easily do it by hand. Once they are sorted, rinse them well before continuing with the recipe.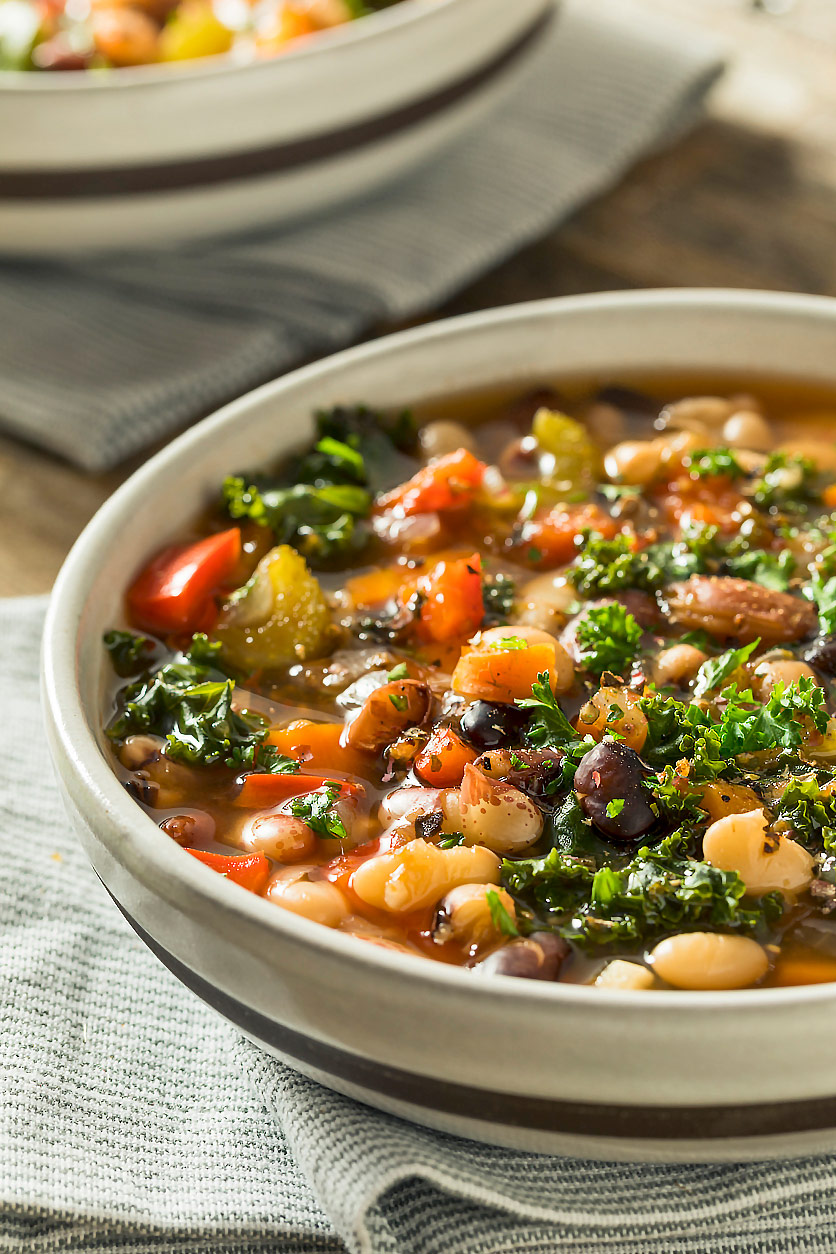 PRO Tip:
While you can use a single type of bean in this soup, using a variety adds interest, flavor, and texture.
How to make Hearty Mixed Bean Soup:
Rinse and soak beans at least 6 hours or take a shortcut; bring to a boil, cook 2 minutes, then set aside for 1 hour

Add ham hock & cook until beans are barely tender, about 1-1/2 hours

Sauté the onions and garlic, then add the celery, tomatoes, and carrots; sauté 10 minutes longer

Pour sautéed vegetables into the beans and simmer 30 to 45 minutes longer; add more water if needed. Season with salt and pepper to taste; remove ham hock, and serve with parsley
PRO Tip:
Don't forget to preheat your soup bowls by warming them in a low oven or filling them with hot water and letting them sit for a few minutes. Cold bowls sap the heat from the soup and we always want to serve it piping hot!
Recommended Tools (affiliate links; no extra cost to you):
Gluten-Free Tips:
Be sure that the ham has not been injected with liquids that can often contain gluten ingredients. While the hock is traditional, if you aren't sure it is gluten-free, you can substitute guaranteed safe ham (in any form) or sausage. If you are using thinly sliced sandwich ham, leave the slices whole and remove them before serving – they will have imparted their flavor to the soup but will be tough. Replace it with fresh ham slices, cut into small squares for easy eating. Or leave the meat out altogether. Be sure the vegetable stock you use (if you aren't using the ham or sausage) is gluten-free.
Yield: 8 servings
Hearty Mixed Bean Soup (Gluten Free)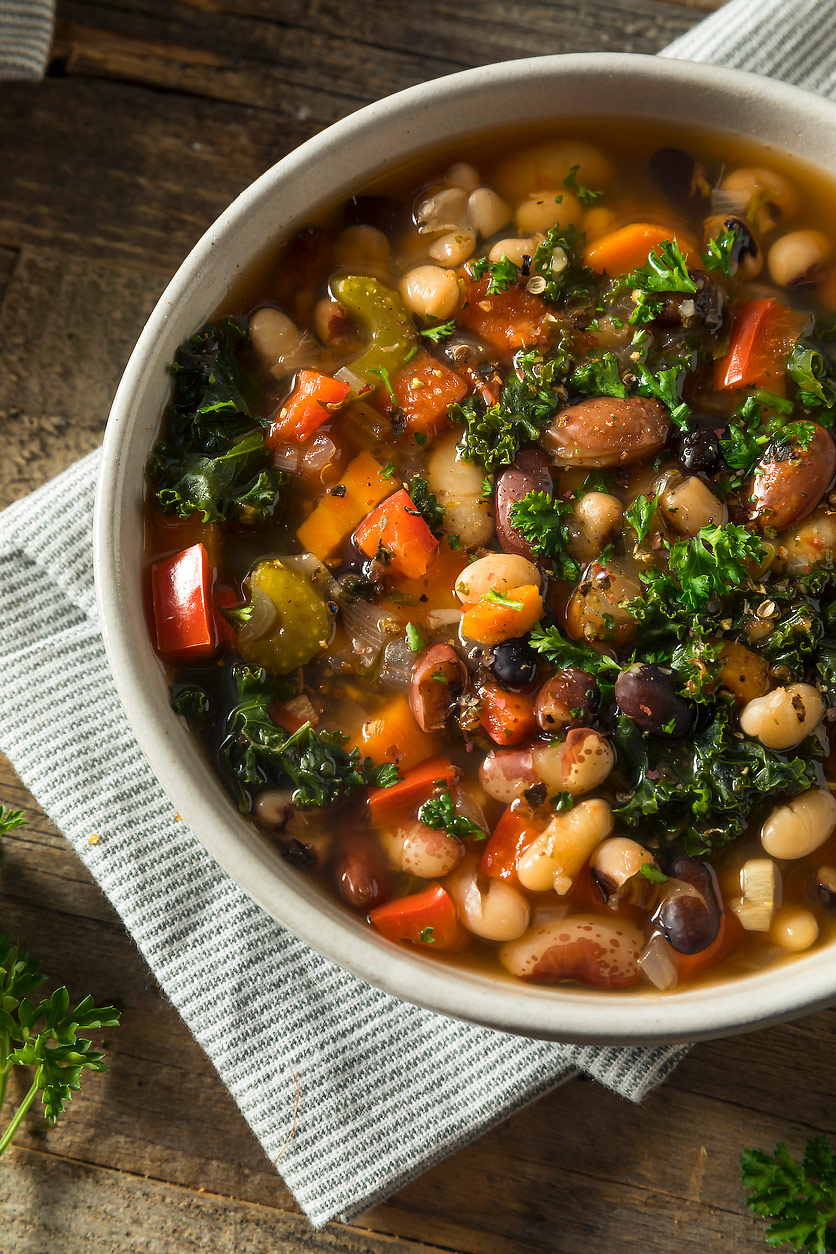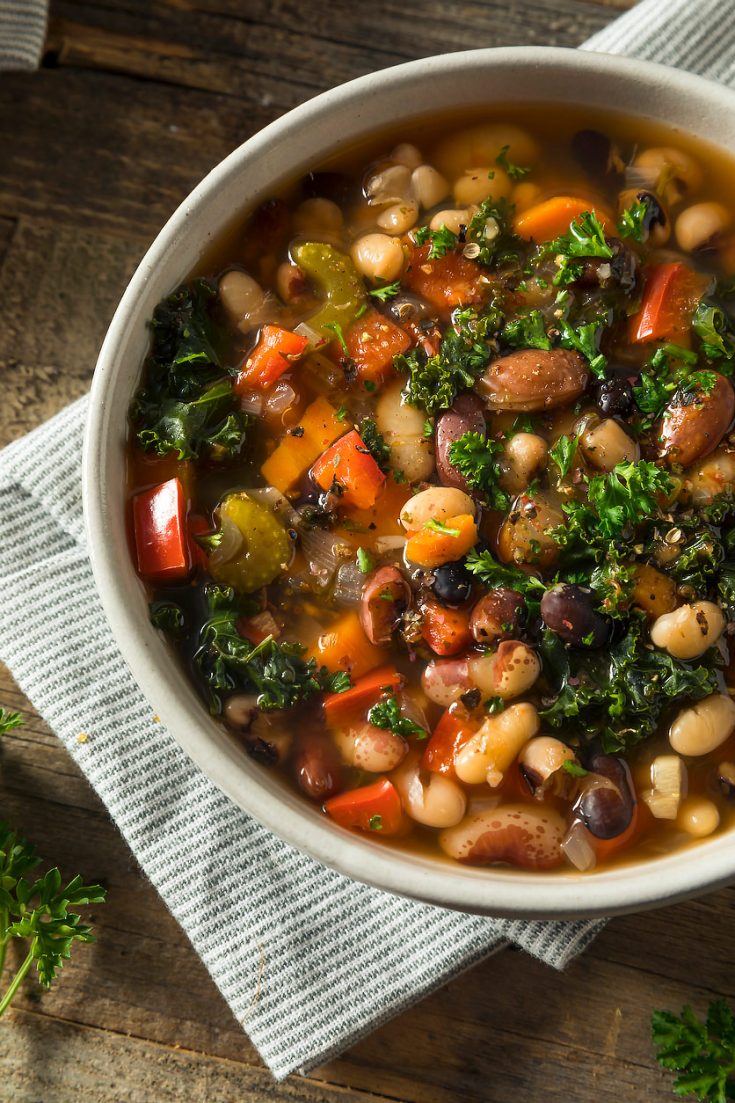 Healthy, delicious, and so substantial that you only need a salad for a complete meal, this wonderful soup will keep you well fed all winter long.
Total Time
10 hours
20 minutes
Ingredients
1 lb of assorted dried beans (any combination you have on hand)
2-1/2 quarts (10 cups) water or vegetable stock
1 meaty ham hock, regular or smoked, optional
1 bay leaf
2 tsp vegetable oil
2 medium onions, coarsely chopped (approximately 2 cups)
3 medium garlic cloves, finely minced
2 cups coarsely chopped celery
3 large carrots, cut into 1/2-inch cubes (approximately 2 cups)
2 (15 oz) cans chopped tomatoes
1/2 tsp ground chipotle pepper, optional
1 tbsp balsamic vinegar
Salt and pepper, to taste
Chopped parsley
Instructions
Rinse beans well, drain, and place in a large stockpot. Add water to cover, top pan with a lid, and allow to soak at room temperature for at least 6 hours or overnight. Alternatively, you can boil the beans on high for 2 minutes, remove the stock pot from the burner, and set it aside for one hour before proceeding with the next step of the recipe.
Strain the water and replace with fresh water to cover the beans. Add the ham hock and bay leaf to the stockpot, cover, and simmer until the beans are just barely tender, approximately 1-1/2 hours.
Meanwhile, in a large frying pan, heat the oil and sauté the onions and garlic on medium heat for 2 minutes or until softened. Add the celery and sauté for an additional 3 minutes. Add the tomatoes and carrots; sauté for an additional 10 minutes, stirring occasionally.
When the beans are tender, add the frying pan contents, chipotle, and vinegar to the stockpot and simmer for an additional 30 to 45 minutes, until vegetables and beans are tender, adding water as needed, to achieve the soup consistency you prefer. Add salt and pepper to taste. Remove the ham hock, scoop soup into serving bowls, and sprinkle with chopped parsley. Serve hot.
Notes
If you are not adding the ham hock or other meat, drain the soaked beans and cook in vegetable stock.
Nutrition Information:
Yield:
8
Serving Size:
1
Amount Per Serving:
Calories:

112
Total Fat:

2g
Saturated Fat:

0g
Trans Fat:

0g
Unsaturated Fat:

2g
Cholesterol:

6mg
Sodium:

450mg
Carbohydrates:

19g
Fiber:

4g
Sugar:

8g
Protein:

5g
If you enjoyed this recipe, be sure to follow me on social media so you never miss a post:
| Facebook | Pinterest | Instagram | Twitter |
Create a New Tradition Today!
This post was first shared in Dec 2010. The article was updated in 2020.
Welcome! The suggestions here are not intended as dietary advice or as a substitute for consulting a dietician, physician, or other medical professional. Please see the Disclaimers/Privacy Policy page for additional details. Unauthorized use, distribution, and/or duplication of proprietary material from The Heritage Cook without prior approval is prohibited. If you have any questions or would like permission, please contact me. We participate in the Amazon Services LLC Associates Program, an affiliate advertising program designed to provide a means for sites to earn advertising fees by advertising and linking to amazon.com. This page may contain affiliate links.