My father's favorite meal was grilled steak and I know he would have loved today's Holiday Foolproof Béarnaise Sauce! An herbed sauce, it is a luscious treat with all your steaks and try it with seafood, vegetables, or in the place of the hollandaise when you make Eggs Benedict.
One of my most memorable meals in Paris was at Bistro Paul Bert in the 11th arrondissement. We shared a steak frites platter that was served with their house-made béarnaise. The steak was perfectly cooked, the sauce sublime, the service was appropriately reserved (just like the best restaurants in San Francisco), and we enjoyed chatting with the couple at the next table.
If you don't speak much French, this place is tourist friendly. They also open earlier for the Americans who are used to eating dinner at 6:00pm. But for the most authentic experience, you should get reservations after 7:45pm. The diners will be decidedly more locals with a multitude of languages and accents to enjoy.
For years I had struggled to make my own homemade version of béarnaise with varying degrees of failure. I had pretty much given up hope when I went to a cooking class with J. Kenji Lopez-Alt when he came through the Bay Area promoting his award-winning cookbook, The Food Lab.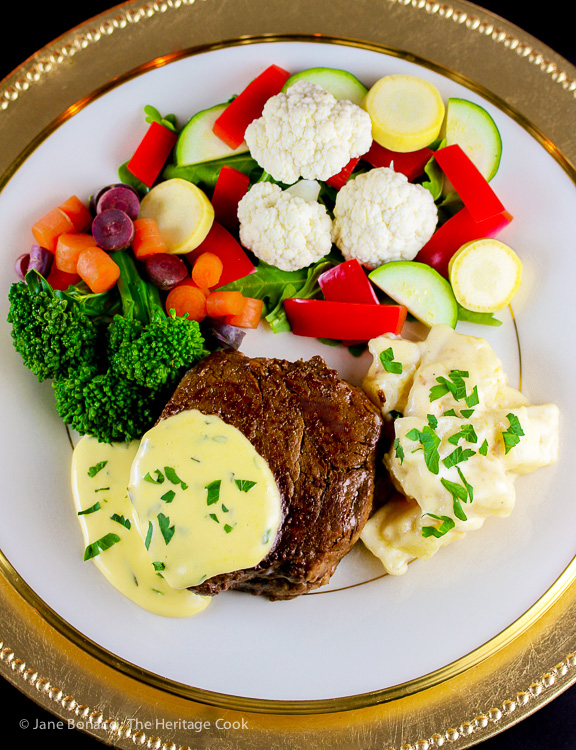 That evening he taught us how to properly poach eggs and served them with a hollandaise sauce he whipped up in a few minutes. To make his version of hollandaise and today's béarnaise, you need to use an immersion blender. The technique calls for you to slowly add the hot melted butter to the egg yolks and vinegar reduction while being whipped by the blender. This greatly reduces the chance of breaking the sauce and makes it much easier to produce delicious results.
The Food Lab is one cookbook every single cook should have in their library – it is remarkable! It is so good that it won Cookbook of the Year in 2015 by the International Association of Culinary Professionals, is a New York Times best seller, and James Beard award winner! And you can find more of Kenji's recipes and guidance at Serious Eats, where he is the chief culinary consultant.
The next time you have a special occasion or holiday meal and are serving beef, consider making today's Holiday Foolproof Béarnaise Sauce. Your guests will be begging for more!
Gluten-Free Tips:
This sauce is naturally gluten-free by using an emulsion to thicken it instead of using flour or a roux.
Yield: about 1 cup
Holiday Foolproof Béarnaise Sauce (Gluten Free)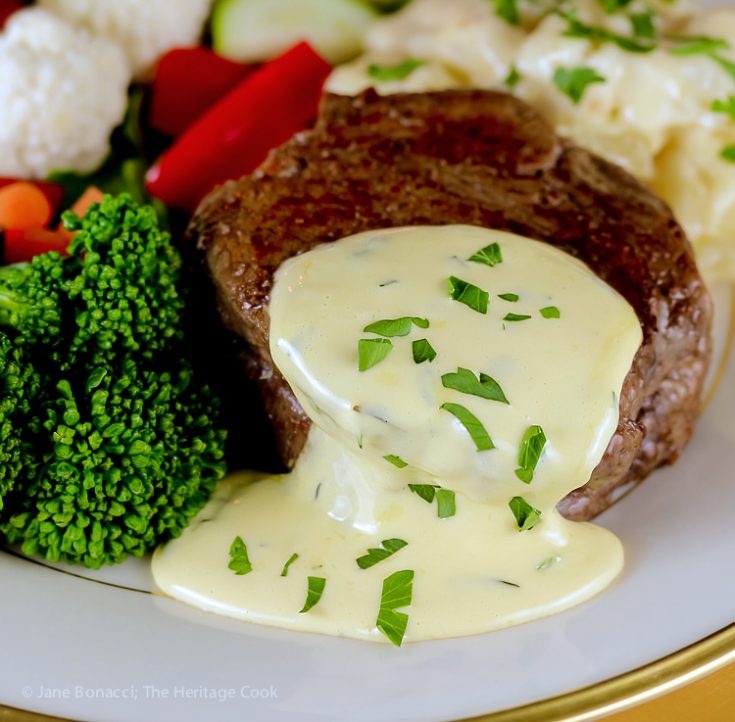 Adapted from J. Kenji Lopez-Alt's recipe from The Food Lab cookbook
Ingredients
Vinegar Reduction
1/4 cup white wine vinegar
1/2 cup dry white wine
3 sprigs tarragon, leaves finely minced, stems reserved separately
3 sprigs chervil or parsley, leaves finely minced, stems reserved
separately (or you can add an extra sprig of tarragon)
1 large shallot, peeled and roughly chopped
1/2 tsp whole black peppercorns
Béarnaise Sauce
2 egg yolks
Kosher salt
1-1/2 sticks (12 tbsp; 170 grams) unsalted butter
Instructions
Make Vinegar Reduction: Combine vinegar, wine, herb stems, shallots, and black peppercorns in a small saucepan. Bring to a simmer over medium-high heat and lower heat to maintain a gently simmer. Cook until reduced to about 1-1/2 tablespoons of liquid, about 15 minutes.
Carefully strain liquid through a fine mesh strainer into a small bowl, pressing on the solids with the back of a spoon to extract as much liquid as possible.
(Note: this portion of the recipe can be made earlier in the day to save you time at the last minute. Reheat before continuing.)
Prepare the Béarnaise Sauce: Combine the vinegar reduction, egg yolks, and a pinch of salt in the bottom of a tall, straight-sided cup that fits the head of an immersion blender without much room around it. Melt the butter in a small saucepan over high heat, swirling constantly, until foaming subsides. Transfer butter to a 1-cup liquid measuring cup.
Place the head of your immersion blender into the bottom of the cup and turn it on. With the blender constantly running, slowly pour hot butter into cup. Gently move the blender up and down as needed to incorporate all the ingredients, keeping the blades covered at all times. It will emulsify with the egg yolk and vinegar reduction. Continue pouring until all the butter is added. The sauce should be thick and creamy.
Season to taste with salt. Whisk in the chopped tarragon and chervil. Serve immediately, or transfer to a small covered pot and keep in a warm place for up to 1 hour before serving. Béarnaise cannot be cooled and reheated.
If the Sauce Breaks: If it is thin and runny (emulsion is broken), transfer to a large bowl set over a pot of barely simmering water. Whisk constantly and vigorously until sauce is thickened. Then whisk in the tarragon and chervil.
Notes
Béarnaise is an herbed version of the classic French hollandaise sauce. Usually served over roasted beef and steaks, try it over roasted vegetables, grilled salmon, halibut or shrimp, omelets, and Eggs Benedict, or baked potatoes. Rich and decadent, a little goes a long way, so add a tablespoon to your foods for a luscious treat. I love it so much I can eat it by the spoonful!
To make this recipe you will need an immersion blender and a tall straight-sided container that is wide enough to just accommodate the head of the blender. You need to be able to easily move the blender up and down. Most come with something that will work perfectly, or you can improvise.
Create a New Tradition Today!
Welcome! Unauthorized use, distribution, and/or duplication of proprietary material from The Heritage Cook without prior approval is prohibited. If you have any questions or would like permission, please contact me. The suggestions here are not intended as dietary advice or as a substitute for consulting a dietician, physician, or other medical professional. Please see the Disclaimers/Privacy Policy page for additional details. This page may contain affiliate links. Thanks for visiting The Heritage Cook!