I plan my blog posts months in advance and when I saw Chocolate Monday landed right before Cinco de Mayo, I knew there was one ingredient that had to be highlighted … Mexican Chocolate. It is a combination of chocolate and cinnamon, giving it an unmistakable flavor that complements many types of foods. Growing up in California gives us a predisposition to loving Mexican foods. Thanks to our proximity, we have some of the best restaurants in the country, and many of our line cooks are amazing in their own right. I wish more restaurants would let their cooks put their own items on the menus – then we would get true, authentic Mexican foods at their best!
I wanted to highlight two variations, one sweet and one savory. The savory was easy … mole (pronounced moh-lay) is a traditional Mexican sauce that comes in as many variations as there are chefs in Mexico. The unusual ingredients are cinnamon, raisins, and chocolate. They give an unmistakable nuance to foods without overtly shouting, "I contain chocolate." When chocolate was first discovered and used in culinary ventures, it was not sweetened – it lent a bitter flavor, made more palatable by the raisins and other sweet ingredients. When people taste mole sauce, they shake their heads, incredulous at the complexity of the sauce, unable to identify individual flavors. They are left pondering what the mystery ingredients might be.
There are a million versions of mole, but I wanted to find one that was approachable. Most mole recipes contain at least 20 different ingredients, which are intimidating to say the least to many cooks. This recipe from Chef Rick Bayless calls for three types of dried chile peppers called the "holy trinity" of mole sauce, ancho, pasilla, and mulato. The first two are easy to find, but mulatos may be a bit more challenging. Mulatos are actually dried Poblanos and are similar to anchos but have a flavor that is described as chocolatey and smoky, with licorice overtones. Mulatos are allowed to ripen longer than anchos to a deep brown before drying. They remain dark brown after soaking, helping to deepen the color of the sauce. All three of these chiles have deep chile flavor without extreme heat, giving you the best of both worlds. If you want a greater heat factor, consider adding a little habanero, piquin, or serrano pepper to the blend. But remember, mole is a savory sauce, not known for its heat but rather the complexity of flavors.
When you are buying dried chiles, you want to look for unbroken and unblemished chiles that are still pliable. Vibrantly colored ones typically have much better flavor than those that are pale or unevenly colored. Mexican groceries, most gourmet grocery stores and well-stocked regular stores should all carry them. If you have trouble finding them or want to experiment with other less well-known varieties, try Penzey's Spices. You can store dried chiles in a dark, cool, dry place in a sealed container for up to 6 months. For longer storage, freeze them for up to 1 year. If in doubt, throw them out and start over. They are not expensive and it is much better to buy fresh chiles than ruin an entire meal with dusty-flavored old ones!
Mole is usually served with chicken, but if you like, you can serve the sauce on any meat of your choice. I really like it combined with the smokiness of grilled meats, seafood, or chicken. Grilled shrimp are outstanding with mole sauce! And if you want a vegetarian version, it is wonderful poured over grilled vegetables. Because this makes so much sauce, you can freeze some for future meals and give the remainder to friends as gifts. Everyone loves a sauce as complex as this, especially when they don't have to make it themselves! It would make a terrific home-warming gift, families that have just received great news would love to celebrate with it, and if you have friends who are a bit under the weather, especially if they have a bad cold and could use something to clear their heads, this would do the trick.
The sweet rendition was a bit trickier, but I once again went to my favorite Mexican food aficionado, Rick Bayless. As he says, "I got the idea for this dessert after reading Alice Medrich's "Pure Dessert" cookbook and saw her recipe for chocolate pudding. I embellished the pudding by adding ancho chile, Mexican chocolate and espresso, and turned it into a filling for these chocolate tarts. The tart shells were purchased at my local grocery store in their pastry department. Most groceries or bakeries make individual tarts and will sell you the empty shells, which makes this dessert very easy to whip up. The pudding will last for several days in the refrigerator and assembly only takes a few minutes. This dessert is fancy enough to serve to guests, but easy enough to whip up for a family dinner."
You can certainly make your own tart shells, here is the link to one of my favorite recipes. But if you want to skip that step, there are good ones available at many gourmet grocery stores. Or stop in your local pastry shop and see if they would be willing to sell you some. I have never run into a situation where they weren't thrilled to help someone out. All you have to do is ask, giving them enough lead-time to place an order if needed.
If presenting this pudding in individual tarts is too fancy for your family dinner, you can always serve it in bowls instead. I would keep it refrigerated in a large bowl with plastic wrap pressed directly on the surface so it doesn't form a skin on top. Then when you are ready to serve, remove the wrap and stir the pudding until smooth. Use a large spoon to scoop dollops of it into fun bowls. If you want you can garnish it with sliced seasonal fruits, shaved chocolate, or lightly sweetened whipped cream. Or you make my favorite and use all three!
Have a very happy Chocolate Monday!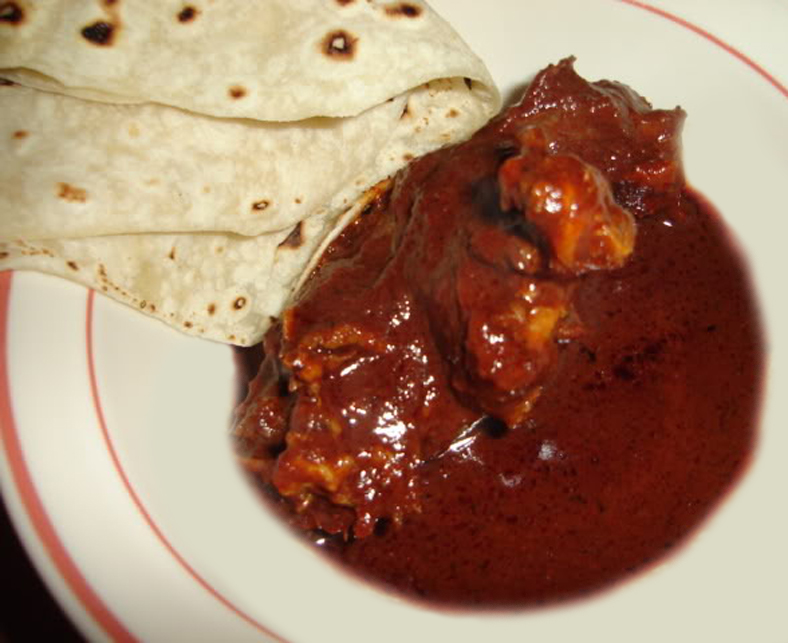 Lacquered Chicken Mole (Pollo Asado en Mole Rojo Clasico)
2015-07-17 15:52:08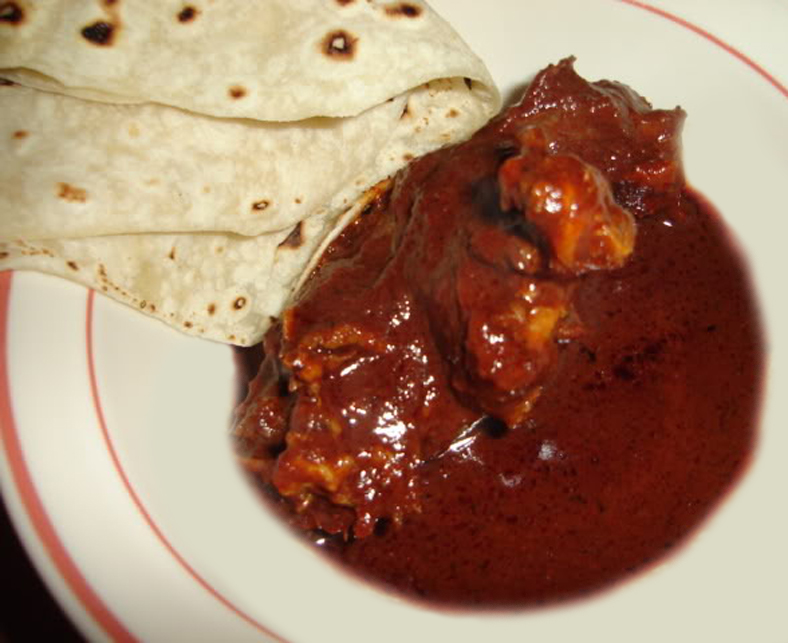 Classic Red Mole (Mole Rojo Clasico)
2015-07-17 15:53:25
Ingredients
10 oz (5 medium) tomatillos, husked and rinsed
1-1/3 cup (about 6-1/2 oz) sesame seeds
1 cup rich-tasting pork lard or vegetable oil, plus a little more if necessary
6 oz (about 12 medium) dried mulato chiles, stemmed, seeded and torn into large flat pieces
3 oz (about 6 medium) dried ancho chiles, stemmed, seeded and torn into large flat pieces
3 oz (about 10 medium) dried pasilla chiles, stemmed, seeded and torn into large flat pieces
8 garlic cloves, peeled
1 cup (about 4 oz) unskinned almonds
1 cup (about 4 oz) raisins
1 tsp cinnamon, preferably freshly ground
1/2 tsp black pepper, preferably freshly ground
1/2 tsp anise, preferably freshly ground
1/4 tsp cloves, preferably freshly ground
2 slices firm white bread, darkly toasted and broken up
2 oz (about 2/3 of a 3.3 oz tablet) Mexican chocolate, roughly chopped
3 quarts chicken broth, preferably homemade or low-sodium (use vegetable stock for a vegetarian version)
Salt
1/3 to 1/2 cup sugar
Instructions
Preliminaries. On a rimmed baking sheet, roast the tomatillos 4 inches below a very hot broiler until splotchy black and thoroughly soft, about 5 minutes per side. Scrape into a large bowl. In a dry skillet over medium heat, toast the sesame seeds, stirringly nearly constantly, until golden, about 5 minutes. Scrape half of them in with the tomatillos. Reserve the remainder for sprinkling on the chicken.
Brown other mole ingredients. Turn on an exhaust fan or open a kitchen door or window. In a very large soup pot (I typically use a 12-quart stainless steel stock pot or a medium-large Mexican earthenware cazuela), heat the lard or oil over medium. When quite hot, fry the chiles, three or four pieces at a time, flipping them nearly constantly with tongs until their interior side has changed to a lighter color, about 20 or 30 seconds total frying time. Don't toast them so darkly that they begin to smoke—that would make the mole bitter. As they're done, remove them to a large bowl, being careful to drain as much fat as possible back into the pot. Cover the toasted chiles with hot tap water and let rehydrate 30 minutes, stirring frequently to ensure even soaking.
Remove any stray chile seeds left in the fat. With the pot still over medium heat, fry the garlic and almonds, stirring regularly, until browned (the garlic should be soft), about 5 minutes. With a slotted spoon, remove to the tomatillo bowl, draining as much fat as possible back into the pot.
Add the raisins to the hot pot. Stir for 20 or 30 seconds, until they've puffed and browned slightly. Scoop them out, draining as much fat as possible back into the pot, and add to the tomatillos. Set the pan aside off the heat.
To the tomatillo mixture, add the cinnamon, black pepper, anise, cloves, bread and chocolate. Add 2 cups water and stir to combine.
Blend, strain, cook. Pour the chiles' soaking liquid into a large measuring cup. Taste the soaking liquid: if it's not bitter, discard all but 6 cups of the liquid. (if there isn't enough, add water to make up the shortfall). If bitter, pour it all out and measure 6 cups water. Scoop half of the chiles into a blender jar, pour in half of the soaking liquid (or fresh water) and blend to a smooth puree. Press through a medium-mesh strainer into a large bowl; discard the bits of skin and seeds that don't pass through the strainer. Repeat with the remaining chiles.
Return the soup pot or cazuela to medium heat. When quite hot, pour in the chile puree—it should sizzle sharply and, if the pan is sufficiently hot, the mixture should never stop boiling. Stir every couple of minutes until the chile puree has darkened and reduced to the consistency of tomato paste, about a half hour. (I find it useful to cover the pot with a splatter screen to catch any spattering chile.)
In two batches, blend the tomatillo mixture as smoothly as possible (you may need an extra 1/2 cup water to keep everything moving through the blades), then strain it in to the large bowl that contained the chiles. When the chile paste has reduced, add the tomatillo mixture to the pot and cook, stirring every few minutes until considerably darker and thicker, 15 to 20 minutes. (Again, a splatter screen saves a lot of cleanup.)
Simmer. Add the broth to the pot and briskly simmer the mixture over medium to medium-low heat for about 2 hours for all the flavors to come together and mellow. If the mole has thickened beyond the consistency of a cream soup, stir in a little water. Taste and season with salt (usually about 4 teaspoons) and the sugar.
You're now ready to make Lacquered Chicken or you can cool, cover and refrigerate until you're ready to use. When you're ready to proceed, re-warm the mole.
Notes
Yield: a generous 3/4 gallon of mole
The Heritage Cook ® https://theheritagecook.com/
Mexican Chocolate Pudding Tarts
2015-07-17 15:54:25
Ingredients
Filling
1 dried ancho chile, stemmed, seeded and torn into flat pieces
2 cups whole milk
2 teaspoons instant espresso powder
2 large eggs
1/3 cup sugar
1/3 cup unsweetened cocoa
2 tablespoons cornstarch
Scant 1/4 teaspoon salt
1 teaspoon vanilla extract
2 ounces bittersweet (70%) chocolate, finely chopped
1 ounces Mexican chocolate (we prefer Iberra), finely chopped
10 2-inch store bought pastry shells
Garnish
1/2 cup lightly sweetened whipped cream
Shaved chocolate
Seasonal fresh fruit
Instructions
Set a skillet over medium heat. When hot, toast the chile pieces a few at a time, pressing them to the hot surface with a spatula until they are aromatic and lightened in color underneath—about 10 seconds per side. (If you see more than a whiff of smoke, they are burning.) Transfer toasted chiles to medium sized saucepan and pour in the milk.
Over medium heat, bring the milk to a simmer, cover and let steep for 20 minutes. For a mild chile flavor, discard the ancho. For a more robust flavor, place 1/4 of the ancho in a blender along with the milk and puree until smooth. Stir in the espresso powder and let the milk cool to room temperature before proceeding with the recipe.
In a medium bowl, whisk the eggs thoroughly. Set aside.
In a medium heavy saucepan, mix the sugar, cocoa, cornstarch, and salt. Pour in about 1/2 cup milk and whisk to make a smooth paste, then slowly whisk in the rest of the milk.
Heat the mixture over medium heat, stirring with a spatula, until the mixture begins to bubble around the edges. Adjust the heat to maintain a steady low boil and stir constantly for 2 minutes or until the mixture has thickened, taking care to scrape the bottom and sides of the pan constantly to avoid scorching. Remove from the heat.
Slowly ladle about 1 cup of the hot mixture gradually over the eggs, whisking constantly to prevent the eggs from scrambling. Scrape the egg mixture back into the pan and whisk vigorously to bring the mixture together. Set the pan over medium-low heat and whisk for 30 seconds, without the mixture coming to a simmer, to be sure that the eggs are hot enough.
Remove from the heat and add the vanilla and both chocolates and whisk until the mixture is smooth. If you have any lumps, you can pass this through a wire sieve.
Using a ladle pour pudding into individual tart shells. Press plastic wrap directly on the surface to keep a skin from forming. When ready to serve remove wrap and garnish with whipped cream, shaved chocolate, and or fresh fruit.
If you prefer you can serve this as a pudding without the tart shells. Transfer the pudding to a clean bowl and place a piece of plastic wrap directly on the surface to prevent a skin from forming as the pudding cools. Place in the refrigerator to cool completely.
Notes
Yield: 10 2-inch tarts
The Heritage Cook ® https://theheritagecook.com/
Unauthorized use, distribution, and/or duplication of proprietary material without prior approval is prohibited. If you have any questions or would like permission, I can be contacted via email at: heritagecook (at) comcast (dot) net. Feel free to quote me, just give credit where credit is due, link to the recipe, and please send people to my website,
www.theheritagecook.com.
Thank You!