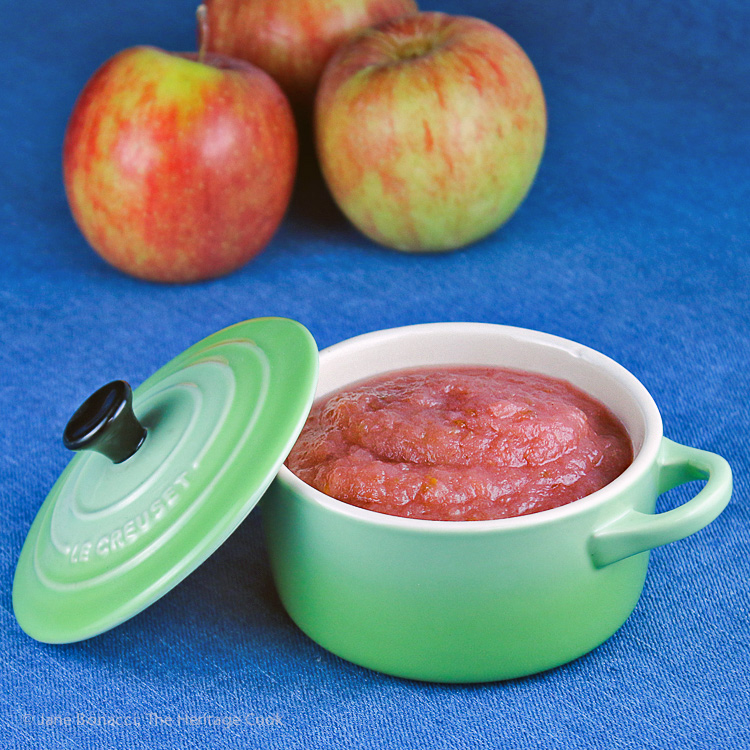 Homemade Pink Applesauce is one of my favorites to make all year long. Even though it is healthy, it tastes like a huge treat. The color is beautiful and natural with no artificial coloring needed!
When I was young, I loved the applesauce my mom would give me on days when I had an upset tummy. It was sweet and soothing, just the thing for a little one under the weather. I didn't know at the time, but she would go to the store and buy fresh apples so she could make her own from scratch. No wonder it tasted so good!
I had made applesauce occasionally over the years, carefully peeling and coring the apples, but usually I fell back on store-bought varieties. They are convenient and I often had trouble eating a full batch of my own homemade sauce. I always used yellow or green apples, not really paying much attention to the variety. Then I started studying how different apples are used in combinations to make the perfect apple pie. Would it be the same for applesauce?
A chef friend suggested that instead of peeling and coring the apples, that I use a food mill and make my life a whole lot easier. Boy was she right! No more muss or fuss, just quarter the apples and toss them in a big pot to cook down. When they are softened, scoop them into a food mill set over a big bowl, and press them through a screen. The screen captures the solids, and allowing the beautiful apple liquids and most of the pulp through. So simple!
If you haven't used a food mill, you should consider it. If you make your own baby food, mashed potatoes, other pureed foods, and of course applesauce, it will make your life a whole lot easier. Depending on the size of the grate screen you use, you can control the texture from silky smooth to slightly chunky.
I browsed some recipes to see what techniques other people use for pink applesauce, and many include red cinnamon candies to boost the pink color. It would definitely give you a deeper pink, but many kids have issues with food dyes. All you have to do is include some dark red apples with their peels and you have pink applesauce without using food coloring! And if you want to deepen the color more, add a few plums. Naturally beautiful.
With a large Dutch oven and a food mill, you can turn a whole basket of fresh apples into a fabulous treat for your family and gifts for friends. You can pour it into sterilized mason jars (leave an inch of headspace), seal them and put them in the freezer. Then you can deliver a jar of frozen homemade applesauce to friends all year long!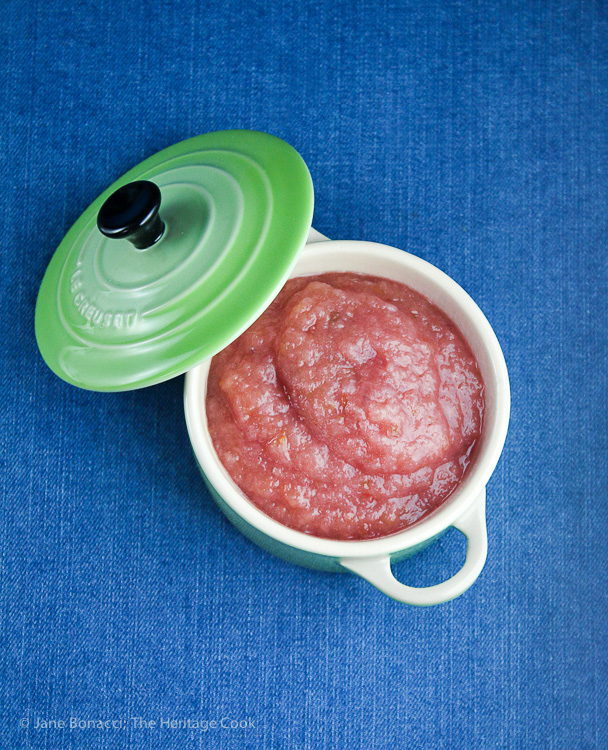 While the trees are laden with their sparkling bounty of apples, I hope you will consider making some homemade pink applesauce for your family. One bite of this applesauce and you'll never go back to store-bought again! Now please excuse me as I go dish myself another big bowl 🙂
Welcome to another edition of Progressive Eats, our virtual version of a progressive dinner party where each course is held at a different home. With Progressive Eats, a theme is chosen each month and you can hop from blog to blog to check out the different recipes we've made. This month's theme is Apples, the perfect symbol of Autumn, hosted by Liz of That Skinny Chick Can Bake. You'll love all the recipes that will be perfect all fall and winter long! Make sure you check out the links below the recipe.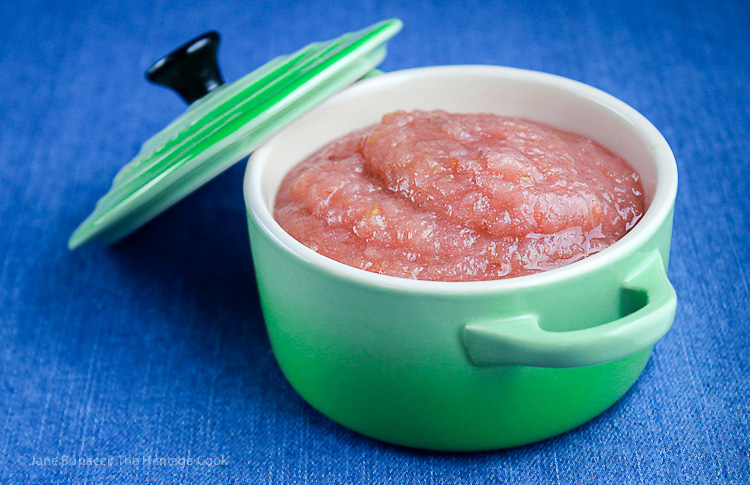 Key Ingredients for Homemade Pink Applesauce:
Variety of apples

Plums, optional

Brown sugar

Water

Cinnamon stick or ground
What kind of apples should I use?
You can use any kind you have access to, but I like a blend of tart and sweet. And be sure to include some dark red apples for their color which turns the applesauce pink. For regular applesauce, use all green/pink apples.
PRO Tip:
Run, don't walk, to get a food mill. It will save you oodles of time and work. If possible, go up one level from the cheapest option and you will love the food mill even more!
What do I do if I don't have a food mill?
You will need to peel and core the apples, cutting them into quarters. Cook as directed, including some of the red peels for color. Fish out the peels and discard them before pressing the apples with an old-fashioned potato masher or something similar.
How to make Homemade Pink Applesauce:
Set out your equipment

Rinse apples and quarter them; place in a large pot or Dutch oven

Sprinkle with the sugar and add spices if using

Add enough water to about 1/2-inch up the sides of the pot; bring to a boil, then cook at a low boil until apples are softened

Ladle into the food mill set over a large bowl and turn the handle of the mill to crush the apples; occasionally run it backwards

Taste and adjust seasonings and sweeteners; serve and enjoy
Kitchen Tools I Use to Make This Recipe (affiliate links):
Gluten-Free Tips:
This dish is naturally gluten-free!
Yield: 12 to 16 servings
Homemade Pink Applesauce (Gluten-Free)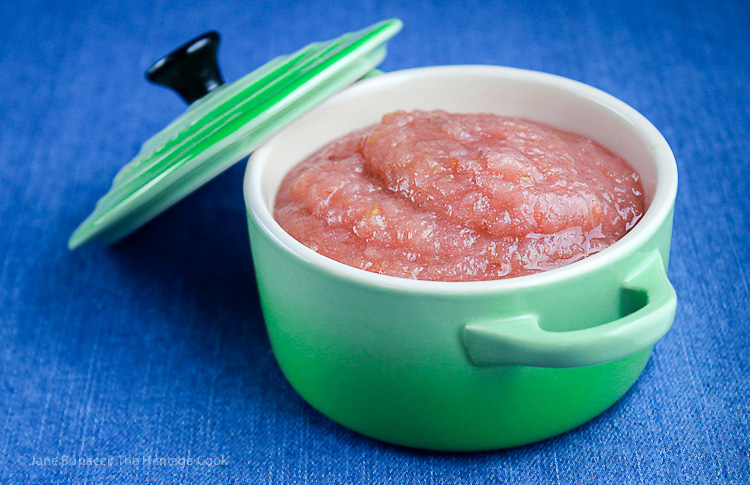 So easy to make and brimming with fresh apple flavor, this is a dish your whole family will love. Serve it as an accompaniment with food, as a topping for pancakes or waffles, as the freshest baby food, or as a between meals treat.
Additional Time
15 minutes
Total Time
1 hour
35 minutes
Ingredients
5 to 6 lb (2.5kg) mixed apples, washed (use some tart, some sweet, and some red-skinned)
Plums, pitted, optional
1/2 cup firmly packed brown sugar
Pinch kosher or fine sea salt
A cinnamon stick or 1 to 2 tsp ground cinnamon or nutmeg, optional
Water
Instructions
Set out your largest pot - I use my Le Creuset Dutch oven. Set your food mill on a large heat resistant mixing bowl, such as aluminum, with the middle size grater disk in place. Set a second medium heatproof bowl on the counter with a rubber spatula next to it.
Prepare the Apples: Rinse the apples and plums well and set on a cutting board. Using a sharp knife, quarter the apples and place in the pot. There is no need to chop, peel or core them if you have a food mill. Halve the plums and discard the pits. Add them to the pot. Sprinkle the fruit with the sugar and salt. If you want to use a cinnamon stick for flavoring, tuck it into the pot or sprinkle ground cinnamon or nutmeg over the fruit.
Add enough water or juice to come about 1/2 inch up the pan. The apples will give off a lot of water so you only need enough to get the cooking started. Don't worry if the fruit mounds above the edge of the pan. As the apples cook, they will collapse and the pile will shrink.
Cook the Apples: Place the pan over medium-high heat. When the liquid has come to a boil, reduce the heat to medium. You want the liquid at a low boil. Let the apples cook, stirring occasionally, until completely softened, about an hour. The timing will depend on the size of the apples and the size of your pot. Press on the apples occasionally with a spoon to judge their softness, moving firmer pieces under the liquid in the bottom of the pot.
Make the Applesauce: When the apples are fall-apart soft, if you used a cinnamon stick, pull it out and discard it. Scoop a couple of ladles of the apples into the food mill. Turn the handle on the food mill, pressing the softened apples under the blade. Occasionally turn the blade the opposite direction to release anything that is caught and to get the rest of the apples under the blade.
Occasionally use the rubber spatula to scrape the bottom of the food mill, getting all the pureed applesauce into the bowl. Then scrape out and discard the solids left in the food mill - the skins, cores, seeds, etc. I do this at least 3 times when I am making a large pot of applesauce.
As the bowl under the food mill gets full, move the food mill to the second bowl. You need some room under the food mill for the new pureed apples to be added. Continue turning the food mill, reversing directions occasionally, and discarding the solids, until all the apples have been pressed.
Adjust the Flavors: Combine all the applesauce into one bowl and taste it. If it needs additional sweetness, you can stir in some honey or agave syrup but not sugar because it will not dissolve fully. If you get it too sweet, squeeze in a little fresh lemon juice.

To Store your Applesauce: When it is fully cooled, you can hold it in the refrigerator, covered, for up to a week.
Nutrition Information:
Yield:
16
Serving Size:
1
Amount Per Serving:
Calories:

61
Total Fat:

0g
Saturated Fat:

0g
Trans Fat:

0g
Unsaturated Fat:

0g
Cholesterol:

0mg
Sodium:

11mg
Carbohydrates:

16g
Fiber:

2g
Sugar:

13g
Protein:

0g
This recipe is part of our monthly progressive dinner party, Progressive Eats. See the links below for more inspiration and great recipes!
Create a New Tradition Today!
This post was first shared in Sept 2015. The article was updated in 2020.
Welcome! The suggestions here are not intended as dietary advice or as a substitute for consulting a dietician, physician, or other medical professional. Please see the Disclaimers/Privacy Policy page for additional details. Unauthorized use, distribution, and/or duplication of proprietary material from The Heritage Cook without prior approval is prohibited. If you have any questions or would like permission, please contact me. We participate in the Amazon Services LLC Associates Program, an affiliate advertising program designed to provide a means for sites to earn advertising fees by advertising and linking to amazon.com. This page may contain affiliate links.